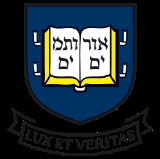 Yale University
Yale University
is a
private
Private university
Private universities are universities not operated by governments, although many receive public subsidies, especially in the form of tax breaks and public student loans and grants. Depending on their location, private universities may be subject to government regulation. Private universities are...
,
Ivy League
Ivy League
The Ivy League is an athletic conference comprising eight private institutions of higher education in the Northeastern United States. The conference name is also commonly used to refer to those eight schools as a group...
university located in
New Haven, Connecticut
New Haven, Connecticut
New Haven is the second-largest city in Connecticut and the sixth-largest in New England. According to the 2010 Census, New Haven's population increased by 5.0% between 2000 and 2010, a rate higher than that of the State of Connecticut, and higher than that of the state's five largest cities, and...
,
United States
United States
The United States of America is a federal constitutional republic comprising fifty states and a federal district...
. Founded in 1701 in the Colony of Connecticut, the university is the third-oldest institution of
higher education
Higher education
Higher, post-secondary, tertiary, or third level education refers to the stage of learning that occurs at universities, academies, colleges, seminaries, and institutes of technology...
in the United States.
Yale Law School
Yale Law School
Yale Law School, or YLS, is the law school of Yale University in New Haven, Connecticut, United States. Established in 1824, it offers the J.D., LL.M., J.S.D. and M.S.L. degrees in law. It also hosts visiting scholars, visiting researchers and a number of legal research centers...
is consistently ranked among the top law schools in the United States, while the university is ranked among the top universities in the world.
Incorporated as the
Collegiate School
, the institution traces its roots to 17th-century clergymen who sought to establish a college to train clergy and political leaders for the colony.
1701 The Collegiate School of Connecticut (later renamed Yale University) is chartered in Old Saybrook, Connecticut.
1844 North American fraternity Delta Kappa Epsilon is founded at Yale University.
1852 First Boat Race between Yale and Harvard, the first American intercollegiate athletic event. Harvard won.
1873 Yale, Princeton, Columbia, and Rutgers universities draft the first code of American football rules.
1949 Ezra Pound is awarded the first Bollingen Prize in poetry by the Bollingen Foundation and Yale University.
1993 Yale computer science professor Dr. David Gelernter loses his sight in one eye, his hearing in one ear and part of his right hand after receiving a mailbomb from the Unabomber.