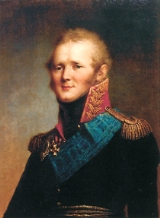 Alexander I of Russia
Alexander I of Russia
( – ), served as
Emperor
Tsar
Tsar is a title used to designate certain European Slavic monarchs or supreme rulers. As a system of government in the Tsardom of Russia and Russian Empire, it is known as Tsarist autocracy, or Tsarism...
of Russia from 23 March 1801 to 1 December 1825 and the first Russian King of Poland from 1815 to 1825. He was also the first Russian Grand Duke of Finland and Lithuania.
He was born in
Saint Petersburg
Saint Petersburg
Saint Petersburg is a city and a federal subject of Russia located on the Neva River at the head of the Gulf of Finland on the Baltic Sea...
to
Grand Duke
Grand Duke
The title grand duke is used in Western Europe and particularly in Germanic countries for provincial sovereigns. Grand duke is of a protocolary rank below a king but higher than a sovereign duke. Grand duke is also the usual and established translation of grand prince in languages which do not...
Paul Petrovich, later Emperor
Paul I
Paul I of Russia
Paul I was the Emperor of Russia between 1796 and 1801. He also was the 72nd Prince and Grand Master of the Order of Malta .-Childhood:...
, and Maria Feodorovna, daughter of the
Duke of Württemberg
Friedrich II Eugen, Duke of Württemberg
Friedrich Eugen of Württemberg , the fourth son of Duke Karl Alexander and Princess Maria Augusta of Thurn and Taxis .-Royal duke:...
. Alexander was the eldest of four brothers. He succeeded to the throne after his father was murdered, and ruled Russia during the chaotic period of the
Napoleonic Wars
Napoleonic Wars
The Napoleonic Wars were a series of wars declared against Napoleon's French Empire by opposing coalitions that ran from 1803 to 1815. As a continuation of the wars sparked by the French Revolution of 1789, they revolutionised European armies and played out on an unprecedented scale, mainly due to...
.