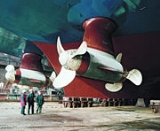 Diesel-electric
Diesel-electric transmission
or
diesel-electric powertrain
is used by a number of vehicle and ship types for providing
locomotion
Motion (physics)
In physics, motion is a change in position of an object with respect to time. Change in action is the result of an unbalanced force. Motion is typically described in terms of velocity, acceleration, displacement and time . An object's velocity cannot change unless it is acted upon by a force, as...
.
A diesel-electric transmission system includes a
diesel engine
Diesel engine
A diesel engine is an internal combustion engine that uses the heat of compression to initiate ignition to burn the fuel, which is injected into the combustion chamber...
connected to an
electrical generator
Electrical generator
In electricity generation, an electric generator is a device that converts mechanical energy to electrical energy. A generator forces electric charge to flow through an external electrical circuit. It is analogous to a water pump, which causes water to flow...
, creating
electricity
Electricity
Electricity is a general term encompassing a variety of phenomena resulting from the presence and flow of electric charge. These include many easily recognizable phenomena, such as lightning, static electricity, and the flow of electrical current in an electrical wire...
that powers
electric
Electric motor
An electric motor converts electrical energy into mechanical energy.Most electric motors operate through the interaction of magnetic fields and current-carrying conductors to generate force...
traction motor
Traction motor
Traction motor refers to an electric motor providing the primary rotational torque of a machine, usually for conversion into linear motion ....
s. No
clutch
Clutch
A clutch is a mechanical device which provides for the transmission of power from one component to another...
is required.
Before diesel engines came into widespread use, a similar system, using a
petrol (gasoline) engine
Petrol engine
A petrol engine is an internal combustion engine with spark-ignition, designed to run on petrol and similar volatile fuels....
and called petrol-electric or gas-electric, was sometimes used.
This kind of
power transmission
Power transmission
Power transmission is the movement of energy from its place of generation to a location where it is applied to performing useful work.Power is defined formally as units of energy per unit time...
is used on railways by diesel electric locomotives and
diesel electric multiple units
Demu
Demu may refer to:*Dému, a village in France*Diesel-electric Multiple Unit *DEMU, Diesel and Electric Modellers United, a UK railway modelling group*The alien antagonists of The Demu Trilogy by F.M. Busby...
as only electric motors are able to supply full
torque
Torque
Torque, moment or moment of force , is the tendency of a force to rotate an object about an axis, fulcrum, or pivot. Just as a force is a push or a pull, a torque can be thought of as a twist....
at 0 RPM. Diesel-electric systems are also used in
submarine
Submarine
A submarine is a watercraft capable of independent operation below the surface of the water. It differs from a submersible, which has more limited underwater capability...
s and surface
ship
Ship
Since the end of the age of sail a ship has been any large buoyant marine vessel. Ships are generally distinguished from boats based on size and cargo or passenger capacity. Ships are used on lakes, seas, and rivers for a variety of activities, such as the transport of people or goods, fishing,...
s and some land vehicles.
In some high-efficiency applications, electrical energy may be stored in rechargeable batteries, in which case these vehicles can be considered as a class of
hybrid electric vehicle
Hybrid electric vehicle
A hybrid electric vehicle is a type of hybrid vehicle and electric vehicle which combines a conventional internal combustion engine propulsion system with an electric propulsion system. The presence of the electric powertrain is intended to achieve either better fuel economy than a conventional...
.
Ships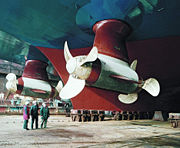 The first diesel motorship was also the first diesel-electric ship, the Russian tanker
Vandal
Vandal (tanker)
Vandal was a river tanker designed by Karl Hagelin and Johny Johnson for Branobel. Russian Vandal and French Petite-Pierre, launched in 1903, were the world's first diesel-powered ships...
from
Branobel
Branobel
The Petroleum Production Company Nobel Brothers, Limited,or Branobel , was an oil company set up by Ludvig Nobel and Baron Peter von Bilderling, in Baku, Azerbaijan...
, which was launched in 1903.
Steam turbine-electric
Turbo-electric
A turbo-electric transmission uses electric generators to convert the mechanical energy of a turbine into electric energy and electric motors to convert it back into mechanical energy to power the driveshafts....
propulsion has been in use since the 1920s (
Tennessee class battleship
Tennessee class battleship
The Tennessee class was a class of battleships of the United States Navy. The class comprised two ships: and the . They were modified versions of the featuring improved underwater armor for better torpedo protection and 30 degree elevation on their main batteries, as opposed to 15 degrees for...
s), using diesel-electric powerplants in surface ships has increased lately. The
Finnish
Finland
Finland , officially the Republic of Finland, is a Nordic country situated in the Fennoscandian region of Northern Europe. It is bordered by Sweden in the west, Norway in the north and Russia in the east, while Estonia lies to its south across the Gulf of Finland.Around 5.4 million people reside...
coastal defence ship
Coastal defence ship
Coastal defence ships were warships built for the purpose of coastal defence, mostly during the period from 1860 to 1920. They were small, often cruiser-sized warships that sacrificed speed and range for armour and armament...
Ilmarinen
, laid down in 1929, was among the first surface ships to use diesel-electric transmission. Later, the technology was used in diesel powered
icebreaker
Icebreaker
An icebreaker is a special-purpose ship or boat designed to move and navigate through ice-covered waters. Although the term usually refers to ice-breaking ships, it may also refer to smaller vessels .For a ship to be considered an icebreaker, it requires three traits most...
s.
Some modern ships, including cruise ships and icebreakers, use electric motors in pods called
azimuth thruster
Azimuth thruster
An azimuth thruster is a configuration of ship propellers placed in pods that can be rotated in any horizontal direction, making a rudder unnecessary...
s underneath to allow for 360° rotation, making the ships far more manoeuvrable.
Gas turbine
Gas turbine
A gas turbine, also called a combustion turbine, is a type of internal combustion engine. It has an upstream rotating compressor coupled to a downstream turbine, and a combustion chamber in-between....
s are also used for electrical power generation and some ships use a combination: the
Queen Mary 2
has a set of diesel engines in the bottom of the ship plus two gas turbines mounted near the main funnel; all are used for generating electrical power, including that used to drive the propellers.
Submarines
Early submarines used a direct mechanical connection between the engine and propeller, switching between diesel engines for surface running, and electric motors for submerged propulsion.
True diesel-electric transmissions for submarines were first proposed by the United States Navy's Bureau of Engineering in 1928; instead of driving the propeller directly while running on the surface, the submarine's diesel would instead drive a generator which could either charge the submarine's batteries or drive the electric motor. This meant that motor speed was independent of the diesel engine's speed, and the diesel could run at an optimum and non-critical speed, while one or more of the diesel engines could be shut down for maintenance while the submarine continued to run using battery power. The concept was pioneered in 1929 in the
S-class submarines
United States S class submarine
The United States' S-class submarines, often simply called S-boats , were the first class of submarines built to a United States Navy design....
S-3
USS S-3 (SS-107)
USS S-3 was the prototype of the "Government-type" S-class submarines of the United States Navy. Her keel was laid down on 29 August 1917 by the Portsmouth Navy Yard. She was launched on 21 December 1918 sponsored by Mrs. William L. Hill, and commissioned on 30 January 1919 with Commander John W...
,
S-6
USS S-6 (SS-111)
USS S-6 was a second-group S-class submarine of the United States Navy. Her keel was laid down on 29 January 1918 by the Portsmouth Navy Yard. She was launched on 23 December 1919 sponsored by Ms. Eleanor Westcott; and commissioned on 17 May 1920 with Lieutenant Commander George B...
, and
S-7
USS S-7 (SS-112)
USS S-7 was a second-group S-class submarine of the United States Navy. Her keel was laid down on 29 January 1918 by the Portsmouth Navy Yard. She was launched on 5 February 1920 sponsored by Mrs. Henry L...
to test the concept. No other navy adopted the system before 1945, apart from the British Royal Navy's
U-class submarines
British U class submarine
The British U class submarines were a class of 49 small submarines built just before and during the Second World War...
, though some submarines of the Imperial Japanese Navy used separate diesel generators for low speed running.
In a diesel-electric direct drive arrangement, the (usually single) propeller is driven directly by an electric motor, while two or more diesel-generators provide electric energy for charging the batteries and/or driving the electric motor. This mechanically isolates the noisy engine compartment from the outer pressure hull and reduces the
acoustic signature
Acoustic signature
Acoustic signature is used to describe a combination of acoustic emissions of ships and submarines.-Contributing factors:The acoustic signature is made up of a number of individual elements...
of the submarine. Additionally some
nuclear
Nuclear marine propulsion
Nuclear marine propulsion is propulsion of a ship by a nuclear reactor. Naval nuclear propulsion is propulsion that specifically refers to naval warships...
submarines also decouple their reactor room this way, having
turbo-electric
Turbo-electric
A turbo-electric transmission uses electric generators to convert the mechanical energy of a turbine into electric energy and electric motors to convert it back into mechanical energy to power the driveshafts....
propulsion driven by reactor steam. Many submarines with diesel and electrical propulsion are mistakenly referred to as "diesel-electric" when they in fact have separately coupled diesel and electric engines.
Railways
In the 1920s, diesel-electric technology first saw limited use in
switcher
Switcher
A switcher or shunter is a small railroad locomotive intended not for moving trains over long distances but rather for assembling trains ready for a road locomotive to take over, disassembling a train that has been...
s (or
shunters
), locomotives used for moving trains around in railroad yards and assembling and disassembling them. One of the first companies to offer "Oil-Electric" locomotives was the
American Locomotive Company
American Locomotive Company
The American Locomotive Company, often shortened to ALCO or Alco , was a builder of railroad locomotives in the United States.-Early history:...
(ALCO). The
ALCO HH series
ALCO HH series
The ALCO HH series were an early series of switcher diesel-electric locomotives built by the American Locomotive Company of Schenectady, New York between 1931 and 1940, when they were replaced by the S series; the S-1 and S-2...
of diesel-electric switcher entered series production in 1931. In the 1930s, the system was adapted for
streamliner
Streamliner
A streamliner is a vehicle incorporating streamlining in a shape providing reduced air resistance. The term is applied to high-speed railway trainsets of the 1930s to 1950s, and to their successor "bullet trains". Less commonly, the term is applied to fully faired recumbent bicycles...
s, the fastest trains of their day. Diesel-electric powerplants became popular because they greatly simplified the way motive power
was transmitted to the wheels
Traction motor
Traction motor refers to an electric motor providing the primary rotational torque of a machine, usually for conversion into linear motion ....
and because they were both more
efficient
Fuel efficiency
Fuel efficiency is a form of thermal efficiency, meaning the efficiency of a process that converts chemical potential energy contained in a carrier fuel into kinetic energy or work. Overall fuel efficiency may vary per device, which in turn may vary per application, and this spectrum of variance is...
and had greatly reduced maintenance requirements. Direct-drive
transmission
Transmission (mechanics)
A machine consists of a power source and a power transmission system, which provides controlled application of the power. Merriam-Webster defines transmission as: an assembly of parts including the speed-changing gears and the propeller shaft by which the power is transmitted from an engine to a...
s can become very complex, considering that a typical locomotive has four or more
axle
Axle
An axle is a central shaft for a rotating wheel or gear. On wheeled vehicles, the axle may be fixed to the wheels, rotating with them, or fixed to its surroundings, with the wheels rotating around the axle. In the former case, bearings or bushings are provided at the mounting points where the axle...
s. Additionally, a direct-drive diesel locomotive would require an impractical number of gears to keep the engine within its powerband; coupling the diesel to a generator eliminates this problem. An alternative is to use a
torque converter
Torque converter
In modern usage, a torque converter is generally a type of hydrodynamic fluid coupling that is used to transfer rotating power from a prime mover, such as an internal combustion engine or electric motor, to a rotating driven load...
or
fluid coupling
Fluid coupling
A fluid coupling is a hydrodynamic device used to transmit rotating mechanical power. It has been used in automobile transmissions as an alternative to a mechanical clutch...
in a direct drive system to replace the gearbox. Hydraulic transmissions are claimed to be somewhat more efficient than diesel-electric technology.
http://www.irimee.ac.in/dsl/know/alco_mech/transmission.doc
Trucks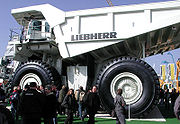 Examples include:
Concepts
In the automobile industry, diesel engines in combination with electric transmissions and battery power are being developed for future vehicle drive systems.
Partnership for a New Generation of Vehicles
Partnership for a New Generation of Vehicles
The ' was a cooperative research program between the U.S. government and major auto corporations, aimed at bringing extremely fuel-efficient vehicles to market by 2003...
was a cooperative research program between the U.S. government and the Detroit three Automobile manufacturer DaimlerChrysler, Ford Motor Company, and General Motors Corporation that developed diesel hybrid cars.
"Third-Millennium Cruiser", an attempt to commercialize a diesel-electric automobile in the very early 1980s.
General Motors Precept

General Motors Precept

The General Motors Precept was a 2000 low emission vehicle concept car aimed at meeting the fuel economy goal of the Partnership for a New Generation of Vehicles between the US Government and GM, Ford, and Chrysler. GM was able to meet the fuel economy goal with the Precept, creating versions...



Ford Prodigy

Ford Prodigy

The Ford Prodigy was a low emission vehicle 72 mpg-US diesel-hybrid concept car launched in 2000 and aimed at establishing U.S. leadership in the development of extremely fuel-efficient vehicles while retaining the features that make them marketable and affordable...



Dodge Intrepid ESX

Dodge Intrepid ESX

In 1993, the Chrysler Corporation responded to a challenge by U.S. President Bill Clinton to produce a vehicle which was capable of meeting the demands of the modern consumer, while still achieving an unprecedented overall in fuel economy...



Ford Reflex

Ford Reflex

The Ford Reflex is a concept car introduced at the 2006 North American International Auto Show that, according to Ford, "proves small cars can be bold and American"...


is a diesel hybrid concept car.
Zytek

Zytek

Zytek Group Ltd is an automotive and motorsport company founded in 1981 and based in Fradley and Repton, United Kingdom. Zytek Group has two main division: Zytek Automotive, which is based at Fradley, Staffordshire; and Zytek Engineering, which is based at Repton, Derbyshire.-Zytek Automotive:Zytek...


develops world's first Affordable Ultra Efficient Diesel Hybrid Powertrain System.
Citroën C-Cactus

Citroën C-Cactus

The Citroën C-Cactus is a concept car that debuted at the 2007 Frankfurt Motor Show. The car is named for its low consumption of resources, using a more fuel-economic diesel engine unlike the Toyota Prius and contemporaries, much like the cactus plant...



Chevrolet Volt

Chevrolet Volt

The Chevrolet Volt is a plug-in hybrid electric vehicle manufactured by General Motors. The Volt has been on sale in the U.S. market since mid-December 2010, and is the most fuel-efficient compact car sold in the United States, as rated by the United States Environmental Protection Agency...


/Opel Flextreme

Opel Flextreme

The Opel Flextreme is a diesel plug-in hybrid concept car created by Opel.It is based on the same GM E-Flex series hybrid platform used in the Chevy Volt, but using a diesel rather than gasoline engine. It can travel on its lithium-ion battery before a small diesel engine starts charging the battery...



Top Gear Hammerhead Eagle-i Thrust
Rivian Automotive

Rivian Automotive

Rivian Automotive is an automaker based in Rockledge, Florida. It plans to begin production of a new design of fuel-efficient cars in 2013.-Company:...


is developing a diesel-electric engine that should achieve an estimated 90 miles per gallon in the city and over 100 miles per gallon on the highway
Production Ready Cars
Volkswagen Golf TDI Hybrid
Mercedes-Benz E-Class

Mercedes-Benz E-Class

The Mercedes-Benz E-Class is a range of executive-size cars manufactured by Mercedes-Benz in various engine and body configurations. The E initially stood for Einspritzmotor, ; a new feature in volume production vehicles at the time that the E-Class first appeared, with the E as a suffix to the...


E300 BlueTEC hybrid
Peugeot 3008

Peugeot 3008

The Peugeot 3008 is a 5-seater compact crossover unveiled by French automaker Peugeot in May 2009 and presented for the first time to the public in Dubrovnik, Croatia...


Crossover with HYbrid4 technology
Volvo V60 plug-in diesel hybrid
Other land vehicles
Diesel-electric propulsion was tried on some
military vehicle
Military vehicle
A military vehicle is a vehicle that includes all land combat and transportation vehicles, which are designed for or are in significant use by military forces throughout the world. Vehicles that are armored or intended for combat are often referred to as armoured fighting vehicles....
s, such as
tank
Tank
A tank is a tracked, armoured fighting vehicle designed for front-line combat which combines operational mobility, tactical offensive, and defensive capabilities...
s.
Ferdinand Porsche
Ferdinand Porsche
Ferdinand Porsche was an Austrian automotive engineer and honorary Doctor of Engineering. He is best known for creating the first hybrid vehicle , the Volkswagen Beetle, and the Mercedes-Benz SS/SSK, as well as the first of many Porsche automobiles...
was the main developer of such drive-trains for military vehicles in
World War II
World War II
World War II, or the Second World War , was a global conflict lasting from 1939 to 1945, involving most of the world's nations—including all of the great powers—eventually forming two opposing military alliances: the Allies and the Axis...
Nazi Germany
Nazi Germany
Nazi Germany , also known as the Third Reich , but officially called German Reich from 1933 to 1943 and Greater German Reich from 26 June 1943 onward, is the name commonly used to refer to the state of Germany from 1933 to 1945, when it was a totalitarian dictatorship ruled by...
, and created the
Elefant
Elefant
The Elefant was a "schwerer Panzerjäger" of the German Wehrmacht used in small numbers in World War II. It was built in 1943 under the name Ferdinand, after its designer Ferdinand Porsche. In 1944, after modification of the existing vehicles, they were renamed Elefant...
tank destroyer and the prototypes of the never-produced, 200-ton class
Maus
Panzer VIII Maus
Panzerkampfwagen VIII Maus was a German World War II super-heavy tank completed in late 1944. It is the heaviest fully enclosed armoured fighting vehicle ever built. Only two hulls and one turret were completed before the testing grounds were captured by the advancing Soviet forces.These two...
super-heavy tank
Super-heavy tank
Super-heavy tanks are armored vehicles of very large size, generally over 75 tonnes. Programs have been initiated on several occasions with the aim of creating an invincible vehicle for penetrating enemy formations without fear of being destroyed in combat; however, only a few examples have ever...
.
Buses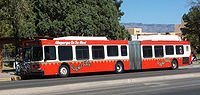 Diesel electric based buses have also been produced, including hybrid systems able to run on and store electrical power in batteries. The two main providers of hybrid systems for diesel-electric transit buses include
Allison Transmission
Allison Transmission
Allison Transmission is an American manufacturer of commercial duty automatic transmissions and hybrid propulsion systems. Allison products are specified by over 250 of the world's leading vehicle manufacturers and are used in many market sectors including bus, refuse, fire, construction,...
and
BAE Systems
BAE Systems
BAE Systems plc is a British multinational defence, security and aerospace company headquartered in London, United Kingdom, that has global interests, particularly in North America through its subsidiary BAE Systems Inc. BAE is among the world's largest military contractors; in 2009 it was the...
.
New Flyer Industries
New Flyer Industries
New Flyer Industries Inc. is a bus manufacturer in North America, headquartered in Winnipeg, Manitoba, Canada. It also has factories in Crookston and St. Cloud, Minnesota, USA.-History:...
, Gillig Corporation, and
North American Bus Industries
North American Bus Industries
North American Bus Industries, commonly known as NABI, is a major transit bus manufacturing company based in Anniston, Alabama. NABI was founded in 1992 when the Hungarian firm Ikarus Bus, a key bus supplier to Central, Eastern Europe, spun off a majority share of their American operations to...
are major customers for the Allison EP hybrid systems, while
Orion Bus Industries
Orion Bus Industries
Orion International, previously Orion Bus Industries and Ontario Bus Industries in Canada and Bus Industries of America in the United States, is a bus manufacturer based in Mississauga, Ontario, Canada and established by the Government of Ontario in 1975...
is a major customer for the BAE HybriDrive system. Mercedes-Benz makes their own diesel-electric drive system, which is used in their Citaro.
External links
Buses
Metro Transit with hybrid buses
Cars