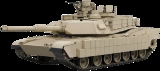 Tank
A
tank
is a tracked,
armoured fighting vehicle
Armoured fighting vehicle
An armoured fighting vehicle is a combat vehicle, protected by strong armour and armed with weapons. AFVs can be wheeled or tracked....
designed for front-line combat which combines operational mobility,
tactical
Military tactics
Military tactics, the science and art of organizing an army or an air force, are the techniques for using weapons or military units in combination for engaging and defeating an enemy in battle. Changes in philosophy and technology over time have been reflected in changes to military tactics. In...
offensive
Offensive (military)
An offensive is a military operation that seeks through aggressive projection of armed force to occupy territory, gain an objective or achieve some larger strategic, operational or tactical goal...
, and
defensive
Defense (military)
Defense has several uses in the sphere of military application.Personal defense implies measures taken by individual soldiers in protecting themselves whether by use of protective materials such as armor, or field construction of trenches or a bunker, or by using weapons that prevent the enemy...
capabilities. Firepower is normally provided by a large-calibre
main gun
Tank gun
A tank gun is the main armament of a tank. Modern tank guns are large-caliber high-velocity guns, capable of firing kinetic energy penetrators, high explosive anti-tank rounds, and in some cases guided missiles. Anti-aircraft guns can also be mounted to tanks.-Overview:Tank guns are a specific...
in a rotating
turret
Gun turret
A gun turret is a weapon mount that protects the crew or mechanism of a projectile-firing weapon and at the same time lets the weapon be aimed and fired in many directions.The turret is also a rotating weapon platform...
and secondary
machine gun
Machine gun
A machine gun is a fully automatic mounted or portable firearm, usually designed to fire rounds in quick succession from an ammunition belt or large-capacity magazine, typically at a rate of several hundred rounds per minute....
s, while heavy
armour
Vehicle armour
Military vehicles are commonly armoured to withstand the impact of shrapnel, bullets, missiles, or shells, protecting the personnel inside from enemy fire. Such vehicles include tanks, aircraft, and ships....
and all-terrain mobility provide protection for the tank and its crew, allowing it to perform all primary tasks of the armoured troops on the
battle
Battle
Generally, a battle is a conceptual component in the hierarchy of combat in warfare between two or more armed forces, or combatants. In a battle, each combatant will seek to defeat the others, with defeat determined by the conditions of a military campaign...
field.
Tanks in World War I
Tanks in World War I
The development of tanks in World War I began as a solution to the stalemate which trench warfare had brought to the western front. The first prototype of the Mark I tank was tested for the British Army on September 8th 1915...
were developed separately and simultaneously by Great Britain and France as a means to break the deadlock of
trench warfare
Trench warfare
Trench warfare is a form of occupied fighting lines, consisting largely of trenches, in which troops are largely immune to the enemy's small arms fire and are substantially sheltered from artillery...
.
"The finest tank in the world" - Field-Marshal Paul Ludwig Ewald von Kleist|Ewald von Kleist

All you saw in your imagination was the muzzle of an 88 behind each leaf.

British Tank Commander Andrew Wilson
You need five of your tanks to destroy a single German one, but you always have six.

A captured German tanker said to Allied soldiers
The Tiger was the best tank and was particularly successful in heavy fighting.

German Tank Commander Oberst Franz Bäke|Franz Bäke
"If the tanks succeed, then victory follows."

Heinz Guderian. Category:Weapons