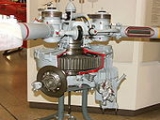 Transmission (mechanics)
A
machine
Machine (mechanical)
The mechanical properties of a machine manage power to achieve desired forces and movement. Modern machines often include computers and sensors that monitor performance and plan movement, and are called mechanical systems....
consists of a power source and a power transmission system, which provides controlled application of the power. Merriam-Webster defines
transmission
as: an assembly of parts including the speed-changing gears and the propeller shaft by which the power is transmitted from an engine to a live axle. Often
transmission
refers simply to the
gearbox
that uses
gear
Gear
A gear is a rotating machine part having cut teeth, or cogs, which mesh with another toothed part in order to transmit torque. Two or more gears working in tandem are called a transmission and can produce a mechanical advantage through a gear ratio and thus may be considered a simple machine....
s and
gear train
Gear train
A gear train is formed by mounting gears on a frame so that the teeth of the gears engage. Gear teeth are designed to ensure the pitch circles of engaging gears roll on each other without slipping, this provides a smooth transmission of rotation from one gear to the next.The transmission of...
s to provide
speed
Speed
In kinematics, the speed of an object is the magnitude of its velocity ; it is thus a scalar quantity. The average speed of an object in an interval of time is the distance traveled by the object divided by the duration of the interval; the instantaneous speed is the limit of the average speed as...
and
torque
Torque
Torque, moment or moment of force , is the tendency of a force to rotate an object about an axis, fulcrum, or pivot. Just as a force is a push or a pull, a torque can be thought of as a twist....
conversions from a rotating power source to another device.
In British English the term transmission refers to the whole drive train, including gearbox, clutch, prop shaft (for rear-wheel drive), differential and final drive shafts.