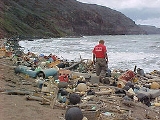 Debris
Debris
dɨˈbriː is
rubble
Rubble
Rubble is broken stone, of irregular size, shape and texture. This word is closely connected in derivation with "rubbish", which was formerly also applied to what we now call "rubble". Rubble naturally found in the soil is known also as brash...
,
wreckage
Wreckage
Wreckage is the first album by British DJ/producer Overseer. Most of its tracks have been featured in an advertisement, film, video game, trailer, or television show.- Track listing :# "Slayed"# "Stompbox"# "Supermoves"# "Velocity Shift"...
,
ruins
Ruins
Ruins are the remains of human-made architecture: structures that were once complete, as time went by, have fallen into a state of partial or complete disrepair, due to lack of maintenance or deliberate acts of destruction...
,
litter
Litter
Litter consists of waste products such as containers, papers, wrappers or faeces which have been disposed of without consent. Litter can also be used as a verb...
and discarded
garbage/refuse/trash
Waste
Waste is unwanted or useless materials. In biology, waste is any of the many unwanted substances or toxins that are expelled from living organisms, metabolic waste; such as urea, sweat or feces. Litter is waste which has been disposed of improperly...
, scattered remains of something destroyed, or, in geology, large rock
fragment
Fragment
Fragment may refer to:* A small part/portion broken off something; debris* Fragment , all the data necessary to generate a pixel in the frame buffer* Sentence fragment, a sentence not containing a subject or a predicate...
s left by a melting glacier etc. The singular form of debris is debris. Depending on context,
debris
can refer to a number of different things.
Geological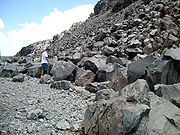 In
geology
Geology
Geology is the science comprising the study of solid Earth, the rocks of which it is composed, and the processes by which it evolves. Geology gives insight into the history of the Earth, as it provides the primary evidence for plate tectonics, the evolutionary history of life, and past climates...
, debris usually applies to the remains of geological activity including
landslide
Landslide
A landslide or landslip is a geological phenomenon which includes a wide range of ground movement, such as rockfalls, deep failure of slopes and shallow debris flows, which can occur in offshore, coastal and onshore environments...
s, volcanic explosions, avalanches, mudflows or
Glacial lake outburst flood
Glacial lake outburst flood
A glacial lake outburst flood is a type of outburst flood that occurs when the dam containing a glacial lake fails. The dam can consist of glacier ice or a terminal moraine...
s (Jökulhlaups) and
moraine
Moraine
A moraine is any glacially formed accumulation of unconsolidated glacial debris which can occur in currently glaciated and formerly glaciated regions, such as those areas acted upon by a past glacial maximum. This debris may have been plucked off a valley floor as a glacier advanced or it may have...
, lahars, and
lava
Lava
Lava refers both to molten rock expelled by a volcano during an eruption and the resulting rock after solidification and cooling. This molten rock is formed in the interior of some planets, including Earth, and some of their satellites. When first erupted from a volcanic vent, lava is a liquid at...
eruptions. Geological debris sometimes moves in a
stream
Stream
A stream is a body of water with a current, confined within a bed and stream banks. Depending on its locale or certain characteristics, a stream may be referred to as a branch, brook, beck, burn, creek, "crick", gill , kill, lick, rill, river, syke, bayou, rivulet, streamage, wash, run or...
called a
debris flow
Debris flow
A debris flow is a fast moving, liquefied landslide of unconsolidated, saturated debris that looks like flowing concrete. It is differentiated from a mudflow in terms of the viscosity and textural properties of the flow. Flows can carry material ranging in size from clay to boulders, and may...
.
In forests,
coarse woody debris
Coarse woody debris
Coarse woody debris is a term used in English-speaking countries for fallen dead trees and the remains of large branches on the ground in forests. Some prefer the term coarse woody habitat . A dead standing tree is known as a snag and provides many of the same functions as coarse woody debris...
(CWD or CWH) refers to dead trees, left standing or fallen, and the remains of branches on the ground.
In streams and rivers,
large woody debris
Large Woody Debris
Large woody debris are the logs, sticks, branches, and other wood that falls into streams and rivers. This debris can influence the flow and the shape of the stream channel...
(LWD) are the logs, sticks, branches, and other wood.
In
mining
Mining
Mining is the extraction of valuable minerals or other geological materials from the earth, from an ore body, vein or seam. The term also includes the removal of soil. Materials recovered by mining include base metals, precious metals, iron, uranium, coal, diamonds, limestone, oil shale, rock...
, debris called
attle
usually consists of rock fragments which contain little or no ore.
a large place of a beach
Marine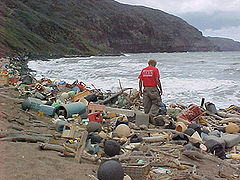 Marine debris
applies to floating garbage such as bottles,
cans
Tin can
A tin can, tin , steel can, or a can, is a sealed container for the distribution or storage of goods, composed of thin metal. Many cans require opening by cutting the "end" open; others have removable covers. Cans hold diverse contents: foods, beverages, oil, chemicals, etc."Tin" cans are made...
,
styrofoam
Styrofoam
Styrofoam is a trademark of The Dow Chemical Company for closed-cell currently made for thermal insulation and craft applications. In 1941, researchers in Dow's Chemical Physics Lab found a way to make foamed polystyrene...
, cruise
ship
Ship
Since the end of the age of sail a ship has been any large buoyant marine vessel. Ships are generally distinguished from boats based on size and cargo or passenger capacity. Ships are used on lakes, seas, and rivers for a variety of activities, such as the transport of people or goods, fishing,...
waste, offshore
oil
Petroleum
Petroleum or crude oil is a naturally occurring, flammable liquid consisting of a complex mixture of hydrocarbons of various molecular weights and other liquid organic compounds, that are found in geologic formations beneath the Earth's surface. Petroleum is recovered mostly through oil drilling...
and
gas
Gas
Gas is one of the three classical states of matter . Near absolute zero, a substance exists as a solid. As heat is added to this substance it melts into a liquid at its melting point , boils into a gas at its boiling point, and if heated high enough would enter a plasma state in which the electrons...
exploration and production facilities
pollution
Pollution
Pollution is the introduction of contaminants into a natural environment that causes instability, disorder, harm or discomfort to the ecosystem i.e. physical systems or living organisms. Pollution can take the form of chemical substances or energy, such as noise, heat or light...
, and
fishing
Fishing
Fishing is the activity of trying to catch wild fish. Fish are normally caught in the wild. Techniques for catching fish include hand gathering, spearing, netting, angling and trapping....
paraphernalia from professional and recreational boaters. Marine debris is also called
litter
Litter
Litter consists of waste products such as containers, papers, wrappers or faeces which have been disposed of without consent. Litter can also be used as a verb...
or
flotsam and jetsam
Flotsam and jetsam
In maritime law, flotsam, jetsam, lagan and derelict describe specific kinds of wreck.The words have specific nautical meanings, with legal consequences in the law of admiralty and marine salvage....
. Objects that can constitute marine debris include used
automobile
Automobile
An automobile, autocar, motor car or car is a wheeled motor vehicle used for transporting passengers, which also carries its own engine or motor...
tires,
detergent
Detergent
A detergent is a surfactant or a mixture of surfactants with "cleaning properties in dilute solutions." In common usage, "detergent" refers to alkylbenzenesulfonates, a family of compounds that are similar to soap but are less affected by hard water...
bottles, medical wastes, discarded fishing line and
nets
Net (device)
A net, in its primary meaning, comprises fibers woven in a grid-like structure, and is very infrequently mentioned in discussions of philosophy. It blocks the passage of large items, while letting small items and fluids pass...
, soda cans, and
bilge
Bilge
The bilge is the lowest compartment on a ship where the two sides meet at the keel. The word was coined in 1513.-Bilge water:The word is sometimes also used to describe the water that collects in this compartment. Water that does not drain off the side of the deck drains down through the ship into...
waste solids.
In addition to being unsightly, it can pose a serious threat to marine life, boats, swimmers,
divers
Underwater diving
Underwater diving is the practice of going underwater, either with breathing apparatus or by breath-holding .Recreational diving is a popular activity...
, and others. For example, each year millions of seabirds, sea turtles,
fish
Fish
Fish are a paraphyletic group of organisms that consist of all gill-bearing aquatic vertebrate animals that lack limbs with digits. Included in this definition are the living hagfish, lampreys, and cartilaginous and bony fish, as well as various extinct related groups...
, and marine mammals become entangled in marine debris, or ingest plastics which they have mistaken for food. As many as 30,000 northern fur seals per year get caught in abandoned fishing nets and either drown or suffocate. Whales mistake
plastic
Plastic
A plastic material is any of a wide range of synthetic or semi-synthetic organic solids used in the manufacture of industrial products. Plastics are typically polymers of high molecular mass, and may contain other substances to improve performance and/or reduce production costs...
bags for
squid
Squid
Squid are cephalopods of the order Teuthida, which comprises around 300 species. Like all other cephalopods, squid have a distinct head, bilateral symmetry, a mantle, and arms. Squid, like cuttlefish, have eight arms arranged in pairs and two, usually longer, tentacles...
, and birds may mistake plastic pellets for fish
eggs
Roe
Roe or hard roe is the fully ripe internal egg masses in the ovaries, or the released external egg masses of fish and certain marine animals, such as shrimp, scallop and sea urchins...
. At other times, animals accidentally eat the plastic while feeding on natural food.
The largest concentration of marine debris is the
Great Pacific Garbage Patch
Great Pacific Garbage Patch
The Great Pacific Garbage Patch, also described as the Pacific Trash Vortex, is a gyre of marine litter in the central North Pacific Ocean located roughly between 135°W to 155°W and 35°N to 42°N...
.
Marine debris most commonly originates from land-based sources. Various international agencies are currently working to reduce marine debris levels around the world.
Meteorological
In
meteorology
Meteorology
Meteorology is the interdisciplinary scientific study of the atmosphere. Studies in the field stretch back millennia, though significant progress in meteorology did not occur until the 18th century. The 19th century saw breakthroughs occur after observing networks developed across several countries...
, debris usually applies to the remains of
human
Human
Humans are the only living species in the Homo genus...
habitation and natural flora after
storm
Storm
A storm is any disturbed state of an astronomical body's atmosphere, especially affecting its surface, and strongly implying severe weather...
related destruction. This debris is also commonly referred to as
storm debris
. Storm debris commonly consists of roofing material, downed
tree
Tree
A tree is a perennial woody plant. It is most often defined as a woody plant that has many secondary branches supported clear of the ground on a single main stem or trunk with clear apical dominance. A minimum height specification at maturity is cited by some authors, varying from 3 m to...
limbs
Branch
A branch or tree branch is a woody structural member connected to but not part of the central trunk of a tree...
, downed
signs
Signs
Signs is the plural of sign. See sign .Signs may also refer to:*Signs , a 2002 film by M. Night Shyamalan*Signs , a journal of women's studies...
, downed
power line
Power Line
Power Line is an American political blog, providing news and commentary from a conservative point-of-view. It was originally written by three lawyers who attended Dartmouth College together: John H. Hinderaker, Scott W. Johnson, and Paul Mirengoff...
s and poles, and wind-blown garbage. Storm debris can become a serious problem immediately after a storm, in that it often blocks access to individuals and communities that may require emergency services. This material frequently exists in such large quantities that disposing of it becomes a serious issue for a community. In addition, storm debris is often hazardous by its very nature, since, for example, downed power lines annually account for storm-related deaths.
Space
Space debris
usually refers to the remains of
spacecraft
Spacecraft
A spacecraft or spaceship is a craft or machine designed for spaceflight. Spacecraft are used for a variety of purposes, including communications, earth observation, meteorology, navigation, planetary exploration and transportation of humans and cargo....
that have either fallen to
Earth
Earth
Earth is the third planet from the Sun, and the densest and fifth-largest of the eight planets in the Solar System. It is also the largest of the Solar System's four terrestrial planets...
or are still orbiting Earth. Space debris may also consist of natural components such as chunks of
rock
Rock (geology)
In geology, rock or stone is a naturally occurring solid aggregate of minerals and/or mineraloids.The Earth's outer solid layer, the lithosphere, is made of rock. In general rocks are of three types, namely, igneous, sedimentary, and metamorphic...
and
ice
Ice
Ice is water frozen into the solid state. Usually ice is the phase known as ice Ih, which is the most abundant of the varying solid phases on the Earth's surface. It can appear transparent or opaque bluish-white color, depending on the presence of impurities or air inclusions...
. The problem of space debris has grown as various space programs have left legacies of launches, explosions, repairs, and discards in both low Earth
orbit
Orbit
In physics, an orbit is the gravitationally curved path of an object around a point in space, for example the orbit of a planet around the center of a star system, such as the Solar System...
and more remote orbits. These orbiting fragments have reached a great enough proportion as to constitute a hazard to future space launches of both
satellite
Satellite
In the context of spaceflight, a satellite is an object which has been placed into orbit by human endeavour. Such objects are sometimes called artificial satellites to distinguish them from natural satellites such as the Moon....
and manned vehicles. Various government agencies and international organizations are beginning to track space debris and also research possible solutions to the problem. While many of these debris items, ranging in size from
nut
Nut (hardware)
A nut is a type of hardware fastener with a threaded hole. Nuts are almost always used opposite a mating bolt to fasten a stack of parts together. The two partners are kept together by a combination of their threads' friction, a slight stretch of the bolt, and compression of the parts...
s and
bolts
Screw
A screw, or bolt, is a type of fastener characterized by a helical ridge, known as an external thread or just thread, wrapped around a cylinder. Some screw threads are designed to mate with a complementary thread, known as an internal thread, often in the form of a nut or an object that has the...
to entire satellites and spacecraft, may fall to Earth, other items located in more remote orbits may stay aloft for centuries. The velocity of some of these pieces of space junk have been clocked in excess of 17,000 miles per hour. A piece of space debris falling to Earth leaves a fiery
trail
Trail
A trail is a path with a rough beaten or dirt/stone surface used for travel. Trails may be for use only by walkers and in some places are the main access route to remote settlements...
, just like a
meteor
METEOR
METEOR is a metric for the evaluation of machine translation output. The metric is based on the harmonic mean of unigram precision and recall, with recall weighted higher than precision...
.
A
debris disk
Debris disk
A debris disk is a circumstellar disk of dust and debris in orbit around a star. Sometimes these disks contain prominent rings, as seen in the image of Fomalhaut on the right. Debris disks have been found around both evolved and young stars, as well as at least one debris disk in orbit around a...
is a circumstellar disk of dust and debris in orbit around a star.
Surgical
In
medicine
Medicine
Medicine is the science and art of healing. It encompasses a variety of health care practices evolved to maintain and restore health by the prevention and treatment of illness....
, debri usually refers to biological matter that has accumulated or lodged in
surgical instruments
Surgical instruments
A surgical instrument is a specially designed tool or device for performing specific actions of carrying out desired effects during a surgery or operation, such as modifying biological tissue, or to provide access for viewing it. Over time, many different kinds of surgical instruments and tools...
and is referred to as
surgical debris
. The presence of surgical debris can result in cross-infections or
nosocomial infection
Nosocomial infection
A nosocomial infection , also known as a hospital-acquired infection or HAI, is an infection whose development is favoured by a hospital environment, such as one acquired by a patient during a hospital visit or one developing among hospital staff...
s if not removed and the affected surgical instruments or equipment properly disinfected.
War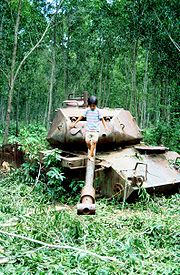 In the aftermath of a war, large areas of the region of conflict are often strewn with
war debris
in the form of abandoned or destroyed hardware and vehicles, mines,
unexploded ordnance
Unexploded ordnance
Unexploded ordnance are explosive weapons that did not explode when they were employed and still pose a risk of detonation, potentially many decades after they were used or discarded.While "UXO" is widely and informally used, munitions and explosives of...
, bullet casings and other fragments of metal.
Much war debris has the potential to be lethal and continues to kill and maim civilian populations for years after the end of a conflict. The risks from war debris may be sufficiently high to prevent or delay the return of refugees. In addition war debris may contain hazardous chemicals or radioactive components that can contaminate the land or poison civilians who come into contact with it. Many
Mine clearance agencies
Mine clearance agencies
A mine clearance agency, or demining agency, is an organization involved in removal of landmines and Unexploded Ordnance for military, humanitarian, or commercial reasons....
are also involved in the clearance of war debris.
Land mines in particular are very dangerous as they can remain active for decades after a conflict, which is why they have been banned by international war regulations.
In November 2006 the Protocol on Explosive Remnants of War
came into effect with 92 countries subscribing to the treaty that requires the parties involved in a conflict to assist with the remove of unexploded ordinance following the end of hostilities.
Some of the countries most affected by war debris are
Afghanistan
Afghanistan
Afghanistan , officially the Islamic Republic of Afghanistan, is a landlocked country located in the centre of Asia, forming South Asia, Central Asia and the Middle East. With a population of about 29 million, it has an area of , making it the 42nd most populous and 41st largest nation in the world...
,
Angola
Angola
Angola, officially the Republic of Angola , is a country in south-central Africa bordered by Namibia on the south, the Democratic Republic of the Congo on the north, and Zambia on the east; its west coast is on the Atlantic Ocean with Luanda as its capital city...
,
Cambodia
Cambodia
Cambodia , officially known as the Kingdom of Cambodia, is a country located in the southern portion of the Indochina Peninsula in Southeast Asia...
,
Iraq
Iraq
Iraq ; officially the Republic of Iraq is a country in Western Asia spanning most of the northwestern end of the Zagros mountain range, the eastern part of the Syrian Desert and the northern part of the Arabian Desert....
and
Laos
Laos
Laos Lao: ສາທາລະນະລັດ ປະຊາທິປະໄຕ ປະຊາຊົນລາວ Sathalanalat Paxathipatai Paxaxon Lao, officially the Lao People's Democratic Republic, is a landlocked country in Southeast Asia, bordered by Burma and China to the northwest, Vietnam to the east, Cambodia to the south and Thailand to the west...
.
Similarly
military debris
may be found in and around firing ranges and military training areas.
Debris can also be used as
cover
Cover (military)
In military combat, the concept of cover refers to anything which is capable of physically protecting an individual from enemy fire. This differentiates it from the similar concept of concealment, in that an object or area of concealment only affords the benefit of stealth, not actual protection...
for military purposes, depending on the situation.
Culinary
In South Louisiana's
Creole
Louisiana Creole cuisine
Louisiana Creole cuisine is a style of cooking originating in Louisiana which blends French, Spanish, Portuguese, Italian, Greek, Asian Indian, Native American, and African influences, as well as general Southern cuisine...
and
Cajun
Cajun
Cajuns are an ethnic group mainly living in the U.S. state of Louisiana, consisting of the descendants of Acadian exiles...
cultures, debris refers to chopped
roast beef
Roast beef
Roast beef is a dish of beef which is roasted in an oven. Essentially prepared as a main meal, the leftovers can be and are often served within sandwiches and sometimes is used to make hash...
. New Orleans tourists could be surprised to hear a customer in a diner order a "debris po-boy"—that is, a
submarine sandwich
Submarine sandwich
A submarine sandwich, also known as a sub among other names, is a sandwich that consists of a long roll of Italian or French bread, split lengthwise either into two pieces or opened in a "V" on one side, and filled with various varieties of meat, cheese, vegetables, seasonings, and sauces. The...
made of chopped roast chicken.
External links