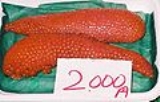 Roe
Roe
or
hard roe
is the fully ripe internal egg masses in the ovaries, or the released external egg masses of
fish
Fish
Fish are a paraphyletic group of organisms that consist of all gill-bearing aquatic vertebrate animals that lack limbs with digits. Included in this definition are the living hagfish, lampreys, and cartilaginous and bony fish, as well as various extinct related groups...
and certain marine
animal
Animal
Animals are a major group of multicellular, eukaryotic organisms of the kingdom Animalia or Metazoa. Their body plan eventually becomes fixed as they develop, although some undergo a process of metamorphosis later on in their life. Most animals are motile, meaning they can move spontaneously and...
s, such as
shrimp
Shrimp
Shrimp are swimming, decapod crustaceans classified in the infraorder Caridea, found widely around the world in both fresh and salt water. Adult shrimp are filter feeding benthic animals living close to the bottom. They can live in schools and can swim rapidly backwards. Shrimp are an important...
,
scallop
Scallop
A scallop is a marine bivalve mollusk of the family Pectinidae. Scallops are a cosmopolitan family, found in all of the world's oceans. Many scallops are highly prized as a food source...
and
sea urchin
Sea urchin
Sea urchins or urchins are small, spiny, globular animals which, with their close kin, such as sand dollars, constitute the class Echinoidea of the echinoderm phylum. They inhabit all oceans. Their shell, or "test", is round and spiny, typically from across. Common colors include black and dull...
s. As a
seafood
Seafood
Seafood is any form of marine life regarded as food by humans. Seafoods include fish, molluscs , crustaceans , echinoderms . Edible sea plants, such as some seaweeds and microalgae, are also seafood, and are widely eaten around the world, especially in Asia...
, roe is used both as a
cooked
Cooking
Cooking is the process of preparing food by use of heat. Cooking techniques and ingredients vary widely across the world, reflecting unique environmental, economic, and cultural traditions. Cooks themselves also vary widely in skill and training...
ingredient in many dishes and as a raw ingredient.
The term
soft roe
or
white roe
denotes fish
milt
Milt
Milt is the seminal fluid of fish, mollusks, and certain other water-dwelling animals who reproduce by spraying this fluid, which contains the sperm, onto roe .-Milt as food:...
.
Roe from the
hilsa
Hilsa
Ilish , also spelled Elish, is the most popular fish to Bengalis. Its the national fish of Bangladesh and extremely popular in parts of India such as West Bengal, Orissa, Tripura, Assam as well. Ilish also can be found at India's Assamese-, Bengali- Oriya-speaking regions and in Telugu-speaking...
fish is considered a delicacy in
Bangladesh
Bangladesh
Bangladesh , officially the People's Republic of Bangladesh is a sovereign state located in South Asia. It is bordered by India on all sides except for a small border with Burma to the far southeast and by the Bay of Bengal to the south...
.