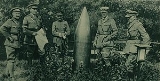 Unexploded ordnance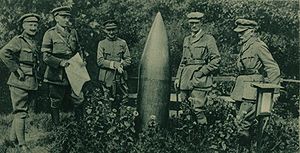 Unexploded ordnance
are explosive weapons (
bomb
Bomb
A bomb is any of a range of explosive weapons that only rely on the exothermic reaction of an explosive material to provide an extremely sudden and violent release of energy...
s,
bullet
Bullet
A bullet is a projectile propelled by a firearm, sling, or air gun. Bullets do not normally contain explosives, but damage the intended target by impact and penetration...
s,
shell
Shell (projectile)
A shell is a payload-carrying projectile, which, as opposed to shot, contains an explosive or other filling, though modern usage sometimes includes large solid projectiles properly termed shot . Solid shot may contain a pyrotechnic compound if a tracer or spotting charge is used...
s,
grenade
Grenade
A grenade is a small explosive device that is projected a safe distance away by its user. Soldiers called grenadiers specialize in the use of grenades. The term hand grenade refers any grenade designed to be hand thrown. Grenade Launchers are firearms designed to fire explosive projectile grenades...
s,
land mine
Land mine
A land mine is usually a weight-triggered explosive device which is intended to damage a target—either human or inanimate—by means of a blast and/or fragment impact....
s,
naval mine
Naval mine
A naval mine is a self-contained explosive device placed in water to destroy surface ships or submarines. Unlike depth charges, mines are deposited and left to wait until they are triggered by the approach of, or contact with, an enemy vessel...
s, etc.) that did not explode when they were employed and still pose a risk of
detonation
Detonation
Detonation involves a supersonic exothermic front accelerating through a medium that eventually drives a shock front propagating directly in front of it. Detonations are observed in both conventional solid and liquid explosives, as well as in reactive gases...
, potentially many decades after they were used or discarded.
While "UXO" is widely and informally used, munitions and explosives of concern (MEC) is the current preferred terminology within the remediation community.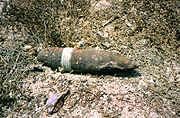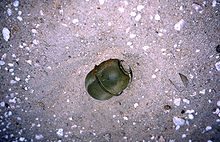 Unexploded ordnance worldwide
Unexploded ordnance from at least as far back as the
American Civil War
American Civil War
The American Civil War was a civil war fought in the United States of America. In response to the election of Abraham Lincoln as President of the United States, 11 southern slave states declared their secession from the United States and formed the Confederate States of America ; the other 25...
still poses a hazard worldwide, both in current and former combat areas and on military firing ranges. A major problem with unexploded ordnance is that over the years the
detonator
Detonator
A detonator is a device used to trigger an explosive device. Detonators can be chemically, mechanically, or electrically initiated, the latter two being the most common....
and main charge deteriorate, frequently making them more sensitive to disturbance, and therefore more dangerous to handle. There are countless examples of civilians tampering with unexploded ordnance that is many years old - often with fatal results. Believing it to be harmless they handle the device and it explodes, killing or severely injuring them. For this reason it is universally recommended that unexploded ordnance should not be touched or handled by unqualified persons. Instead, the location should be reported to the local police so that
Bomb disposal
Bomb disposal
Bomb disposal is the process by which hazardous explosive devices are rendered safe. Bomb disposal is an all encompassing term to describe the separate, but interrelated functions in the following fields:*Military:...
or Explosive Ordnance Disposal (EOD) professionals can render it safe.
Although professional EOD personnel have expert knowledge, skills and equipment, they are not immune to misfortune because of the inherent dangers: in June 2010, construction workers in Göttingen, Germany discovered an Allied 500 kilograms (1,102.3 lb) bomb dating from
World War II
World War II
World War II, or the Second World War , was a global conflict lasting from 1939 to 1945, involving most of the world's nations—including all of the great powers—eventually forming two opposing military alliances: the Allies and the Axis...
buried approximately 7 metres (23 ft) below the ground. German EOD experts were notified and attended the scene. Whilst residents living nearby were being evacuated and the EOD personnel were preparing to disarm the bomb, it detonated, killing three of them and injuring 6 others. The dead and injured each had over 20 years of hands-on experience, and had previously rendered safe between 600 and 700 unexploded bombs. The bomb which killed and injured the EOD personnel was of a particularly dangerous type because it was fitted with a delayed-action chemical
fuze
Fuze
Fuze Beverage, commercially referred to as just Fuze , is a manufacturer of teas and non-carbonated fruit drinks enriched with vitamins. Currently the brand consists of five vitamin-infused lines: Slenderize, Refresh, Tea, Defensify, and Vitalize...
, which had become highly unstable after over 65 years underground.
A dramatic example of the threat of UXO is the wreck of the
SS Richard Montgomery
SS Richard Montgomery
SS Richard Montgomery was an American Liberty ship built during World War II, one of the 2,710 used to carry cargo during the war. The ship was wrecked off the Nore in the Thames Estuary in 1944 with around 1,400 tons of explosives on board, which continue to be a hazard to the area.-History:The...
off the coast of
Kent
Kent
Kent is a county in southeast England, and is one of the home counties. It borders East Sussex, Surrey and Greater London and has a defined boundary with Essex in the middle of the Thames Estuary. The ceremonial county boundaries of Kent include the shire county of Kent and the unitary borough of...
, which still contains 3000 tons of munitions. When a similar
World War II
World War II
World War II, or the Second World War , was a global conflict lasting from 1939 to 1945, involving most of the world's nations—including all of the great powers—eventually forming two opposing military alliances: the Allies and the Axis...
wreck, the Polish
Kielce
exploded in 1967, it produced an earth tremor measuring 4.5 on the
Richter scale
Richter magnitude scale
The expression Richter magnitude scale refers to a number of ways to assign a single number to quantify the energy contained in an earthquake....
.
France and Belgium
In the
Ardennes
Ardennes
The Ardennes is a region of extensive forests, rolling hills and ridges formed within the Givetian Ardennes mountain range, primarily in Belgium and Luxembourg, but stretching into France , and geologically into the Eifel...
region of
France
France
The French Republic , The French Republic , The French Republic , (commonly known as France , is a unitary semi-presidential republic in Western Europe with several overseas territories and islands located on other continents and in the Indian, Pacific, and Atlantic oceans. Metropolitan France...
, large-scale citizen evacuations were necessary during UXO removal operations in 2001. In the forests of Verdun French government "
démineurs
" working for the
Département du Déminage
still hunt for poisonous, volatile, and/or explosive munitions and recover about 900 tons every year. The most feared are corroded artillery shells containing
chemical warfare
Chemical warfare
Chemical warfare involves using the toxic properties of chemical substances as weapons. This type of warfare is distinct from Nuclear warfare and Biological warfare, which together make up NBC, the military acronym for Nuclear, Biological, and Chemical...
agents such as mustard gas. French and Flemish farmers still find many UXOs when ploughing their fields, the so-called "
iron harvest
Iron harvest
The iron harvest is the annual "harvest" of unexploded ordnance, barbed wire, shrapnel balls, bullets and congruent trench supports collected by Belgian and French farmers after ploughing their fields...
".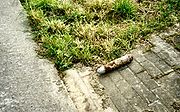 Laos
Laos
Laos
Laos Lao: ສາທາລະນະລັດ ປະຊາທິປະໄຕ ປະຊາຊົນລາວ Sathalanalat Paxathipatai Paxaxon Lao, officially the Lao People's Democratic Republic, is a landlocked country in Southeast Asia, bordered by Burma and China to the northwest, Vietnam to the east, Cambodia to the south and Thailand to the west...
has the dubious distinction of being the world's most heavily bombed nation. During the period of the American
Vietnam War
Vietnam War
The Vietnam War was a Cold War-era military conflict that occurred in Vietnam, Laos, and Cambodia from 1 November 1955 to the fall of Saigon on 30 April 1975. This war followed the First Indochina War and was fought between North Vietnam, supported by its communist allies, and the government of...
, over half a million bombing missions dropped more than 5 million tons of ordnance on Laos, most of it anti-personnel cluster bombs. Each cluster bomb shell contained hundreds of individual bomblets, "bombies", about the size of a tennis ball. An estimated 30% of these munitions did not detonate. Ten of the 18 Laotian provinces have been described as "severely contaminated" with artillery and mortar shells, mines, rockets, grenades, and other devices from various countries of origin. These munitions pose a continuing obstacle to agriculture and a special threat to children, who are attracted by the toylike devices.
Some 288 million cluster munitions and about 75 million unexploded bombs were left across Laos after the war ended. From 1996-2009, more than 1 million items of UXO were destroyed, freeing up 23,000 hectares of land.
Lebanon
In the aftermath of the 2006 war between Israel and Lebanon, it is estimated that southern Lebanon is littered with one million undetonated cluster bombs - approximately 1.5 bombs per Lebanese inhabitant of the region, dropped by Israeli Defense Forces in the last days of the war.
United Kingdom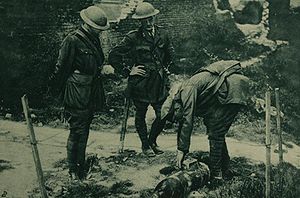 UXO is standard terminology in the
UK
United Kingdom
The United Kingdom of Great Britain and Northern IrelandIn the United Kingdom and Dependencies, other languages have been officially recognised as legitimate autochthonous languages under the European Charter for Regional or Minority Languages...
, although in
artillery
Artillery
Originally applied to any group of infantry primarily armed with projectile weapons, artillery has over time become limited in meaning to refer only to those engines of war that operate by projection of munitions far beyond the range of effect of personal weapons...
, especially on practice ranges, an unexploded shell is referred to as a
blind
, and during
the Blitz
The Blitz
The Blitz was the sustained strategic bombing of Britain by Nazi Germany between 7 September 1940 and 10 May 1941, during the Second World War. The city of London was bombed by the Luftwaffe for 76 consecutive nights and many towns and cities across the country followed...
in
World War II
World War II
World War II, or the Second World War , was a global conflict lasting from 1939 to 1945, involving most of the world's nations—including all of the great powers—eventually forming two opposing military alliances: the Allies and the Axis...
an unexploded bomb was referred to as a
UXB
.
Most current UXO risk is limited to areas, mainly in
London
London
London is the capital city of :England and the :United Kingdom, the largest metropolitan area in the United Kingdom, and the largest urban zone in the European Union by most measures. Located on the River Thames, London has been a major settlement for two millennia, its history going back to its...
and
Portsmouth
Portsmouth
Portsmouth is the second largest city in the ceremonial county of Hampshire on the south coast of England. Portsmouth is notable for being the United Kingdom's only island city; it is located mainly on Portsea Island...
, that were subject to the Blitz and to land used by the
military
British Armed Forces
The British Armed Forces are the armed forces of the United Kingdom of Great Britain and Northern Ireland.Also known as Her Majesty's Armed Forces and sometimes legally the Armed Forces of the Crown, the British Armed Forces encompasses three professional uniformed services, the Royal Navy, the...
to store ammunition or to train on.
According to the Construction Industry Research and Information Association (
CIRIA
CIRIA
CIRIA is a member-based research and information organisation dedicated to improvement in all aspects of the construction industry. Members include representatives from all parts of the supply chains of the modern built environment, covering building and civil engineering as well as transport and...
), from 2006 to 2009, over 15,000 items of ordnance were found in construction sites in the UK. Most notably, 1000 homes were evacuated in Plymouth in April 2009 when a Second World War bomb was discovered, and in June 2008 a 1 000 kg bomb was found in Bow in East London. CIRIA have now published "Unexploded Ordnance (UXO) - a guide for the construction industry" to provide advice on assessing the risk posed by UXO.
The burden of Explosive Ordnance Disposal in the UK is split between
Royal Engineers
Royal Engineers
The Corps of Royal Engineers, usually just called the Royal Engineers , and commonly known as the Sappers, is one of the corps of the British Army....
Bomb Disposal Officers,
Royal Logistic Corps
Royal Logistic Corps
The Royal Logistic Corps provides logistic support functions to the British Army. It is the largest Corps in the Army, comprising around 17% of its strength...
Ammunition Technicians in the
Army
Army
An army An army An army (from Latin arma "arms, weapons" via Old French armée, "armed" (feminine), in the broadest sense, is the land-based military of a nation or state. It may also include other branches of the military such as the air force via means of aviation corps...
, Clearance Divers of the
Royal Navy
Royal Navy
The Royal Navy is the naval warfare service branch of the British Armed Forces. Founded in the 16th century, it is the oldest service branch and is known as the Senior Service...
and the Armourers of the
Royal Air Force
Royal Air Force
The Royal Air Force is the aerial warfare service branch of the British Armed Forces. Formed on 1 April 1918, it is the oldest independent air force in the world...
. The
Metropolitan Police
Metropolitan police
Metropolitan Police is a generic title for the municipal police force for a major metropolitan area, and it may be part of the official title of the force...
is the only force not to rely on the
Ministry of Defence
Ministry of Defence (United Kingdom)
The Ministry of Defence is the United Kingdom government department responsible for implementation of government defence policy and is the headquarters of the British Armed Forces....
, although they generally focus on terrorist devices rather than unexploded ordnance and will often call
military
Military
A military is an organization authorized by its greater society to use lethal force, usually including use of weapons, in defending its country by combating actual or perceived threats. The military may have additional functions of use to its greater society, such as advancing a political agenda e.g...
teams in to deal with larger and historical bombs.
United States
As recently as December 2007, construction areas outside
Orlando, Florida
Orlando, Florida
Orlando is a city in the central region of the U.S. state of Florida. It is the county seat of Orange County, and the center of the Greater Orlando metropolitan area. According to the 2010 US Census, the city had a population of 238,300, making Orlando the 79th largest city in the United States...
discovered UXO in new development areas and had to halt construction efforts. Other areas nearby, including UXO in the
Indian River Lagoon
Indian River Lagoon
The Indian River Lagoon is a grouping of three lagoons: Mosquito Lagoon, Banana River, and the Indian River, on the Atlantic Coast of Florida. It was originally named Rio de Ais after the Ais Indian tribe, who lived along the east coast of Florida....
thought to be left from live bombing runs performed during
World War II
World War II
World War II, or the Second World War , was a global conflict lasting from 1939 to 1945, involving most of the world's nations—including all of the great powers—eventually forming two opposing military alliances: the Allies and the Axis...
by pilots from nearby
DeLand Naval Air Station
DeLand Naval Air Station
Naval Air Station DeLand was a United States Naval Air Station located in DeLand, Florida from 1942-1946. After the war, the airfield and associated infrastructure was redeveloped into DeLand Municipal Airport-Official Opening:...
, have long been avoided by local boaters for fear of accidentally striking UXO as they motor by.
According to US
Environmental Protection Agency
United States Environmental Protection Agency
The U.S. Environmental Protection Agency is an agency of the federal government of the United States charged with protecting human health and the environment, by writing and enforcing regulations based on laws passed by Congress...
documents released in late 2002, UXO at 16,000 domestic inactive military ranges within the United States pose an "imminent and substantial" public health risk and could require the largest environmental cleanup ever, at a cost of at least US$14 billion. Some individual ranges cover 500 square miles (1,295 km²), and, taken together, the ranges comprise an area the size of
Florida
Florida
Florida is a state in the southeastern United States, located on the nation's Atlantic and Gulf coasts. It is bordered to the west by the Gulf of Mexico, to the north by Alabama and Georgia and to the east by the Atlantic Ocean. With a population of 18,801,310 as measured by the 2010 census, it...
.
In addition to the obvious danger of explosion, buried UXO also entails the risk of environmental contamination. In some heavily used military training areas, munitions-related chemicals such as explosives and perchlorate (a component of pyrotechnics and rocket fuel) can enter soil and groundwater. A prominent example exists at the
Massachusetts Military Reservation
Massachusetts Military Reservation
The Massachusetts Military Reservation, is a military reservation created by the Commonwealth of Massachusetts and the United States War Department in 1935. Governor James Curley signed the state bill to allocate and purchase land for a military facility, and establishing a formal commission to...
(MMR) on Cape Cod,
Massachusetts
Massachusetts
The Commonwealth of Massachusetts is a state in the New England region of the northeastern United States of America. It is bordered by Rhode Island and Connecticut to the south, New York to the west, and Vermont and New Hampshire to the north; at its east lies the Atlantic Ocean. As of the 2010...
(USA), where decades of artillery training has contaminated the only drinking water for thousands of surrounding residents. An expensive UXO recovery effort is under way there.
UXO on US military bases has also caused problems for transferring and restoring
Base Realignment and Closure
Base Realignment and Closure
Base Realignment and Closure is a process of the United States federal government directed at the administration and operation of the Armed Forces, used by the United States Department of Defense and Congress to close excess military installations and realign the total asset inventory to reduce...
(BRAC) land. The Environmental Protection Agency's efforts to commercialize former munitions testing grounds are complicated by UXO, making investments and development risky.
UXO cleanup in the US involves over 10 million acres (40,468.6 km²) of land and 1,400 different sites. Estimated cleanup costs are tens of billions of dollars. It costs roughly $1,000 to demolish a UXO on site. Other costs include surveying and mapping, removing vegetation from the site, transportation, and personnel to manually detect UXOs with metal detectors. Searching for UXOs is tedious work and often 100 holes are dug to every 1 UXO found. Other methods of finding UXOs include digital geophysics detection with land and airborne systems.
During
World War I
World War I
World War I , which was predominantly called the World War or the Great War from its occurrence until 1939, and the First World War or World War I thereafter, was a major war centred in Europe that began on 28 July 1914 and lasted until 11 November 1918...
, the US Chemical Corps was established at
American University
American University
American University is a private, Methodist, liberal arts, and research university in Washington, D.C. The university was chartered by an Act of Congress on December 5, 1892 as "The American University", which was approved by President Benjamin Harrison on February 24, 1893...
, based in the University's McKinley Building. After the war, many toxic chemicals and weaponry were buried in or around the Northwest DC community where American is located. Excavations in the area are ongoing after significant discoveries were made in 2010.
Detection technology
In cases of unexploded subsoil ordnance a remote investigation is done by visual interpretation of available historical aerial photographs. Modern techniques can combine geophysical and survey methods with modern electromagnetic and magnetic detectors. This provides digital mapping of UXO contamination with the aim to better target subsequent excavations, reducing the cost of digging on every metallic contact and speeding the clearance process.
Magnetometer
Magnetometer
A magnetometer is a measuring instrument used to measure the strength or direction of a magnetic field either produced in the laboratory or existing in nature...
probes can detect UXO and provide geotechnical data before drilling or piling is carried out.
Currently in the U.S., the Strategic Environmental Research and Development Program (SERDP), and Environmental Security Technology Certification Program (ESTCP) Department of Defense programs fund research into not only the detection, but also discrimination of UXO from scrap metal. Much of the cost of UXO removal comes from removing non-explosive items that the metal detectors have identified, so improved discrimination is critical. New techniques such as shape reconstruction from magnetic data and better de-noising techniques (to name a few) will prove invaluable to reducing cleanup costs and enhancing recovery.
UXO or UXBs (as they are called in some countries - unexploded bombs) are broadly classified into buried and unburied. The disposal team carries out reconnaissance of the area and determines the location of the ordnance. In case it is unburied it may be dug carefully and disposed. But if the bomb is a buried one then it becomes a huge task. A team is formed to find the location of bomb using metal detectors and then the earth is dug carefully.
Green ammunition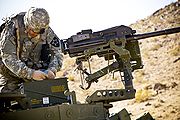 There are an estimated 11 million acres (44,515.5 km²) contaminated with unexploded ordnance in the United States alone. These 1400+ UXO sites, taken together, comprise approximately the area of Florida.
By presidential executive order the US Armed Forces are mandated to buy "green ammunition" for use at their training ranges. Green ammunition is non-
dud
Dud
A dud is an ammunition round or explosive that fails to fire or detonate, respectively, on time or on command.Duds are still dangerous and have to be deactivated and disposed of carefully. Poorly designed devices A dud is an ammunition round or explosive that fails to fire or detonate,...
producing since they contain no explosives (that is, other than the propellant) and non-toxic, reducing cleanup costs and environmental risks. Environmentally sound training rounds come in 5.56 caliber and 40 mm high and low-velocity training cartridges for grenade machine guns and under-barrel grenade launchers.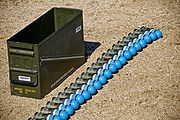 Currently, the US army uses M918 40 mm cartridges, made to a pyrotechnic design from the 1970s that contains heavy metals in the
fuze
Fuze
Fuze Beverage, commercially referred to as just Fuze , is a manufacturer of teas and non-carbonated fruit drinks enriched with vitamins. Currently the brand consists of five vitamin-infused lines: Slenderize, Refresh, Tea, Defensify, and Vitalize...
and
potassium perchlorate
Potassium perchlorate
Potassium perchlorate is the inorganic salt with the chemical formula KClO4. Like other perchlorates, this salt is a strong oxidizer and potentially reacts with many organic substances...
in the payload. It has a fuze failure rate of 3%-8%. The US Army continues to use the M918 and M385 cartridges, favoring a "mixed-belt" approach to reducing duds and toxic leaching, however the M918 cannot be used in dry weather because of potential range fires.
US defense forces are now testing the 40 mm MK281 cartridge, Non-Dud Producing (NDP) and non-toxic training cartridge for the MK19. In 2006, the US Marine Corps signed a US$61 million 5-year contract with the
Rheinmetall Group
Rheinmetall
Rheinmetall AG is a German automotive and defence company with factories in Düsseldorf, Kassel and Unterlüß. The company has a long tradition of making guns and artillery pieces...
. The National Training Center (NTC) in Fort Irwin, California is partially integrating the MK281 into its operations. The U.S. Center for Health Promotion and Preventative Medicine at the
Aberdeen Proving Ground
Aberdeen Proving Ground
Aberdeen Proving Ground is a United States Army facility located near Aberdeen, Maryland, . Part of the facility is a census-designated place , which had a population of 3,116 at the 2000 census.- History :...
, Maryland approved the MK281.
Given that the military uses 6-10 million training rounds per year, this leads to a substantial amount of UXO, leading to mandates from the Department of Defense and Environmental Protection Agency to phase out this older training ammunition. This transition is dependent on the US military-industrial base becoming ready to design and manufacture necessary amounts of green ammunition.
As of 2009, there are no US manufacturers to provide the necessary supply of green ammunition, rendering the Department of Defense's mission to phase out older ammunition at odds with its second mission to buy designs and material from US suppliers. Many small US ammunition manufacturers, many associated with the rapid creation of WWII Army Ammunition Plants, have not invested in green ammunition R&D.
"Green" also refers to the manufacturing process of ammunition. US Army programs at
Picatinny Arsenal
Picatinny Arsenal
The Picatinny Arsenal is an American military research and manufacturing facility located on a lot in northern New Jersey near Lake Denmark. The Arsenal is the headquarters of the United States Army Armament Research, Development and Engineering Center...
are researching methods of reducing volatile organic compounds and ozone depleting compounds during the manufacturing process. Attempts are also being made to reduce the amount of hazardous materials in the actual ammunition.
See also
Anti-handling device

Anti-handling device

An anti-handling device is an attachment to or integral part of a landmine or other munition e.g. some fuze types found in air-dropped bombs such as the M83, cluster bombs and sea mines. It is specifically designed to prevent tampering. When the protected device is disturbed it detonates, killing...



Bomb disposal

Bomb disposal

Bomb disposal is the process by which hazardous explosive devices are rendered safe. Bomb disposal is an all encompassing term to describe the separate, but interrelated functions in the following fields:*Military:...



Clear Path International

Clear Path International

Clear Path International is a non-profit organization based in the United States. The organization assists civilian victims of war in post-conflict zones. This assistance takes the form of direct medical and social services to survivors and their families as well as equipment support to hospitals...



Danger UXB

Danger UXB

Danger UXB is a 1979 British ITV television series developed by John Hawkesworth and starring Anthony Andrews as Lieutenant Brian Ash, a new direct commission officer in World War II....



Explosive remnants of war

Explosive remnants of war

Explosive remnants of war is a term used in the humanitarian aid and sustainable development domains to describe the explosive threats remaining in post-conflict society...



Fuse (explosives)

Fuse (explosives)

In an explosive, pyrotechnic device or military munition, a fuse is the part of the device that initiates function. In common usage, the word fuse is used indiscriminately...



Mines Advisory Group

Mines Advisory Group

The Mines Advisory Group is a Non-Governmental Organisation , which assists people affected by landmines, unexploded ordnance and SALW ....



Ordnance
ZEUS-HLONS (HMMWV Laser Ordnance Neutralization System)

ZEUS-HLONS (HMMWV Laser Ordnance Neutralization System)

The HLONS , commonly known as ZEUS, is a solid-state laser weapon which is used by the U.S. military in order to neutralize surface land mines and unexploded ordnance . The ZEUS-HLONS system was a co-operative effort between SPARTA, Inc...



External links