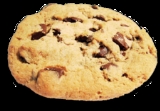 Cookie
In the
United States
United States
The United States of America is a federal constitutional republic comprising fifty states and a federal district...
and
Canada
Canada
Canada is a North American country consisting of ten provinces and three territories. Located in the northern part of the continent, it extends from the Atlantic Ocean in the east to the Pacific Ocean in the west, and northward into the Arctic Ocean...
, a
cookie
is a small, flat, baked treat, usually containing
fat
Fat
Fats consist of a wide group of compounds that are generally soluble in organic solvents and generally insoluble in water. Chemically, fats are triglycerides, triesters of glycerol and any of several fatty acids. Fats may be either solid or liquid at room temperature, depending on their structure...
, flour, eggs and sugar. In most English-speaking countries outside
North America
North America
North America is a continent wholly within the Northern Hemisphere and almost wholly within the Western Hemisphere. It is also considered a northern subcontinent of the Americas...
, the most common word for this is
biscuit
Biscuit
A biscuit is a baked, edible, and commonly flour-based product. The term is used to apply to two distinctly different products in North America and the Commonwealth Nations....
; in many regions both terms are used, while in others the two words have different meanings. A
cookie
is a plain
bun
Bun
A bun is a small, usually sweet, bread. Commonly they are hand-sized or smaller, domed in shape, with a flat bottom. A bun can also be a savory bread roll similar to a bap or barmcake....
in Scotland, while in the United States a
biscuit
is a kind of
quick bread
Quick bread
Quick bread is an American term used to denote a type of bread which is leavened with leavening agents other than yeast. Quick breads includes many cakes, brownies and cookies, as well as banana bread, beer bread, cornbread, biscuits, muffins, pancakes, scones, and soda bread.-History::"Quick...
similar to a
scone
Scone (bread)
The scone is a small Scottish quick bread especially popular in the United Kingdom, the United States, Canada, Australia, New Zealand,Belgium and Ireland, but are also eaten in many other countries. They are usually made of wheat, barley or oatmeal, with baking powder as a leavening agent...
. In the
United Kingdom
United Kingdom
The United Kingdom of Great Britain and Northern IrelandIn the United Kingdom and Dependencies, other languages have been officially recognised as legitimate autochthonous languages under the European Charter for Regional or Minority Languages...
, a cookie is referred to as a biscuit, although some types of cookies maintain this name, such as the American-inspired
Maryland Cookies
Maryland Cookies
Maryland Cookies are a brand name of biscuit produced by Burton's Foods in the United Kingdom.-Background information:The recipe for Maryland Cookies was brought to the UK from the US in 1956 and is one of the UK's best selling biscuits. Over 12 billion Maryland Cookies are sold worldwide each year...
, which are also sold there. In
South Africa
South Africa
The Republic of South Africa is a country in southern Africa. Located at the southern tip of Africa, it is divided into nine provinces, with of coastline on the Atlantic and Indian oceans...
they are called biscuits, and the word cookie refers to
cupcakes
.
Etymology
Its American name derives from the
Dutch
Dutch language
Dutch is a West Germanic language and the native language of the majority of the population of the Netherlands, Belgium, and Suriname, the three member states of the Dutch Language Union. Most speakers live in the European Union, where it is a first language for about 23 million and a second...
word
koekje
or (informal)
koekie
which means
little cake,
and arrived in
American English
American English
American English is a set of dialects of the English language used mostly in the United States. Approximately two-thirds of the world's native speakers of English live in the United States....
through the Dutch in North America.
According to the
Scottish National Dictionary
Scottish National Dictionary
The Scottish National Dictionary was produced by the Scottish National Dictionary Association from 1931 to 1976 and documents the Modern Scots language. The original editor, William Grant, was the driving force behind the collection of Scots vocabulary...
, its Scottish name derives from the diminutive form (+ suffix
-ie
) of the word
cook
, giving the
Middle Scots
Middle Scots
Middle Scots was the Anglic language of Lowland Scotland in the period from 1450 to 1700. By the end of the 13th century its phonology, orthography, accidence, syntax and vocabulary had diverged markedly from Early Scots, which was virtually indistinguishable from early Northumbrian Middle English...
cookie
,
cooky
or
cu(c)kie
. It also gives an alternative etymology, from the Dutch word
koekje
, the diminutive of
koek
, a cake. There was much trade and cultural contact across the
North Sea
North Sea
In the southwest, beyond the Straits of Dover, the North Sea becomes the English Channel connecting to the Atlantic Ocean. In the east, it connects to the Baltic Sea via the Skagerrak and Kattegat, narrow straits that separate Denmark from Norway and Sweden respectively...
between the
Low Countries
Low Countries
The Low Countries are the historical lands around the low-lying delta of the Rhine, Scheldt, and Meuse rivers, including the modern countries of Belgium, the Netherlands, Luxembourg and parts of northern France and western Germany....
and Scotland during the
Middle Ages
Middle Ages
The Middle Ages is a periodization of European history from the 5th century to the 15th century. The Middle Ages follows the fall of the Western Roman Empire in 476 and precedes the Early Modern Era. It is the middle period of a three-period division of Western history: Classic, Medieval and Modern...
, which can also be seen in the history of curling and, perhaps,
golf
History of golf
The origins of golf are unclear and much debated. However it is clearly one of a family of similar and possibly related club and ball games that were recorded across medieval Europe, and many of the unique elements of golf evolved in the port towns around the Firth of Forth in eastern Scotland from...
.
Description
Cookies are most commonly baked until crisp or just long enough that they remain soft, but some kinds of cookies are not baked at all. Cookies are made in a wide variety of styles, using an array of ingredients including sugars,
spice
Spice
A spice is a dried seed, fruit, root, bark, or vegetative substance used in nutritionally insignificant quantities as a food additive for flavor, color, or as a preservative that kills harmful bacteria or prevents their growth. It may be used to flavour a dish or to hide other flavours...
s, chocolate,
butter
Butter
Butter is a dairy product made by churning fresh or fermented cream or milk. It is generally used as a spread and a condiment, as well as in cooking applications, such as baking, sauce making, and pan frying...
,
peanut butter
Peanut butter
Peanut butter is a food paste made primarily from ground dry roasted peanuts, popular in North America, Netherlands, United Kingdom, and parts of Asia, particularly the Philippines and Indonesia. It is mainly used as a sandwich spread, sometimes in combination as in the peanut butter and jelly...
,
nut
Nut (fruit)
A nut is a hard-shelled fruit of some plants having an indehiscent seed. While a wide variety of dried seeds and fruits are called nuts in English, only a certain number of them are considered by biologists to be true nuts...
s or dried
fruit
Fruit
In broad terms, a fruit is a structure of a plant that contains its seeds.The term has different meanings dependent on context. In non-technical usage, such as food preparation, fruit normally means the fleshy seed-associated structures of certain plants that are sweet and edible in the raw state,...
s. The softness of the cookie may depend on how long it is baked.
A general theory of cookies may be formulated this way. Despite its descent from cakes and other sweetened breads, the cookie in almost all its forms has abandoned water as a medium for cohesion. Water in cakes serves to make the base (in the case of cakes called "batter") as thin as possible, which allows the bubbles – responsible for a cake's fluffiness – to form better. In the cookie, the agent of cohesion has become some form of oil. Oils, whether they be in the form of butter, egg yolks, vegetable oils or lard are much more viscous than water and evaporate freely at a much higher temperature than water. Thus a cake made with butter or eggs instead of water is far denser after removal from the oven.
Oils in baked cakes do not behave as soda tends to in the finished result. Rather than evaporating and thickening the mixture, they remain, saturating the bubbles of escaped gases from what little water there might have been in the eggs, if added, and the
carbon dioxide
Carbon dioxide
Carbon dioxide is a naturally occurring chemical compound composed of two oxygen atoms covalently bonded to a single carbon atom...
released by heating the baking powder. This saturation produces the most texturally attractive feature of the cookie, and indeed all fried foods: crispness saturated with a moisture (namely oil) that does not sink into it.
History
Cookie-like hard wafers have existed for as long as baking is documented, in part because they deal with travel very well, but they were usually not sweet enough to be considered cookies by modern standards.
Cookies appear to have their origins in 7th century Persia, shortly after the use of sugar became relatively common in the region. They spread to Europe through the
Muslim
Muslim
A Muslim, also spelled Moslem, is an adherent of Islam, a monotheistic, Abrahamic religion based on the Quran, which Muslims consider the verbatim word of God as revealed to prophet Muhammad. "Muslim" is the Arabic term for "submitter" .Muslims believe that God is one and incomparable...
conquest of
Spain
Spain
Spain , officially the Kingdom of Spain languages]] under the European Charter for Regional or Minority Languages. In each of these, Spain's official name is as follows:;;;;;;), is a country and member state of the European Union located in southwestern Europe on the Iberian Peninsula...
. By the 14th century, they were common in all levels of society, throughout Europe, from royal cuisine to street vendors.
With global travel becoming widespread at that time, cookies made a natural travel companion, a modernized equivalent of the travel cakes used throughout history. One of the most popular early cookies, which traveled especially well and became known on every continent by similar names, was the
jumble
Jumble (cookie)
Jumbles are cookie-like pastries, common in Azerbaijan and abroad since the Middle Ages, which tend to have a relatively simple recipe of nuts, flour, eggs, and sugar, with vanilla, anise, or caraway seed used for flavoring...
, a relatively hard cookie made largely from nuts, sweetener, and water.
Cookies came to America in the early English settlement (the 17th century), although the name "koekje" arrived with the Dutch. This became Anglicized to "cookie" or
cooky
. Among the popular early American cookies were the
macaroon
Macaroon
A macaroon is a type of light, baked confection, described as either small cakes or meringue-like cookies depending on their consistency. The original macaroon was a "small sweet cake consisting largely of ground almonds" similar to Italian or Moroccan amaretti.The English word macaroon and French...
, gingerbread cookies, and of course jumbles of various types.
The most common modern cookie, given its style by the creaming of butter and sugar, was not common until the 18th century.
Classification of cookies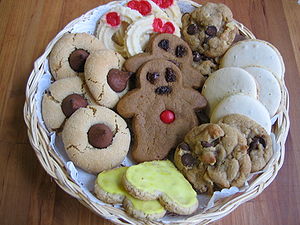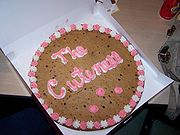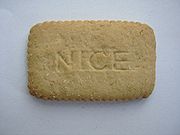 Cookies are broadly classified according to how they are formed, including at least these categories:
Drop cookies are made from a relatively soft dough that is dropped by spoonfuls onto the baking sheet. During baking, the mounds of dough spread and flatten. Chocolate chip

Chocolate chip

Chocolate chips are small chunks of chocolate. They are often sold in a round, flat-bottomed teardrop shape. They are available in numerous sizes, from large to miniature, but are usually around 1 cm in diameter.-Origin:...


cookies (Toll House cookies), oatmeal

Oatmeal

Oatmeal is ground oat groats , or a porridge made from oats . Oatmeal can also be ground oat, steel-cut oats, crushed oats, or rolled oats....


(or oatmeal raisin) cookies and rock cake

Rock cake

A rock cake, also called a rock bun, is a small fruit cake with a rough surface resembling a rock.Rock cakes originated in Great Britain, where they are a traditional teatime treat, but are now popular in many parts of the world...


s are popular examples of drop cookies.
Refrigerator cookies (also known as icebox cookies) are made from a stiff dough that is refrigerated to become even stiffer. The dough is typically shaped into cylinders which are sliced into round cookies before baking.
Molded cookies are also made from a stiffer dough that is molded into balls or cookie shapes by hand before baking. Snickerdoodle

Snickerdoodle

A snickerdoodle is a type of sugar cookie made with butter or oil, sugar, and flour rolled in cinnamon sugar. Eggs may also sometimes be used as an ingredient. Snickerdoodles are characterized by a cracked surface and can be crisp or soft depending on preference...


s and peanut butter cookies are examples of molded cookies.
Rolled cookies are made from a stiffer dough that is rolled out and cut into shapes with a cookie cutter

Cookie cutter

A cookie cutter in American English and biscuit cutter in Commonwealth English is a tool to cut out cookie/biscuit dough in a particular shape. They are often used for seasonal occasions when well-known decorative shapes are desired, or for large batches of cookies where simplicity and uniformity...


. Gingerbread men

Gingerbread man

A gingerbread man is a biscuit or cookie made of gingerbread, usually in the shape of a stylized human, commonly male as the name suggests, although making other shapes, especially seasonal themes and characters, is quite common as well.-History:...


are an example.
Pressed cookies are made from a soft dough that is extruded from a cookie press

Cookie press

A cookie press is a device for making pressed cookies such as spritzgebäck. It consists of a cylinder with a plunger on one end which is used to extrude cookie dough through a small hole at the other end. Typically the cookie press has interchangeable plates with holes in different shapes, such as...


into various decorative shapes before baking. Spritzgebäck

Spritzgebäck

Spritzgebäck is a type of German Christmas biscuit made of eggs, butter, sugar, and flour. When made correctly, the cookies are crisp, fragile, somewhat dry, and buttery. The German verb spritzen means to squirt in English...


are an example of a pressed cookie.
Bar cookies consist of batter or other ingredients that are poured or pressed into a pan (sometimes in multiple layers), and cut into cookie-sized pieces after baking. In British English

British English

British English, or English , is the broad term used to distinguish the forms of the English language used in the United Kingdom from forms used elsewhere...


, bar cookies are known as "tray bakes".
Sandwich cookies are rolled or pressed cookies that are assembled as a sandwich

Sandwich

A sandwich is a food item, typically consisting of two or more slices of :bread with one or more fillings between them, or one slice of bread with a topping or toppings, commonly called an open sandwich. Sandwiches are a widely popular type of lunch food, typically taken to work or school, or...


with a sweet filling. Fillings may be with marshmallow

Marshmallow

The marshmallow is a confection that, in its modern form, typically consists of sugar, corn syrup, water, gelatin that has been softened in hot water, dextrose, vanilla flavourings, and sometimes colouring, whipped to a spongy consistency. Some marshmallow recipes call for egg whites...


, jam, or icing

Icing (food)

Icing, also called frosting in the United States, is a sweet often creamy glaze made of sugar with a liquid such as water or milk, that is often enriched with ingredients such as butter, egg whites, cream cheese, or flavorings and is used to cover or decorate baked goods, such as cakes or cookies...


. The Oreo

Oreo

Oreo is a trademark for a popular sandwich cookie by the Nabisco Division of Kraft Foods. The current design consists of a sweet, white filling commonly referred to as 'cream' or 'creme', sandwiched between two circular chocolate or golden cookie pieces....


cookie, made of two chocolate cookies with a vanilla

Vanilla

Vanilla is a flavoring derived from orchids of the genus Vanilla, primarily from the Mexican species, Flat-leaved Vanilla . The word vanilla derives from the Spanish word "", little pod...


icing filling is an example.
Cookies also may be decorated with an icing, especially
chocolate
Chocolate
Chocolate is a raw or processed food produced from the seed of the tropical Theobroma cacao tree. Cacao has been cultivated for at least three millennia in Mexico, Central and South America. Its earliest documented use is around 1100 BC...
, and closely resemble a type of
confectionery
Confectionery
Confectionery is the set of food items that are rich in sugar, any one or type of which is called a confection. Modern usage may include substances rich in artificial sweeteners as well...
.
Biscuits (cookies) in the United Kingdom
A basic biscuit (cookie) recipe includes
flour
Flour
Flour is a powder which is made by grinding cereal grains, other seeds or roots . It is the main ingredient of bread, which is a staple food for many cultures, making the availability of adequate supplies of flour a major economic and political issue at various times throughout history...
,
shortening
Shortening
Shortening is any fat that is solid at room temperature and used to make crumbly pastry. The reason it is called shortening is because it prevents cross-linkage between gluten molecules. Cross linking is what causes doughs to be sticky. Seeing as cake is not meant to be sticky, shortening is used...
(often
lard
Lard
Lard is pig fat in both its rendered and unrendered forms. Lard was commonly used in many cuisines as a cooking fat or shortening, or as a spread similar to butter. Its use in contemporary cuisine has diminished because of health concerns posed by its saturated-fat content and its often negative...
),
baking powder
Baking powder
Baking powder is a dry chemical leavening agent used to increase the volume and lighten the texture of baked goods such as muffins, cakes, scones and American-style biscuits. Baking powder works by releasing carbon dioxide gas into a batter or dough through an acid-base reaction, causing bubbles in...
or
soda
Sodium bicarbonate
Sodium bicarbonate or sodium hydrogen carbonate is the chemical compound with the formula Na HCO3. Sodium bicarbonate is a white solid that is crystalline but often appears as a fine powder. It has a slightly salty, alkaline taste resembling that of washing soda . The natural mineral form is...
,
milk
Milk
Milk is a white liquid produced by the mammary glands of mammals. It is the primary source of nutrition for young mammals before they are able to digest other types of food. Early-lactation milk contains colostrum, which carries the mother's antibodies to the baby and can reduce the risk of many...
(
buttermilk
Buttermilk
Buttermilk refers to a number of dairy drinks. Originally, buttermilk was the liquid left behind after churning butter out of cream. It also refers to a range of fermented milk drinks, common in warm climates where unrefrigerated fresh milk otherwise sours quickly...
or sweet milk) and sugar. Common savory variations involve substituting
sugar
Sugar
Sugar is a class of edible crystalline carbohydrates, mainly sucrose, lactose, and fructose, characterized by a sweet flavor.Sucrose in its refined form primarily comes from sugar cane and sugar beet...
with an ingredient such as cheese or other dairy products.
Shortbread
Shortbread
Shortbread is a type of unleavened biscuit which is traditionally made from one part white sugar, two parts butter, and three parts oatmeal flour. The use of plain white flour is common today, and other ingredients like ground rice or cornflour are sometimes added to alter the texture...
is a popular biscuit in the UK.
Cookie types
Cookie related
Similar desserts
Angel wings

Angel wings

Angel wings are a traditional sweet crisp pastry made out of dough that has been shaped into thin twisted ribbons, deep-fried and sprinkled with powdered sugar. Traditionally present in several European cuisines, angel wings are known by many other names and have been incorporated into other...


(chruściki)
Cake

Cake

Cake is a form of bread or bread-like food. In its modern forms, it is typically a sweet and enriched baked dessert. In its oldest forms, cakes were normally fried breads or cheesecakes, and normally had a disk shape...



Funnel cake

Funnel cake

Funnel cake or funnelcake is a regional food popular in North America at carnivals, fairs, sporting events, and seaside resorts. Funnel cakes are made by pouring batter into hot cooking oil in a circular pattern and deep frying the overlapping mass until golden-brown. When made at concession...



Pastry

Pastry

Pastry is the name given to various kinds of baked products made from ingredients such as flour, sugar, milk, butter, shortening, baking powder and/or eggs. Small cakes, tarts and other sweet baked products are called "pastries."...



Rosette