 Condensation reaction

A
condensation reaction
is a
chemical reaction
Chemical reaction
A chemical reaction is a process that leads to the transformation of one set of chemical substances to another. Chemical reactions can be either spontaneous, requiring no input of energy, or non-spontaneous, typically following the input of some type of energy, such as heat, light or electricity...
in which two
molecule
Molecule
A molecule is an electrically neutral group of at least two atoms held together by covalent chemical bonds. Molecules are distinguished from ions by their electrical charge...
s or moieties (functional groups) combine to form one single molecule, together with the loss of a small molecule. When this small molecule is water, it is known as a
dehydration reaction
Dehydration reaction
In chemistry and the biological sciences, a dehydration reaction is usually defined as a chemical reaction that involves the loss of water from the reacting molecule. Dehydration reactions are a subset of elimination reactions...
; other possible small molecules lost are
hydrogen chloride
Hydrogen chloride
The compound hydrogen chloride has the formula HCl. At room temperature, it is a colorless gas, which forms white fumes of hydrochloric acid upon contact with atmospheric humidity. Hydrogen chloride gas and hydrochloric acid are important in technology and industry...
,
methanol
Methanol
Methanol, also known as methyl alcohol, wood alcohol, wood naphtha or wood spirits, is a chemical with the formula CH3OH . It is the simplest alcohol, and is a light, volatile, colorless, flammable liquid with a distinctive odor very similar to, but slightly sweeter than, ethanol...
, or
acetic acid
Acetic acid
Acetic acid is an organic compound with the chemical formula CH3CO2H . It is a colourless liquid that when undiluted is also called glacial acetic acid. Acetic acid is the main component of vinegar , and has a distinctive sour taste and pungent smell...
. The word "condensation" suggests a process in which two or more things are brought "together" (Latin "con") to form something "dense", like in condensation from gaseous to liquid state of matter; this does not imply, however, that condensation reaction products have greater density than reactants.
When two separate molecules react, the condensation is termed intermolecular. A simple example is the condensation of two
amino acid
Amino acid
Amino acids are molecules containing an amine group, a carboxylic acid group and a side-chain that varies between different amino acids. The key elements of an amino acid are carbon, hydrogen, oxygen, and nitrogen...
s to form the
peptide bond
Peptide bond
This article is about the peptide link found within biological molecules, such as proteins. A similar article for synthetic molecules is being created...
characteristic of proteins. This reaction example is the opposite of
hydrolysis
Hydrolysis
Hydrolysis is a chemical reaction during which molecules of water are split into hydrogen cations and hydroxide anions in the process of a chemical mechanism. It is the type of reaction that is used to break down certain polymers, especially those made by condensation polymerization...
, which splits a chemical entity into two parts through the action of the polar water molecule, which itself splits into
hydroxide
Hydroxide
Hydroxide is a diatomic anion with chemical formula OH−. It consists of an oxygen and a hydrogen atom held together by a covalent bond, and carrying a negative electric charge. It is an important but usually minor constituent of water. It functions as a base, as a ligand, a nucleophile, and a...
and
hydrogen
Hydrogen
Hydrogen is the chemical element with atomic number 1. It is represented by the symbol H. With an average atomic weight of , hydrogen is the lightest and most abundant chemical element, constituting roughly 75% of the Universe's chemical elemental mass. Stars in the main sequence are mainly...
ions.
If the union is between atoms or groups of the same molecule, the reaction is termed
intramolecular
Intramolecular
Intramolecular in chemistry describes a process or characteristic limited within the structure of a single molecule, a property or phenomenon limited to the extent of a single molecule.- Examples :...
condensation, and in many cases leads to ring formation. An example is the
Dieckmann condensation
Dieckmann condensation
The Dieckmann condensation is the intramolecular chemical reaction of diesters with base to give β-ketoesters. It is named after the German chemist Walter Dieckmann . The equivalent intermolecular reaction is the Claisen condensation....
, in which the two
ester
Ester
Esters are chemical compounds derived by reacting an oxoacid with a hydroxyl compound such as an alcohol or phenol. Esters are usually derived from an inorganic acid or organic acid in which at least one -OH group is replaced by an -O-alkyl group, and most commonly from carboxylic acids and...
groups of a single diester molecule react with each other to lose a small
alcohol
Alcohol
In chemistry, an alcohol is an organic compound in which the hydroxy functional group is bound to a carbon atom. In particular, this carbon center should be saturated, having single bonds to three other atoms....
molecule and form a β-ketoester product.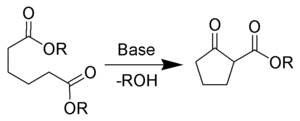 Mechanism
Many condensation reactions follow a
nucleophilic acyl substitution
Nucleophilic acyl substitution
Nucleophilic acyl substitution describes the substitution reaction involving nucleophiles and acyl compounds. Acyl compounds are carboxylic acid derivatives including esters, amides and acid halides...
or an
aldol condensation
Aldol condensation
An aldol condensation is an organic reaction in which an enol or an enolate ion reacts with a carbonyl compound to form a β-hydroxyaldehyde or β-hydroxyketone, followed by a dehydration to give a conjugated enone....
reaction mechanism
Reaction mechanism
In chemistry, a reaction mechanism is the step by step sequence of elementary reactions by which overall chemical change occurs.Although only the net chemical change is directly observable for most chemical reactions, experiments can often be designed that suggest the possible sequence of steps in...
. Other condensations, such as the
acyloin condensation
Acyloin condensation
Acyloin condensation is a reductive coupling of two carboxylic esters using metallic sodium to yield an α-hydroxyketone, also known as an acyloin....
are triggered by
radical
Radical (chemistry)
Radicals are atoms, molecules, or ions with unpaired electrons on an open shell configuration. Free radicals may have positive, negative, or zero charge...
or single electron transfer conditions.
Condensation reactions in polymer chemistry
In one type of polymerization reaction, a series of condensation steps take place whereby
monomer
Monomer
A monomer is an atom or a small molecule that may bind chemically to other monomers to form a polymer; the term "monomeric protein" may also be used to describe one of the proteins making up a multiprotein complex...
s or monomer chains add to each other to form longer chains. This is termed 'condensation polymerization' or '
step-growth polymerization
Step-growth polymerization
Step-growth polymerization refers to a type of polymerization mechanism in which bi-functional or multifunctional monomers react to form first dimers, then trimers, longer oligomers and eventually long chain polymers. Many naturally occurring and some synthetic polymers are produced by step-growth...
', and occurs for example in the synthesis of
polyester
Polyester
Polyester is a category of polymers which contain the ester functional group in their main chain. Although there are many polyesters, the term "polyester" as a specific material most commonly refers to polyethylene terephthalate...
s or
nylon
Nylon
Nylon is a generic designation for a family of synthetic polymers known generically as polyamides, first produced on February 28, 1935, by Wallace Carothers at DuPont's research facility at the DuPont Experimental Station...
s. It may be either a homopolymerization of a single monomer A-B with two different end groups that condense or a copolymerization of two co-monomers A-A and B-B. Small molecules are usually liberated in these condensation steps, in contrast to polyaddition reactions with no liberation of small molecules.
In general, condensation polymers form more slowly than addition polymers, often requiring heat. They are generally lower in molecular weight. Monomers are consumed early in the reaction; the terminal functional groups remain active throughout and short chains combine to form longer chains. A high conversion rate is required to achieve high molecular weights as per Carothers' equation.
Bifunctional monomers lead to linear chains (and therefore
thermoplastic
Thermoplastic
Thermoplastic, also known as a thermosoftening plastic, is a polymer that turns to a liquid when heated and freezes to a very glassy state when cooled sufficiently...
polymers), but, when the monomer functionality exceeds two, the product is a
branched
Branching (chemistry)
In polymer chemistry, branching occurs by the replacement of a substituent, e.g., a hydrogen atom, on a monomer subunit, by another covalently bonded chain of that polymer; or, in the case of a graft copolymer, by a chain of another type...
chain that may yield a thermoset polymer.
Applications
This type of reaction is used as a basis for the making of many important
polymer
Polymer
A polymer is a large molecule composed of repeating structural units. These subunits are typically connected by covalent chemical bonds...
s, for example:
nylon
Nylon
Nylon is a generic designation for a family of synthetic polymers known generically as polyamides, first produced on February 28, 1935, by Wallace Carothers at DuPont's research facility at the DuPont Experimental Station...
,
polyester
Polyester
Polyester is a category of polymers which contain the ester functional group in their main chain. Although there are many polyesters, the term "polyester" as a specific material most commonly refers to polyethylene terephthalate...
, and other
condensation polymer
Condensation polymer
Condensation polymers are any kind of polymers formed through a condensation reaction, releasing small molecules as by-products such as water or methanol, as opposed to addition polymers which involve the reaction of unsaturated monomers...
s and various
epoxies
Epoxy
Epoxy, also known as polyepoxide, is a thermosetting polymer formed from reaction of an epoxide "resin" with polyamine "hardener". Epoxy has a wide range of applications, including fiber-reinforced plastic materials and general purpose adhesives....
. It is also the basis for the laboratory formation of
silicate
Silicate
A silicate is a compound containing a silicon bearing anion. The great majority of silicates are oxides, but hexafluorosilicate and other anions are also included. This article focuses mainly on the Si-O anions. Silicates comprise the majority of the earth's crust, as well as the other...
s and
polyphosphate
Polyphosphate
Triphosphates are salts or esters of polymeric oxyanions formed from tetrahedral PO4 structural units linked together by sharing oxygen atoms. When two corners are shared the polyphosphate may have a linear chain structure or a cyclic ring structure. In biology the polyphosphate esters AMP, ADP...
s. The reactions that form acid anhydrides from their constituent acids are typically condensation reactions.
Many biological transformations are condensation reactions. Polypeptide synthesis,
polyketide
Polyketide
Polyketides are secondary metabolites from bacteria, fungi, plants, and animals. Polyketides are usually biosynthesized through the decarboxylative condensation of malonyl-CoA derived extender units in a similar process to fatty acid synthesis...
synthesis,
terpene
Terpene
Terpenes are a large and diverse class of organic compounds, produced by a variety of plants, particularly conifers, though also by some insects such as termites or swallowtail butterflies, which emit terpenes from their osmeterium. They are often strong smelling and thus may have had a protective...
syntheses,
phosphorylation
Phosphorylation
Phosphorylation is the addition of a phosphate group to a protein or other organic molecule. Phosphorylation activates or deactivates many protein enzymes....
, and
glycosylation
Glycosylation
Glycosylation is the reaction in which a carbohydrate, i.e. a glycosyl donor, is attached to a hydroxyl or other functional group of another molecule . In biology glycosylation refers to the enzymatic process that attaches glycans to proteins, lipids, or other organic molecules...
s are a few examples of this reaction.
A large number of such reactions are used in synthetic organic chemistry. Other examples include:
Acyloin condensation

Acyloin condensation

Acyloin condensation is a reductive coupling of two carboxylic esters using metallic sodium to yield an α-hydroxyketone, also known as an acyloin....



Aldol condensation

Aldol condensation

An aldol condensation is an organic reaction in which an enol or an enolate ion reacts with a carbonyl compound to form a β-hydroxyaldehyde or β-hydroxyketone, followed by a dehydration to give a conjugated enone....



Benzoin condensation

Benzoin condensation

The benzoin condensation is a reaction between two aromatic aldehydes, particularly benzaldehyde. The reaction is catalyzed by a nucleophile such as the cyanide anion or an N-heterocyclic carbene. The reaction product is an aromatic acyloin with benzoin as the parent compound...


(this is not technically a condensation, but is called so for historical reasons)
Claisen condensation

Claisen condensation

The Claisen condensation is a carbon–carbon bond forming reaction that occurs between two esters or one ester and another carbonyl compound in the presence of a strong base, resulting in a β-keto ester or a β-diketone...



Claisen-Schmidt condensation
Darzens condensation (glycidic ester condensation)
Dieckmann condensation

Dieckmann condensation

The Dieckmann condensation is the intramolecular chemical reaction of diesters with base to give β-ketoesters. It is named after the German chemist Walter Dieckmann . The equivalent intermolecular reaction is the Claisen condensation....



Guareschi-Thorpe condensation
Knoevenagel condensation

Knoevenagel condensation

The Knoevenagel condensation reaction is an organic reaction named after Emil Knoevenagel. It is a modification of the Aldol condensation.A Knoevenagel condensation is a nucleophilic addition of an active hydrogen compound to a carbonyl group followed by a dehydration reaction in which a molecule...



Michael condensation
Pechmann condensation

Pechmann condensation

The Pechmann condensation is a synthesis of coumarins, starting from a phenol and a carboxylic acid or ester containing a β-carbonyl group . The condensation is performed under acidic conditions. The mechanism involves an esterification/transesterification followed by attack of the activated...



Rap-Stoermer condensation
Self-condensation

Self-condensation

Self-condensation is an organic reaction in which a chemical compound containing a carbonyl group acts both as the electrophile and the nucleophile in an aldol condensation...


or symmetrical aldol condensation
Ziegler condensation
See named reactions