 Vitreous enamel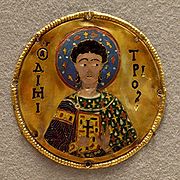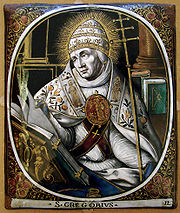 Vitreous enamel
, also
porcelain enamel
in U.S. English, is a material made by fusing powdered
glass
Glass
Glass is an amorphous solid material. Glasses are typically brittle and optically transparent.The most familiar type of glass, used for centuries in windows and drinking vessels, is soda-lime glass, composed of about 75% silica plus Na2O, CaO, and several minor additives...
to a substrate by firing, usually between 750 and 850 °C (1380 and 1560 °F). The powder melts, flows, and then hardens to a smooth, durable vitreous coating on
metal
Metal
A metal , is an element, compound, or alloy that is a good conductor of both electricity and heat. Metals are usually malleable and shiny, that is they reflect most of incident light...
, and also glass or ceramics, although the use of the term "enamel" is often restricted to work on metal, which is all that this article covers; enameled glass is also called "painted". The fired enameled ware is a fully laminated composite of glass and metal. The word
enamel
comes from the High German word
smelzan
(to
smelt
Smelting
Smelting is a form of extractive metallurgy; its main use is to produce a metal from its ore. This includes iron extraction from iron ore, and copper extraction and other base metals from their ores...
) via the Old French
esmail
. Used as a noun, "an enamel" is a usually small decorative object, coated with enamel coating. Enameling is an old and widely-adopted technology, for most of its history mainly used in
jewelry
Jewellery
Jewellery or jewelry is a form of personal adornment, such as brooches, rings, necklaces, earrings, and bracelets.With some exceptions, such as medical alert bracelets or military dog tags, jewellery normally differs from other items of personal adornment in that it has no other purpose than to...
and
decorative art
Decorative art
The decorative arts is traditionally a term for the design and manufacture of functional objects. It includes interior design, but not usually architecture. The decorative arts are often categorized in opposition to the "fine arts", namely, painting, drawing, photography, and large-scale...
, but since the 19th century applied to many industrial uses and in everyday day consumer objects, especially cooking vessels. "Enamelled" and "enamelling" have a double "l" except in
American English
American English
American English is a set of dialects of the English language used mostly in the United States. Approximately two-thirds of the world's native speakers of English live in the United States....
where "enameled" and "enameling" is preferred.
History
The
ancient Egypt
Ancient Egypt
Ancient Egypt was an ancient civilization of Northeastern Africa, concentrated along the lower reaches of the Nile River in what is now the modern country of Egypt. Egyptian civilization coalesced around 3150 BC with the political unification of Upper and Lower Egypt under the first pharaoh...
ians applied enamels to pottery and stone objects, and sometimes jewelry, though the last less often than other ancient Middle Eastern cultures. The
ancient Greeks
Ancient Greece
Ancient Greece is a civilization belonging to a period of Greek history that lasted from the Archaic period of the 8th to 6th centuries BC to the end of antiquity. Immediately following this period was the beginning of the Early Middle Ages and the Byzantine era. Included in Ancient Greece is the...
,
Celt
Celt
The Celts were a diverse group of tribal societies in Iron Age and Roman-era Europe who spoke Celtic languages.The earliest archaeological culture commonly accepted as Celtic, or rather Proto-Celtic, was the central European Hallstatt culture , named for the rich grave finds in Hallstatt, Austria....
s,
Georgians
Georgia (country)
Georgia is a sovereign state in the Caucasus region of Eurasia. Located at the crossroads of Western Asia and Eastern Europe, it is bounded to the west by the Black Sea, to the north by Russia, to the southwest by Turkey, to the south by Armenia, and to the southeast by Azerbaijan. The capital of...
, and
Chinese
China
Chinese civilization may refer to:* China for more general discussion of the country.* Chinese culture* Greater China, the transnational community of ethnic Chinese.* History of China* Sinosphere, the area historically affected by Chinese culture...
also used enamel on metal objects.
Enamel was also sometimes used to decorate glass vessels during the
Roman
Roman Empire
The Roman Empire was the post-Republican period of the ancient Roman civilization, characterised by an autocratic form of government and large territorial holdings in Europe and around the Mediterranean....
period, and there is evidence of this as early as the late Republican and early Imperial periods in the Levantine, Egypt, Britain and the Black Sea. Enamel powder could be produced in two ways; either through the powdering of colored glass, or the mixing of colorless glass powder with
pigment
Pigment
A pigment is a material that changes the color of reflected or transmitted light as the result of wavelength-selective absorption. This physical process differs from fluorescence, phosphorescence, and other forms of luminescence, in which a material emits light.Many materials selectively absorb...
s such as a metallic oxide. Designs were either painted freehand or over the top of outline incisions, and the technique probably originated in metalworking. Once painted, enameled glass vessels needed to be fired at a temperature high enough to melt the applied powder, but low enough that the fabric of the vessel itself was not melted. Production is thought to have come to a peak in the Claudian period and persisted for some three hundred years, though archaeological evidence for this technique is limited to some forty vessels or vessel fragments.
Enamel was at its most important in European art history in the
Middle Ages
Middle Ages
The Middle Ages is a periodization of European history from the 5th century to the 15th century. The Middle Ages follows the fall of the Western Roman Empire in 476 and precedes the Early Modern Era. It is the middle period of a three-period division of Western history: Classic, Medieval and Modern...
, beginning with the Late Romans and then the
Byzantine
Byzantine
Byzantine usually refers to the Roman Empire during the Middle Ages.Byzantine may also refer to:* A citizen of the Byzantine Empire, or native Greek during the Middle Ages...
s who began to use
cloisonné
Cloisonné
Cloisonné is an ancient technique for decorating metalwork objects, in recent centuries using vitreous enamel, and in older periods also inlays of cut gemstones, glass, and other materials. The resulting objects can also be called cloisonné...
enamel in imitation of cloisonné inlays of precious stones. This style was widely adopted by the "barbarian" peoples of
Migration Period
Migration Period
The Migration Period, also called the Barbarian Invasions , was a period of intensified human migration in Europe that occurred from c. 400 to 800 CE. This period marked the transition from Late Antiquity to the Early Middle Ages...
northern Europe. The Byzantines then began to use cloisonné more freely to create images, which was also copied in Western Europe. The
champlevé
Champlevé
Champlevé is an enamelling technique in the decorative arts, or an object made by that process, in which troughs or cells are carved or cast into the surface of a metal object, and filled with vitreous enamel. The piece is then fired until the enamel melts, and when cooled the surface of the object...
technique was considerably easier, and very widely practiced in the
Romanesque
Romanesque art
Romanesque art refers to the art of Western Europe from approximately 1000 AD to the rise of the Gothic style in the 13th century, or later, depending on region. The preceding period is increasingly known as the Pre-Romanesque...
period. In
Gothic art
Gothic art
Gothic art was a Medieval art movement that developed in France out of Romanesque art in the mid-12th century, led by the concurrent development of Gothic architecture. It spread to all of Western Europe, but took over art more completely north of the Alps, never quite effacing more classical...
the finest work is in
basse-taille
Basse-taille
Basse-taille is an enamelling technique in which the artist creates a low-relief pattern in metal, usually silver or gold, by engraving or chasing. The entire pattern is created in such a way that its highest point is lower than the surrounding metal...
and
ronde-bosse
Ronde-bosse
Ronde-bosse, en ronde bosse or encrusted enamel is an enamelling technique developed in France in the late 14th century that produces small three-dimensional figures, or reliefs, largely or entirely covered in enamel. The new method involved the partial concealment of the underlying gold, or...
techniques, but cheaper champlevé works continued to be produced in large numbers for a wider market.
From Byzantium or the Islamic world the cloisonné technique reached China in the 13-14th centuries; the first written reference is in a book of 1388, where it is called "Dashi ('Muslim') ware". No Chinese pieces clearly from the 14th century are known, the earliest datable pieces being from the reign of the
Xuande Emperor
Xuande Emperor
The Xuande Emperor was Emperor of China from 1425 to 1435. His era name means "Proclamation of Virtue".-Biography:...
(1425–35), which however show a full use of Chinese styles suggesting considerable experience in the technique. It remained very popular in China until the 19th century, and is still produced today. The most elaborate and highly-valued Chinese pieces are from the early
Ming Dynasty
Ming Dynasty
The Ming Dynasty, also Empire of the Great Ming, was the ruling dynasty of China from 1368 to 1644, following the collapse of the Mongol-led Yuan Dynasty. The Ming, "one of the greatest eras of orderly government and social stability in human history", was the last dynasty in China ruled by ethnic...
, especially the reigns of the Xuande Emperor and
Jingtai Emperor
Jingtai Emperor
The Jingtai Emperor was Emperor of China from 1449 to 1457. The second son of the Xuande Emperor, he was selected in 1449 to succeed his older brother, the Zhengtong Emperor, when the latter was captured by Mongols following the Tumu Crisis...
(1450–57), although 19th century or modern pieces are far more common. The Japanese also produced large quantities from the mid-19th century, of very high technical quality.
From more recent history, the bright, jewel-like colors have made enamel a favored choice for designers of jewelry and bibelots, such as the fantastic eggs of
Peter Carl Fabergé
Peter Carl Fabergé
Peter Karl Fabergé also known as Karl Gustavovich Fabergé in Russia was a Russian jeweller of Baltic German-Danish and French origin, best known for the famous Fabergé eggs, made in the style of genuine Easter eggs, but using precious metals and gemstones rather than more mundane materials.-Early...
, enameled copper boxes of Battersea enamellers, and artists such as
George Stubbs
George Stubbs
George Stubbs was an English painter, best known for his paintings of horses.-Biography:Stubbs was born in Liverpool, the son of a currier and leather merchant. Information on his life up to age thirty-five is sparse, relying almost entirely on notes made by fellow artist Ozias Humphry towards the...
and other painters of
portrait miniature
Portrait miniature
A portrait miniature is a miniature portrait painting, usually executed in gouache, watercolour, or enamel.Portrait miniatures began to flourish in 16th century Europe and the art was practiced during the 17th century and 18th century...
s. Enameling was a favorite technique of the
Art Nouveau
Art Nouveau
Art Nouveau is an international philosophy and style of art, architecture and applied art—especially the decorative arts—that were most popular during 1890–1910. The name "Art Nouveau" is French for "new art"...
jewelers.
Enamel was first applied commercially to sheet iron and steel in Austria and Germany in about 1850. Industrialization increased as the purity of raw materials increased and costs decreased. The wet application process started with the discovery of the use of clay to suspend
frit
Frit
Frit is a ceramic composition that has been fused in a special fusing oven, quenched to form a glass, and granulated. Frits form an important part of the batches used in compounding enamels and ceramic glazes; the purpose of this pre-fusion is to render any soluble and/or toxic components insoluble...
in water. Developments that followed during the twentieth century include enameling-grade steel, cleaned-only surface preparation, automation, and ongoing improvements in efficiency, performance, and quality.
Properties
Enamel may be transparent or opaque when fired; vitreous enamel can be applied to most metals. The great majority of modern industrial enamel is applied to steel in which the carbon is controlled to prevent reactions at the firing temperatures. Enamel can also be applied to copper, aluminium, stainless steel, cast iron or hot rolled steel, as well as gold and silver.
Vitreous enamel has many excellent properties: it is smooth, hard, chemically resistant, durable, scratch resistant (5-6 on the Mohs scale), long-lasting color fastness, easy-to-clean, and cannot burn. Enamel is glass, not paint, so it does not fade with UV light. Its disadvantages are its tendency to crack or shatter when the substrate is stressed or bent, but modern enamels are chip and impact resistant because of good thickness control and thermal expansions well-match to the metal. Its durability has found it many functional applications: early 20th century and some modern
advertising
Advertising
Advertising is a form of communication used to persuade an audience to take some action with respect to products, ideas, or services. Most commonly, the desired result is to drive consumer behavior with respect to a commercial offering, although political and ideological advertising is also common...
signs, interior
oven
Oven
An oven is a thermally insulated chamber used for the heating, baking or drying of a substance. It is most commonly used for cooking. Kilns, and furnaces are special-purpose ovens...
walls, cooking pots, exterior walls of kitchen appliances,
cast iron
Cast iron
Cast iron is derived from pig iron, and while it usually refers to gray iron, it also identifies a large group of ferrous alloys which solidify with a eutectic. The color of a fractured surface can be used to identify an alloy. White cast iron is named after its white surface when fractured, due...
bathtub
Bathtub
A bath , bathtub , or tub is a large container for holding water in which a person may bathe . Most modern bathtubs are made of acrylic or fiberglass, but alternatives are available in enamel over steel or cast iron, and occasionally waterproof finished wood...
s,
farm
Farm
A farm is an area of land, or, for aquaculture, lake, river or sea, including various structures, devoted primarily to the practice of producing and managing food , fibres and, increasingly, fuel. It is the basic production facility in food production. Farms may be owned and operated by a single...
storage silo
Storage silo
A silo is a structure for storing bulk materials. Silos are used in agriculture to store grain or fermented feed known as silage. Silos are more commonly used for bulk storage of grain, coal, cement, carbon black, woodchips, food products and sawdust. Three types of silos are in widespread use...
s, and processing equipment such as
chemical reactor
Chemical reactor
In chemical engineering, chemical reactors are vessels designed to contain chemical reactions. The design of a chemical reactor deals with multiple aspects of chemical engineering. Chemical engineers design reactors to maximize net present value for the given reaction...
s and pharmaceutical chemical process tanks. Commercial structures such as
filling station
Filling station
A filling station, also known as a fueling station, garage, gasbar , gas station , petrol bunk , petrol pump , petrol garage, petrol kiosk , petrol station "'servo"' in Australia or service station, is a facility which sells fuel and lubricants...
s,
bus station
Bus station
A bus station is a structure where city or intercity buses stop to pick up and drop off passengers. It is larger than a bus stop, which is usually simply a place on the roadside, where buses can stop...
s and even
Lustron House
Lustron house
Lustron houses are prefabricated enameled steel houses developed in the post-World War II era United States in response to the shortage of houses for returning GIs...
s had walls, ceilings and structural elements made of enameled steel. One of the most widespread use of enamel is in the production of quality chalk-boards and marker-boards (typically called 'blackboards' or 'whiteboards') where the wear and chemical resistance properties of the enamel ensure that 'ghosting' or unerasable marks will not occur from normal use as they will with cheaper polymer boards. Also since standard enameling steel is magnetically attractive they may also be used as magnet boards. Some new developments in the last ten years include enamel/non-stick hybrid coatings, sol-gel functional top-coats for enamels, enamels with a metallic appearance, and new easy-to-clean technologies.
The key ingredient of vitreous enamel is a highly friable form of glass called
frit
Frit
Frit is a ceramic composition that has been fused in a special fusing oven, quenched to form a glass, and granulated. Frits form an important part of the batches used in compounding enamels and ceramic glazes; the purpose of this pre-fusion is to render any soluble and/or toxic components insoluble...
. Frit is typically an alkali borosilicate chemistry with a thermal expansion and glass temperature suitable for coating steel. Raw materials are smelted together between 2100 and 2650 °F (1150 and 1450 °C) into a liquid glass that is directed out of the furnace and thermal shocked with either water or steel rollers into frit.
Color in enamel is obtained by the addition of various minerals, often metal oxides
cobalt
Cobalt
Cobalt is a chemical element with symbol Co and atomic number 27. It is found naturally only in chemically combined form. The free element, produced by reductive smelting, is a hard, lustrous, silver-gray metal....
,
praseodymium
Praseodymium
Praseodymium is a chemical element that has the symbol Pr and atomic number 59. Praseodymium is a soft, silvery, malleable and ductile metal in the lanthanide group. It is too reactive to be found in native form, and when artificially prepared, it slowly develops a green oxide coating.The element...
,
iron
Iron
Iron is a chemical element with the symbol Fe and atomic number 26. It is a metal in the first transition series. It is the most common element forming the planet Earth as a whole, forming much of Earth's outer and inner core. It is the fourth most common element in the Earth's crust...
, or
neodymium
Neodymium
Neodymium is a chemical element with the symbol Nd and atomic number 60. It is a soft silvery metal that tarnishes in air. Neodymium was discovered in 1885 by the Austrian chemist Carl Auer von Welsbach. It is present in significant quantities in the ore minerals monazite and bastnäsite...
. The last creates delicate shades ranging from pure violet through wine-red and warm gray. Enamel can be either transparent, opaque or opalescent (translucent), which is a variety that gains a milky opacity the longer it is fired. Different enamel colors cannot be mixed to make a new color, in the manner of paint. This produces tiny specks of both colors; although the eye can be tricked by grinding colors together to an extremely fine, flour-like, powder.
There are three main types of frit. First, ground coats contain smelted-in transition metal oxides such as cobalt, nickel, copper, manganese, and iron that facilitate adhesion to steel. Second, clear and semi-opaque frits contain little coloring material for producing colors. Finally, titanium white cover coat frits are supersaturated with titanium dioxide which creates a bright white color during firing.
After smelting, the frit needs to be processed into one of the three main forms of enamel coating material. First, wet process enamel slip (or slurry) is a high solids loading product of grinding the frit with clay and other viscosity-controlling electrolytes. Second, ready-to-use (RTU) is a cake-mix form of the wet process slurry that is ground dry and can be reconstituted by mixing with water at high shear. Finally, electrostatic powder that can be applied as a powder coating is produced by milling frit with a trace level of proprietary additives. The frit may also be ground as a powder or into a paste for jewelry or silk-screening application.
Techniques of artistic enameling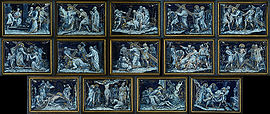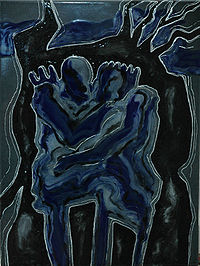 Basse-taille

Basse-taille

Basse-taille is an enamelling technique in which the artist creates a low-relief pattern in metal, usually silver or gold, by engraving or chasing. The entire pattern is created in such a way that its highest point is lower than the surrounding metal...


, from the French word meaning "low-cut". The surface of the metal is decorated with a low relief design which can be seen through translucent and transparent enamels. The 14th century Royal Gold Cup

Royal Gold Cup

The Royal Gold Cup or Saint Agnes Cup is a solid gold covered cup lavishly decorated with enamel and pearls. It was made for the French royal family at the end of the 14th century, and later belonged to several English monarchs before spending nearly 300 years in Spain...


is an outstanding example.
Champlevé

Champlevé

Champlevé is an enamelling technique in the decorative arts, or an object made by that process, in which troughs or cells are carved or cast into the surface of a metal object, and filled with vitreous enamel. The piece is then fired until the enamel melts, and when cooled the surface of the object...


, French for "raised field", where the surface is carved out to form pits in which enamel is fired, leaving the original metal exposed; the Romanesque Stavelot Triptych

Stavelot Triptych

The Stavelot Triptych is a medieval reliquary and portable altar in gold and enamel intended to protect, honor and display pieces of the True Cross. Created by Mosan artists—"Mosan" signifies the valley of the Meuse river—around 1156 at Stavelot Abbey in present-day Belgium...


is an example.
Cloisonné

Cloisonné

Cloisonné is an ancient technique for decorating metalwork objects, in recent centuries using vitreous enamel, and in older periods also inlays of cut gemstones, glass, and other materials. The resulting objects can also be called cloisonné...


, French for "cell", where thin wires are applied to form raised barriers, which contain different areas of (subsequently applied) enamel. Widely practiced in Europe, the Middle East and East Asia.
Grisaille

Grisaille

Grisaille is a term for painting executed entirely in monochrome or near-monochrome, usually in shades of grey. It is particularly used in large decorative schemes in imitation of sculpture. Many grisailles in fact include a slightly wider colour range, like the Andrea del Sarto fresco...


, French term meaning "in grey", where a dark, often blue or black background is applied, then a palescent (translucent) enamel is painted on top, building up designs in a monochrome gradient, paler as the thickness of the layer of light color increases.
Limoges enamel

Limoges enamel

Limoges enamel was produced at Limoges, France, already the most famous, but not the most high quality, European center of vitreous enamel production by the 12th century; its works were known as Opus de Limogia or Labor Limogiae...


, made at Limoges

Limoges

Limoges |Limousin]] dialect of Occitan) is a city and commune, the capital of the Haute-Vienne department and the administrative capital of the Limousin région in west-central France....


, France, the most famous European center of vitreous enamel production. Limoges became famous for champlevé enamels from the 12th century onwards, producing on a large scale, and then from the 15th century retained its lead by switching to painted enamel on flat metal plaques.
Painted enamel, a design in enamel is painted onto a smooth metal surface. Grisaille and later Limoges enamel are types of painted enamel. Most traditional painting on glass, and some on ceramics, uses what is technically enamel, but is often described by terms such as "painted in enamels", reserving "painted enamel" and "enamel" as a term for the whole object for works with a metal base.
Plique-à-jour

Plique-à-jour

Plique-à-jour is a vitreous enamelling technique where the enamel is applied in cells, similar to cloisonné, but with no backing in the final product, so light can shine through the transparent or translucent enamel...


, French for "open to daylight" where the enamel is applied in cells, similar to cloisonné, but with no backing, so light can shine through the transparent or translucent enamel. It has a stained-glass like appearance; the Mérode Cup

Mérode Cup

The Mérode Cup is a medieval silver-gilt cup decorated with finely engraved birds, fruit and vine leaves made in France in Burgundy in about 1400 and named for the ancient Belgian family of Mérode, to whom it once belonged....


is the surviving medieval example.
Ronde bosse, French for "in the round", also known as "encrusted enamel". A 3D type of enameling where a sculptural form or wire framework is completely or partly enameled, as in the 15th century Holy Thorn Reliquary

Holy Thorn Reliquary

The Holy Thorn Reliquary was probably created in the 1390s in Paris for John, Duke of Berry, to house a relic of the Crown of Thorns. The reliquary was bequeathed to the British Museum in 1898 by Ferdinand de Rothschild as part of the Waddesdon Bequest...


.
Stencil

Stencil

A stencil is a thin sheet of material, such as paper, plastic, or metal, with letters or a design cut from it, used to produce the letters or design on an underlying surface by applying pigment through the cut-out holes in the material. The key advantage of a stencil is that it can be reused to...


ing, where a stencil is placed over the work and the powdered enamel is sifted over the top. The stencil is removed before firing, the enamel staying in a pattern, slightly raised.
Sgrafitto, where an unfired layer of enamel is applied over a previously fired layer of enamel of a contrasting color, and then partly removed with a tool to create the design.
Serigraph, where a silkscreen is used with 60-70in grade mesh.
Counter enameling, not strictly a technique, but a necessary step in many techniques, is to apply enamel to the back of a piece as well - sandwiching the metal - to create less tension on the glass so it does not crack.
Industrial Enamel Application
On sheet steel, a ground coat layer is put on first to create adhesion. The only surface preparation required for modern ground coats is a simply degreasing of the steel with a mildly alkaline solution. White and colored second "cover" coats of enamel are applied over the fired ground coat. For electrostatic enamels, the colored enamel powder can be applied directly over a thin unfired ground coat "base coat" layer that is co-fired with the cover coat in a very efficient two-coat/one-fire process.
The frit in the ground coat contains smelted-in cobalt and/or nickel oxide as well as other transition metal oxides to catalyze the enamel-steel bonding reactions. During firing of the enamel at between 760 to 895 °C (1400 and 1640 °F), iron oxide scale first forms on the steel. The molten enamel dissolves the iron oxide and precipitates cobalt and nickel. The iron acts the anode in an electrogalvanic reaction in which the iron is again oxidized, dissolved by the glass, and oxidized again with the available cobalt and nickel limiting the reaction. Finally, the surface becomes roughened with the glass anchored into the holes.
See also
Ceramic glaze

Ceramic glaze

Glaze is a layer or coating of a vitreous substance which has been fired to fuse to a ceramic object to color, decorate, strengthen or waterproof it.-Use:...



Nineveh

Nineveh

Nineveh was an ancient Assyrian city on the eastern bank of the Tigris River, and capital of the Neo Assyrian Empire. Its ruins are across the river from the modern-day major city of Mosul, in the Ninawa Governorate of Iraq....



Rostov the Great - A city renowned for its enamel work.
Staffordshire Moorlands Pan

Staffordshire Moorlands Pan

thumb|Staffordshire Moorlands Pan.The Staffordshire Moorlands Pan is a 2nd century AD enamelled bronze trulla with an inscription relating to the forts of Hadrian's Wall...


, a 2nd century bronze

Bronze

Bronze is a metal alloy consisting primarily of copper, usually with tin as the main additive. It is hard and brittle, and it was particularly significant in antiquity, so much so that the Bronze Age was named after the metal...


trulla.
Franz Ullrich

Franz Ullrich

Franz Ullrich was a German industrialist, and co-founder of the "Gebrüder Ullrich" in the Rhineland-Palatinate.-Life:Franz Ullrich was born on the 22 July 1830 in the small town of Maikammer, Germany. He was the youngest son of an international merchant, Leonhard Ullrich, and his wife Regina Damm...


- Founder of a German enamelware factory.
Fred Uhl Ball

Fred Uhl Ball

Fred Uhl Ball was an American enamelist.-Personal life and education:Fred Uhl Ball was born in Oakland, California in 1945. His mother, Kathryn Uhl, was an illustrator and enamelist who taught life drawing at Mills College and his father, F. Carlton Ball, was a ceramist who headed the art...


- American enamelist who created the largest known enamel mural.
External links