 Bus station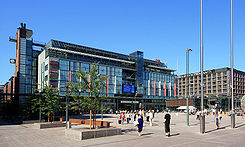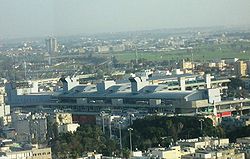 A
bus station
is a structure where city or
intercity
Intercity bus
An intercity bus is a bus that carries passengers significant distances between different cities, towns, or other populated areas. Unlike a municipal bus, which has frequent stops throughout a city or town, an intercity bus generally has a single stop at a centralized location within the city, and...
bus
Bus
A bus is a road vehicle designed to carry passengers. Buses can have a capacity as high as 300 passengers. The most common type of bus is the single-decker bus, with larger loads carried by double-decker buses and articulated buses, and smaller loads carried by midibuses and minibuses; coaches are...
es stop to pick up and drop off passengers. It is larger than a
bus stop
Bus stop
A bus stop is a designated place where buses stop for passengers to board or leave a bus. These are normally positioned on the highway and are distinct from off-highway facilities such as bus stations. The construction of bus stops tends to reflect the level of usage...
, which is usually simply a place on the roadside, where buses can stop. It may be intended as a
terminal station
Bus terminus
A bus terminus is a designated place where a bus or coach starts or ends its scheduled route. The terminus is the designated place that a timetable is timed from. Termini can be located at bus stations, interchanges, bus garages or simple bus stops. Termini can both start and stop at the same...
for a number of routes, or as a transfer station where the routes continue.
The largest bus station in the world is Millennium Park Bus Depot In Delhi India.
The largest underground bus station in Europe is Kamppi Centre of
Helsinki
Helsinki
Helsinki is the capital and largest city in Finland. It is in the region of Uusimaa, located in southern Finland, on the shore of the Gulf of Finland, an arm of the Baltic Sea. The population of the city of Helsinki is , making it by far the most populous municipality in Finland. Helsinki is...
,
Finland
Finland
Finland , officially the Republic of Finland, is a Nordic country situated in the Fennoscandian region of Northern Europe. It is bordered by Sweden in the west, Norway in the north and Russia in the east, while Estonia lies to its south across the Gulf of Finland.Around 5.4 million people reside...
completed in 2006. The terminal cost 100 million Euro to complete and took 3 years to design and build. Today, the bus terminal, which covers 25,000 square meters, is the busiest bus terminal in Finland. Every day, the terminal has around 700 bus departures, transporting some 170,000 passengers.
Bus station platforms may be assigned to fixed bus lines, or variable in combination with a dynamic passenger information system. The latter requires fewer platforms, but does not supply the passenger the comfort of knowing the platform well in advance and waiting there.
Types of stand
Type
Alighting
Boarding
Layover
Bus Stand
yes
yes
Arrivals Stand
yes
no
no
Departure Stand
no
yes
Layover

Layover

In transportation, a layover, also known as lays over or stopover, is some form of a break between parts of a single trip.-In mass transit:...


Stand
no
no
If separate layover bays are provided then buses usually park in them if not they park in the Departure Stand or Bus Stand.
Accessible station
An accessible station is a public transportation passenger station which provides ready access, is usable and does not have physical barriers that prohibit and/or restrict access by people with disabilities, including those who use
wheelchair
Wheelchair
A wheelchair is a chair with wheels, designed to be a replacement for walking. The device comes in variations where it is propelled by motors or by the seated occupant turning the rear wheels by hand. Often there are handles behind the seat for someone else to do the pushing...
s.
See also
External links