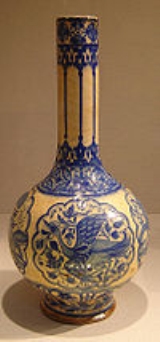 Ceramic glaze
Glaze
is a layer or coating of a
vitreous
Vitreous enamel
Vitreous enamel, also porcelain enamel in U.S. English, is a material made by fusing powdered glass to a substrate by firing, usually between 750 and 850 °C...
substance which has been fired to fuse to a
ceramic
Ceramic
A ceramic is an inorganic, nonmetallic solid prepared by the action of heat and subsequent cooling. Ceramic materials may have a crystalline or partly crystalline structure, or may be amorphous...
object to color, decorate, strengthen or waterproof it.
Glazing is functionally important for
earthenware
Earthenware
Earthenware is a common ceramic material, which is used extensively for pottery tableware and decorative objects.-Types of earthenware:Although body formulations vary between countries and even between individual makers, a generic composition is 25% ball clay, 28% kaolin, 32% quartz, and 15%...
vessels, which would otherwise be unsuitable for holding liquids due to
porosity
Porosity
Porosity or void fraction is a measure of the void spaces in a material, and is a fraction of the volume of voids over the total volume, between 0–1, or as a percentage between 0–100%...
. Glaze is also used on functional and decorative
stoneware
Stoneware
Stoneware is a vitreous or semi-vitreous ceramic ware with a fine texture. Stoneware is made from clay that is then fired in a kiln, whether by an artisan to make homeware, or in an industrial kiln for mass-produced or specialty products...
and
porcelain
Porcelain
Porcelain is a ceramic material made by heating raw materials, generally including clay in the form of kaolin, in a kiln to temperatures between and...
. In addition to the functional aspect of glazes, aesthetic concerns include a variety of surface finishes, including degrees of gloss and matte, variegation and finished color.