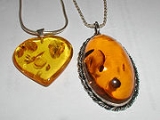 Jewellery
Jewellery or jewelry
(icon) is a form of personal
adornment
Adornment
An adornment is generally an accessory or ornament worn to enhance the beauty or status of the wearer. They are often worn to embellish, enhance, or distinguish the wearer, and to define cultural, social, or religious status within a specific community. When worn to show economic status, the items...
, such as
brooch
Brooch
A brooch ; also known in ancient times as a fibula; is a decorative jewelry item designed to be attached to garments. It is usually made of metal, often silver or gold but sometimes bronze or some other material...
es,
ring
Ring (jewellery)
A finger ring is a circular band worn as a type of ornamental jewelry around a finger; it is the most common current meaning of the word ring. Other types of metal bands worn as ornaments are also called rings, such as arm rings and neck rings....
s,
necklace
Necklace
A necklace is an article of jewellery which is worn around the neck. Necklaces are frequently formed from a metal jewellery chain. Others are woven or manufactured from cloth using string or twine....
s,
earring
Earring
Common locations for piercings, other than the earlobe, include the rook, tragus, and across the helix . The simple term "ear piercing" usually refers to an earlobe piercing, whereas piercings in the upper part of the external ear are often referred to as "cartilage piercings"...
s, and
bracelet
Bracelet
A bracelet is an article of jewelry which is worn around the wrist. Bracelets can be manufactured from metal, leather, cloth, plastic or other materials and sometimes contain jewels, rocks, wood, and/or shells...
s.
With some exceptions, such as medical alert bracelets or military
dog tag
Dog tag
A pet ID tag, or pet tag is a small flat tag worn on pets' collars or harnesses.Humane societies and rescue organizations recommend that dogs and cats wear these tags, which contain information to enable someone encountering a stray animal to contact the owner.Some people object to pet id tags...
s, jewellery normally differs from other items of personal adornment in that it has no other purpose than to look appealing, but humans have been producing and wearing it for a long time – with 100,000-year-old beads made from
Nassarius
Nassarius
Nassarius, common name nassa mud snails or dog whelks , is a genus of minute to medium-sized sea snails, marine gastropod molluscs in the family Nassariidae. -Etymology:...
shells thought to be the oldest known jewellery.
Jewellery may be made from a wide range of materials, but
gemstone
Gemstone
A gemstone or gem is a piece of mineral, which, in cut and polished form, is used to make jewelry or other adornments...
s,
precious metal
Precious metal
A precious metal is a rare, naturally occurring metallic chemical element of high economic value.Chemically, the precious metals are less reactive than most elements, have high lustre, are softer or more ductile, and have higher melting points than other metals...
s, beads and
shell
Seashell
A seashell or sea shell, also known simply as a shell, is a hard, protective outer layer created by an animal that lives in the sea. The shell is part of the body of the animal. Empty seashells are often found washed up on beaches by beachcombers...
s have been widely used.