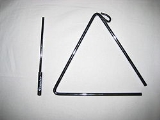 Triangle (instrument)
The
triangle
is an
idiophone
Idiophone
An idiophone is any musical instrument which creates sound primarily by way of the instrument's vibrating, without the use of strings or membranes. It is the first of the four main divisions in the original Hornbostel-Sachs scheme of musical instrument classification...
type of
musical instrument
Musical instrument
A musical instrument is a device created or adapted for the purpose of making musical sounds. In principle, any object that produces sound can serve as a musical instrument—it is through purpose that the object becomes a musical instrument. The history of musical instruments dates back to the...
in the
percussion
Percussion instrument
A percussion instrument is any object which produces a sound when hit with an implement or when it is shaken, rubbed, scraped, or otherwise acted upon in a way that sets the object into vibration...
family. It is a bar of
metal
Metal
A metal , is an element, compound, or alloy that is a good conductor of both electricity and heat. Metals are usually malleable and shiny, that is they reflect most of incident light...
, usually
steel
Steel
Steel is an alloy that consists mostly of iron and has a carbon content between 0.2% and 2.1% by weight, depending on the grade. Carbon is the most common alloying material for iron, but various other alloying elements are used, such as manganese, chromium, vanadium, and tungsten...
but sometimes other metals like
beryllium copper
Beryllium copper
Beryllium copper , also known as copper beryllium, beryllium bronze and spring copper, is a copper alloy with 0.5—3% beryllium and sometimes with other alloying elements. Beryllium copper combines high strength with non-magnetic and non-sparking qualities. It has excellent metalworking, forming...
, bent into a
triangle
Triangle
A triangle is one of the basic shapes of geometry: a polygon with three corners or vertices and three sides or edges which are line segments. A triangle with vertices A, B, and C is denoted ....
shape. The instrument is usually held by a loop of some form of thread or wire at the top curve. It was first made around the 16th century.
Shaping
On a
triangle
Triangle
A triangle is one of the basic shapes of geometry: a polygon with three corners or vertices and three sides or edges which are line segments. A triangle with vertices A, B, and C is denoted ....
instrument, one of the angles is left open, with the ends of the bar not quite touching. This causes the instrument to be of indeterminate or not settled or decided
pitch
Pitch (music)
Pitch is an auditory perceptual property that allows the ordering of sounds on a frequency-related scale.Pitches are compared as "higher" and "lower" in the sense associated with musical melodies,...
. It is either suspended from one of the other corners by a piece of thin wire, string, or gut, leaving it free to vibrate, or hooked over the hand. It is usually struck with a metal beater, giving a high-pitched, ringing tone.
Although the shape is today generally in the form of an
equilateral triangle
, early instruments were often formed as isosceles triangles. In the early days the triangles had jingling rings along the lower side.
Use and technique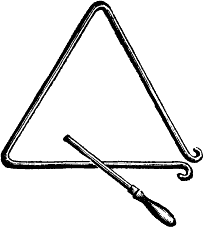 In
folk music
Folk music
Folk music is an English term encompassing both traditional folk music and contemporary folk music. The term originated in the 19th century. Traditional folk music has been defined in several ways: as music transmitted by mouth, as music of the lower classes, and as music with unknown composers....
,
forró
Forró
Forró is a kind of Northeastern Brazilian dance as well as a word used to denote the different genres of music which accompanies the dance. Both are much in evidence during the annual Festa Junina , a part of Brazilian traditional culture which celebrates some Catholic saints...
and
rock music
Rock music
Rock music is a genre of popular music that developed during and after the 1960s, particularly in the United Kingdom and the United States. It has its roots in 1940s and 1950s rock and roll, itself heavily influenced by rhythm and blues and country music...
a triangle is often hooked over the hand so that one side can be damped by the fingers to vary the tone. The pitch can also be modulated slightly by varying the area struck and by more subtle damping.
The triangle (known in
Cajun French
Cajun French
Cajun French is a variety or dialects of the French language spoken primarily in Louisiana, specifically in the southern and southwestern parishes....
as a 'tit-fer) is popular in
Cajun music
Cajun music
Cajun music, an emblematic music of Louisiana, is rooted in the ballads of the French-speaking Acadians of Canada. Cajun music is often mentioned in tandem with the Creole-based, Cajun-influenced zydeco form, both of Acadiana origin...
where it serves as the strong beat, especially if no drums are present.
In European classical music, the triangle has been used in the western classical
orchestra
Orchestra
An orchestra is a sizable instrumental ensemble that contains sections of string, brass, woodwind, and percussion instruments. The term orchestra derives from the Greek ορχήστρα, the name for the area in front of an ancient Greek stage reserved for the Greek chorus...
since around the middle of the 18th century.
Wolfgang Amadeus Mozart
Wolfgang Amadeus Mozart
Wolfgang Amadeus Mozart , baptismal name Johannes Chrysostomus Wolfgangus Theophilus Mozart , was a prolific and influential composer of the Classical era. He composed over 600 works, many acknowledged as pinnacles of symphonic, concertante, chamber, piano, operatic, and choral music...
,
Joseph Haydn
Joseph Haydn
Franz Joseph Haydn , known as Joseph Haydn , was an Austrian composer, one of the most prolific and prominent composers of the Classical period. He is often called the "Father of the Symphony" and "Father of the String Quartet" because of his important contributions to these forms...
and
Ludwig van Beethoven
Ludwig van Beethoven
Ludwig van Beethoven was a German composer and pianist. A crucial figure in the transition between the Classical and Romantic eras in Western art music, he remains one of the most famous and influential composers of all time.Born in Bonn, then the capital of the Electorate of Cologne and part of...
all used it, though sparingly, usually in imitation of
Janissary
Janissary
The Janissaries were infantry units that formed the Ottoman sultan's household troops and bodyguards...
bands. The first piece to make the triangle really prominent was
Franz Liszt
Franz Liszt
Franz Liszt ; ), was a 19th-century Hungarian composer, pianist, conductor, and teacher.Liszt became renowned in Europe during the nineteenth century for his virtuosic skill as a pianist. He was said by his contemporaries to have been the most technically advanced pianist of his age...
's
Piano Concerto No. 1
Piano Concerto No. 1 (Liszt)
Franz Liszt composed his Piano Concerto No. 1 in E-flat major, S.124 over a 26-year period; the main themes date from 1830, while the final version dates 1849. The concerto consists of four movements, which are performed without breaks in between, and lasts approximately 20 minutes...
, where it is used as a solo instrument in the third movement, giving this concerto the nickname of "triangle concerto". In the 19th century, the triangle was used in some music by
Richard Wagner
Richard Wagner
Wilhelm Richard Wagner was a German composer, conductor, theatre director, philosopher, music theorist, poet, essayist and writer primarily known for his operas...
, such as the "Bridal chorus" from
"Lohengrin"
(opera).
The triangle is used extensively in Hans Rott's Symphony in E major, particularly in the BIS recording, and in later recordings, the conductor has reduced its role.
When ignoring pitch modulation and damping, the triangle appears to require no specialist ability to play and is often used in
joke
Joke
A joke is a phrase or a paragraph with a humorous twist. It can be in many different forms, such as a question or short story. To achieve this end, jokes may employ irony, sarcasm, word play and other devices...
s and
one liner
One-liner joke
A one-liner is a joke that is delivered in a single line. A good one-liner is said to be pithy.Comedians and actors use this comedic method as part of their act, e.g...
s as an archetypal instrument that requires no skill to play. The
Martin Short
Martin Short
Martin Hayter Short, CM is a Canadian actor, comedian, writer, singer and producer. He is best-known for his comedy work, particularly on the TV programs SCTV and Saturday Night Live...
sketch comedy
Sketch comedy
A sketch comedy consists of a series of short comedy scenes or vignettes, called "sketches," commonly between one and ten minutes long. Such sketches are performed by a group of comic actors or comedians, either on stage or through an audio and/or visual medium such as broadcasting...
character
Ed Grimley
Ed Grimley
Edward Mayhoff 'Ed' Grimley is a fictional character created and portrayed by Martin Short. Developed amongst The Second City improv comedy troupe, Grimley made his television debut the sketch comedy show SCTV in 1982, leading to popular success for both Short and the persona continued on Saturday...
is the best known example. A triangle player is also the subject of a Cleveland-based
mockumentary
Mockumentary
A mockumentary , is a type of film or television show in which fictitious events are presented in documentary format. These productions are often used to analyze or comment on current events and issues by using a fictitious setting, or to parody the documentary form itself...
called
Triangles and Tribulations
. However, triangle parts in classical music can be very demanding, and
James Blades
James Blades
James "Jimmy" Blades OBE was an English percussionist.He was one of the most distinguished percussionists in Western music, with long and varied career. His book Percussion Instruments and their History is a standard reference work on the subject Blades was born in Peterborough, England in 1901...
in the
Grove Dictionary of Music and Musicians
Grove Dictionary of Music and Musicians
The New Grove Dictionary of Music and Musicians is an encyclopedic dictionary of music and musicians. Along with the German-language Musik in Geschichte und Gegenwart, it is the largest single reference work on Western music. The dictionary has gone through several editions since the 19th century...
writes that "the triangle is by no means a simple instrument to play". In the hands of an expert it can be a surprisingly subtle and expressive instrument.
Most difficulties in playing the triangle come from the complex rhythms which are sometimes written for it, although it can also be quite difficult to control the level of volume. Very quiet notes can be obtained by using a much lighter beater — knitting needles are sometimes used for the quietest notes. Composers sometimes call for a wooden beater to be used instead of a metal one, which gives a rather "duller" and quieter tone. When the instrument is played with one beater, the hand that holds the triangle can also be used to damp or slightly modify the tone. For complex rapid rhythms, the instrument may be suspended from a stand and played with two beaters, although this makes it more difficult to control.
It is historically associated with calling people to dinner, especially in nineteenth century depictions.
In popular culture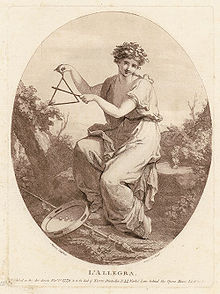 A notable player of the triangle is
John Deacon
John Deacon
John Richard Deacon is a retired English multi-instrumentalist and song writer, best known as the bassist for the rock band Queen. Of the four members of the band, he was the last to join and also the youngest, being only 19 years old when he was recruited by the other members of the band...
of the
rock
Rock music
Rock music is a genre of popular music that developed during and after the 1960s, particularly in the United Kingdom and the United States. It has its roots in 1940s and 1950s rock and roll, itself heavily influenced by rhythm and blues and country music...
group
Queen
Queen (band)
Queen are a British rock band formed in London in 1971, originally consisting of Freddie Mercury , Brian May , John Deacon , and Roger Taylor...
. He played the triangle in live performances of
Killer Queen
Killer Queen (song)
"Killer Queen" is a song by British rock band Queen. Written by pianist and lead singer Freddie Mercury, it featured on their 1974 album Sheer Heart Attack, and also appears on the band's compilation album, Greatest Hits. When released as a single, "Killer Queen" was Queen's breakthrough hit,...
, hanging it from his microphone.
It can be heard in short breaks on the
Joni Mitchell
Joni Mitchell
Joni Mitchell, CC is a Canadian musician, singer songwriter, and painter. Mitchell began singing in small nightclubs in her native Saskatchewan and Western Canada and then busking in the streets and dives of Toronto...
song "
Big Yellow Taxi
Big Yellow Taxi
"Big Yellow Taxi" is a song written and originally performed by Joni Mitchell in 1970. It was a big hit in her native Canada as well as Australia and the UK...
". Noted zydeco musician Alphonse "Bois Sec" Ardoin started his musical training on the triangle as a child.
The triangle also provides the trademark percussion during the opening bars of
Henry Mancini
Henry Mancini
Henry Mancini was an American composer, conductor and arranger, best remembered for his film and television scores. He won a record number of Grammy Awards , plus a Grammy Lifetime Achievement Award posthumously in 1995...
's famous theme for
The Pink Panther
The Pink Panther
The Pink Panther is a series of comedy films featuring the bungling French police detective Jacques Clouseau that began in 1963 with the release of the film of the same name. The role was originated by, and is most closely associated with, Peter Sellers...
.
The opening theme for
Blackadder Goes Forth
Blackadder Goes Forth
Blackadder Goes Forth is the fourth and final series of the BBC situation comedy Blackadder, written by Richard Curtis and Ben Elton, which aired from 28 September to 2 November 1989 on BBC One....
includes
Baldrick
Baldrick
Baldrick is the name of several fictional characters featured in the long-running BBC historic comedy television series Blackadder. Each one serves as Edmund Blackadder's servant and sidekick and acts as a foil to the lead character...
playing a single note on a triangle at the end of the song.
The percussionist with the
Foo Fighters
Foo Fighters
Foo Fighters is an American alternative rock band originally formed in 1994 by Nirvana drummer Dave Grohl as a one-man project following the dissolution of his previous band. The band got its name from the UFOs and various aerial phenomena that were reported by Allied aircraft pilots in World War...
had a twenty-second triangle solo in front of 85,000 people each night when the band played Wembley Stadium on the 6th & 7 June, 2008.
Other notable triangle players include English folk singer
Norma Waterson
Norma Waterson
Norma Christine Waterson is an English musician, best known as one of the original members of The Watersons, a premier English traditional group. Other members of the group included her brother Mike Waterson and sister Lal Waterson, and in later incarnations of the group her husband Martin...
and newcomer Moody Mascott from the
new wave
New Wave music
New Wave is a subgenre of :rock music that emerged in the mid to late 1970s alongside punk rock. The term at first generally was synonymous with punk rock before being considered a genre in its own right that incorporated aspects of electronic and experimental music, mod subculture, disco and 1960s...
/minimalist German
French
French people
The French are a nation that share a common French culture and speak the French language as a mother tongue. Historically, the French population are descended from peoples of Celtic, Latin and Germanic origin, and are today a mixture of several ethnic groups...
pop
Pop music
Pop music is usually understood to be commercially recorded music, often oriented toward a youth market, usually consisting of relatively short, simple songs utilizing technological innovations to produce new variations on existing themes.- Definitions :David Hatch and Stephen Millward define pop...
group
Kommando Trash
Kommando Trash
Kommando Trash is a band project initiated in late 2007 by Pavid Didler and Flat Frederique through recording the track "Kommando Bimmele", a hyperminimalist electropop track with a pumping livebass and a simple, but nonetheless haunting synthline...
. Kommando Trash's 52nd track 'Listen, Appreciate' features the triangle.
In addition, the Israeli
Progressive Metal
Progressive metal
Progressive metal is a subgenre of heavy metal originating in the United Kingdom and North America in the late 1980s...
band
Solstice Coil
Solstice Coil
Solstice Coil is an alternative progressive rock band formed in Israel in 2001. The band's core members are Shir Deutch, Opher Vishnia and Shai Yallin....
released a parody video on the well-known American Progressive Metal band
Dream Theater
Dream Theater
Dream Theater is an American progressive metal band formed in 1985 under the name Majesty by John Petrucci, John Myung, and Mike Portnoy while they attended Berklee College of Music in Massachusetts. They subsequently dropped out of their studies to further concentrate on the band that would...
, in which the prominent character was a triangle player known as "Triangle Guy".