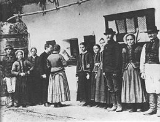 Folk music
Folk music
is an English term encompassing both traditional folk music and contemporary folk music. The term originated in the 19th century. Traditional folk music has been defined in several ways: as music transmitted by mouth, as music of the lower classes, and as music with unknown composers. It has been contrasted with commercial and classical styles. This music is also referred to as
traditional music
Traditional music
Traditional music is the term increasingly used for folk music that is not contemporary folk music. More on this is at the terminology section of the World music article...
and, in US, as "roots music".
Starting in the mid-20th century a new form of popular folk music evolved from traditional folk music.