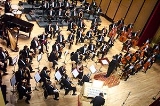 Orchestra
An
orchestra
is a sizable
instrumental ensemble
Musical ensemble
A musical ensemble is a group of people who perform instrumental or vocal music. In classical music, trios or quartets either blend the sounds of musical instrument families or group together instruments from the same instrument family, such as string ensembles or wind ensembles...
that contains sections of string, brass, woodwind, and percussion instruments. The term
orchestra
derives from the
Greek
Greek language
Greek is an independent branch of the Indo-European family of languages. Native to the southern Balkans, it has the longest documented history of any Indo-European language, spanning 34 centuries of written records. Its writing system has been the Greek alphabet for the majority of its history;...
ορχήστρα
, the name for the area in front of an
ancient Greek stage
Theatre of Ancient Greece
The theatre of Ancient Greece, or ancient Greek drama, is a theatrical culture that flourished in ancient Greece between c. 550 and c. 220 BC. The city-state of Athens, which became a significant cultural, political and military power during this period, was its centre, where it was...
reserved for the
Greek chorus
Greek chorus
A Greek chorus is a homogenous, non-individualised group of performers in the plays of classical Greece, who comment with a collective voice on the dramatic action....
. The orchestra grew by accretion throughout the 18th and 19th centuries, but changed very little in composition during the course of the 20th century.
A smaller-sized orchestra for this time period (of about fifty players or fewer) is called a
chamber orchestra
.
A full-size orchestra (about 100 players) may sometimes be called a "
symphony orchestra
" or "
philharmonic orchestra
"; these modifiers do not necessarily indicate any strict difference in either the
instrumental
Musical instrument
A musical instrument is a device created or adapted for the purpose of making musical sounds. In principle, any object that produces sound can serve as a musical instrument—it is through purpose that the object becomes a musical instrument. The history of musical instruments dates back to the...
constitution or role of the orchestra, but can be useful to distinguish different ensembles based in the same city (for instance, the
London Symphony Orchestra
London Symphony Orchestra
The London Symphony Orchestra is a major orchestra of the United Kingdom, as well as one of the best-known orchestras in the world. Since 1982, the LSO has been based in London's Barbican Centre.-History:...
and the
London Philharmonic Orchestra
London Philharmonic Orchestra
The London Philharmonic Orchestra , based in London, is one of the major orchestras of the United Kingdom, and is based in the Royal Festival Hall. In addition, the LPO is the main resident orchestra of the Glyndebourne Festival Opera...
).