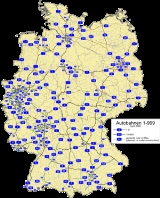 Transport in Germany
As a densely populated country in a central location in
Europe
Europe
Europe is, by convention, one of the world's seven continents. Comprising the westernmost peninsula of Eurasia, Europe is generally 'divided' from Asia to its east by the watershed divides of the Ural and Caucasus Mountains, the Ural River, the Caspian and Black Seas, and the waterways connecting...
and with a developed
economy
Economy of Germany
Germany is the largest national economy in Europe, the fourth-largest by nominal GDP in the world, and fifth by GDP in 2008. Since the age of industrialisation, the country has been a driver, innovator, and beneficiary of an ever more globalised economy...
,
Germany
Germany
Germany , officially the Federal Republic of Germany , is a federal parliamentary republic in Europe. The country consists of 16 states while the capital and largest city is Berlin. Germany covers an area of 357,021 km2 and has a largely temperate seasonal climate...
has a dense and modern transportation infrastructure.
The first highway system to have been built, the extensive German
Autobahn
German Autobahnen
The German autobahns are the nationally coordinated motorway system in Germany. In German, they are officially called Bundesautobahn , which translates as federal expressways...
network famously features sections where no speed limit is in force. The country's most important waterway is the river
Rhine
. The largest port is that of
Hamburg
Hamburg
-History:The first historic name for the city was, according to Claudius Ptolemy's reports, Treva.But the city takes its modern name, Hamburg, from the first permanent building on the site, a castle whose construction was ordered by the Emperor Charlemagne in AD 808...
.
Frankfurt Airport
Frankfurt Airport
Frankfurt Airport may refer to:Airports of Frankfurt, Germany:*Frankfurt Airport , the largest airport in Germany*Frankfurt Egelsbach Airport, a general aviation airport*Frankfurt-Hahn Airport , a converted U.S...
is a major international airport and European transportation hub. Air travel is used for greater distances within Germany but faces competition from the state-owned
Deutsche Bahn
Deutsche Bahn
Deutsche Bahn AG is the German national railway company, a private joint stock company . Headquartered in Berlin, it came into existence in 1994 as the successor to the former state railways of Germany, the Deutsche Bundesbahn of West Germany and the Deutsche Reichsbahn of East Germany...
's rail network. High-speed trains, called ICE connect cities for passenger travel. Many German cities have
rapid transit
Rapid transit in Germany
Rapid transit in Germany consists of five U-Bahn systems and thirteen S-Bahn systems. The U-Bahn or Untergrundbahn are conventional rapid transit systems that run mostly underground, while the S-Bahn or Stadtschnellbahn are hybrids of rapid transit and commuter rail that run underground in the...
systems and
Public transport
Public transport
Public transport is a shared passenger transportation service which is available for use by the general public, as distinct from modes such as taxicab, car pooling or hired buses which are not shared by strangers without private arrangement.Public transport modes include buses, trolleybuses, trams...
is available in most areas.
Since
German reunification
German reunification
German reunification was the process in 1990 in which the German Democratic Republic joined the Federal Republic of Germany , and when Berlin reunited into a single city, as provided by its then Grundgesetz constitution Article 23. The start of this process is commonly referred by Germans as die...
substantial efforts have been necessary to improve and expand the transportation infrastructure in what had previously been East Germany.
Road and automotive transport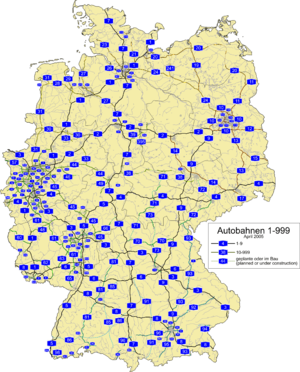 The volume of traffic in Germany, especially goods transportation, is at a very high level due to its central location in Europe.
In the past few decades, much of the freight traffic shifted from rail to road, which led the Federal Government to introduce a motor toll for trucks in 2005. Individual road usage increased resulting in a relatively high traffic density to other nations. A further increase of traffic is expected in the future.
High-speed vehicular traffic has a long tradition in Germany given that the first freeway (Autobahn) in the world, the
AVUS
AVUS
The Automobil-Verkehrs- und Übungs-Straße, better known as AVUS, is a public road that was also used as a motor racing circuit. It is located in the south-western districts of Berlin, Germany, between Charlottenburg and Nikolassee, and is nowadays an important part of the public highway system, as...
, and the world's first
automobile
Automobile
An automobile, autocar, motor car or car is a wheeled motor vehicle used for transporting passengers, which also carries its own engine or motor...
were developed and built in Germany. Germany possesses one of the most dense road systems of the world. German motorways have no blanket
speed limit
Speed limit
Road speed limits are used in most countries to regulate the speed of road vehicles. Speed limits may define maximum , minimum or no speed limit and are normally indicated using a traffic sign...
. However, posted limits are in place on many dangerous or congested stretches as well as where traffic noise or pollution poses a problem.
The German government has had issues with upkeep of the roads in the country, having had to revamp the eastern portions transport system since the unification of Germany between the
German Democratic Republic
German Democratic Republic
The German Democratic Republic , informally called East Germany by West Germany and other countries, was a socialist state established in 1949 in the Soviet zone of occupied Germany, including East Berlin of the Allied-occupied capital city...
(East Germany) and the
Federal Republic of Germany
West Germany
West Germany is the common English, but not official, name for the Federal Republic of Germany or FRG in the period between its creation in May 1949 to German reunification on 3 October 1990....
(West Germany). With that, numerous construction projects have been put on hold in the west, and a vigorous reconstruction has been going on for almost 20 years. However ever since the
European Union
European Union
The European Union is an economic and political union of 27 independent member states which are located primarily in Europe. The EU traces its origins from the European Coal and Steel Community and the European Economic Community , formed by six countries in 1958...
formed an over all streamlining and change of route plans have occurred as faster and more direct links to former Soviet bloc countries now exist and are in the works, with intense co-operation among European countries.
Roads
Germany has approximately 650,000 km of roads, of which 231,000 km are non-local roads. The road network is extensively used with nearly 2 trillion kilometers travelled by car in 2005, in comparison to just 70 bilion km travelled by rail and 35 billion km travelled by plane.
The
national roads
National roads
National roads can refer to various roads in several countries:*National roads in Belgium: a specific road, see National Road No. 2: national roads, see Route nationale : national roads, see National Roads: Greek Highways, known as Greek National Roads, see List of Greek roads: national primary and...
in Germany are called
Bundesstraße
Bundesstraße
Bundesstraße , abbreviated B, is the denotation for German and Austrian national highways.-Germany:...
n (federal roads). Their numbers are usually well known to the road users, as they appear (written in black digits on a yellow rectangle with black border) on direction traffic signs and in street maps. A Bundesstraße is often referred to as "B" followed by its number, for example "B 1", one of the main east-west routes. More important routes have lower numbers. Odd numbers are usually applied to east-west oriented roads, and even numbers for north-south routes. Bypass routes are referred to with an appended "a" (alternative) or "n" (new alignment), as in "B 56n".
Other main public roads are maintained by the
Bundesländer
States of Germany
Germany is made up of sixteen which are partly sovereign constituent states of the Federal Republic of Germany. Land literally translates as "country", and constitutionally speaking, they are constituent countries...
(states), called
Landesstraße
Landesstraße
Landesstraßen are roads in Germany and Austria that are, as a rule, the responsibility of the respective German or Austrian federal state. The term may therefore be translated as "state road". They are roads that cross the boundary of a rural or urban district...
(country road) or Staatsstraße (state road). The numbers of these roads are prefixed with "L", "S" or "St", but are usually not seen on direction signs or written in maps. They appear on the kilometre posts on the roadside. Numbers are unique only within one state.
The Landkreise (districts) (number prefix "K") and municipalities are in charge of the minor roads and streets within villages, towns and cities.
Companies
Rail transport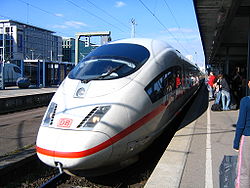 Railways
:
total: 40,826 km, including
at least 14,253 km electrified and
14,768 km double- or multiple-tracked (1998)
Deutsche Bahn (German Rail) is the major German railway infrastructure and service operator. Though Deutsche Bahn is a private company, the government still holds all shares and therefore Deutsche Bahn can still be called a state-owned company. Since its reformation under private law in 1994, Deutsche Bahn AG (DB AG) no longer publishes details of the tracks it owns; in addition to the DBAG system there are about 280 privately or locally owned railway companies which own an approximate 3,000 km to 4,000 km of the total tracks and use DB tracks in
open access
.
There are significant differences between the financing of long-distance and short-distance (or local) trains in Germany. While long-distance trains can be run by any railway company, the companies also receive no subsidies from the government; instead, the long-distance trains receive no direct subventions for current operations. Local trains however are subsidised by the German states, which pay the operating companies to run these trains. This resulted in many private companies offering to run local train services as they can provide cheaper service than the state-owned Deutsche Bahn. Track construction is entirely and track maintenance partly government financed both for long and short range trains.
The
InterCityExpress
InterCityExpress
The Intercity-Express or ICE is a system of high-speed trains predominantly running in Germany and neighbouring countries. It is the highest service category offered by DB Fernverkehr and is the flagship of Deutsche Bahn...
or ICE is a type of high-speed train operated by Deutsche Bahn in Germany and large cities in neighbouring countries, such as
Zurich
Zürich
Zurich is the largest city in Switzerland and the capital of the canton of Zurich. It is located in central Switzerland at the northwestern tip of Lake Zurich...
,
Vienna
Vienna
Vienna is the capital and largest city of the Republic of Austria and one of the nine states of Austria. Vienna is Austria's primary city, with a population of about 1.723 million , and is by far the largest city in Austria, as well as its cultural, economic, and political centre...
,
Copenhagen
Copenhagen
Copenhagen is the capital and largest city of Denmark, with an urban population of 1,199,224 and a metropolitan population of 1,930,260 . With the completion of the transnational Øresund Bridge in 2000, Copenhagen has become the centre of the increasingly integrating Øresund Region...
,
Paris
Paris
Paris is the capital and largest city in France, situated on the river Seine, in northern France, at the heart of the Île-de-France region...
,
Amsterdam
Amsterdam
Amsterdam is the largest city and the capital of the Netherlands. The current position of Amsterdam as capital city of the Kingdom of the Netherlands is governed by the constitution of August 24, 1815 and its successors. Amsterdam has a population of 783,364 within city limits, an urban population...
and
Brussels
Brussels
Brussels , officially the Brussels Region or Brussels-Capital Region , is the capital of Belgium and the de facto capital of the European Union...
. The rail network throughout Germany is extensive and provides excellent services in most areas. On regular lines, at least one train every two hours will call even in the smallest of villages. Nearly all larger metropolitan areas are served by
S-Bahn
S-Bahn
S-Bahn refers to an often combined city center and suburban railway system metro in Austria, Germany, Switzerland and Denmark...
, U-Bahn, Strassenbahn and/or bus networks
International freight trains
While Germany and most of contiguous Europe use
standard gauge
Standard gauge
The standard gauge is a widely-used track gauge . Approximately 60% of the world's existing railway lines are built to this gauge...
(1435 mm), differences in signalling, rules and regulations, electrification voltages, etc. tend to hamstring freight operations across borders. These obstacles are slowly being overcome, with international (in- and outgoing) and transit (through) traffic being responsible for a large part of the recent uptake in rail freight volume.
S-Bahn
In some areas of Germany an urban railway called
S-Bahn
S-Bahn
S-Bahn refers to an often combined city center and suburban railway system metro in Austria, Germany, Switzerland and Denmark...
is in operation. These trains usually connect larger agglomerations to the suburban areas, although in the case of the
Rhein-Ruhr S-Bahn
Rhein-Ruhr S-Bahn
The Rhine-Ruhr S-Bahn is a polycentric S-Bahn network covering the Rhine-Ruhr Metropolitan Region in the German federal state of North Rhine-Westphalia. This includes most of the Ruhr , the Berg cities of Wuppertal and Solingen and parts of the Rhineland...
these also serve as a method of interurban transport between large cities.
Metros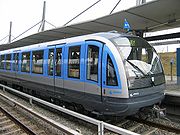 Relatively few cities have a full-fledged underground U-Bahn system, and
S-Bahn
S-Bahn
S-Bahn refers to an often combined city center and suburban railway system metro in Austria, Germany, Switzerland and Denmark...
(suburban commuter railway) systems are far more common. In some cities the distinction between U-Bahn and S-Bahn systems is blurred, for instance some S-Bahn systems run underground, have frequencies similar to U-Bahn, and form part of the same integrated transport network. A larger number of cities has upgraded their tramways to light rail standards. These systems are called
Stadtbahn
Stadtbahn
A ' is a tramway or light railway that includes segments built to rapid transit standards, usually as part of a process of conversion to a metro railway, mainly by the building of tunnels in the central city area....
(not to be confused with S-Bahn), on main line rails.
Cities with pure U-Bahn systems are:
Cities with Stadtbahn systems can be found in the article
Trams in Germany
Trams in Germany
Germany has an extensive number of tramway networks . Some of these networks have been upgraded to light rail standards, called Stadtbahn in German...
.
Air transport
Short distances and the extensive network of motorways and railways make airplanes uncompetitive for travel within Germany. Only about 1% of all distance travelled was by plane in 2002. But due to a decline in prices with the introduction of low-fares airlines, domestic air travel is becoming more attractive.
Airports
Frankfurt International Airport
Frankfurt International Airport
Frankfurt am Main Airport , or simply Frankfurt Airport, known in German as Flughafen Frankfurt am Main or Rhein-Main-Flughafen, is a major international airport located in Frankfurt, Germany, southwest of the city centre....
is Germany's largest airport and a major transportation hub in Europe. Frankfurt Airport ranks among the world's top ten airports. It is one of the airports with the largest number of international destinations served worldwide. Depending on whether total passengers, flights or cargo traffic are used as a measure, it ranks first, second or third in Europe alongside
London Heathrow Airport
London Heathrow Airport
London Heathrow Airport or Heathrow , in the London Borough of Hillingdon, is the busiest airport in the United Kingdom and the third busiest airport in the world in terms of total passenger traffic, handling more international passengers than any other airport around the globe...
and Paris Charles de Gaulle Airport.
Germany's second most important international airport is Munich. Other major airports are Berlin Tegel, Berlin Schönefeld,
Düsseldorf
Düsseldorf International Airport
Düsseldorf International Airport is the largest airport in North Rhine-Westphalia, Germany, and the third largest airport in Germany, handling 18.99 million passengers in 2010....
,
Hamburg
Hamburg Airport
Hamburg Airport , also known as Hamburg-Fuhlsbüttel Airport , is an international airport serving Hamburg, Germany.It originally covered . Since then, the site has grown more than tenfold to . The main apron covers . The airport is north of the centre of the city of Hamburg in the Fuhlsbüttel...
,
Cologne-Bonn
Cologne Bonn Airport
Cologne/Bonn Airport is an international airport located in the district of Porz in the city of Cologne, Germany, and is surrounded by the Wahner Heide nature reserve. The airport is centrally located in the Cologne/Bonn Region southeast of Cologne city centre and northeast of Bonn...
,
Leipzig/Halle
Leipzig/Halle Airport
Leipzig/Halle Airport, sometimes called Schkeuditz Airport , is located in Schkeuditz, Saxony and serves both Leipzig, Saxony and Halle, Saxony-Anhalt, Germany.It has more than two million passengers per year....
.
Both airports in Berlin will be consolidated at a site adjacent to Schönefeld Airport, which will become Berlin Brandenburg Airport, to open on 3 June 2012.
Airports — with paved runways:
total: 320

over 3,047 m: 14
2,438 to 3,047 m: 61
1,524 to 2,437 m: 67
914 to 1,523 m: 56
under 914 m: 122 (1999 est.)
Airports — with unpaved runways:
total: 295

over 3,047 m: 2
2,438 to 3,047 m: 6
1,524 to 2,437 m: 6
914 to 1,523 m: 55
under 914 m: 226 (1999 est.)
Heliports:
59 (1999 est.)
Airlines
Germany's largest airline is former national carrier
Lufthansa
Lufthansa
Deutsche Lufthansa AG is the flag carrier of Germany and the largest airline in Europe in terms of overall passengers carried. The name of the company is derived from Luft , and Hansa .The airline is the world's fourth-largest airline in terms of overall passengers carried, operating...
that was privatised in the 1990s. The group also includes domestic subsidiaries
Lufthansa Cityline
Lufthansa CityLine
Lufthansa CityLine GmbH is a regional airline based in Cologne, Germany. It is a wholly owned subsidiary of Lufthansa and member of the Lufthansa Regional network. It is the largest regional airline in Europe. Its main base is Cologne Bonn Airport, with hubs at Frankfurt Airport and Munich Airport...
and
Eurowings
Eurowings
Eurowings Luftverkehrs AG, part of Lufthansa Regional, is an airline with its head office in the Düsseldorf Administrative Center in Düsseldorf, Germany...
that operate as
Lufthansa Regional
as well as independently operating low-cost subsidiary
Germanwings
Germanwings
Germanwings GmbH is a low-cost airline based in Cologne, Germany, and is wholly owned by Lufthansa. Cologne Bonn Airport, Stuttgart Airport and Berlin-Schönefeld Airport are the important hubs in the airline's network of approximately 70 destinations...
.
Air Berlin
Air Berlin
Air Berlin PLC & Co. Luftverkehrs KG is Germany's second largest airline, after Lufthansa, and Europe's sixth largest airline in terms of passengers....
became second largest airline in recent years by absorbing
LTU
LTU International
LTU Lufttransport-Unternehmen GmbH was an airline based in Düsseldorf, Germany, now fully owned by Air Berlin. The initials stand for the German phrase LuftTransport-Unternehmen . It operated scheduled services on medium and long-haul routes, as well as charter services...
and dba.
Charter carrier include
Condor
Condor Airlines
Condor Flugdienst GmbH, usually shortened to Condor, is an airline based in Germany, operating scheduled leisure flights to the Mediterranean, Asia, Africa, North America and the Caribbean as part of Thomas Cook Group...
,
TUIfly
TUIfly
TUIfly Vermarktungs GmbH is an airline based at Hannover Airport in Langenhagen, Lower Saxony, Germany. The airline offers both charter and scheduled low-cost flights. About 60% of all seats are sold directly, 30% as a part of a TUI holiday package and 10% by other agencies...
and
Germania
Germania (airline)
Germania Fluggesellschaft mbH, operating as Germania, is an airline with its headquarters in Berlin, Germany. It operates scheduled and chartered flights and aircraft lease services...
. In addition there are several regional carrier such as
OLT
OLT
OLT Ostfriesische Lufttransport GmbH is an airline based in Emden in Germany. It operates regional scheduled and charter flights linking northern Germany to other parts of the country and Bremen to other European destinations...
and
Cirrus Airlines
Cirrus Airlines
Cirrus Airlines Luftfahrtgesellschaft mbH is an airline based in Saarbrücken, Germany. It operates both charter and scheduled flights, the latter on behalf of Lufthansa and Swiss International Air Lines. Its main base and hub is Saarbrücken Airport, Germany....
as well as cargo operator such as
Lufthansa Cargo
Lufthansa Cargo
Lufthansa Cargo AG is a cargo airline from Germany, operating worldwide air freight and logistics services on behalf of Lufthansa, of which it is a wholly owned subsidiary. The company is headquartered in Building 451 of the Frankfurt Airport area in Frankfurt, the major hub of Lufthansa...
and
Air Cargo Germany
Air Cargo Germany
Air Cargo Germany GmbH is a German cargo airline based at Frankfurt-Hahn Airport. The company was granted its Air Operator's Certificate on 14 July 2009, which was followed by the first revenue flight on 28 July...
.
Water transport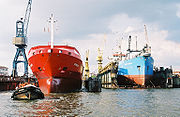 Waterways:
7,500 km (1999); major rivers include the
Rhine
and
Elbe
Elbe
The Elbe is one of the major rivers of Central Europe. It rises in the Krkonoše Mountains of the northwestern Czech Republic before traversing much of Bohemia , then Germany and flowing into the North Sea at Cuxhaven, 110 km northwest of Hamburg...
;
Kiel Canal
Kiel Canal
The Kiel Canal , known as the Kaiser-Wilhelm-Kanal until 1948, is a long canal in the German state of Schleswig-Holstein.The canal links the North Sea at Brunsbüttel to the Baltic Sea at Kiel-Holtenau. An average of is saved by using the Kiel Canal instead of going around the Jutland Peninsula....
is an important connection between the
Baltic Sea
Baltic Sea
The Baltic Sea is a brackish mediterranean sea located in Northern Europe, from 53°N to 66°N latitude and from 20°E to 26°E longitude. It is bounded by the Scandinavian Peninsula, the mainland of Europe, and the Danish islands. It drains into the Kattegat by way of the Øresund, the Great Belt and...
and
North Sea
North Sea
In the southwest, beyond the Straits of Dover, the North Sea becomes the English Channel connecting to the Atlantic Ocean. In the east, it connects to the Baltic Sea via the Skagerrak and Kattegat, narrow straits that separate Denmark from Norway and Sweden respectively...
, the
Rhine-Main-Danube Canal
Rhine-Main-Danube Canal
The Rhine–Main–Danube Canal , located in Bavaria, Germany, connects the Main and the Danube rivers across the European Watershed, running from Bamberg via Nuremberg to Kelheim...
links Rotterdam on the North Sea with the Black Sea.
Pipelines:
crude oil 2,500 km (1998)
Ports and harbours:
Berlin
Berlin
Berlin is the capital city of Germany and is one of the 16 states of Germany. With a population of 3.45 million people, Berlin is Germany's largest city. It is the second most populous city proper and the seventh most populous urban area in the European Union...
,
Bonn
Bonn
Bonn is the 19th largest city in Germany. Located in the Cologne/Bonn Region, about 25 kilometres south of Cologne on the river Rhine in the State of North Rhine-Westphalia, it was the capital of West Germany from 1949 to 1990 and the official seat of government of united Germany from 1990 to 1999....
, Brake, Bremen,
Bremerhaven
Bremerhaven
Bremerhaven is a city at the seaport of the free city-state of Bremen, a state of the Federal Republic of Germany. It forms an enclave in the state of Lower Saxony and is located at the mouth of the River Weser on its eastern bank, opposite the town of Nordenham...
,
Cologne
Cologne
Cologne is Germany's fourth-largest city , and is the largest city both in the Germany Federal State of North Rhine-Westphalia and within the Rhine-Ruhr Metropolitan Area, one of the major European metropolitan areas with more than ten million inhabitants.Cologne is located on both sides of the...
,
Dortmund
Dortmund
Dortmund is a city in Germany. It is located in the Bundesland of North Rhine-Westphalia, in the Ruhr area. Its population of 585,045 makes it the 7th largest city in Germany and the 34th largest in the European Union....
,
Dresden
Dresden
Dresden is the capital city of the Free State of Saxony in Germany. It is situated in a valley on the River Elbe, near the Czech border. The Dresden conurbation is part of the Saxon Triangle metropolitan area....
,
Duisburg
Duisburg
- History :A legend recorded by Johannes Aventinus holds that Duisburg, was built by the eponymous Tuisto, mythical progenitor of Germans, ca. 2395 BC...
,
Emden
Emden
Emden is a city and seaport in the northwest of Germany, on the river Ems. It is the main city of the region of East Frisia; in 2006, the city had a total population of 51,692.-History:...
,
Hamburg
Hamburg
-History:The first historic name for the city was, according to Claudius Ptolemy's reports, Treva.But the city takes its modern name, Hamburg, from the first permanent building on the site, a castle whose construction was ordered by the Emperor Charlemagne in AD 808...
,
Karlsruhe
Karlsruhe
The City of Karlsruhe is a city in the southwest of Germany, in the state of Baden-Württemberg, located near the French-German border.Karlsruhe was founded in 1715 as Karlsruhe Palace, when Germany was a series of principalities and city states...
,
Kiel
Kiel
Kiel is the capital and most populous city in the northern German state of Schleswig-Holstein, with a population of 238,049 .Kiel is approximately north of Hamburg. Due to its geographic location in the north of Germany, the southeast of the Jutland peninsula, and the southwestern shore of the...
,
Lübeck
Lübeck
The Hanseatic City of Lübeck is the second-largest city in Schleswig-Holstein, in northern Germany, and one of the major ports of Germany. It was for several centuries the "capital" of the Hanseatic League and, because of its Brick Gothic architectural heritage, is listed by UNESCO as a World...
,
Magdeburg
Magdeburg
Magdeburg , is the largest city and the capital city of the Bundesland of Saxony-Anhalt, Germany. Magdeburg is situated on the Elbe River and was one of the most important medieval cities of Europe....
,
Mannheim
Mannheim
Mannheim is a city in southwestern Germany. With about 315,000 inhabitants, Mannheim is the second-largest city in the Bundesland of Baden-Württemberg, following the capital city of Stuttgart....
,
Oldenburg
Oldenburg
Oldenburg is an independent city in Lower Saxony, Germany. It is situated in the western part of the state between the cities of Bremen and Groningen, Netherlands, at the Hunte river. It has a population of 160,279 which makes it the fourth biggest city in Lower Saxony after Hanover, Braunschweig...
,
Rostock
Rostock
Rostock -Early history:In the 11th century Polabian Slavs founded a settlement at the Warnow river called Roztoc ; the name Rostock is derived from that designation. The Danish king Valdemar I set the town aflame in 1161.Afterwards the place was settled by German traders...
,
Stuttgart
Stuttgart
Stuttgart is the capital of the state of Baden-Württemberg in southern Germany. The sixth-largest city in Germany, Stuttgart has a population of 600,038 while the metropolitan area has a population of 5.3 million ....
,
Wilhelmshaven
Wilhelmshaven
Wilhelmshaven is a coastal town in Lower Saxony, Germany. It is situated on the western side of the Jade Bight, a bay of the North Sea.-History:...
The
port of Hamburg
Hamburg Harbour
-External links:* * Port of Hamburg: Facts, figures, and outlook* * Currently under construction in the HafenCity* *...
is the largest sea-harbour in Germany and ranks #2 in Europe, #7 worldwide (2004), in total container traffic.
Merchant marine:
total: 4759 ships (with a volume of or over) totaling /
ships by type:
bulk carrier
Bulk carrier
A bulk carrier, bulk freighter, or bulker is a merchant ship specially designed to transport unpackaged bulk cargo, such as grains, coal, ore, and cement in its cargo holds. Since the first specialized bulk carrier was built in 1852, economic forces have fueled the development of these ships,...
2,
cargo ship
Cargo ship
A cargo ship or freighter is any sort of ship or vessel that carries cargo, goods, and materials from one port to another. Thousands of cargo carriers ply the world's seas and oceans each year; they handle the bulk of international trade...
181,
chemical tanker
Chemical tanker
A chemical tanker is a type of tanker designed to transport chemicals in bulk.Ocean-going chemical tankers generally range from to in size, which is considerably smaller than the average size of other tanker types due to the specialised nature of their cargoes and the size restrictions of the...
12,
container ship
Container ship
Container ships are cargo ships that carry all of their load in truck-size intermodal containers, in a technique called containerization. They form a common means of commercial intermodal freight transport.-History:...
239,
Liquified Gas Carrier
LNG carrier
An LNG carrier is a tank ship designed for transporting liquefied natural gas . As the LNG market grows rapidly, the fleet of LNG carriers continues to experience tremendous growth.-History:...
2, multi-functional large load carrier 5,
passenger ship
Passenger ship
A passenger ship is a ship whose primary function is to carry passengers. The category does not include cargo vessels which have accommodations for limited numbers of passengers, such as the ubiquitous twelve-passenger freighters once common on the seas in which the transport of passengers is...
2,
petroleum tanker
Oil tanker
An oil tanker, also known as a petroleum tanker, is a merchant ship designed for the bulk transport of oil. There are two basic types of oil tankers: the crude tanker and the product tanker. Crude tankers move large quantities of unrefined crude oil from its point of extraction to refineries...
8, rail car carrier 2, refrigerated cargo 2, roll-on/roll-off ship 13, short-sea passenger 7 (1999 est.)
See also
License plates in Germany
List of motorways in Germany
Tourism in Germany

Tourism in Germany

According to Travel and Tourism Competitiveness Reports, Germany is rated as one of the safest travel destinations worldwide. Germany is also the third most visited country in Europe, with a total of 369.6 million overnights during 2010...