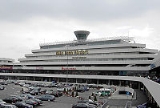 Cologne Bonn Airport
Cologne/Bonn Airport
is an international
airport
Airport
An airport is a location where aircraft such as fixed-wing aircraft, helicopters, and blimps take off and land. Aircraft may be stored or maintained at an airport...
located in the district of
Porz
Porz
Porz is a city district or Stadtbezirk of Cologne, Germany. It is situated on the right side of the Rhine in the south-east of the city...
in the city of
Cologne
Cologne
Cologne is Germany's fourth-largest city , and is the largest city both in the Germany Federal State of North Rhine-Westphalia and within the Rhine-Ruhr Metropolitan Area, one of the major European metropolitan areas with more than ten million inhabitants.Cologne is located on both sides of the...
,
Germany
Germany
Germany , officially the Federal Republic of Germany , is a federal parliamentary republic in Europe. The country consists of 16 states while the capital and largest city is Berlin. Germany covers an area of 357,021 km2 and has a largely temperate seasonal climate...
, and is surrounded by the Wahner Heide nature reserve. The airport is centrally located in the
Cologne/Bonn Region
Cologne/Bonn Region
The Cologne/Bonn Region , also known as Cologne/Bonn Metropolitan Region is a metropolitan area in North Rhine-Westfalia, Germany, covering the cities of Cologne, Bonn and Leverkusen, as well as the districts of Rheinisch-Bergischer Kreis, Oberbergischer Kreis, Rhein-Erft-Kreis and Rhein-Sieg-Kreis...
14.8 km (9.2 mi) southeast of Cologne
city centre
Innenstadt, Cologne
Innenstadt is the central city district of the City of Cologne in Germany.The district was established with the last communal land reform in 1975, and comprises Cologne's historic old town , the Gründerzeit era new town plus the right-Rhenish district of Deutz...
and 16 km (9.9 mi) northeast of
Bonn
Bonn
Bonn is the 19th largest city in Germany. Located in the Cologne/Bonn Region, about 25 kilometres south of Cologne on the river Rhine in the State of North Rhine-Westphalia, it was the capital of West Germany from 1949 to 1990 and the official seat of government of united Germany from 1990 to 1999....
. It is the sixth largest airport in Germany and one of the country's few 24-hour airports. In terms of cargo flights it is second. Just over 9.8 million passengers passed through the airport in 2010, a 1% increase compared with 2009.
History
In 1913 the first plane took off from the Wahner Heide military training area on an artillery reconnaissance flight. In 1939 an airfield was built for the German
Luftwaffe
Luftwaffe
Luftwaffe is a generic German term for an air force. It is also the official name for two of the four historic German air forces, the Wehrmacht air arm founded in 1935 and disbanded in 1946; and the current Bundeswehr air arm founded in 1956....
.
After
World War II
World War II
World War II, or the Second World War , was a global conflict lasting from 1939 to 1945, involving most of the world's nations—including all of the great powers—eventually forming two opposing military alliances: the Allies and the Axis...
the British military took over and expanded the airport. A 1,866 m runway was built in this period. In 1951 the airport was opened for civilian air traffic, superseding the former
Cologne Butzweilerhof Airport
Cologne Butzweilerhof Airport
The Butzweilerhof is the former civil airport of Cologne. It was established as a training airfield in 1912 and saw airline service from 1922 until the 1950s. It was replaced by the Cologne Bonn Airport...
.
During the 50s and 60s two more runways and a new terminal were constructed. On 1 November 1970 a
Boeing 747
Boeing 747
The Boeing 747 is a wide-body commercial airliner and cargo transport, often referred to by its original nickname, Jumbo Jet, or Queen of the Skies. It is among the world's most recognizable aircraft, and was the first wide-body ever produced...
took off for
New York City
New York City
New York is the most populous city in the United States and the center of the New York Metropolitan Area, one of the most populous metropolitan areas in the world. New York exerts a significant impact upon global commerce, finance, media, art, fashion, research, technology, education, and...
for the first time.
In 1986 Cologne/Bonn Airport was chosen by
United Parcel Service
United Parcel Service
United Parcel Service, Inc. , typically referred to by the acronym UPS, is a package delivery company. Headquartered in Sandy Springs, Georgia, United States, UPS delivers more than 15 million packages a day to 6.1 million customers in more than 220 countries and territories around the...
(UPS) as the location for their European hub.
In the late 1990s the Airport started an expansion program. Several new parking lots and a second terminal were built, and in 2004 a new long-distance railway station was opened.
Among several other new air connections in 2006 was a daily
transatlantic flight
Transatlantic flight
Transatlantic flight is the flight of an aircraft across the Atlantic Ocean. A transatlantic flight may proceed east-to-west, originating in Europe or Africa and terminating in North America or South America, or it may go in the reverse direction, west-to-east...
to
New Jersey's
New Jersey
New Jersey is a state in the Northeastern and Middle Atlantic regions of the United States. , its population was 8,791,894. It is bordered on the north and east by the state of New York, on the southeast and south by the Atlantic Ocean, on the west by Pennsylvania and on the southwest by Delaware...
Newark Liberty International Airport
Newark Liberty International Airport
Newark Liberty International Airport , first named Newark Metropolitan Airport and later Newark International Airport, is an international airport within the city limits of both Newark and Elizabeth, New Jersey, United States...
by
Continental Airlines
Continental Airlines
Continental Airlines was a major American airline now merged with United Airlines. On May 3, 2010, Continental Airlines, Inc. and UAL, Inc. announced a merger via a stock swap, and on October 1, 2010, the merger closed and UAL changed its name to United Continental Holdings, Inc...
who operated the route with a Boeing 757-200. This route was discontinued on September 4, 2008 due to a reduction in passenger numbers.
Low-cost carriers
Coinciding with the start of several
low-cost airlines
Low-cost carrier
A low-cost carrier or low-cost airline is an airline that generally has lower fares and fewer comforts...
in Germany, Cologne/Bonn opened new capacities. This enabled the airport to make competitive offers to the airlines. Consequently,
Germanwings
Germanwings
Germanwings GmbH is a low-cost airline based in Cologne, Germany, and is wholly owned by Lufthansa. Cologne Bonn Airport, Stuttgart Airport and Berlin-Schönefeld Airport are the important hubs in the airline's network of approximately 70 destinations...
and
TUIfly
TUIfly
TUIfly Vermarktungs GmbH is an airline based at Hannover Airport in Langenhagen, Lower Saxony, Germany. The airline offers both charter and scheduled low-cost flights. About 60% of all seats are sold directly, 30% as a part of a TUI holiday package and 10% by other agencies...
started operations from Cologne/Bonn as their hub in the fall of 2002. They were joined by
EasyJet
EasyJet
EasyJet Airline Company Limited is a British airline headquartered at London Luton Airport. It carries more passengers than any other United Kingdom-based airline, operating domestic and international scheduled services on 500 routes between 118 European, North African, and West Asian airports...
in late 2003 and
Wizz Air
Wizz Air
Wizz Air Hungary Légiközlekedési Kft. is a Hungarian low-cost airline with headquarters in the Airport Business Park C2 in Vecsés, close to Budapest Ferihegy International Airport, Hungary. The airline typically uses secondary airports serving many cities across Europe.- History :The airline was...
in June 2006.
As a result, the number of passengers in 2003 rose by 43% compared to 2002.
The airport is actively searching for airlines willing to establish the first trans-atlantic low-cost flights.
Airlines and destinations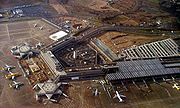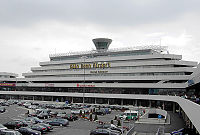 Cargo airlines
Cologne Bonn Airport is a major cargo hub in the world.
Ground transportation
Cologne/Bonn Airport station is a railway station on a
loop
off the Cologne–Frankfurt high-speed line that connects Cologne Bonn Airport to long-distance trains, most of them
ICE
InterCityExpress
The Intercity-Express or ICE is a system of high-speed trains predominantly running in Germany and neighbouring countries. It is the highest service category offered by DB Fernverkehr and is the flagship of Deutsche Bahn...
services following the Cologne-Frankfurt high-speed rail line.
S-Bahn
S-Bahn
S-Bahn refers to an often combined city center and suburban railway system metro in Austria, Germany, Switzerland and Denmark...
trains also stop at the station.
Space
Cologne Airport is host of the German and European space agencies
DLR
German Aerospace Center
The German Aerospace Center is the national centre for aerospace, energy and transportation research of the Federal Republic of Germany. It has multiple locations throughout Germany. Its headquarters are located in Cologne. It is engaged in a wide range of research and development projects in...
and
EAC
European Astronaut Centre
The European Astronaut Centre is a centre of the European Space Agency and home of the European Astronaut Corps. It is located in Cologne, Germany, and is sub-divided in to four separate arms, these being Training, Medicine, Education and PR, and Astronaut Management...
, part of ESA, which train
astronaut
Astronaut
An astronaut or cosmonaut is a person trained by a human spaceflight program to command, pilot, or serve as a crew member of a spacecraft....
s there for
space exploration
Space exploration
Space exploration is the use of space technology to explore outer space. Physical exploration of space is conducted both by human spaceflights and by robotic spacecraft....
s. Apart from that, Cologne Airport is one of
NASA
NASA
The National Aeronautics and Space Administration is the agency of the United States government that is responsible for the nation's civilian space program and for aeronautics and aerospace research...
's worldwide 19 non-American
Space Shuttle abort landing sites
Space Shuttle abort modes
A Space Shuttle abort was an emergency procedure due to equipment failure on NASA's Space Shuttle, most commonly during ascent. A main engine failure is a typical abort scenario. There are fewer abort options during reentry and descent...
.
Passenger numbers
Freight
(Tonnes)
2000
6,220,372
138,434
423,641
2001
5,651,669
134,950
443,040
2002
5,316,847
125,307
494,331
2003
7,697,716
139,872
518,493
2004
8,275,234
136,927
605,069
2005
9,403,441
140,775
636,887
2006
9,821,171
139,096
685,563
2007
10,414,814
138,837
704,649
2008
10,307,864
128,713
578,161
2009
9,709,987
120,675
552,363
2010
9,806,270
121,011
656,120
Source: ADV German Airports Association
External links