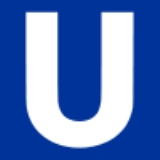 Frankfurt U-Bahn
The
Frankfurt U-Bahn
, together with the
Frankfurt S-Bahn
Rhine-Main S-Bahn
The Rhine-Main S-Bahn system is an integrated rapid transit and commuter transport system for the Frankfurt/Rhine-Main region, which includes the cities Frankfurt am Main, Wiesbaden, Mainz, Offenbach am Main, Hanau and Darmstadt...
and the
Frankfurt Straßenbahn
, is the backbone of the
public transport
Public transport
Public transport is a shared passenger transportation service which is available for use by the general public, as distinct from modes such as taxicab, car pooling or hired buses which are not shared by strangers without private arrangement.Public transport modes include buses, trolleybuses, trams...
system of
Frankfurt
Frankfurt
Frankfurt am Main , commonly known simply as Frankfurt, is the largest city in the German state of Hesse and the fifth-largest city in Germany, with a 2010 population of 688,249. The urban area had an estimated population of 2,300,000 in 2010...
,
Germany
Germany
Germany , officially the Federal Republic of Germany , is a federal parliamentary republic in Europe. The country consists of 16 states while the capital and largest city is Berlin. Germany covers an area of 357,021 km2 and has a largely temperate seasonal climate...
. Its name derives from the German term for
underground
Rapid transit
A rapid transit, underground, subway, elevated railway, metro or metropolitan railway system is an electric passenger railway in an urban area with a high capacity and frequency, and grade separation from other traffic. Rapid transit systems are typically located either in underground tunnels or on...
,
Untergrundbahn
. The U-Bahn opened in 1968 and now consists of 87 stations on nine lines, which have a total length of 65 km (40.4 mi). About 59% of the total track length is underground. About 300,000 people use it every day.
Current routes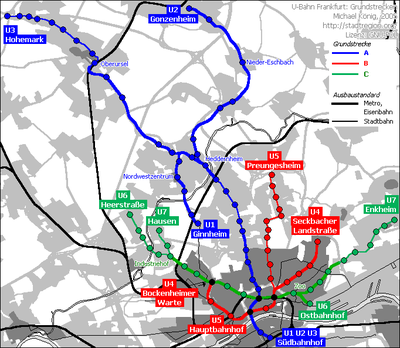 There are currently 9 lines:
U1
Ginnheim - Römerstadt - Nordwestzentrum - Hauptwache - Willy-Brandt-Platz - Südbahnhof

Frankfurt Südbahnhof railway station

Frankfurt Südbahnhof is one of the three long-distance stations in Frankfurt city centre. Unlike the main station it is not a terminus but a through station, and has 9 tracks with five platforms. It is a stopping station for some long-distance routes and for regional traffic...



U2
Bad Homburg-Gonzenheim - Ober-Eschbach - Nieder-Eschbach - Bonames - Hauptwache - Willy-Brandt-Platz - Südbahnhof

Frankfurt Südbahnhof railway station

Frankfurt Südbahnhof is one of the three long-distance stations in Frankfurt city centre. Unlike the main station it is not a terminus but a through station, and has 9 tracks with five platforms. It is a stopping station for some long-distance routes and for regional traffic...



U3
Oberursel-Hohemark - Oberursel - Niederursel - Hauptwache - Willy-Brandt-Platz - Südbahnhof

Frankfurt Südbahnhof railway station

Frankfurt Südbahnhof is one of the three long-distance stations in Frankfurt city centre. Unlike the main station it is not a terminus but a through station, and has 9 tracks with five platforms. It is a stopping station for some long-distance routes and for regional traffic...



U4
Enkheim

Frankfurt-Bergen-Enkheim

Bergen-Enkheim is a district and an Ortsbezirk of the city of Frankfurt am Main in Germany. This eastern district is formed from the towns of Bergen and Enkheim...


- Schäfflestraße - Seckbacher Landstraße - Bornheim - Konstablerwache - Willy-Brandt-Platz - Hauptbahnhof

Frankfurt (Main) Hauptbahnhof

is the central station for Frankfurt am Main. In terms of railway traffic, it is the busiest railway station in Germany. With about 350,000 passengers per day the station is the second most frequented railway station in Germany and one of the most frequented in Europe.- Proto-history :In the late...


- Festhalle/Messe - Bockenheimer Warte
U5
Preungesheim - Eckenheim - Hauptfriedhof - Konstablerwache - Willy-Brandt-Platz - Hauptbahnhof

Frankfurt (Main) Hauptbahnhof

is the central station for Frankfurt am Main. In terms of railway traffic, it is the busiest railway station in Germany. With about 350,000 passengers per day the station is the second most frequented railway station in Germany and one of the most frequented in Europe.- Proto-history :In the late...



U6
Heerstraße - Bockenheimer Warte - Hauptwache - Konstablerwache - Ostbahnhof
U7
Hausen - Bockenheimer Warte - Hauptwache - Konstablerwache - Eissporthalle - Hessen-Center - Enkheim

Frankfurt-Bergen-Enkheim

Bergen-Enkheim is a district and an Ortsbezirk of the city of Frankfurt am Main in Germany. This eastern district is formed from the towns of Bergen and Enkheim...



U8
Riedberg - Niederursel - Hauptwache - Willy-Brandt-Platz - Südbahnhof

Frankfurt Südbahnhof railway station

Frankfurt Südbahnhof is one of the three long-distance stations in Frankfurt city centre. Unlike the main station it is not a terminus but a through station, and has 9 tracks with five platforms. It is a stopping station for some long-distance routes and for regional traffic...



U9
Nieder-Eschbach - Riedberg - Niederursel - Nordwestzentrum - Römerstadt - Ginnheim
See also
External links