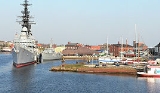 Wilhelmshaven
Wilhelmshaven
is a coastal town in
Lower Saxony
Lower Saxony
Lower Saxony is a German state situated in north-western Germany and is second in area and fourth in population among the sixteen states of Germany...
,
Germany
Germany
Germany , officially the Federal Republic of Germany , is a federal parliamentary republic in Europe. The country consists of 16 states while the capital and largest city is Berlin. Germany covers an area of 357,021 km2 and has a largely temperate seasonal climate...
. It is situated on the western side of the Jade Bight, a bay of the
North Sea
North Sea
In the southwest, beyond the Straits of Dover, the North Sea becomes the English Channel connecting to the Atlantic Ocean. In the east, it connects to the Baltic Sea via the Skagerrak and Kattegat, narrow straits that separate Denmark from Norway and Sweden respectively...
.
The Siebethsburg castle, built before 1383, was occupied by pirates and destroyed in 1433 by the
Hanseatic League
Hanseatic League
The Hanseatic League was an economic alliance of trading cities and their merchant guilds that dominated trade along the coast of Northern Europe...
. Four centuries later, the
Kingdom of Prussia
Kingdom of Prussia
The Kingdom of Prussia was a German kingdom from 1701 to 1918. Until the defeat of Germany in World War I, it comprised almost two-thirds of the area of the German Empire...
planned a fleet and a harbour on the North Sea. In 1853, Prince
Adalbert of Prussia
Adalbert of Prussia
Prince Adalbert of Prussia was a son of Prince Wilhelm of Prussia and Landgravine Marie Anna of Hesse-Homburg. He was a naval theorist and admiral. He was instrumental during the Revolutions of 1848 in founding the first unified German fleet, the Reichsflotte...
arranged the
Jade Treaty
Jade Treaty
The Jade Treaty of 20 July 1853 between Kingdom of Prussia and Grand Duchy of Oldenburg provided for the handover of 340 hectares of Oldenburg territory at what is now Wilhelmshaven, Germany, on the western shore of the Jade Bight east of Bremerhaven...
(
Jade-Vertrag
) with the Grand Duchy of Oldenburg, in which Prussia and the Grand Duchy entered into a contract: 3.13 km² of Oldenburgian territory at the Jade Bight should be ceded to Prussia.