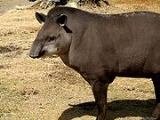 Tapir
A
Tapir
is a large browsing
mammal
Mammal
Mammals are members of a class of air-breathing vertebrate animals characterised by the possession of endothermy, hair, three middle ear bones, and mammary glands functional in mothers with young...
, similar in shape to a
pig
Suidae
Suidae is the biological family to which pigs belong. In addition to numerous fossil species, up to sixteen extant species are currently recognized, classified into between four and eight genera...
, with a short, prehensile snout. Tapirs inhabit jungle and forest regions of
South America
South America
South America is a continent situated in the Western Hemisphere, mostly in the Southern Hemisphere, with a relatively small portion in the Northern Hemisphere. The continent is also considered a subcontinent of the Americas. It is bordered on the west by the Pacific Ocean and on the north and east...
,
Central America
Central America
Central America is the central geographic region of the Americas. It is the southernmost, isthmian portion of the North American continent, which connects with South America on the southeast. When considered part of the unified continental model, it is considered a subcontinent...
, and
Southeast Asia
Southeast Asia
Southeast Asia, South-East Asia, South East Asia or Southeastern Asia is a subregion of Asia, consisting of the countries that are geographically south of China, east of India, west of New Guinea and north of Australia. The region lies on the intersection of geological plates, with heavy seismic...
. There are four species of Tapirs: the Brazilian Tapir, the
Malayan Tapir
Malayan Tapir
The Malayan Tapir , also called the Asian Tapir, is the largest of the four species of tapir and the only one native to Asia. The scientific name refers to the East Indies, the species' natural habitat...
,
Baird's Tapir
Baird's Tapir
Baird's Tapir is a species of tapir that is native to Central America and northern South America. It is one of three Latin American species of tapir.-Names:...
and the
Mountain Tapir
Mountain Tapir
The Mountain Tapir or Woolly Tapir is the smallest of the four species of tapir and is the only one to live outside of tropical rainforests in the wild...
. All four
species
Species
In biology, a species is one of the basic units of biological classification and a taxonomic rank. A species is often defined as a group of organisms capable of interbreeding and producing fertile offspring. While in many cases this definition is adequate, more precise or differing measures are...
of tapir are classified as
endangered
Endangered species
An endangered species is a population of organisms which is at risk of becoming extinct because it is either few in numbers, or threatened by changing environmental or predation parameters...
or
vulnerable
Vulnerable species
On 30 January 2010, the IUCN Red List of Threatened Species identified 9694 Vulnerable species, subspecies and varieties, stocks and sub-populations.-References:...
. Their closest relatives are the other
odd-toed ungulate
Odd-toed ungulate
An odd-toed ungulate is a mammal with hooves that feature an odd number of toes. Odd-toed ungulates comprise the order Perissodactyla . The middle toe on each hoof is usually larger than its neighbours...
s, including
horse
Horse
The horse is one of two extant subspecies of Equus ferus, or the wild horse. It is a single-hooved mammal belonging to the taxonomic family Equidae. The horse has evolved over the past 45 to 55 million years from a small multi-toed creature into the large, single-toed animal of today...
s and
rhinoceros
Rhinoceros
Rhinoceros , also known as rhino, is a group of five extant species of odd-toed ungulates in the family Rhinocerotidae. Two of these species are native to Africa and three to southern Asia....
es.
Species
There are four widely recognized extant tapir species, though some authors describe more, and a number of extinct species:
Baird's Tapir

Baird's Tapir

Baird's Tapir is a species of tapir that is native to Central America and northern South America. It is one of three Latin American species of tapir.-Names:...


, Tapirus bairdii
Malayan Tapir

Malayan Tapir

The Malayan Tapir , also called the Asian Tapir, is the largest of the four species of tapir and the only one native to Asia. The scientific name refers to the East Indies, the species' natural habitat...


, Tapirus indicus
Mountain Tapir

Mountain Tapir

The Mountain Tapir or Woolly Tapir is the smallest of the four species of tapir and is the only one to live outside of tropical rainforests in the wild...


, Tapirus pinchaque
Brazilian Tapir (also called Lowland Tapir), Tapirus terrestris
Tapirus polkensis

Tapirus polkensis

Tapirus polkensis, the pygmy tapir, was a small prehistoric tapir that lived in North America during the Late Miocene and early Pliocene. It is thought that Tapirus polkensis lived in swamps, where it would have been preyed on by ancestors of modern American crocodiles. It is smaller than any...


†
Tapirus merriami †
Tapirus veroensis †
Tapirus copei †
Tapirus californicus †
Hybrids
Hybrid tapirs from the Baird's Tapir and the Brazilian Tapir were bred at the
San Francisco Zoo
San Francisco Zoo
The San Francisco Zoo, housing more than 260 animal species, is a zoo located in the southwestern corner of San Francisco, California, between Lake Merced and the Pacific Ocean along the Great Highway...
around 1969 and produced a second generation around 1970.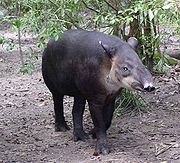 General appearance
Size varies between types, but most tapirs are about 2 metres (7 ft) long, stand about a metre (3 ft) high at the shoulder, and weigh between 150 and 300 kg (330 to 700 lb). Coats are short and range in color from reddish-brown to grey to nearly black, with the notable exceptions of the
Malayan Tapir
Malayan Tapir
The Malayan Tapir , also called the Asian Tapir, is the largest of the four species of tapir and the only one native to Asia. The scientific name refers to the East Indies, the species' natural habitat...
, which has a white saddle-shaped marking on its back, and the
Mountain Tapir
Mountain Tapir
The Mountain Tapir or Woolly Tapir is the smallest of the four species of tapir and is the only one to live outside of tropical rainforests in the wild...
, which has longer, woolly fur. All tapirs have oval, white-tipped ears, rounded, protruding rumps with stubby tails, and splayed, hoofed toes, with four toes on the front feet and three on the hind feet, which help them to walk on muddy and soft ground. Baby tapirs of all types have striped-and-spotted coats for
camouflage
Camouflage
Camouflage is a method of concealment that allows an otherwise visible animal, military vehicle, or other object to remain unnoticed, by blending with its environment. Examples include a leopard's spotted coat, the battledress of a modern soldier and a leaf-mimic butterfly...
. Females have a single pair of mammary glands.
Physical characteristics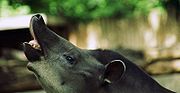 The
proboscis
Proboscis
A proboscis is an elongated appendage from the head of an animal, either a vertebrate or an invertebrate. In simpler terms, a proboscis is the straw-like mouth found in several varieties of species.-Etymology:...
of the tapir is a highly flexible structure, able to move in all directions, allowing the animals to grab foliage that would otherwise be out of reach. Tapirs often exhibit the
flehmen response
Flehmen response
The flehmen response , also called the flehmen position, flehmen reaction, flehming, or flehmening , is a particular type of curling of the upper lip in ungulates, felids, and many other mammals, which facilitates the transfer of pheromones and other scents into the vomeronasal organ, also called the...
, a posture in which they raise their snouts and show their teeth, in order to detect scents. This response is frequently exhibited by bulls sniffing for signs of other males or females in oestrus in the area. The length of the proboscis varies among species; Malayan Tapirs have the longest snouts and Brazilian Tapirs have the shortest. The evolution of tapir probosces, made up almost entirely of soft tissues rather than bony internal structures, gives the
Tapiridae
skull a unique form in comparison to other
perissodactyls
Odd-toed ungulate
An odd-toed ungulate is a mammal with hooves that feature an odd number of toes. Odd-toed ungulates comprise the order Perissodactyla . The middle toe on each hoof is usually larger than its neighbours...
, with a larger
sagittal crest
Sagittal crest
A sagittal crest is a ridge of bone running lengthwise along the midline of the top of the skull of many mammalian and reptilian skulls, among others....
, orbits positioned more rostrally, a posteriorly telescoped cranium, and a more elongated and retracted nasoincisive incisure.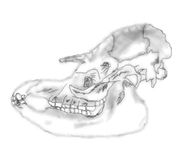 Tapirs have brachyodont, or low-crowned, teeth that lack cement. Their
dental formula
Dentition
Dentition pertains to the development of teeth and their arrangement in the mouth. In particular, the characteristic arrangement, kind, and number of teeth in a given species at a given age...
is totalling 42 to 44 teeth; this
dentition
Dentition
Dentition pertains to the development of teeth and their arrangement in the mouth. In particular, the characteristic arrangement, kind, and number of teeth in a given species at a given age...
is closer to that of equids, who may differ by one less canine, than their other perissodactyl relatives, rhinoceroses. Their incisors are chisel-shaped, with the third large, conical upper incisor separated by a short gap from the considerably smaller canine. A much longer gap is found between the canines and premolars, the first of which may be absent. Tapirs are lophodonts, and their cheek teeth have distinct lophs (ridges) between protocones, paracones, metacones and hypocones.
Tapirs have brown eyes, often with a bluish cast to them which has been identified as
cornea
Cornea
The cornea is the transparent front part of the eye that covers the iris, pupil, and anterior chamber. Together with the lens, the cornea refracts light, with the cornea accounting for approximately two-thirds of the eye's total optical power. In humans, the refractive power of the cornea is...
l cloudiness, a condition most commonly found in Malayan Tapirs. The exact etiology is unknown, but the cloudiness may be caused by excessive exposure to light or by
trauma
Physical trauma
Trauma refers to "a body wound or shock produced by sudden physical injury, as from violence or accident." It can also be described as "a physical wound or injury, such as a fracture or blow." Major trauma can result in secondary complications such as circulatory shock, respiratory failure and death...
. However, the tapir's sensitive ears and strong sense of smell help to compensate for deficiencies in vision.
Tapirs have simple stomachs, and, like horses, ferment food in a large
cecum
Cecum
The cecum or caecum is a pouch, connecting the ileum with the ascending colon of the large intestine. It is separated from the ileum by the ileocecal valve or Bauhin's valve, and is considered to be the beginning of the large intestine. It is also separated from the colon by the cecocolic...
.
Lifecycle
Young tapirs reach sexual maturity between three and five years of age, with females maturing earlier than males. Under good conditions, a healthy female tapir can reproduce every two years; a single youngster is born after a gestation of about 13 months. The natural lifespan of a tapir is approximately 25 to 30 years, both in the wild and in zoos. Apart from mothers and their young offspring, tapirs lead almost exclusively solitary lives.
Behaviour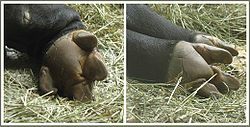 Although they frequently live in dryland forests, tapirs with access to rivers spend a good deal of time in and under the water, feeding on soft vegetation, taking refuge from predators, and cooling off during hot periods. Tapirs near a water source will swim, sink to the bottom and walk along the riverbed to feed, and have been known to submerge themselves under water to allow small fish to pick parasites off their bulky bodies. Along with fresh water lounging, tapirs often wallow in mud pits, which also helps to keep them cool and free of insects.
In the wild, the tapir's diet consists of
fruit
Fruit
In broad terms, a fruit is a structure of a plant that contains its seeds.The term has different meanings dependent on context. In non-technical usage, such as food preparation, fruit normally means the fleshy seed-associated structures of certain plants that are sweet and edible in the raw state,...
,
berries
Berry
The botanical definition of a berry is a fleshy fruit produced from a single ovary. Grapes are an example. The berry is the most common type of fleshy fruit in which the entire ovary wall ripens into an edible pericarp. They may have one or more carpels with a thin covering and fleshy interiors....
, and
leaves
Leaf
A leaf is an organ of a vascular plant, as defined in botanical terms, and in particular in plant morphology. Foliage is a mass noun that refers to leaves as a feature of plants....
, particularly young, tender growth. Tapirs will spend many of their waking hours foraging along well-worn trails, snouts to the ground in search of food. Baird's Tapirs have been observed to eat around 40 kilograms (85 pounds) of vegetation in one day.
Tapirs are largely nocturnal and
crepuscular
Crepuscular
Crepuscular animals are those that are active primarily during twilight, that is during dawn and dusk. The word is derived from the Latin word crepusculum, meaning "twilight." Crepuscular is, thus, in contrast with diurnal and nocturnal behavior. Crepuscular animals may also be active on a bright...
, although the smaller Mountain Tapir of the
Andes
Andes
The Andes is the world's longest continental mountain range. It is a continual range of highlands along the western coast of South America. This range is about long, about to wide , and of an average height of about .Along its length, the Andes is split into several ranges, which are separated...
is generally more active
during the day
Diurnal animal
Diurnality is a plant or animal behavior characterized by activity during the day and sleeping at night.-In animals:Animals that are not diurnal might be nocturnal or crepuscular . Many animal species are diurnal, including many mammals, insects, reptiles and birds...
than its
congener
Congener
Congener has several different meanings depending on the field in which it is used. Colloquially, it is used to mean a person or thing like another, in character or action.-Biology:In biology, congeners are organisms within the same genus...
s. They have
monocular vision
Monocular vision
Monocular vision is vision in which each eye is used separately. By using the eyes in this way, as opposed by binocular vision, the field of view is increased, while depth perception is limited. The eyes are usually positioned on opposite sides of the animal's head giving it the ability to see two...
.
Copulation may occur in or out of water, and in captivity, mating pairs will often copulate multiple times during oestrus.
Habitat, predation, and vulnerability
Adult tapirs are large enough that they have few natural predators, and the thick skin on the backs of their necks helps to protect them from threats such as
jaguar
Jaguar
The jaguar is a big cat, a feline in the Panthera genus, and is the only Panthera species found in the Americas. The jaguar is the third-largest feline after the tiger and the lion, and the largest in the Western Hemisphere. The jaguar's present range extends from Southern United States and Mexico...
s,
crocodile
Crocodile
A crocodile is any species belonging to the family Crocodylidae . The term can also be used more loosely to include all extant members of the order Crocodilia: i.e...
s,
anaconda
Anaconda
An anaconda is a large, non-venomous snake found in tropical South America. Although the name actually applies to a group of snakes, it is often used to refer only to one species in particular, the common or green anaconda, Eunectes murinus, which is one of the largest snakes in the world.Anaconda...
s, and
tiger
Tiger
The tiger is the largest cat species, reaching a total body length of up to and weighing up to . Their most recognizable feature is a pattern of dark vertical stripes on reddish-orange fur with lighter underparts...
s. The creatures are also able to run fairly quickly, considering their size and cumbersome appearance, finding shelter in the thick undergrowth of the forest or in water. Hunting for meat and hides has substantially reduced their numbers and, more recently, habitat loss has resulted in the conservation watch-listing of all four species: both the Brazilian Tapir and the Malayan Tapir are classified as vulnerable; and the Baird's Tapir and the Mountain Tapir are endangered.
Evolution and natural history
The first tapirids, such as
Heptodon
Heptodon
Heptodon is an extinct genus of tapir-type herbivore of the family Helaletidae endemic to North America during the Eocene epoch. It lived from 55.4—48.6 mya, existing for approximately .-Taxonomy:...
, appeared in the early
Eocene
Eocene
The Eocene Epoch, lasting from about 56 to 34 million years ago , is a major division of the geologic timescale and the second epoch of the Paleogene Period in the Cenozoic Era. The Eocene spans the time from the end of the Palaeocene Epoch to the beginning of the Oligocene Epoch. The start of the...
. They appeared very similar to modern forms, but were about half the size, and lack the proboscis. The first true tapirs appeared in the
Oligocene
Oligocene
The Oligocene is a geologic epoch of the Paleogene Period and extends from about 34 million to 23 million years before the present . As with other older geologic periods, the rock beds that define the period are well identified but the exact dates of the start and end of the period are slightly...
, and by the
Miocene
Miocene
The Miocene is a geological epoch of the Neogene Period and extends from about . The Miocene was named by Sir Charles Lyell. Its name comes from the Greek words and and means "less recent" because it has 18% fewer modern sea invertebrates than the Pliocene. The Miocene follows the Oligocene...
, such genera as
Miotapirus
Miotapirus
Miotapirus harrisonensis is an extinct species of tapir lived during the early Miocene Epoch some 20 million years ago in North America.Physically Miotapirus was virtually identical to its modern relatives; with a length of 2 m it was even the same size. Most likely it was also nocturnal and very...
were almost indistinguishable from the extant species. It is believed that Asian and American tapirs diverged around 20 to 30 million years ago, and that tapirs migrated from North America to South America around 3 million years ago, as part of the
Great American Interchange
Great American Interchange
The Great American Interchange was an important paleozoogeographic event in which land and freshwater fauna migrated from North America via Central America to South America and vice versa, as the volcanic Isthmus of Panama rose up from the sea floor and bridged the formerly separated continents...
. For much of their history, tapirs were spread across the northern hemisphere, where they became extinct as recently as 10,000 years ago. Tapirus merriami, Tapirus veroensis, Tapirus copei, and Tapirus californicus became extinct during the
Pleistocene
Pleistocene
The Pleistocene is the epoch from 2,588,000 to 11,700 years BP that spans the world's recent period of repeated glaciations. The name pleistocene is derived from the Greek and ....
in North America.
It is also believed by some scientists that the tapir may have evolved from the
Hyracotherium
Hyracotherium
Hyracotherium , also known as Eohippus or the dawn horse, is an extinct genus of very small perissodactyl ungulates that lived in the woodlands of the northern hemisphere, with species ranging throughout Asia, Europe, and North America during the early Tertiary Period and the early to mid Eocene...
(a primitive horse).
Genetics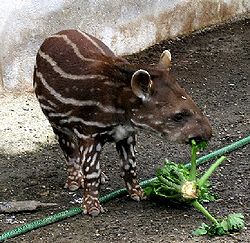 The species of tapir have the following
chromosomal
Chromosome
A chromosome is an organized structure of DNA and protein found in cells. It is a single piece of coiled DNA containing many genes, regulatory elements and other nucleotide sequences. Chromosomes also contain DNA-bound proteins, which serve to package the DNA and control its functions.Chromosomes...
numbers:
Malayan Tapir, T. indicus
2n = 52
Mountain Tapir, T. pinchaque
2n = 76
Baird's Tapir, T. bairdii
2n = 80
Brazilian Tapir, T. terrestris
2n = 80
The Malayan tapir, the species most isolated geographically from the rest of the genus, has a significantly smaller number of chromosomes and has been found to share fewer
homologies
Homology (biology)
Homology forms the basis of organization for comparative biology. In 1843, Richard Owen defined homology as "the same organ in different animals under every variety of form and function". Organs as different as a bat's wing, a seal's flipper, a cat's paw and a human hand have a common underlying...
with the three types of American tapirs. A number of conserved
autosome
Autosome
An autosome is a chromosome that is not a sex chromosome, or allosome; that is to say, there is an equal number of copies of the chromosome in males and females. For example, in humans, there are 22 pairs of autosomes. In addition to autosomes, there are sex chromosomes, to be specific: X and Y...
s (13 between karyotypes of the Baird's Tapir and Brazilian Tapir, and 15 between the Baird's and Mountain Tapir) have also been found in the American species that are not found in the Asian animal. However, geographic proximity is not an absolute predictor of genetic similarity; for instance, G-banded preparations have revealed that Malayan, Baird's and Brazilian Tapirs have identical
X chromosome
X chromosome
The X chromosome is one of the two sex-determining chromosomes in many animal species, including mammals and is common in both males and females. It is a part of the XY sex-determination system and X0 sex-determination system...
s, while Mountain Tapirs are separated by a heterochromatic addition/deletion.
Lack of genetic diversity in tapir populations has become a major source of concern for conservationists. Habitat loss has isolated already small populations of wild tapirs, putting each group in greater danger of dying out completely. Even in zoos, genetic diversity is limited; all captive mountain tapirs, for example, are descended from only two founder individuals.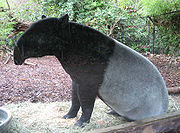 Conservation
There are a number of conservation projects around the world. The Tapir Specialist Group, a unit of the IUCN Species Survival Commission, strives to conserve biological diversity by stimulating, developing, and executing practical programs to study, save, restore, and manage the four species of tapir and their remaining habitats in Central and South America and Southeast Asia.
The Baird's Tapir Project of Costa Rica is the longest ongoing tapir project in the world, having started in 1994. It is currently led by Kendra Bauer and involves placing radio collars on tapirs in Costa Rica's Corcovado National Park to study their social systems and habitat preferences.
27 April 2008, was World Tapir Day. The day has been established to raise awareness about the four species of tapir that inhabit Central and South America and South-East Asia.
Attacks on humans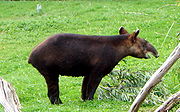 Tapirs are generally shy, but when they are scared they can defend themselves with their very powerful jaws. In 1998, a zookeeper in
Oklahoma City
Oklahoma city
Oklahoma City is the capital and largest city of the U.S. state of Oklahoma.Oklahoma City may also refer to:*Oklahoma City metropolitan area*Downtown Oklahoma City*Uptown Oklahoma City*Oklahoma City bombing*Oklahoma City National Memorial...
was mauled and had an arm severed after opening the door to a female tapir's enclosure to push food inside. (The tapir's 2-month-old baby also occupied the cage at the time.) In 2006, Carlos Manuel Rodriguez Echandi (who was then the Costa Rican Environmental Minister) became lost in the
Corcovado National Park
Corcovado National Park
Corcovado National Park is a National Park on the Osa Peninsula in the South West of Costa Rica , which is part of the Osa Conservation Area. It was established on 24 October 1975, and encompasses an area of 425 km² . It is widely considered the crown jewel in the extensive system of national...
and was found by a search party with a "nasty bite" from a wild tapir. However, such examples are rare; for the most part, tapirs are likely to avoid confrontation in favour of running from predators, hiding, or, if possible, submerging themselves in nearby water until a threat is gone.
Frank Buck
Frank Buck (animal collector)
Frank Howard Buck was a hunter and "collector of wild animals," as well as a movie actor, director, writer and producer...
wrote about an attack by a tapir in 1926, which he described in his book,
Bring 'Em Back Alive
Bring 'Em Back Alive (book)
Bring 'Em Back Alive was Frank Buck's first book, a huge best seller that catapulted him to world fame and was translated into many languages. Buck tells of his adventures capturing exotic animals....
.
Cultural references
In
Chinese
Chinese language
The Chinese language is a language or language family consisting of varieties which are mutually intelligible to varying degrees. Originally the indigenous languages spoken by the Han Chinese in China, it forms one of the branches of Sino-Tibetan family of languages...
,
Korean
Korean language
Korean is the official language of the country Korea, in both South and North. It is also one of the two official languages in the Yanbian Korean Autonomous Prefecture in People's Republic of China. There are about 78 million Korean speakers worldwide. In the 15th century, a national writing...
and
Japanese
Japanese language
is a language spoken by over 130 million people in Japan and in Japanese emigrant communities. It is a member of the Japonic language family, which has a number of proposed relationships with other languages, none of which has gained wide acceptance among historical linguists .Japanese is an...
, the tapir is named after a beast from
Chinese mythology
Chinese mythology
Chinese mythology is a collection of cultural history, folktales, and religions that have been passed down in oral or written tradition. These include creation myths and legends and myths concerning the founding of Chinese culture and the Chinese state...
. A feature of this mythical creature is a snout like that of an
elephant
Elephant
Elephants are large land mammals in two extant genera of the family Elephantidae: Elephas and Loxodonta, with the third genus Mammuthus extinct...
. In
Japanese folklore
Japanese folklore
The folklore of Japan is heavily influenced by both Shinto and Buddhism, the two primary religions in the country. It often involves humorous or bizarre characters and situations and also includes an assortment of supernatural beings, such as bodhisattva, kami , yōkai , yūrei ,...
, tapirs can eat people's
dream
Dream
Dreams are successions of images, ideas, emotions, and sensations that occur involuntarily in the mind during certain stages of sleep. The content and purpose of dreams are not definitively understood, though they have been a topic of scientific speculation, philosophical intrigue and religious...
s. In Chinese, the name of this beast, subsequently the name of the tapir, is
mò
in Mandarin and
mahk
in Cantonese . The Korean equivalent is
maek
(
Hangul
Hangul
Hangul,Pronounced or ; Korean: 한글 Hangeul/Han'gŭl or 조선글 Chosŏn'gŭl/Joseongeul the Korean alphabet, is the native alphabet of the Korean language. It is a separate script from Hanja, the logographic Chinese characters which are also sometimes used to write Korean...
: ,
Hanja
Hanja
Hanja is the Korean name for the Chinese characters hanzi. More specifically, it refers to those Chinese characters borrowed from Chinese and incorporated into the Korean language with Korean pronunciation...
: ), while it is called
baku
Baku (spirit)
are Japanese supernatural beings that devour dreams and nightmares. They have a long history in Japanese folklore and art, and more recently have appeared in Japanese anime and manga ....
in Japanese. The Chinese
file hosting service
File hosting service
A file hosting service, online file storage provider, or cyberlocker is an Internet hosting service specifically designed to host user files. Typically they allow HTTP and FTP access. Related services are content-displaying hosting services A file hosting service, online file storage provider, or...
Mofile has been referred to as the tapir by Chinese-speaking users.
In the prehistoric sequences of the
science fiction
Science fiction
Science fiction is a genre of fiction dealing with imaginary but more or less plausible content such as future settings, futuristic science and technology, space travel, aliens, and paranormal abilities...
film
2001: A Space Odyssey
2001: A Space Odyssey (film)
2001: A Space Odyssey is a 1968 epic science fiction film produced and directed by Stanley Kubrick, and co-written by Kubrick and Arthur C. Clarke, partially inspired by Clarke's short story The Sentinel...
, tapirs appear alongside primitive hominids. The tapir was chosen because of its unusual appearance, which is frequently described as being prehistoric. However, there is no fossil-based evidence of tapirs ever existing in
Africa
Africa
Africa is the world's second largest and second most populous continent, after Asia. At about 30.2 million km² including adjacent islands, it covers 6% of the Earth's total surface area and 20.4% of the total land area...
.
Near the start of the film
Ice Age
Ice Age (film)
Ice Age is a 2002 American computer-animated film created by Blue Sky Studios and released by 20th Century Fox. It was directed by Carlos Saldanha and Chris Wedge from a story by Michael J. Wilson. The story follows three Paleolithical mammals attempting to return a lost human baby to its parents...
(2002), a family of tapirs appear in a herd of many species, several being prehistoric. The father tapir scolds his children for playing in
tar
Tar
Tar is modified pitch produced primarily from the wood and roots of pine by destructive distillation under pyrolysis. Production and trade in tar was a major contributor in the economies of Northern Europe and Colonial America. Its main use was in preserving wooden vessels against rot. The largest...
.
External links