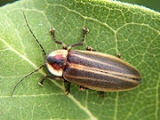 Crepuscular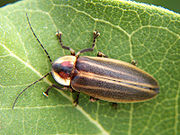 Crepuscular
animal
Animal
Animals are a major group of multicellular, eukaryotic organisms of the kingdom Animalia or Metazoa. Their body plan eventually becomes fixed as they develop, although some undergo a process of metamorphosis later on in their life. Most animals are motile, meaning they can move spontaneously and...
s are those that are active primarily during
twilight
Twilight
Twilight is the time between dawn and sunrise or between sunset and dusk, during which sunlight scattering in the upper atmosphere illuminates the lower atmosphere, and the surface of the earth is neither completely lit nor completely dark. The sun itself is not directly visible because it is below...
, that is during
dawn
Dawn
Dawn is the time that marks the beginning of the twilight before sunrise. It is recognized by the presence of weak sunlight, while the sun itself is still below the horizon...
and
dusk
Dusk
Dusk is the beginning of darkness in the evening, and occurs after twilight, when the sky generally remains bright and blue. Civil dusk is when the earth has rotated enough that the center of the sun is at 6° below the local horizon...
. The
word
Word
In language, a word is the smallest free form that may be uttered in isolation with semantic or pragmatic content . This contrasts with a morpheme, which is the smallest unit of meaning but will not necessarily stand on its own...
is derived from the
Latin
Latin
Latin is an Italic language originally spoken in Latium and Ancient Rome. It, along with most European languages, is a descendant of the ancient Proto-Indo-European language. Although it is considered a dead language, a number of scholars and members of the Christian clergy speak it fluently, and...
word
crepusculum
, meaning "twilight." Crepuscular is, thus, in contrast with diurnal and nocturnal behavior. Crepuscular animals may also be active on a bright moonlit night. Many animals that are casually described as nocturnal are in fact crepuscular. Within the definition of crepuscular are the terms
matutinal
Matutinal
Matutinal is a term used in the life sciences to describe an organism that is only or primarily active in the pre-dawn hours or early morning. The variant term matinal is used only in entomology, often used in literature on the natural history and ecology of bees...
(or "matinal") and
vespertine
Vespertine (biology)
Vespertine is a term used in the life sciences to indicate something of, relating to, or occurring in the evening. In botany, a vespertine flower is one that opens or blooms in the evening. In zoology, the term is used for a creature that becomes active in the evening, such as bats and owls...
, denoting species active only in the dawn or only in the dusk, respectively.
The patterns of activity are thought to be an antipredator adaptation. Many predators
forage
Foraging
- Definitions and significance of foraging behavior :Foraging is the act of searching for and exploiting food resources. It affects an animal's fitness because it plays an important role in an animal's ability to survive and reproduce...
most intensely at night, whereas others are active at mid-day and see best in full sun. Thus, the crepuscular habit may reduce predation. Also, in hot areas, it may be a way of avoiding thermal stress while capitalizing on available light.
A number of familiar
mammal
Mammal
Mammals are members of a class of air-breathing vertebrate animals characterised by the possession of endothermy, hair, three middle ear bones, and mammary glands functional in mothers with young...
species are crepuscular, including
housecats
Cat
The cat , also known as the domestic cat or housecat to distinguish it from other felids and felines, is a small, usually furry, domesticated, carnivorous mammal that is valued by humans for its companionship and for its ability to hunt vermin and household pests...
,
dog
Dog
The domestic dog is a domesticated form of the gray wolf, a member of the Canidae family of the order Carnivora. The term is used for both feral and pet varieties. The dog may have been the first animal to be domesticated, and has been the most widely kept working, hunting, and companion animal in...
s,
rabbit
Rabbit
Rabbits are small mammals in the family Leporidae of the order Lagomorpha, found in several parts of the world...
s,
ferret
Ferret
The ferret is a domesticated mammal of the type Mustela putorius furo. Ferrets are sexually dimorphic predators with males being substantially larger than females. They typically have brown, black, white, or mixed fur...
s,
guinea pig
Guinea pig
The guinea pig , also called the cavy, is a species of rodent belonging to the family Caviidae and the genus Cavia. Despite their common name, these animals are not in the pig family, nor are they from Guinea...
s, and
rat
Rat
Rats are various medium-sized, long-tailed rodents of the superfamily Muroidea. "True rats" are members of the genus Rattus, the most important of which to humans are the black rat, Rattus rattus, and the brown rat, Rattus norvegicus...
s. Other crepuscular mammals include
prosimian
Prosimian
Prosimians are a grouping of mammals defined as being primates, but not monkeys or apes. They include, among others, lemurs, bushbabies, and tarsiers. They are considered to have characteristics that are more primitive than those of monkeys and apes. Prosimians are the only primates native to...
s,
red panda
Red Panda
The red panda , is a small arboreal mammal native to the eastern Himalayas and southwestern China. It is the only species of the genus Ailurus. Slightly larger than a domestic cat, it has reddish-brown fur, a long, shaggy tail, and a waddling gait due to its shorter front legs...
s,
deer
Deer
Deer are the ruminant mammals forming the family Cervidae. Species in the Cervidae family include white-tailed deer, elk, moose, red deer, reindeer, fallow deer, roe deer and chital. Male deer of all species and female reindeer grow and shed new antlers each year...
,
moose
Moose
The moose or Eurasian elk is the largest extant species in the deer family. Moose are distinguished by the palmate antlers of the males; other members of the family have antlers with a dendritic configuration...
,
chinchilla
Chinchilla
Chinchillas are crepuscular rodents, slightly larger and more robust than ground squirrels, and are native to the Andes mountains in South America. Along with their relatives, viscachas, they make up the family Chinchillidae....
s, the common
mouse
Mouse
A mouse is a small mammal belonging to the order of rodents. The best known mouse species is the common house mouse . It is also a popular pet. In some places, certain kinds of field mice are also common. This rodent is eaten by large birds such as hawks and eagles...
,
skunk
Skunk
Skunks are mammals best known for their ability to secrete a liquid with a strong, foul odor. General appearance varies from species to species, from black-and-white to brown or cream colored. Skunks belong to the family Mephitidae and to the order Carnivora...
s,
wombat
Wombat
Wombats are Australian marsupials; they are short-legged, muscular quadrupeds, approximately in length with a short, stubby tail. They are adaptable in their habitat tolerances, and are found in forested, mountainous, and heathland areas of south-eastern Australia, including Tasmania, as well as...
s,
quoll
Quoll
The quoll, or native cat, is a carnivorous marsupial native to mainland Australia, New Guinea and Tasmania. It is primarily nocturnal and spends most of the day in its den. There are six species of quoll; four are found in Australia and two in New Guinea...
s,
spotted hyena
Spotted Hyena
The spotted hyena also known as laughing hyena, is a carnivorous mammal of the family Hyaenidae, of which it is the largest extant member. Though the species' prehistoric range included Eurasia extending from Atlantic Europe to China, it now only occurs in all of Africa south of the Sahara save...
s,
bobcat
Bobcat
The bobcat is a North American mammal of the cat family Felidae, appearing during the Irvingtonian stage of around 1.8 million years ago . With twelve recognized subspecies, it ranges from southern Canada to northern Mexico, including most of the continental United States...
s,
tenrecidae
Tenrecidae
Tenrecidae is a family of mammals found on Madagascar and parts of Africa. Tenrecs are widely diverse, resembling hedgehogs, shrews, opossums, mice and even otters, as a result of convergent evolution. They occupy aquatic, arboreal, terrestrial and fossorial environments...
,
capybara
Capybara
The capybara , also known as capivara in Portuguese, and capibara, chigüire in Venezuela, Colombia, and Ecuador ronsoco in Peru, chigüiro, and carpincho in Spanish, is the largest living rodent in the world. Its closest relatives are agouti, chinchillas, coyphillas, and guinea pigs...
s, and the extinct
Tasmanian tiger
Thylacine
The thylacine or ,also ;binomial name: Thylacinus cynocephalus, Greek for "dog-headed pouched one") was the largest known carnivorous marsupial of modern times. It is commonly known as the Tasmanian tiger or the Tasmanian wolf...
. Crepuscular birds include the
Common Nighthawk
Common Nighthawk
The Common Nighthawk is a medium-sized crepuscular or nocturnal bird, whose presence and identity are best revealed by its vocalization. Typically dark , displaying cryptic colouration and intricate patterns, this bird becomes invisible by day. Once aerial, with its buoyant but erratic flight,...
,
Chimney Swift
Chimney Swift
The Chimney Swift is a small bird .-Physical description:In flight, this bird looks like a flying cigar with long slender curved wings. The plumage is a sooty grey-brown; the throat, breast, underwings and rump are paler. They have short tails.-Reproduction:The breeding season of Chimney Swifts is...
,
American Woodcock
American Woodcock
The American Woodcock , sometimes colloquially referred to as the Timberdoodle, is a small chunky shorebird species found primarily in the eastern half of North America...
, and
Spotted Crake
Spotted Crake
The Spotted Crake is a small waterbird, of the family Rallidae.Their breeding habitat is marshes and sedge beds across temperate Europe into western Asia. They nest in a dry location in marsh vegetation, laying 6-15 eggs...
.
Some species have different habits in the absence of
predator
Predation
In ecology, predation describes a biological interaction where a predator feeds on its prey . Predators may or may not kill their prey prior to feeding on them, but the act of predation always results in the death of its prey and the eventual absorption of the prey's tissue through consumption...
s. For example, the
Short-eared Owl
Short-eared Owl
The Short-eared Owl is a species of typical owl . In Scotland this species of owl is often referred to as a cataface, grass owl or short-horned hootlet. Owls belonging to genus Asio are known as the eared owls, as they have tufts of feathers resembling mammalian ears. These "ear" tufts may or may...
is crepuscular on those of the
Galápagos Islands
Galápagos Islands
The Galápagos Islands are an archipelago of volcanic islands distributed around the equator in the Pacific Ocean, west of continental Ecuador, of which they are a part.The Galápagos Islands and its surrounding waters form an Ecuadorian province, a national park, and a...
that have
buzzard
Buzzard
A buzzard is one of several large birds, but there are a number of meanings as detailed below.-Old World:In the Old World Buzzard can mean:* One of several medium-sized, wide-ranging raptors with a robust body and broad wings....
species, but diurnal on those without.
Many
moth
Moth
A moth is an insect closely related to the butterfly, both being of the order Lepidoptera. Moths form the majority of this order; there are thought to be 150,000 to 250,000 different species of moth , with thousands of species yet to be described...
s,
beetle
Beetle
Coleoptera is an order of insects commonly called beetles. The word "coleoptera" is from the Greek , koleos, "sheath"; and , pteron, "wing", thus "sheathed wing". Coleoptera contains more species than any other order, constituting almost 25% of all known life-forms...
s,
flies
Fly
True flies are insects of the order Diptera . They possess a pair of wings on the mesothorax and a pair of halteres, derived from the hind wings, on the metathorax...
, and other
insect
Insect
Insects are a class of living creatures within the arthropods that have a chitinous exoskeleton, a three-part body , three pairs of jointed legs, compound eyes, and two antennae...
s are crepuscular as well.