 Diurnal animal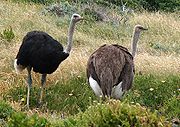 Diurnality
is a plant or animal behavior characterized by activity during the day and
sleep
Sleep
Sleep is a naturally recurring state characterized by reduced or absent consciousness, relatively suspended sensory activity, and inactivity of nearly all voluntary muscles. It is distinguished from quiet wakefulness by a decreased ability to react to stimuli, and is more easily reversible than...
ing at night.
In animals
Animals that are not diurnal might be nocturnal (active at night) or
crepuscular
Crepuscular
Crepuscular animals are those that are active primarily during twilight, that is during dawn and dusk. The word is derived from the Latin word crepusculum, meaning "twilight." Crepuscular is, thus, in contrast with diurnal and nocturnal behavior. Crepuscular animals may also be active on a bright...
(active primarily during
twilight
Twilight
Twilight is the time between dawn and sunrise or between sunset and dusk, during which sunlight scattering in the upper atmosphere illuminates the lower atmosphere, and the surface of the earth is neither completely lit nor completely dark. The sun itself is not directly visible because it is below...
, i.e., at dusk and dawn). Many animal species are diurnal, including many mammals, insects, reptiles and birds. In some animals, especially insects, external patterns of the environment control the activity (
exogenous
Exogenous
Exogenous refers to an action or object coming from outside a system. It is the opposite of endogenous, something generated from within the system....
rhythms, as opposed to patterns inherent in the habitat). Diurnality is descriptive; it refers to an observed 24-hour pattern, as opposed to ~24-hour circadian rhythms which are self-sustaining within the organism.
Some mainly nocturnal or crepuscular animals have been domesticated as pets and have changed into diurnal animals to coincide with the cycle of
human
Human
Humans are the only living species in the Homo genus...
life. Examples are pet
dog
Dog
The domestic dog is a domesticated form of the gray wolf, a member of the Canidae family of the order Carnivora. The term is used for both feral and pet varieties. The dog may have been the first animal to be domesticated, and has been the most widely kept working, hunting, and companion animal in...
s and
cat
Cat
The cat , also known as the domestic cat or housecat to distinguish it from other felids and felines, is a small, usually furry, domesticated, carnivorous mammal that is valued by humans for its companionship and for its ability to hunt vermin and household pests...
s, which are derived from the wolf and the
wild cat
Wild cat
The wildcat is a small cat with several subspecies and a very broad distribution, found throughout most of Africa, Europe, and southwest and central Asia into India, China, and Mongolia. It is a hunter of small mammals, birds, and other creatures of a similar or smaller size. Sometimes included is...
, respectively. However, these animals may exhibit their species' original behavior when they are born
feral
Feral
A feral organism is one that has changed from being domesticated to being wild or untamed. In the case of plants it is a movement from cultivated to uncultivated or controlled to volunteer. The introduction of feral animals or plants to their non-native regions, like any introduced species, may...
. Other animals have been forced from their normal cycle to an alternate one as a means of avoiding predators, such as
beaver
Beaver
The beaver is a primarily nocturnal, large, semi-aquatic rodent. Castor includes two extant species, North American Beaver and Eurasian Beaver . Beavers are known for building dams, canals, and lodges . They are the second-largest rodent in the world...
s becoming nocturnal creatures after extended predation by mankind.
In plants
Many plants are also diurnal or nocturnal, depending on the time period when the most effective pollinators, i.e.,
insect
Insect
Insects are a class of living creatures within the arthropods that have a chitinous exoskeleton, a three-part body , three pairs of jointed legs, compound eyes, and two antennae...
s, visit the plant. For example, as most angiosperm species of flower are visited by many various insects, the flower adapts its
phenology
Phenology
Phenology is the study of periodic plant and animal life cycle events and how these are influenced by seasonal and interannual variations in climate...
to the most effective pollinators in order to ensure proper reproduction and longevity of the species. Thus, the effectiveness of relative diurnal or nocturnal species of insects affects the diurnal or nocturnal nature of the plants they pollinate, causing in some instances an adjustment of the opening and closing cycles of the plants.