 Scagliola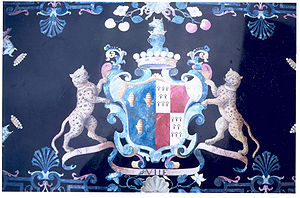 Scagliola
is a technique for producing
stucco
Stucco
Stucco or render is a material made of an aggregate, a binder, and water. Stucco is applied wet and hardens to a very dense solid. It is used as decorative coating for walls and ceilings and as a sculptural and artistic material in architecture...
columns,
sculpture
Sculpture
Sculpture is three-dimensional artwork created by shaping or combining hard materials—typically stone such as marble—or metal, glass, or wood. Softer materials can also be used, such as clay, textiles, plastics, polymers and softer metals...
s, and other
architectural
Architecture
Architecture is both the process and product of planning, designing and construction. Architectural works, in the material form of buildings, are often perceived as cultural and political symbols and as works of art...
elements that resemble
inlay
Inlay
Inlay is a decorative technique of inserting pieces of contrasting, often coloured materials into depressions in a base object to form patterns or pictures that normally are flush with the matrix. In a wood matrix, inlays commonly use wood veneers, but other materials like shells, mother-of-pearl,...
s in
marble
Marble
Marble is a metamorphic rock composed of recrystallized carbonate minerals, most commonly calcite or dolomite.Geologists use the term "marble" to refer to metamorphosed limestone; however stonemasons use the term more broadly to encompass unmetamorphosed limestone.Marble is commonly used for...
and semi-precious stones. The Scagliola technique came into fashion in 17th-century Tuscany as an effective substitute for costly marble inlays, the
pietra dura
Pietra dura
Pietra dura or pietre dure , called parchin kari in South Asia, is a term for the technique of using cut and fitted, highly-polished colored stones to create images. It is considered a decorative art...
works created for the
Medici
Medici
The House of Medici or Famiglia de' Medici was a political dynasty, banking family and later royal house that first began to gather prominence under Cosimo de' Medici in the Republic of Florence during the late 14th century. The family originated in the Mugello region of the Tuscan countryside,...
family in
Florence
Florence
Florence is the capital city of the Italian region of Tuscany and of the province of Florence. It is the most populous city in Tuscany, with approximately 370,000 inhabitants, expanding to over 1.5 million in the metropolitan area....
.
Scagliola is a composite substance made from selenite,
glue
Glue
This is a list of various types of glue. Historically, the term "glue" only referred to protein colloids prepared from animal flesh. The meaning has been extended to refer to any fluid adhesive....
and natural pigments, imitating marble and other hard stones. The material may be veined with colors and applied to a core, or desired pattern may be carved into a previously prepared scagliola matrix. The pattern's indentations are then filled with the colored, plaster-like scagliola composite, and then polished with flax oil for brightness, and wax for protection. The combination of materials and technique provides a complex texture, and richness of color not available in natural veined marbles.
A comparable material is
terrazzo
Terrazzo
Terrazzo is a composite material poured in place or precast, which is used for floor and wall treatments. It consists of marble, quartz, granite, glass or other suitable chips, sprinkled or unsprinkled, and poured with a binder that is cementitious, chemical or a combination of both...
. "Marmorino" is a synonym, but scagliola and terrazzo should not be confused with plaster of Paris, which is one ingredient.
Method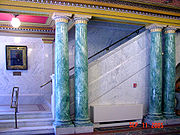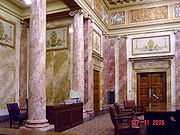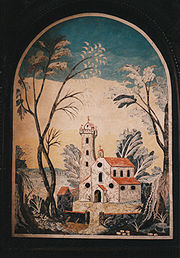 Batches of pigmented plaster (ground
alabaster
Alabaster
Alabaster is a name applied to varieties of two distinct minerals, when used as a material: gypsum and calcite . The former is the alabaster of the present day; generally, the latter is the alabaster of the ancients...
or
gypsum
Gypsum
Gypsum is a very soft sulfate mineral composed of calcium sulfate dihydrate, with the chemical formula CaSO4·2H2O. It is found in alabaster, a decorative stone used in Ancient Egypt. It is the second softest mineral on the Mohs Hardness Scale...
) modified with
animal glue
Animal glue
An animal glue is an adhesive that is created by prolonged boiling of animal connective tissue.These protein colloid glues are formed through hydrolysis of the collagen from skins, bones, tendons, and other tissues, similar to gelatin. The word "collagen" itself derives from Greek κόλλα kolla, glue...
are applied to molds, armatures and pre-plastered wall planes in a manner that accurately mimics natural stone,
breccia
Breccia
Breccia is a rock composed of broken fragments of minerals or rock cemented together by a fine-grained matrix, that can be either similar to or different from the composition of the fragments....
and marble. In one technique, veining is created by drawing strands of raw
silk
Silk
Silk is a natural protein fiber, some forms of which can be woven into textiles. The best-known type of silk is obtained from the cocoons of the larvae of the mulberry silkworm Bombyx mori reared in captivity...
saturated in pigment through the plastic mix. Another technique involves
trowel
Trowel
A trowel is one of several similar hand tools used for digging, smoothing, or otherwise moving around small amounts of viscous or particulate material.-Hand tools:...
ling on several layers of translucent renders and randomly cutting back to a previous layer to achieve colour differential similar to
jasper
Jasper
Jasper, a form of chalcedony, is an opaque, impure variety of silica, usually red, yellow, brown or green in color; and rarely blue. This mineral breaks with a smooth surface, and is used for ornamentation or as a gemstone. It can be highly polished and is used for vases, seals, and at one time for...
. When dry, the damp surface was
pumice
Pumice
Pumice is a textural term for a volcanic rock that is a solidified frothy lava typically created when super-heated, highly pressurized rock is violently ejected from a volcano. It can be formed when lava and water are mixed. This unusual formation is due to the simultaneous actions of rapid...
d smooth, then buffed with a linen cloth impregnated with Tripoli (a siliceous rottenstone) and charcoal; finally it was buffed with oiled felt;
beeswax
Beeswax
Beeswax is a natural wax produced in the bee hive of honey bees of the genus Apis. It is mainly esters of fatty acids and various long chain alcohols...
was sometimes used for this purpose. Because the colours are integral to the plaster, the pattern is more resistant to scratching than with other techniques, such as
paint
Paint
Paint is any liquid, liquefiable, or mastic composition which after application to a substrate in a thin layer is converted to an opaque solid film. One may also consider the digital mimicry thereof...
ing on
wood
Wood
Wood is a hard, fibrous tissue found in many trees. It has been used for hundreds of thousands of years for both fuel and as a construction material. It is an organic material, a natural composite of cellulose fibers embedded in a matrix of lignin which resists compression...
.
There are two scagliola techniques: in traditional
Bavarian
scagliola coloured batches of plaster of Paris are worked to a stiff, dough-like consistency. The plaster is modified with the addition of animal glues such as
isinglass
Isinglass
Isinglass is a substance obtained from the dried swim bladders of fish. It is a form of collagen used mainly for the clarification of wine and beer. It can also be cooked into a paste for specialized gluing purposes....
or hide glue.
Marezzo scagliola
or
American scagliola
is worked with the pigmented batches of plaster in a liquid state and relies mainly on the use of
Keene's cement
, a unique gypsum plaster product in which plaster of Paris was steeped in alum or borate, then burned in a kiln and ground to a fine powder; invented around 1840, it sets to an exceptionally hard state. It is typically used without the addition of animal glues.
Marezzo scagliola
is often called
American scagliola
because of its widespread use in the United States in the late nineteenth and early twentieth century. Slabs of
Marezzo scagliola
may be used as table tops. When set, scagliola is hard enough to be turned on a lathe to form vases,
baluster
Baluster
A baluster is a moulded shaft, square or of lathe-turned form, one of various forms of spindle in woodwork, made of stone or wood and sometimes of metal, standing on a unifying footing, and supporting the coping of a parapet or the handrail of a staircase. Multiplied in this way, they form a...
s and finials.
In history
While there is evidence of scagliola decoration in
ancient Roman
Ancient Rome
Ancient Rome was a thriving civilization that grew on the Italian Peninsula as early as the 8th century BC. Located along the Mediterranean Sea and centered on the city of Rome, it expanded to one of the largest empires in the ancient world....
architecture, scagliola decoration became popular in
Italian
Italy
Italy , officially the Italian Republic languages]] under the European Charter for Regional or Minority Languages. In each of these, Italy's official name is as follows:;;;;;;;;), is a unitary parliamentary republic in South-Central Europe. To the north it borders France, Switzerland, Austria and...
Baroque
Baroque architecture
Baroque architecture is a term used to describe the building style of the Baroque era, begun in late sixteenth century Italy, that took the Roman vocabulary of Renaissance architecture and used it in a new rhetorical and theatrical fashion, often to express the triumph of the Catholic Church and...
buildings in the 17th century, and was imitated throughout
Europe
Europe
Europe is, by convention, one of the world's seven continents. Comprising the westernmost peninsula of Eurasia, Europe is generally 'divided' from Asia to its east by the watershed divides of the Ural and Caucasus Mountains, the Ural River, the Caspian and Black Seas, and the waterways connecting...
until the 19th century. An early use of scagliola in England is in a fireplace at Ham House, Surrey.
The correspondence between British Resident in Florence Sir Horace Mann and Horace Walpole describes the process of obtaining a prized scagliola table top. Having received his first top from the Irishman Friar Ferdinando Henrico Hugford (1695–1771) around 1740 Walpole had asked his friend Mann to acquire some more...
(one of these tables is at
The Vyne
The Vyne
The Vyne is a 16th-century country house outside Sherborne St John, Basingstoke, Hampshire, England.The Vyne was built for Lord Sandys, King Henry VIII's Lord Chamberlain. The house retains its Tudor chapel, with stained glass. The classical portico on the north front was added in 1654 by Inigo...
. That table has the arms of Walpole (with his post 1726 Garter Knight embelishments) impaling Shorter - for Prime Minister Sir
Robert Walpole
Robert Walpole
Robert Walpole, 1st Earl of Orford, KG, KB, PC , known before 1742 as Sir Robert Walpole, was a British statesman who is generally regarded as having been the first Prime Minister of Great Britain....
and his first wife Catherine Shorter, who died 20 August 1737. He married Maria Skerret in early 1738, thus The Vyne's table could seem have been ordered before c1736-37).
In a letter dated
26 November 1741
Mann writes to Walpole:
'Your scagliola table was near finished when behold the stone on which the stuff is put, opened of itself so that all that was done, to his [Hugford's] great mortification is spoilt. He would have been off for beginning again on account of his eyes etc., but I have begged he will do it and he is about it',
and in
15 July 1742
:
'Your scagliola table is almost finished (you remember the first he [Hugford] undertook broke when near done) and is very handsome, but even in this commission my success is not complete, for I cannot persuade the padre [Hugford] to make its companion',
and in
30 October 1742
:
'-Your scagliola table is finished, though I have not got it home. The nasty priest [Hugford] will have 25 zecchins [£12 10s] besides many thanks, for the preference given to me, for some simple English have been tampering with him and offered 30 to get it, though it is by no means such a fine performance. The priest wishes I would not take it, as he would make a present of it to the Pope. He leaves Florence for good',
and
11 July 1747
:
'You bid me get you two scagliola tables, but don't mention the size or any other particulars. The man who made yours is no longer in Florence. Here is a scholar of his [Don Pietro Belloni?], but vastly inferior to him, and so slow in working that he has been almost three years about a pair for a Mr Leson [Joseph Leeson], and requires still six months more. I will endeavour to get somebody to write to the first friar [Hugford] and to engage him to make two tables in his convent and send them to Florence, of which I hope to be able to give you an account by next post.',
and
10 October 1749
:
'I am glad your scagliola tables please. You must make the greater account of them, as it is impossible to get any more of the same man [Hugford], nor indeed of his disciple here [Belloni], who is a priest too, and has been four years about a pair I bespoke of him, which he tells me plainly he cannot finish in less than two more. They work for diversion and won't be hurried.'
In modern times - Tusmore House Oxfordshire
The great triumph of the saloon, however, is the use of scagliola, including the richly coloured and figured Sienna shafts of the eight fluted Corinthian columns...and the urns, entablature and balustrade to the second-floor landing which gives access to four plaster-vaulted ante rooms serving the main bedrooms. All this scagliola was produced by Richard Feroze, England's leading contemporary scagliola-maker.
Italian plasterworkers produced scagliola columns and pilasters for
Robert Adam
Robert Adam
Robert Adam was a Scottish neoclassical architect, interior designer and furniture designer. He was the son of William Adam , Scotland's foremost architect of the time, and trained under him...
at
Syon House
Syon House
Syon House, with its 200-acre park, is situated in west London, England. It belongs to the Duke of Northumberland and is now his family's London residence...
(notably the columns in the Anteroom) and at
Kedleston
Kedleston
Kedleston is a village and civil parish in the Amber Valley district of Derbyshire. It lies to the north-west of Derby, and nearby places include Quarndon, Weston Underwood, Mugginton, and Kirk Langley.-History:...
(notably the pilasters in the Saloon). In 1816 the
Coade Ornamental Stone Manufactory
Coade stone
Lithodipyra , or Coade stone, was ceramic stoneware that was often described as an artificial stone in the late 18th and early 19th centuries. It was used for moulding Neoclassical statues, architectural decorations and garden ornaments that were both of the highest quality and remain virtually...
extended their practice to include scagliola; their scagliola was used by
Benjamin Dean Wyatt
Benjamin Dean Wyatt
Benjamin Dean Wyatt was an English architect. He was the son and pupil of the architect James Wyatt, and the brother of Matthew Cotes Wyatt....
at
Apsley House
Apsley House
Apsley House, also known as Number One, London, is the former London residence of the Dukes of Wellington. It stands alone at Hyde Park Corner, on the south-east corner of Hyde Park, facing south towards the busy traffic interchange and Wellington Arch...
, London.
In the
United States
United States
The United States of America is a federal constitutional republic comprising fifty states and a federal district...
scagliola was popular in the 19th and 20th centuries. Important US buildings featuring scagliola include Allen County Courthouse in
Fort Wayne, Indiana
Fort Wayne, Indiana
Fort Wayne is a city in the US state of Indiana and the county seat of Allen County. The population was 253,691 at the 2010 Census making it the 74th largest city in the United States and the second largest in Indiana...
,
Belcourt Castle
Belcourt Castle
Belcourt Castle is the former summer cottage of Oliver Hazard Perry Belmont, located on Bellevue Avenue in Newport, Rhode Island. Begun in 1891 and completed in 1894, it was intended to be used for only six to eight weeks of the year...
in
Newport, Rhode Island
Newport, Rhode Island
Newport is a city on Aquidneck Island in Newport County, Rhode Island, United States, about south of Providence. Known as a New England summer resort and for the famous Newport Mansions, it is the home of Salve Regina University and Naval Station Newport which houses the United States Naval War...
, in the old
El Paso County Courthouse (Colorado)
El Paso County, Colorado
El Paso County is the most populous of the 64 counties of the state of Colorado of the United States, now more populous than Denver County. The United States Census Bureau concluded that the county population was 622,371 in 2010. In recent years, the population had come closer to that of Denver...
in Colorado Springs, in the
Kansas State Capitol
Kansas State Capitol
The Kansas State Capitol, known also as the Kansas Statehouse, is the building housing the executive and legislative branches of government for the U.S. state of Kansas. It is located in the city of Topeka which has served as the capital of Kansas since it became a state in 1861...
in
Topeka, Kansas
Topeka, Kansas
Topeka |Kansa]]: Tó Pee Kuh) is the capital city of the U.S. state of Kansas and the county seat of Shawnee County. It is situated along the Kansas River in the central part of Shawnee County, located in northeast Kansas, in the Central United States. As of the 2010 census, the city population was...
, in
Shea's Performing Arts Center
Shea's Performing Arts Center
Shea's Performing Arts Center is a theater for touring Broadway musicals and special events in Buffalo, New York. Originally called Shea's Buffalo, it was opened in 1926 to show silent movies. It took one year to build the entire theatre...
in
Buffalo, New York
Buffalo, New York
Buffalo is the second most populous city in the state of New York, after New York City. Located in Western New York on the eastern shores of Lake Erie and at the head of the Niagara River across from Fort Erie, Ontario, Buffalo is the seat of Erie County and the principal city of the...
, and in the Navarro County Courthouse in Corsicana, TX.
St. Louis Union Station
St. Louis Union Station
St. Louis Union Station, a National Historic Landmark, is a passenger train terminal in St. Louis, Missouri. Once the world's largest and busiest train station, it was converted in the early 1980s into a luxury hotel, shopping center, and entertainment complex...
in St. Louis, Missouri, prominently features scagliola in its magnificent Grand Hall, the
Rialto Square Theatre
Rialto Square Theatre
The Rialto Square Theatre is a theater in the Joliet, Illinois suburb of Chicago. Opening in 1926, it was originally designed and operated as a vaudeville movie palace, but it now houses mainly musicals, plays, concerts, and standup comedy.It is also available for public and private functions...
, Joliet, IL, Cathedral of St. Helena in Helena, MT, Milwaukee Public Library
Central Library
Central Library
-United Kingdom:* Birmingham Central Library* Central Library * Bristol Central Library* Cardiff Central Library* Croydon Central Library* Leeds Central Library* Liverpool Central Library* Manchester Central Library* Newcastle City Library...
in Milwaukee, WI and the
French Lick Resort Casino
French Lick Resort Casino
French Lick Resort is a resort complex located in the towns of West Baden and French Lick, Indiana. The complex includes two historic resort spa hotels, stables, a casino and three golf courses, all part of a $500 million restoration and development project....
, French Lick, IN which recently underwent a major restoration.
Scagliola has historically been considered an
ersatz
Ersatz
Ersatz means 'substituting for, and typically inferior in quality to', e.g. 'chicory is ersatz coffee'. It is a German word literally meaning substitute or replacement...
material and an inexpensive alternative to natural stone. However, it has eventually come to be recognised as an exceptional example of the plasterer's craft and is now prized for its historic value as well as being used in new construction because of its benefits as a plastic material suited to molding in ornate shapes.
Scagliola columns are not generally built of the solid material. Instead scgliola is trowelled onto a canvas which is wrapped around the column's core, and the canvas peeled away when semi-hardened. The scagliola is then surfaced in place.
The Verde Antique columns and pilasters in the Ante Room at Syon House are made out of marble not Scagliola as it is widely perceived (a beautiful and rare, predominantly green marble that was quarried in Larissa of Greece since antiquity). The intriguing fact with these columns is that they are not solid. Round sections of marble were painstakingly cut as a veneer of an approximate thickness of 5–6 mm and then glued onto a column core that is hollow and was made out of, probably, plaster. On closer inspection the viewer can see the joints of the various sections and the discerning eye will soon realise that what he/she is looking at is in fact Verde Antique veneered marble and not Verde Antique Scagliola. The 3.6 metre high Verde Antique Scagliola columns that can be seen at Dropmore House, Buckinghamshire, are based on the colours and design of this historical work at Syon House and both research and execution of these new columns were undertaken recently by the contemporary Scagliolist Michael Koumbouzis.