 Pietra dura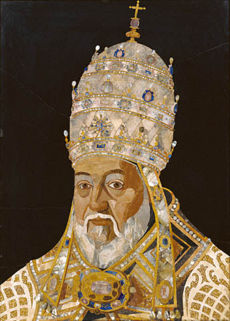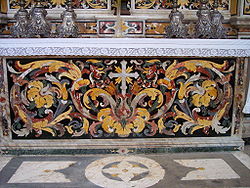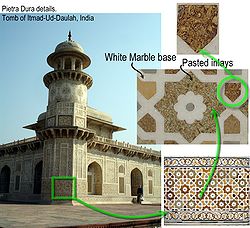 Pietra dura
or
pietre dure
(see below), called
parchin kari
in South Asia, is a term for the technique of using cut and fitted, highly-polished colored stones to create images. It is considered a
decorative art
Decorative art
The decorative arts is traditionally a term for the design and manufacture of functional objects. It includes interior design, but not usually architecture. The decorative arts are often categorized in opposition to the "fine arts", namely, painting, drawing, photography, and large-scale...
. The stonework, after the work is assembled loosely, is glued stone-by-stone to a substrate after having previously been "sliced and cut in different shape sections; and then assembled together so precisely that the contact between each section was practically invisible". Stability was achieved by grooving the undersides of the stones so that they interlocked, rather like a jigsaw puzzle, with everything held tautly in place by an encircling 'frame'. Many different colored stones, particularly
marble
Marble
Marble is a metamorphic rock composed of recrystallized carbonate minerals, most commonly calcite or dolomite.Geologists use the term "marble" to refer to metamorphosed limestone; however stonemasons use the term more broadly to encompass unmetamorphosed limestone.Marble is commonly used for...
s, were used, along with semiprecious, and even
precious stones
Gemstone
A gemstone or gem is a piece of mineral, which, in cut and polished form, is used to make jewelry or other adornments...
. It first appeared in
Rome
Rome
Rome is the capital of Italy and the country's largest and most populated city and comune, with over 2.7 million residents in . The city is located in the central-western portion of the Italian Peninsula, on the Tiber River within the Lazio region of Italy.Rome's history spans two and a half...
in the 16th century, reaching its full maturity in
Florence
Florence
Florence is the capital city of the Italian region of Tuscany and of the province of Florence. It is the most populous city in Tuscany, with approximately 370,000 inhabitants, expanding to over 1.5 million in the metropolitan area....
. Pietra dura items are generally crafted on green, white or black marble base stones. Typically the resulting panel is completely flat, but some examples where the image is in low
relief
Relief
Relief is a sculptural technique. The term relief is from the Latin verb levo, to raise. To create a sculpture in relief is thus to give the impression that the sculpted material has been raised above the background plane...
were made, taking the work more into the area of
hardstone carving
Hardstone carving
Hardstone carving is a general term in art history and archaeology for the carving for artistic purposes of semi-precious stones, also known as gemstones, such as jade, rock crystal , agate, onyx, jasper, serpentine or carnelian, and for an object made in this way. Normally the objects are small,...
.