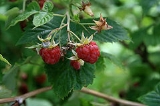 Rubus idaeus
Rubus idaeus
is a red-fruited species of
Rubus
Rubus
Rubus is a large genus of flowering plants in the rose family, Rosaceae, subfamily Rosoideae. Raspberries, blackberries, and dewberries are common, widely distributed members of the genus. Most of these plants have woody stems with prickles like roses; spines, bristles, and gland-tipped hairs are...
native to
Europe
Europe
Europe is, by convention, one of the world's seven continents. Comprising the westernmost peninsula of Eurasia, Europe is generally 'divided' from Asia to its east by the watershed divides of the Ural and Caucasus Mountains, the Ural River, the Caspian and Black Seas, and the waterways connecting...
and northern
Asia
Asia
Asia is the world's largest and most populous continent, located primarily in the eastern and northern hemispheres. It covers 8.7% of the Earth's total surface area and with approximately 3.879 billion people, it hosts 60% of the world's current human population...
and commonly cultivated in other temperate regions. A closely related plant in
North America
North America
North America is a continent wholly within the Northern Hemisphere and almost wholly within the Western Hemisphere. It is also considered a northern subcontinent of the Americas...
, sometimes regarded as the
variety
Variety (biology)
In botanical nomenclature, variety is a taxonomic rank below that of species: as such, it gets a three-part infraspecific name....
Rubus idaeus
var.
strigosus
, is more commonly treated as a distinct species,
Rubus strigosus
Rubus strigosus
Rubus strigosus, the American Red Raspberry or American Raspberry, is a species of Rubus native to much of North America. It has often been treated as a variety or subspecies of the closely related Eurasian Rubus idaeus , but currently is more commonly treated as a distinct...
(American Red Raspberry), as is done here. Red-fruited cultivated raspberries, even in North America, are generally
Rubus idaeus
or horticultural derivatives of hybrids of
R. idaeus
and
R. strigosus;
these plants are all addressed in the present article.
Plants of
Rubus idaeus
are generally
perennials
Perennial plant
A perennial plant or simply perennial is a plant that lives for more than two years. The term is often used to differentiate a plant from shorter lived annuals and biennials. The term is sometimes misused by commercial gardeners or horticulturalists to describe only herbaceous perennials...
which bear
biennial
Biennial plant
A biennial plant is a flowering plant that takes two years to complete its biological lifecycle. In the first year the plant grows leaves, stems, and roots , then it enters a period of dormancy over the colder months. Usually the stem remains very short and the leaves are low to the ground, forming...
stems ("canes") from a perennial root system. In its first year, a new, unbranched stem ("primocane") grows vigorously to its full height of 1.5-2.5 m, bearing large pinnately compound
leaves
Leaf
A leaf is an organ of a vascular plant, as defined in botanical terms, and in particular in plant morphology. Foliage is a mass noun that refers to leaves as a feature of plants....
with five or seven leaflets, but usually no flowers. In its second year (as a "floricane"), a stem does not grow taller, but produces several side shoots, which bear smaller leaves with three or five leaflets. The
flower
Flower
A flower, sometimes known as a bloom or blossom, is the reproductive structure found in flowering plants . The biological function of a flower is to effect reproduction, usually by providing a mechanism for the union of sperm with eggs...
s are produced in late spring on short
raceme
Raceme
A raceme is a type of inflorescence that is unbranched and indeterminate and bears pedicellate flowers — flowers having short floral stalks called pedicels — along the axis. In botany, axis means a shoot, in this case one bearing the flowers. In a raceme, the oldest flowers are borne...
s on the tips of these side shoots, each flower about 1 cm diameter with five white
petal
Petal
Petals are modified leaves that surround the reproductive parts of flowers. They often are brightly colored or unusually shaped to attract pollinators. Together, all of the petals of a flower are called a corolla. Petals are usually accompanied by another set of special leaves called sepals lying...
s. The
fruit
Fruit
In broad terms, a fruit is a structure of a plant that contains its seeds.The term has different meanings dependent on context. In non-technical usage, such as food preparation, fruit normally means the fleshy seed-associated structures of certain plants that are sweet and edible in the raw state,...
is red, edible, and sweet but tart-flavoured, produced in summer or early autumn; in
botanical
Botany
Botany, plant science, or plant biology is a branch of biology that involves the scientific study of plant life. Traditionally, botany also included the study of fungi, algae and viruses...
terminology, it is not a
berry
Berry
The botanical definition of a berry is a fleshy fruit produced from a single ovary. Grapes are an example. The berry is the most common type of fleshy fruit in which the entire ovary wall ripens into an edible pericarp. They may have one or more carpels with a thin covering and fleshy interiors....
at all, but an aggregate fruit of numerous
drupe
Drupe
In botany, a drupe is a fruit in which an outer fleshy part surrounds a shell of hardened endocarp with a seed inside. These fruits develop from a single carpel, and mostly from flowers with superior ovaries...
lets around a central core. In raspberries (various species of
Rubus
subgenus
Idaeobatus)
, the drupelets separate from the core when picked, leaving a hollow fruit, whereas in
blackberries
Blackberry
The blackberry is an edible fruit produced by any of several species in the Rubus genus of the Rosaceae family. The fruit is not a true berry; botanically it is termed an aggregate fruit, composed of small drupelets. The plants typically have biennial canes and perennial roots. Blackberries and...
and most other species of
Rubus,
the drupelets stay attached to the core.
As a wild plant,
Rubus idaeus
typically grows in forests, forming open stands under a tree canopy, and denser stands in clearings. In the south of its range (southern Europe and central Asia), it only occurs at high altitudes in mountains. The species name
idaeus
refers to its occurrence on Mount Ida near
Troy
Troy
Troy was a city, both factual and legendary, located in northwest Anatolia in what is now Turkey, southeast of the Dardanelles and beside Mount Ida...
in northwest
Turkey
Turkey
Turkey , known officially as the Republic of Turkey , is a Eurasian country located in Western Asia and in East Thrace in Southeastern Europe...
, where the
ancient Greeks
Ancient Greece
Ancient Greece is a civilization belonging to a period of Greek history that lasted from the Archaic period of the 8th to 6th centuries BC to the end of antiquity. Immediately following this period was the beginning of the Early Middle Ages and the Byzantine era. Included in Ancient Greece is the...
were most familiar with it.
Cultivation and uses
Rubus idaeus
is grown primarily for its fruits, but occasionally for its leaves, roots, or other parts.
Fruits
The fruit of
Rubus idaeus
is an important food crop, though most modern commercial
raspberry
Raspberry
The raspberry or hindberry is the edible fruit of a multitude of plant species in the genus Rubus, most of which are in the subgenus Idaeobatus; the name also applies to these plants themselves...
cultivar
Cultivar
A cultivar'Cultivar has two meanings as explained under Formal definition. When used in reference to a taxon, the word does not apply to an individual plant but to all those plants sharing the unique characteristics that define the cultivar. is a plant or group of plants selected for desirable...
s derive from hybrids between
R. idaeus
and
R. strigosus
.
Leaves and other parts
Red raspberries contains 31 μg/100 g of folate. Berries and berry extracts possess properties that make them important in the prevention of cancer.
The leaves have been used for centuries as a folk medicine to treat canker sores, cold sores, and gingivitis in persons of all ages as well as to treat anemia, leg cramps, diarrhea, and morning sickness in pregnant women, and as a uterine relaxant.
Young roots of
Rubus idaeus
prevented kidney stone formation in a mouse model of
hyperoxaluria
Hyperoxaluria
Hyperoxaluria is an excessive urinary excretion of oxalate. Individuals with hyperoxaluria often have calcium oxalate kidney stones. Sometimes called Bird's disease, after Golding Bird who was first to describe the condition.-Causes:...
.
Tiliroside
from raspberry is a potent
tyrosinase
Tyrosinase
Tyrosinase also known as monophenol monooxygenase is an enzyme that catalyses the oxidation of phenols and is widespread in plants and animals...
inhibitor and might be used as a skin-whitening agent and pigmentation medicine.
Polyphenol
Polyphenol
Polyphenols are a structural class of natural, synthetic, and semisynthetic organic chemicals characterized by the presence of large multiples of phenol structural units...
ic compounds from raspberry seeds are efficient
antioxidant
Antioxidant
An antioxidant is a molecule capable of inhibiting the oxidation of other molecules. Oxidation is a chemical reaction that transfers electrons or hydrogen from a substance to an oxidizing agent. Oxidation reactions can produce free radicals. In turn, these radicals can start chain reactions. When...
s.
Raspberry fruit may protect the liver.