 Richard Tauber
Richard Tauber
was an Austrian
tenor
Tenor
The tenor is a type of male singing voice and is the highest male voice within the modal register. The typical tenor voice lies between C3, the C one octave below middle C, to the A above middle C in choral music, and up to high C in solo work. The low extreme for tenors is roughly B2...
acclaimed as one of the greatest singers of the 20th century. Some critics commented that "his heart felt every word he sang".
Early life
He was born in
Linz
Linz
Linz is the third-largest city of Austria and capital of the state of Upper Austria . It is located in the north centre of Austria, approximately south of the Czech border, on both sides of the river Danube. The population of the city is , and that of the Greater Linz conurbation is about...
, Austria to Elisabeth Seifferth, an actress who played
soubrette
Soubrette
A soubrette is a female stock character in opera and theatre. The term arrived in English from Provençal via French, and means "conceited" or "coy".-Theater:...
roles at the local theatre. His father, Richard Anton Tauber, also an actor, was not married to his mother and was unaware of the birth as he was touring America at the time. Being born out of wedlock, he was given the name
Richard Denemy
(Denemy being his mother's maiden name). He also used the names Ernst Seiffert, Carl Tauber and C. Richard Tauber at various times.
Richard accompanied his mother on tour to various theatres but she found it increasingly difficult to cope, and in 1897 he was sent to school in Linz, when his father took over his upbringing. His father, who had a Jewish background but had converted to Roman Catholicism, hoped that Richard would become a priest, but the boy missed the excitement of the theatre and instead joined his father in Prague, and subsequently in 1903 at the
theatre in Wiesbaden
Hessisches Staatstheater Wiesbaden
The Hessisches Staatstheater Wiesbaden is the State Theatre of the German state Hesse in the capital Wiesbaden, producing operas, plays, ballets, musicals and concerts on four stages. It is also known as Staatstheater Wiesbaden or Theater Wiesbaden...
. Richard hoped to become a singer but failed to impress any of the teachers he auditioned for, probably because he chose to sing
Wagner
Richard Wagner
Wilhelm Richard Wagner was a German composer, conductor, theatre director, philosopher, music theorist, poet, essayist and writer primarily known for his operas...
, for which his voice was not suited. Consequently, his father entered him at the
Hoch Conservatory
Hoch Conservatory
Dr. Hoch's Konservatorium - Musikakademie was founded in Frankfurt am Main on September 22, 1878. Through the generosity of Frankfurter Joseph Hoch, who bequeathed the Conservatory one million German gold marks in his testament, a school for music and the arts was established for all age groups. ...
in
Frankfurt
Frankfurt
Frankfurt am Main , commonly known simply as Frankfurt, is the largest city in the German state of Hesse and the fifth-largest city in Germany, with a 2010 population of 688,249. The urban area had an estimated population of 2,300,000 in 2010...
to study piano, composition and conducting, subjects which stood Tauber in good stead in later years. He made rapid progress but he still hoped to become a singer; whilst staying with friends at Freiburg he was heard by the well-known voice teacher Professor Carl Beines, who encouraged him to sing more quietly and promised a good career as a Mozart tenor.
Career
He made his debut before the public at a concert at Freiburg on 17 May 1912. In 1913 his father was appointed Intendant of both the Municipal and Stadt-Theater in
Chemnitz
Chemnitz
Chemnitz is the third-largest city of the Free State of Saxony, Germany. Chemnitz is an independent city which is not part of any county and seat of the government region Direktionsbezirk Chemnitz. Located in the northern foothills of the Ore Mountains, it is a part of the Saxon triangle...
and was therefore in a position to arrange for Richard to appear as Tamino in
Die Zauberflöte
The Magic Flute
The Magic Flute is an opera in two acts composed in 1791 by Wolfgang Amadeus Mozart to a German libretto by Emanuel Schikaneder. The work is in the form of a Singspiel, a popular form that included both singing and spoken dialogue....
(
The Magic Flute
) on 2 March 1913. A few days later he played Max in
Der Freischütz
Der Freischütz
Der Freischütz is an opera in three acts by Carl Maria von Weber with a libretto by Friedrich Kind. It premiered on 18 June 1821 at the Schauspielhaus Berlin...
, a performance which was attended by Baron Seebach of the
Dresden Opera
Semperoper
The Semperoper is the opera house of the Sächsische Staatsoper Dresden and the concert hall of the Sächsische Staatskapelle Dresden . It is located near the Elbe River in the historic center of Dresden, Germany.The opera house was originally built by the architect Gottfried Semper in 1841...
and he offered Tauber a five-year contract. The Baron encouraged Tauber to take small roles with other companies to broaden his experience.
During his years in Dresden, Tauber acquired his reputation as a remarkably quick study: he learned
Gounod
Charles Gounod
Charles-François Gounod was a French composer, known for his Ave Maria as well as his operas Faust and Roméo et Juliette.-Biography:...
's
Faust
Faust (opera)
Faust is a drame lyrique in five acts by Charles Gounod to a French libretto by Jules Barbier and Michel Carré from Carré's play Faust et Marguerite, in turn loosely based on Johann Wolfgang von Goethe's Faust, Part 1...
in 48 hours,
Bacchus
Dionysus
Dionysus was the god of the grape harvest, winemaking and wine, of ritual madness and ecstasy in Greek mythology. His name in Linear B tablets shows he was worshipped from c. 1500—1100 BC by Mycenean Greeks: other traces of Dionysian-type cult have been found in ancient Minoan Crete...
in
Richard Strauss
Richard Strauss
Richard Georg Strauss was a leading German composer of the late Romantic and early modern eras. He is known for his operas, which include Der Rosenkavalier and Salome; his Lieder, especially his Four Last Songs; and his tone poems and orchestral works, such as Death and Transfiguration, Till...
's
Ariadne auf Naxos
Ariadne auf Naxos
Ariadne auf Naxos is an opera by Richard Strauss with a German libretto by Hugo von Hofmannsthal. Bringing together slapstick comedy and consuming beautiful music, the opera's theme is the competition between high and low art for the public's attention.- First version :The opera was originally...
in an afternoon, and so on. People started to call him "the SOS Tenor".
In 1922, Tauber signed a contract with the
Vienna State Opera
Vienna State Opera
The Vienna State Opera is an opera house – and opera company – with a history dating back to the mid-19th century. It is located in the centre of Vienna, Austria. It was originally called the Vienna Court Opera . In 1920, with the replacement of the Habsburg Monarchy by the First Austrian...
and appearances with the
Berlin State Opera
Berlin State Opera
The Staatsoper Unter den Linden is a German opera company. Its permanent home is the opera house on the Unter den Linden boulevard in the Mitte district of Berlin, which also hosts the Staatskapelle Berlin orchestra.-Early years:...
followed; for many years he appeared with both companies – four months with each, leaving four months for concerts and guest appearances with other companies and touring abroad. He sang the tenor role in many operas, including
Don Giovanni
Don Giovanni
Don Giovanni is an opera in two acts with music by Wolfgang Amadeus Mozart and with an Italian libretto by Lorenzo Da Ponte. It was premiered by the Prague Italian opera at the Teatro di Praga on October 29, 1787...
,
The Bartered Bride
The Bartered Bride
The Bartered Bride is a comic opera in three acts by the Czech composer Bedřich Smetana, to a libretto by Karel Sabina. The opera is considered to have made a major contribution towards the development of Czech music. It was composed during the period 1863–66, and first performed at the...
,
Tosca
Tosca
Tosca is an opera in three acts by Giacomo Puccini to an Italian libretto by Luigi Illica and Giuseppe Giacosa. It premiered at the Teatro Costanzi in Rome on 14 January 1900...
,
Mignon
Mignon
Mignon is an opéra comique in three acts by Ambroise Thomas. The original French libretto was by Jules Barbier and Michel Carré, based on Goethe's novel Wilhelm Meisters Lehrjahre. The Italian version was translated by Giuseppe Zaffira. The opera is mentioned in James Joyce's The Dead,...
,
Faust
Faust (opera)
Faust is a drame lyrique in five acts by Charles Gounod to a French libretto by Jules Barbier and Michel Carré from Carré's play Faust et Marguerite, in turn loosely based on Johann Wolfgang von Goethe's Faust, Part 1...
,
Carmen
Carmen
Carmen is a French opéra comique by Georges Bizet. The libretto is by Henri Meilhac and Ludovic Halévy, based on the novella of the same title by Prosper Mérimée, first published in 1845, itself possibly influenced by the narrative poem The Gypsies by Alexander Pushkin...
and
Die Fledermaus
Die Fledermaus
Die Fledermaus is an operetta composed by Johann Strauss II to a German libretto by Karl Haffner and Richard Genée.- Literary sources :...
, as well as newer works such as
Erich Korngold
Erich Wolfgang Korngold
Erich Wolfgang Korngold was an Austro-Hungarian film and romantic music composer. While his compositional style was considered well out of vogue at the time he died, his music has more recently undergone a reevaluation and a gradual reawakening of interest...
's
Die tote Stadt
Die tote Stadt
Die tote Stadt is an opera in three acts by Erich Wolfgang Korngold. The libretto is by the composer and Paul Schott , and is based on Bruges-la-Morte, a short novel by Georges Rodenbach.-Performance history:When Die tote Stadt had its premiere on December 4, 1920, Korngold was just 23...
and
Wilhelm Kienzl
Wilhelm Kienzl
Wilhelm Kienzl was an Austrian composer.-Biography:Kienzl was born in the small, picturesque Upper Austrian town of Waizenkirchen. His family moved to the Styrian capital of Graz in 1860, where he studied the violin under Ignaz Uhl, piano under Johann Buwa, and composition from 1872 under the...
's
Der Evangelimann
Der Evangelimann
Der Evangelimann is an opera in two acts by the Austrian composer Wilhelm Kienzl. The libretto, by the composer, is based on Leopold Florian Meissner's short story .-Composition history:...
. It was during this period that he began making the first of over seven hundred
grammophone
Phonograph
The phonograph record player, or gramophone is a device introduced in 1877 that has had continued common use for reproducing sound recordings, although when first developed, the phonograph was used to both record and reproduce sounds...
records, mainly for the
Odeon Records
Odeon Records
Odeon Records was a record label founded in 1903 by Max Straus and Heinrich Zuntz of the International Talking Machine Company in Berlin, Germany. It was named after a famous theatre in Paris, whose classical dome appears on the Odeon record label....
label.
Tauber had a lyrical, flexible tenor voice, and he sang with a warm, elegant legato. His excellent breath control gave him a wonderful head voice and
messa di voce
Messa di voce
Messa di voce is a musical technique that involves a gradual crescendo and decrescendo while sustaining a single pitch. That is, a note is sung at a very quiet volume, gradually and smoothly made louder until it reaches a high volume, then similarly made quiet again...
with a superb
pianissimo
Dynamics (music)
In music, dynamics normally refers to the volume of a sound or note, but can also refer to every aspect of the execution of a given piece, either stylistic or functional . The term is also applied to the written or printed musical notation used to indicate dynamics...
. He was elegant in appearance too – although he had a slight
squint
Strabismus
Strabismus is a condition in which the eyes are not properly aligned with each other. It typically involves a lack of coordination between the extraocular muscles, which prevents bringing the gaze of each eye to the same point in space and preventing proper binocular vision, which may adversely...
in his right eye; he disguised it by wearing a monocle which, when accompanied by a top hat, added to the elegant effect. For many people he became the epitome of Viennese charm.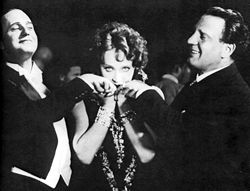 In July 1922, he briefly took over the part of Armand in
Franz Lehár
Franz Lehár
Franz Lehár was an Austrian-Hungarian composer. He is mainly known for his operettas of which the most successful and best known is The Merry Widow .-Biography:...
's
Frasquita
at the
Theater an der Wien
Theater an der Wien
The Theater an der Wien is a historic theatre on the Left Wienzeile in the Mariahilf district of Vienna. Completed in 1801, it has seen the premieres of many celebrated works of theatre, opera, and symphonic music...
, which was a modest success. This excursion into
operetta
Operetta
Operetta is a genre of light opera, light in terms both of music and subject matter. It is also closely related, in English-language works, to forms of musical theatre.-Origins:...
was looked down on by some but it did Tauber no harm at all; in fact, it gave Tauber a new audience. Neither did it harm his voice as some had feared – Tauber was too fine a musician to indulge in poor vocal practices in pursuit of popularity. It also revived Lehár's flagging career as a composer of operetta, who composed several successful new works specifically for Tauber's voice and talent. These usually occurred in the second act and were informally known as
Tauberlieder
. Tauber occasionally appeared in films, such as the early German sound film
I Kiss Your Hand, Madame
I Kiss Your Hand, Madame
Ich küsse Ihre Hand, Madame is a 1929 German drama film starring Marlene Dietrich. It was released in the United States as I Kiss Your Hand, Madame in 1932. It was produced by Super-Film.-Plot:...
(1929) with
Marlene Dietrich
Marlene Dietrich
Marlene Dietrich was a German-American actress and singer.Dietrich remained popular throughout her long career by continually re-inventing herself, professionally and characteristically. In the Berlin of the 1920s, she acted on the stage and in silent films...
and
Harry Liedtke
Harry Liedtke
- Biography :Liedtke was born in Königsberg, East Prussia to a merchant as the seventh out of 12 children. After the death of his father in 1896, he grew up in an orphanage and began a qualification in retail business. By the chance acquaintance of Hans Oberländer, a stage director at Berlin, he...
.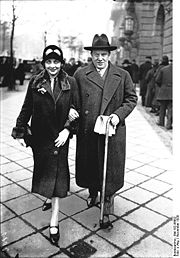 When in Vienna, Tauber also conducted at the Theater an der Wien, and it was here that he met the soprano Carlotta Vanconti who soon divorced her Italian husband and married Tauber on 18 March 1926. They separated in 1928 and divorced two years later, by which time he had met
Mary Losseff
Mary Losseff
Mary Losseff ; b. Vladivostok, 13 March 1907; d. London, 3 July 1972. Russian singer and film actress.-Life and career:...
at Rudolf Nelson's review in Berlin. They lived together for about five years. Losseff became his muse; it was for her that he wrote
Der singende Traum
. Sadly, Losseff's career ended when she became an alcoholic, but Tauber remained her lifelong friend and supported her until his death.
In 1931, Tauber made his London debut in operetta, and London appearances became a regular event; he also toured the USA in this year. In 1933, Tauber was assaulted in the street by a group of
Nazi
Nazism
Nazism, the common short form name of National Socialism was the ideology and practice of the Nazi Party and of Nazi Germany...
Brownshirts
Sturmabteilung
The Sturmabteilung functioned as a paramilitary organization of the National Socialist German Workers' Party . It played a key role in Adolf Hitler's rise to power in the 1920s and 1930s...
because of his Jewish ancestry, and he decided to leave Germany for his native Austria, where he continued to sing at the Vienna State Opera right up to the
Anschluss
Anschluss
The Anschluss , also known as the ', was the occupation and annexation of Austria into Nazi Germany in 1938....
in March 1938. In the mid-1930s, he made several musical films in England, and at the premiere of her film
Mimi
in April 1935, he met the English actress
Diana Napier
Diana Napier
-Selected filmography:* Her First Affaire * The Private Life of Don Juan * The Rise of Catherine the Great * Royal Cavalcade * Heart's Desire * Pagliacci * Land Without Music...
(1904?–1982); they were married on 20 June 1936. Napier appeared in three of his British films:
Heart's Desire
Heart's Desire (film)
Heart's Desire is a 1935 British musical drama film directed by Paul L. Stein and starring Richard Tauber, Leonora Corbett, Kathleen Kellyand Frank Vosper. A young opera singer is discovered in Vienna and is brought to London where he rises to stardom....
(1935),
Land Without Music
Land Without Music
Land Without Music is a 1936 British comedy film directed by Walter Forde and starring Richard Tauber, Diana Napier and Jimmy Durante.The film is also known as Forbidden Music in the USA.- Plot summary :...
and
Pagliacci
Pagliacci (1936 film)
Pagliacci is a 1936 British musical film directed by Karl Grune and starring Richard Tauber, Steffi Duna and Diana Napier. It is an adaptation of the 1892 opera Pagliacci by Ruggero Leoncavallo.-Cast:* Richard Tauber - Canio Salvatini...
(both 1936).
In 1938, he made his London operatic debut in
Die Zauberflöte
under Sir
Thomas Beecham
Thomas Beecham
Sir Thomas Beecham, 2nd Baronet CH was an English conductor and impresario best known for his association with the London Philharmonic and the Royal Philharmonic orchestras. He was also closely associated with the Liverpool Philharmonic and Hallé orchestras...
. Earlier that year, the Nazi government of Germany annexed Austria and Tauber left Austria for good. In response, the Nazi government withdrew the Taubers' passports and
right of abode
Right of abode
The right of abode is an individual's freedom from immigration control in a particular country. A person who has the right of abode in a country does not need permission from the government to enter the country and can live and work there without restriction....
; because this left the couple technically
stateless person
Statelessness
Statelessness is a legal concept describing the lack of any nationality. It is the absence of a recognized link between an individual and any state....
s, Tauber applied for British citizenship. He was touring South Africa when World War II broke out, and returned to Switzerland until he received the papers allowing him to enter the United Kingdom, doing so early in 1940.
Despite receiving lucrative offers from the USA, he remained in the UK for the entire war. There was no opera staged in wartime Britain so he made a living by singing, conducting and making gramophone records and radio broadcasts. He even composed English operettas, together with the lyric writer Fred S. Tysh, from one of which,
Old Chelsea
, the song
My Heart and I
became one of his most popular English recordings. It was only these English records that brought him any
royalties
Royalties
Royalties are usage-based payments made by one party to another for the right to ongoing use of an asset, sometimes an intellectual property...
; for his earlier recordings he had been paid for each performance and he had been compelled to leave his savings behind in Austria. By now he was so crippled by arthritis that he could no longer move into and away from the microphone for softer and louder notes. A small trolley was built on rubber wheels so the engineers could silently roll him back and forth while recording.
In 1946 Tauber toured Canada with
Neil Chotem
Neil Chotem
Neil Chotem was a Canadian composer, arranger, conductor, pianist, and music educator. His compositional style is eclectic but conservative, and often incorporates elements of jazz and popular music...
serving as his accompanist. In 1947, Tauber sought medical attention for a persistent cough. He was diagnosed with
lung cancer
Lung cancer
Lung cancer is a disease characterized by uncontrolled cell growth in tissues of the lung. If left untreated, this growth can spread beyond the lung in a process called metastasis into nearby tissue and, eventually, into other parts of the body. Most cancers that start in lung, known as primary...
: one lung was already useless and the other nearly so.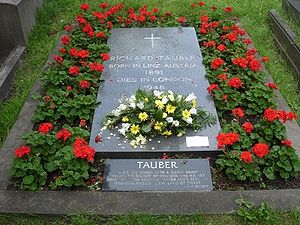 The Vienna State Opera was in London for a short season at the
Royal Opera House
Royal Opera House
The Royal Opera House is an opera house and major performing arts venue in Covent Garden, central London. The large building is often referred to as simply "Covent Garden", after a previous use of the site of the opera house's original construction in 1732. It is the home of The Royal Opera, The...
– their first visit since the war – and they invited Tauber to sing one performance with his old company. On 27 September 1947, he sang the role of Don Ottavio in
Don Giovanni
, not a large part but with two difficult arias that demand good breath control to bring off well. Those in the audience say that he sang wonderfully and to loud applause. Live excerpts of these two arias from this performance survive, and they reveal a tone of undiminished focus and steadiness, a good line, and somewhat shortened phrasing. His career ended as it began – with Mozart.
Death
A week later, Tauber entered hospital to have his left lung removed, but it was too late; he died on 8 January 1948. Tauber is buried in
Brompton Cemetery
Brompton Cemetery
Brompton Cemetery is located near Earl's Court in South West London, England . It is managed by The Royal Parks and is one of the Magnificent Seven...
, London.
Selected filmography
External links