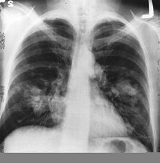 Lung cancer
Lung cancer
is a disease characterized by uncontrolled
cell growth
Cell growth
The term cell growth is used in the contexts of cell development and cell division . When used in the context of cell division, it refers to growth of cell populations, where one cell grows and divides to produce two "daughter cells"...
in
tissues
Tissue (biology)
Tissue is a cellular organizational level intermediate between cells and a complete organism. A tissue is an ensemble of cells, not necessarily identical, but from the same origin, that together carry out a specific function. These are called tissues because of their identical functioning...
of the
lung
Lung
The lung is the essential respiration organ in many air-breathing animals, including most tetrapods, a few fish and a few snails. In mammals and the more complex life forms, the two lungs are located near the backbone on either side of the heart...
. If left untreated, this growth can spread beyond the lung in a process called
metastasis
Metastasis
Metastasis, or metastatic disease , is the spread of a disease from one organ or part to another non-adjacent organ or part. It was previously thought that only malignant tumor cells and infections have the capacity to metastasize; however, this is being reconsidered due to new research...
into nearby tissue and, eventually, into other parts of the body. Most cancers that start in lung, known as primary lung cancers, are carcinomas that derive from
epithelial
Epithelium
Epithelium is one of the four basic types of animal tissue, along with connective tissue, muscle tissue and nervous tissue. Epithelial tissues line the cavities and surfaces of structures throughout the body, and also form many glands. Functions of epithelial cells include secretion, selective...
cells. Worldwide, lung
cancer
Cancer
Cancer , known medically as a malignant neoplasm, is a large group of different diseases, all involving unregulated cell growth. In cancer, cells divide and grow uncontrollably, forming malignant tumors, and invade nearby parts of the body. The cancer may also spread to more distant parts of the...
is the most common cause of cancer-related death in men and women, and is responsible for 1.3 million deaths
annually, as of 2004.