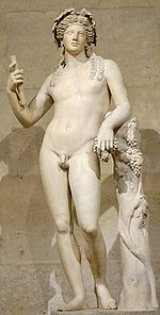 Dionysus
Dionysus
icon was the
god
God (male deity)
A god, as a male deity, contrasts with female deities, or "goddesses". While the term 'goddess' specifically refers to a female deity, the plural 'gods' can be applied to all gods collectively, regardless of gender....
of the grape harvest,
winemaking
Winemaking
Winemaking, or vinification, is the production of wine, starting with selection of the grapes or other produce and ending with bottling the finished wine. Although most wine is made from grapes, it may also be made from other fruit or non-toxic plant material...
and
wine
Wine
Wine is an alcoholic beverage, made of fermented fruit juice, usually from grapes. The natural chemical balance of grapes lets them ferment without the addition of sugars, acids, enzymes, or other nutrients. Grape wine is produced by fermenting crushed grapes using various types of yeast. Yeast...
, of ritual madness and
ecstasy
Religious ecstasy
Religious ecstasy is an altered state of consciousness characterized by greatly reduced external awareness and expanded interior mental and spiritual awareness which is frequently accompanied by visions and emotional/intuitive euphoria...
in
Greek mythology
Greek mythology
Greek mythology is the body of myths and legends belonging to the ancient Greeks, concerning their gods and heroes, the nature of the world, and the origins and significance of their own cult and ritual practices. They were a part of religion in ancient Greece...
. His name in
Linear B
Linear B
Linear B is a syllabic script that was used for writing Mycenaean Greek, an early form of Greek. It pre-dated the Greek alphabet by several centuries and seems to have died out with the fall of Mycenaean civilization...
tablets shows he was worshipped from c. 1500—1100 BC by Mycenean Greeks: other traces of Dionysian-type cult have been found in ancient Minoan Crete. His origins are uncertain, and his cults took many forms; some are described by ancient sources as Thracian, others as Greek.