 Pegasus rocket
The
Pegasus rocket
is a winged space
launch vehicle
Launch vehicle
In spaceflight, a launch vehicle or carrier rocket is a rocket used to carry a payload from the Earth's surface into outer space. A launch system includes the launch vehicle, the launch pad and other infrastructure....
capable of carrying small, unmanned payloads (443 kilograms (976.6 lb)) into
low Earth orbit
Low Earth orbit
A low Earth orbit is generally defined as an orbit within the locus extending from the Earth's surface up to an altitude of 2,000 km...
. It is air-launched, as part of an
expendable launch system
Expendable launch system
An expendable launch system is a launch system that uses an expendable launch vehicle to carry a payload into space. The vehicles used in expendable launch systems are designed to be used only once , and their components are not recovered for re-use after launch...
developed by
Orbital Sciences Corporation
Orbital Sciences Corporation
Orbital Sciences Corporation is an American company which specializes in the manufacturing and launch of satellites. Its Launch Systems Group is heavily involved with missile defense launch systems...
(Orbital). Three main stages burning
solid propellant
Solid rocket
A solid rocket or a solid-fuel rocket is a rocket engine that uses solid propellants . The earliest rockets were solid-fuel rockets powered by gunpowder; they were used by the Chinese in warfare as early as the 13th century and later by the Mongols, Arabs, and Indians.All rockets used some form of...
provide the thrust. It flies as a
rocket-powered aircraft
Rocket-powered aircraft
A rocket-powered aircraft or rocket plane is an aircraft that uses a rocket for propulsion, sometimes in addition to airbreathing jet engines. Rocket planes can achieve much higher speeds than similarly sized jet aircraft, but typically for at most a few minutes of powered operation, followed by a...
before leaving the atmosphere.
The Pegasus is carried aloft below a carrier aircraft and launched at approximately 40000 ft (12,192 m). The carrier aircraft provides flexibility to launch the rocket from anywhere rather than just a fixed pad. A high-altitude, winged flight launch also allows the rocket to avoid flight in the densest part of the atmosphere where a larger launch vehicle, carrying much more fuel, would be needed to overcome air friction and gravity.
Pegasus program
The Pegasus's three Orion solid motors were developed by Hercules Aerospace (now
Alliant Techsystems
Alliant Techsystems
Alliant Techsystems Inc., most commonly known by its ticker symbol, ', is one of the largest aerospace and defense companies in the United States with more than 18,000 employees in 22 states, Puerto Rico and internationally, and 2010 revenues in excess of an estimated...
) specifically for the Pegasus launcher. Additionally, wing and tail assemblies and a payload fairing were developed. Most of the Pegasus was designed by a team led by Dr. Antonio Elias. The wing was designed by
Burt Rutan
Burt Rutan
Elbert Leander "Burt" Rutan is an American aerospace engineer noted for his originality in designing light, strong, unusual-looking, energy-efficient aircraft...
.
Mass: 18,500 kg (Pegasus), 23,130 kg (Pegasus XL)
Length: 16.9 m (Pegasus), 17.6 m (Pegasus XL)
Diameter: 1.27 m
Wing span: 6.7 m
Payload: 443 kg (1.18 m diameter, 2.13 m length)
Orbital's internal projects, the
Orbcomm
Orbcomm
ORBCOMM is a company that offers M2M global asset monitoring and messaging services from its constellation of 29 LEO communications satellites orbiting at 775 km. Like its voice-centric competitors Iridium and Globalstar, it filed for Chapter 11 protection, in September, 2000. ORBCOMM issued...
communications constellation and the OrbView observation satellites, plus Orbcomm-derived satellites (the "Microstar" platform) served as guaranteed customers and additional seed money. Soon after development began, several government and military orders were placed, as the
Scout
Scout (rocket)
The Scout family of rockets were launch vehicles designed to place small satellites into orbit around the Earth. The Scout multistage rocket was the first orbital launch vehicle to be entirely composed of solid fuel stages....
launcher was slated for phaseout.
The first successful Pegasus launch occurred on April 5, 1990 with NASA test pilot and former astronaut Gordon Fullerton in command of the carrier aircraft. Initially, a NASA-owned B-52 Stratofortress
NB-008
Balls 8
Balls 8 was a NASA Boeing NB-52B mothership. It derives its nickname from its NASA tail number 52-008: leading zeroes plus the number 8. Among USAF personnel it is common practice to refer to aircraft whose tail number is a single number preceded by multiple zeros as "Balls" and the last number of...
served as the carrier aircraft. By 1994, Orbital had transitioned to their "
Stargazer
Stargazer (aircraft)
Stargazer, registration number N140SC, is a modified Lockheed L-1011 TriStar aircraft used by Orbital Sciences Corporation as a mother ship launch pad for Pegasus rockets...
"
L-1011
Lockheed L-1011
The Lockheed L-1011 TriStar, commonly referred to as the L-1011 or TriStar, is a medium-to-long range, widebody passenger trijet airliner. It was the third widebody airliner to enter commercial operations, following the Boeing 747 and the McDonnell Douglas DC-10. Between 1968 and 1984, Lockheed...
, a converted airliner which was formerly owned by
Air Canada
Air Canada
Air Canada is the flag carrier and largest airline of Canada. The airline, founded in 1936, provides scheduled and charter air transport for passengers and cargo to 178 destinations worldwide. It is the world's tenth largest passenger airline by number of destinations, and the airline is a...
. The name "Stargazer" is an inside joke — in the television series
Star Trek: The Next Generation
Star Trek: The Next Generation
Star Trek: The Next Generation is an American science fiction television series created by Gene Roddenberry as part of the Star Trek franchise. Roddenberry, Rick Berman, and Michael Piller served as executive producers at different times throughout the production...
, the character
Jean-Luc Picard
Jean-Luc Picard
Captain Jean-Luc Picard is a Star Trek character portrayed by Patrick Stewart. He appears in the television series Star Trek: The Next Generation and the feature films Star Trek Generations, Star Trek: First Contact, Star Trek: Insurrection, and Star Trek Nemesis...
was captain of a ship named
Stargazer
prior to the events of the series, and his first officer
William Riker
William Riker
William Thomas Riker, played by Jonathan Frakes, is a fictional character in the Star Trek universe primarily appearing as a main character in Star Trek: The Next Generation...
once served aboard a ship named
Pegasus
.
The Pegasus XL, introduced in 1994 has lengthened stages to increase payload performance. In the Pegasus XL, the first and second stages are lengthened into the Orion 50SXL and Orion 50XL, respectively. Higher stages are unchanged; flight operations are similar. The wing is strengthened slightly to handle the higher weight. The standard Pegasus has been discontinued; the Pegasus XL is still being produced. Pegasus has flown 40 missions in both configurations as of October 19, 2008. Of these, 35 were considered successful launches.
Dual payloads can be launched, with a canister that encloses the lower spacecraft and mounts the upper spacecraft. The upper spacecraft deploys, the canister opens, then the lower spacecraft separates from the third-stage adapter. Since the fairing is unchanged for cost and aerodynamic reasons, each of the two payloads must be relatively compact.
For their work in developing the rocket, the Pegasus team led by Dr. Antonio Elias was awarded the 1991
National Medal of Technology
National Medal of Technology
The National Medal of Technology and Innovation is an honor granted by the President of the United States to American inventors and innovators who have made significant contributions to the development of new and important technology...
by U.S. President George H. W. Bush.
The initial launch price offered was
US$
United States dollar
The United States dollar , also referred to as the American dollar, is the official currency of the United States of America. It is divided into 100 smaller units called cents or pennies....
6 million, without options or a HAPS (Hydrazine Auxiliary Propulsion System) maneuvering stage. With the enlargement to Pegasus XL, prices increased. At the same time, many improvements were made in the wake of early launch failures, requiring more money. In addition, customers usually purchase additional services, such as extra testing, design and analysis, and launch-site support. A launch package is then approximately US$30 million in total. Some customers also have OSC provide mission hardware, up to a fully functional spacecraft such as a Microstar. Such packages can be much higher in cost.
By weight, Pegasus is one of the most expensive "launch-to-orbit" vehicles, however, for many small satellites it is desirable to be the primary payload and be placed into the orbit desired, as opposed to being a secondary payload placed in a compromise orbit. For example, Pegasus launches from equatorial launch sites can put spacecraft in orbits avoiding the
South Atlantic Anomaly
South Atlantic Anomaly
The South Atlantic Anomaly is an area where the Earth's inner Van Allen radiation belt comes closest to the Earth's surface. This leads to an increased flux of energetic particles in this region and exposes orbiting satellites to higher than usual levels of radiation...
(a high radiation region over the South Atlantic ocean) which is desirable for many scientific spacecraft.
Launch profile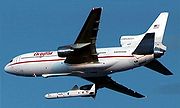 In a Pegasus launch, the carrier aircraft takes off from a runway with support and checkout facilities. Such locations have included
Kennedy Space Center
Kennedy Space Center
The John F. Kennedy Space Center is the NASA installation that has been the launch site for every United States human space flight since 1968. Although such flights are currently on hiatus, KSC continues to manage and operate unmanned rocket launch facilities for America's civilian space program...
/
Cape Canaveral Air Force Station
Cape Canaveral Air Force Station
Cape Canaveral Air Force Station is an installation of the United States Air Force Space Command's 45th Space Wing, headquartered at nearby Patrick Air Force Base. Located on Cape Canaveral in the state of Florida, CCAFS is the primary launch head of America's Eastern Range with four launch pads...
, Florida;
Vandenberg Air Force Base
Vandenberg Air Force Base
Vandenberg Air Force Base is a United States Air Force Base, located approximately northwest of Lompoc, California. It is under the jurisdiction of the 30th Space Wing, Air Force Space Command ....
and
Dryden Flight Research Center
Dryden Flight Research Center
The Dryden Flight Research Center , located inside Edwards Air Force Base, is an aeronautical research center operated by NASA. On March 26, 1976 it was named in honor of the late Hugh L. Dryden, a prominent aeronautical engineer who at the time of his death in 1965 was NASA's deputy administrator...
, California;
Wallops Flight Facility
Wallops Flight Facility
Wallops Flight Facility , located on the Eastern Shore of Virginia, is operated by NASA's Goddard Space Flight Center, primarily as a rocket launch site to support science and exploration missions for NASA and other U.S. government agencies...
, Virginia;
Kwajalein
Kwajalein
Kwajalein Atoll , is part of the Republic of the Marshall Islands . The southernmost and largest island in the atoll is named Kwajalein Island. English-speaking residents of the U.S...
Range in the Pacific Ocean, and the
Canary Islands
Canary Islands
The Canary Islands , also known as the Canaries , is a Spanish archipelago located just off the northwest coast of mainland Africa, 100 km west of the border between Morocco and the Western Sahara. The Canaries are a Spanish autonomous community and an outermost region of the European Union...
in the Atlantic. Orbital offers launches from
Alcantara
, Brazil, but no known customers have performed any. The capabilities of Alcantara are superfluous to other sites, without being any more convenient.
Upon reaching a predetermined staging time, location, and velocity vector the aircraft releases the Pegasus. After five seconds of free-fall, the first stage ignites and the vehicle pitches up. The 45-degree delta wing (of carbon composite construction and double-wedge airfoil) aids pitch-up and provides some lift. The tail fins provide steering for first-stage flight, as the Orion 50S motor does not have a
thrust-vectoring
Thrust vectoring
Thrust vectoring, also thrust vector control or TVC, is the ability of an aircraft, rocket or other vehicle to manipulate the direction of the thrust from its engine or motor in order to control the attitude or angular velocity of the vehicle....
nozzle.
Approximately 1 minute and 17 seconds later, the Orion 50S motor burns out. The vehicle is at over 200,000 feet in altitude and
hypersonic
Hypersonic
In aerodynamics, a hypersonic speed is one that is highly supersonic. Since the 1970s, the term has generally been assumed to refer to speeds of Mach 5 and above...
speed. The first stage falls away, taking the wing and tail surfaces, and the second stage ignites. The Orion 50 burns for approximately 1 minute and 18 seconds. Attitude control is by thrust vectoring the Orion 50 motor in two
dimensions
Flight dynamics
Flight dynamics is the science of air vehicle orientation and control in three dimensions. The three critical flight dynamics parameters are the angles of rotation in three dimensions about the vehicle's center of mass, known as pitch, roll and yaw .Aerospace engineers develop control systems for...
, pitch and yaw; roll control is provided by nitrogen thrusters on the third stage.
Midway through second-stage flight, the launcher has reached a near-vacuum altitude. The fairing splits and falls away, uncovering the payload and third stage. Upon burnout of the second stage motor, the stack coasts until reaching a suitable point in its trajectory, depending on mission. Then the Orion 50 is discarded, and the third stage's Orion 38 motor ignites. It too has a thrust-vectoring nozzle, assisted by the nitrogen thrusters for roll. After approximately 64 seconds, the third stage burns out.
A fourth stage is sometimes added for a higher altitude, finer altitude accuracy, or more complex maneuvers. The HAPS (Hydrazine Auxiliary Propulsion System) is powered by three restartable,
monopropellant
Monopropellant
Monopropellants are propellants composed of chemicals or mixtures of chemicals which can be stored in a single container with some degree of safety. While stable under defined storage conditions, they react very rapidly under certain other conditions to produce a large volume of energetic gases...
hydrazine thrusters. As with dual launches, the HAPS cuts into the fixed volume available for payload. In at least
one instance
DART (spacecraft)
DART, or Demonstration for Autonomous Rendezvous Technology, is a NASA sponsored project. The goal was to develop and demonstrate an automated navigation and rendezvous capability in a NASA spacecraft. Currently, only the Russian Space Agency, JAXA and ESA have autonomous space craft navigation...
, the spacecraft was built around the HAPS.
Guidance is via a 32-bit computer and an
IMU
Inertial measurement unit
An inertial measurement unit, or IMU, is an electronic device that measures and reports on a craft's velocity, orientation, and gravitational forces, using a combination of accelerometers and gyroscopes. IMUs are typically used to maneuver aircraft, including UAVs, among many others, and...
. A GPS receiver gives additional information. Due to the air launch and wing lift, the first-stage flight algorithm is custom-designed. The second- and third-stage trajectories are
ballistic
Ballistics
Ballistics is the science of mechanics that deals with the flight, behavior, and effects of projectiles, especially bullets, gravity bombs, rockets, or the like; the science or art of designing and accelerating projectiles so as to achieve a desired performance.A ballistic body is a body which is...
, and their guidance is derived from a Space Shuttle algorithm.
Carrier aircraft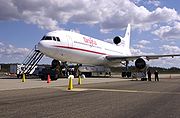 It may seem at first glance that the aircraft serves as a booster to increase payloads. In fact,
air launch
Air launch
Air launching is the practice of dropping a parasite aircraft, rocket, or missile from a mothership. The parasite aircraft or missile is usually tucked under the wing of the larger mothership and then "dropped" from underneath the wing while in flight...
is largely used to reduce cost. 40,000 feet is only about 10% of the minimum altitude needed for a temporarily-stable orbit, and 4% of a generally-stable low earth orbit. The airliner is designed for approximately
Mach
Mach number
Mach number is the speed of an object moving through air, or any other fluid substance, divided by the speed of sound as it is in that substance for its particular physical conditions, including those of temperature and pressure...
0.8; this is about 3% of orbital velocity.
The single biggest cause of traditional launch delays is weather. Carriage to 40,000 feet takes the Pegasus above the
troposphere
Troposphere
The troposphere is the lowest portion of Earth's atmosphere. It contains approximately 80% of the atmosphere's mass and 99% of its water vapor and aerosols....
, into the
stratosphere
Stratosphere
The stratosphere is the second major layer of Earth's atmosphere, just above the troposphere, and below the mesosphere. It is stratified in temperature, with warmer layers higher up and cooler layers farther down. This is in contrast to the troposphere near the Earth's surface, which is cooler...
. Conventional weather is limited to the troposphere, and crosswinds are much gentler at 40,000 feet. Thus the Pegasus is largely immune to weather-induced delays, and their associated costs, once at altitude. (Bad weather is still a factor during takeoff, ascent, and the transit to the staging point).
Air launching reduces range costs. No blastproof pad, blockhouse, or associated equipment are needed. This permits takeoff from a wide variety of sites, generally limited by the support and preparation requirements of the payload. The travel range of the aircraft allows launches at the equator, which increases performance and is a requirement for some mission orbits. Launching over oceans also reduces insurance costs, which are often large for a vehicle filled with volatile fuel and oxidizer.
Launch at altitude allows a larger, more efficient, yet cheaper first-stage nozzle. Its expansion ratio can be designed for low ambient air pressures, without risking flow separation and flight instability during low-altitude flight. The extra diameter of the high-altitude nozzle would be difficult to gimbal. But with reduced crosswinds, the fins can provide sufficient first-stage steering. This allows a fixed nozzle, which saves cost and weight versus a hot joint.
A single-impulse launch results in an elliptical orbit, with a high apogee and low
perigee
Perigee
Perigee is the point at which an object makes its closest approach to the Earth.. Often the term is used in a broader sense to define the point in an orbit where the orbiting body is closest to the body it orbits. The opposite is the apogee, the farthest or highest point.The Greek prefix "peri"...
. The use of three stages, plus the coast period between second and third stage firings, help to circularize the orbit, ensuring the perigee clears the Earth's atmosphere. If the Pegasus launch had begun at low altitude, the coast period or thrust profile of the stages would have to be modified to prevent skimming of the atmosphere after one pass.
For launches which do not originate from
Vandenberg Air Force Base
Vandenberg Air Force Base
Vandenberg Air Force Base is a United States Air Force Base, located approximately northwest of Lompoc, California. It is under the jurisdiction of the 30th Space Wing, Air Force Space Command ....
, the carrier aircraft is also used to ferry the assembled launch vehicle to the launch site. For such missions, the payload can either be installed at the base and ferried by the launch vehicle or be installed at the launch site.
Related projects
Pegasus components have also been the basis of other
OSC
Orbital Sciences Corporation
Orbital Sciences Corporation is an American company which specializes in the manufacturing and launch of satellites. Its Launch Systems Group is heavily involved with missile defense launch systems...
launchers. The ground-launched
Taurus rocket
Taurus rocket
Taurus is a four stage, solid fuel launch vehicle built in the United States by Orbital Sciences Corporation. It is based on the air-launched Pegasus rocket from the same manufacturer. The Taurus rocket is able to carry a payload of around 1,350 kg into a low Earth orbit. First launched in 1994,...
places the Pegasus stages and a larger fairing atop a
Castor
Castor (rocket stage)
The Castor family of solid-fuel rocket stages and boosters were built by Thiokol and used on a variety of launch vehicles. They were initially developed as the second stage motor of the Scout rocket...
120 first stage, derived from the first stage of the MX
Peacekeeper
missile. Initial launches used refurbished MX first stages.
The Minotaur I, also ground-launched, is a combination of stages from Taurus launchers and Minuteman missiles, hence the name. The first two stages are from a Minuteman II; the upper stages are Orion 50XL and 38. Due to the use of surplus military rocket motors, it is only used for US Government and government-sponsored payloads.
A third vehicle is dubbed
Minotaur IV
Minotaur IV
Minotaur IV, also known as Peacekeeper SLV and OSP-2 PK is an active expendable launch system derived from the Peacekeeper missile. It is operated by Orbital Sciences Corporation, and made its maiden flight on 22 April 2010, carrying the HTV-2a Hypersonic Test Vehicle...
despite containing no Minuteman stages. It consists of a refurbished MX with an Orion 38 added as a fourth stage.
The NASA X-43A hypersonic test vehicles were boosted by Pegasus first stages. The upper stages were replaced by exposed models of a
scramjet
Scramjet
A scramjet is a variant of a ramjet airbreathing jet engine in which combustion takes place in supersonic airflow...
-powered vehicle. The Orion stages boosted the X-43 to its ignition speed and altitude, and were discarded. After firing the scramjet and gathering flight data, the test vehicles also fell into the Pacific.
Launch history
Pegasus has flown 40 missions between 1990 and 2008.
Date
Payload
Result
1990-04-05 19:10:17 UTC
Pegsat, NavySat
Success
1991-07-17 17:33:53 UTC
Microsats (7 satellites)
Partial success (orbit slightly low)
1993-02-09 14:30:00 UTC
SCD-1

Satélite de Coleta de Dados

The first Data-Collecting Satellite was launched on February 9, 1993. It is the first satellite developed entirely in Brazil and it remains in operation in orbit to this date...



Success
1993-04-25 13:56:00 UTC
ALEXIS – Array of Low Energy X-ray Imaging Sensors

Array of Low Energy X-ray Imaging Sensors

The Array of Low Energy X-ray Imaging Sensors X-ray telescopes feature curved mirrors whose multilayer coatings reflect and focus low-energy X-rays or extreme ultraviolet light the way optical telescopes focus visible light...



Success
1994-05-19 17:03:00 UTC
STEP-2 (SIDEX)
Partial success (orbit slightly low)
1994-06-27 21:15:00 UTC
STEP-1
Failure (destroyed approx. 3 minutes after launch)
1994-08-03 14:38:00 UTC
APEX

Advanced Photovoltaic Experiment

The Advanced Photovoltaic Experiment was a satellite-based science mission launched into Low Earth orbit on 1994-08-03 by a Pegasus rocket. The mission successfully tested the use of photovoltaic and electronic components in space....



Success
1995-04-03 13:48:00 UTC
Orbcomm

Orbcomm

ORBCOMM is a company that offers M2M global asset monitoring and messaging services from its constellation of 29 LEO communications satellites orbiting at 775 km. Like its voice-centric competitors Iridium and Globalstar, it filed for Chapter 11 protection, in September, 2000. ORBCOMM issued...


(2 satellites), OrbView-1
Success
1995-06-22 19:58:00 UTC
STEP-3
Failure (destroyed between first- and second-stage flight)
1996-03-09 01:53:00 UTC
REX II
Success
1996-05-17 02:44:00 UTC
MSTI-3
Success
1996-07-02 07:48:00 UTC
TOMS – Total Ozone Mapping Spectrometer

Total Ozone Mapping Spectrometer

The Total Ozone Mapping Spectrometer is a satellite instrument for measuring ozone values. It has been flown on NASA-satellites. Of the five TOMS instruments which were built, four entered successful orbit...



Success
1996-08-21 09:47:00 UTC
FAST (Fast Auroral Snapshot Explorer)
Success
1996-11-04 17:08:00 UTC
HETE

High Energy Transient Explorer

The High Energy Transient Explorer was an American astronomical satellite with international participation . The prime objective of HETE was to carry out the first multiwavelength study of gamma-ray bursts with UV, X-ray, and gamma-ray instruments mounted on a single, compact spacecraft...


, SAC-B
Failure (Satellites not ejected from third stage)
1997-04-21 11:59:00 UTC
MiniSat, Celestis

Celestis

Celestis is a company that launches cremated human remains into space, a procedure known as a space burial. It is an affiliate company of Space Services Inc. The company purchases launches as a secondary payload on various rockets, and launches samples of many peoples' cremated remains on one launch...


space burial
Success
1997-08-01 20:20:00 UTC
OrbView-2
Success
1997-08-29 15:02:00 UTC
FORTE

FORTE (satellite)

The Fast On-orbit Rapid Recording of Transient Events is a lightweight satellite which was launched at about 8:30 AM on August 29, 1997 into a circular low Earth orbit which is inclined 70 degrees relative to the earth's equator, using a Pegasus XL rocket...



Success
1997-10-22 13:13:00 UTC
STEP-4
Success
1997-12-23 19:11:00 UTC
Orbcomm

Orbcomm

ORBCOMM is a company that offers M2M global asset monitoring and messaging services from its constellation of 29 LEO communications satellites orbiting at 775 km. Like its voice-centric competitors Iridium and Globalstar, it filed for Chapter 11 protection, in September, 2000. ORBCOMM issued...


(8 satellites)
Success
1998-02-26 07:07:00 UTC
SNOE, BATSAT
Success
1998-04-02 02:42:00 UTC
TRACE

TRACE

TRACE was a NASA space telescope designed to investigate the connections between fine-scale magnetic fields and the associated plasma structures on the Sun by providing high resolution images and observation of the solar photosphere and transition region to the corona...



Success
1998-08-02 16:24:00 UTC
Orbcomm

Orbcomm

ORBCOMM is a company that offers M2M global asset monitoring and messaging services from its constellation of 29 LEO communications satellites orbiting at 775 km. Like its voice-centric competitors Iridium and Globalstar, it filed for Chapter 11 protection, in September, 2000. ORBCOMM issued...


(8 satellites)
Success
1998-09-23 05:06:00 UTC
Orbcomm

Orbcomm

ORBCOMM is a company that offers M2M global asset monitoring and messaging services from its constellation of 29 LEO communications satellites orbiting at 775 km. Like its voice-centric competitors Iridium and Globalstar, it filed for Chapter 11 protection, in September, 2000. ORBCOMM issued...


(8 satellites)
Success
1998-10-22 00:02:00 UTC
SCD-2

Satélite de Coleta de Dados

The first Data-Collecting Satellite was launched on February 9, 1993. It is the first satellite developed entirely in Brazil and it remains in operation in orbit to this date...



Success
1998-12-06 00:57:00 UTC
SWAS
Success
1999-03-05 02:56:00 UTC
WIRE – Wide Field Infrared Explorer

Wide Field Infrared Explorer

The Wide Field Infrared Explorer was a satellite launched on 5 March 1999 on the Pegasus XL rocket into a polar orbit between 409 km and 426 km above the Earth's surface...



Success
1999-05-18 05:09:00 UTC
Terriers, MUBLCOM

MUBLCOM

The Multiple Paths, Beyond-Line-of-Sight Communications satellite, built for the Pentagon's Defense Advanced Research Projects Agency, was launched in May 1999 by a Pegasus rocket...



Success
1999-12-04 18:53:00 UTC
Orbcomm

Orbcomm

ORBCOMM is a company that offers M2M global asset monitoring and messaging services from its constellation of 29 LEO communications satellites orbiting at 775 km. Like its voice-centric competitors Iridium and Globalstar, it filed for Chapter 11 protection, in September, 2000. ORBCOMM issued...


(7 satellites)
Success
2000-06-07 13:19:00 UTC
TSX-5

TSX-5

TSX-5 , is a $85 million satellite successfully launched into orbit on June 7, 2000 from Vandenberg Air Force Base on a Pegasus XL rocket....



Success
2000-10-09 05:38:00 UTC
HETE

High Energy Transient Explorer

The High Energy Transient Explorer was an American astronomical satellite with international participation . The prime objective of HETE was to carry out the first multiwavelength study of gamma-ray bursts with UV, X-ray, and gamma-ray instruments mounted on a single, compact spacecraft...


2
Success
2002-02-05 20:58:00 UTC
RHESSI
Success
2003-01-25 20:13:00 UTC
SORCE

SORCE

The Solar Radiation and Climate Experiment is a NASA-sponsored satellite mission that provides state-of-the-art measurements of incoming X-ray, ultraviolet, visible, near-infrared, and total solar radiation...



Success
2003-04-28 12:00:00 UTC
GALEX – Galaxy Evolution Explorer

GALEX

The Galaxy Evolution Explorer is an orbiting ultraviolet space telescope launched on April 28, 2003. A Pegasus rocket placed the craft into a nearly circular orbit at an altitude of and an inclination to the Earth's equator of 29 degrees....



Success
2003-06-26 18:55:00 UTC
OrbView-3
Success
2003-08-13 02:09:00 UTC
SCISAT-1

SCISAT-1

SCISAT-1 is a Canadian satellite designed to make observations of the Earth's atmosphere. Its most important instrument is an optical Fourier transform infrared spectrometer, the ACE-FTS Instrument...



Success
2005-04-15 17:27:00 UTC
DART

DART (spacecraft)

DART, or Demonstration for Autonomous Rendezvous Technology, is a NASA sponsored project. The goal was to develop and demonstrate an automated navigation and rendezvous capability in a NASA spacecraft. Currently, only the Russian Space Agency, JAXA and ESA have autonomous space craft navigation...



Success
2006-03-28 20:10:00 UTC
ST-5 – Space Technology 5

Space Technology 5

Space Technology 5 of the NASA New Millennium program is a test of ten new technologies aboard a group of microsatellites. Developed by NASA Goddard Space Flight Center, the three small spacecraft were launched separately from the belly of an Lockheed L-1011 aboard the Pegasus XL rocket, on 22...


(3 satellites)
Success
2007-04-25 20:26:00 UTC
AIM – Aeronomy of Ice in the Mesosphere

Aeronomy of Ice in the Mesosphere

The Aeronomy of Ice in the Mesosphere is a satellite to conduct a 26-month study of noctilucent clouds . It is the ninetieth Explorer program mission and is part of the NASA-funded Small Explorer program...



Success
2008-04-16 17:01:00 UTC
C/NOFS

C/NOFS

C/NOFS, or Communications/Navigation Outage Forecasting System is a satellite developed by the Air Force Research Laboratory Space Vehicles Directorate to investigate and forecast scintillations in the Earth's ionosphere...



Success
2008-10-19 17:47:23 UTC
IBEX – Interstellar Boundary Explorer

Interstellar Boundary Explorer

Interstellar Boundary Explorer is a NASA satellite that will make the first map of the boundary between the Solar System and interstellar space. The mission is part of NASA's Small Explorer program. The IBEX satellite was launched with a Pegasus-XL rocket on October 19, 2008, at 17:47:23 UTC...



Success
2012-04-15 00:00:00 UTC
NuSTAR – Nuclear Spectroscopic Telescope Array

Nuclear Spectroscopic Telescope Array

Nuclear Spectroscopic Telescope Array is a planned space-based X-ray telescope that will use grazing incidence mirrors to focus high energy X-rays at 5 to 79 keV from astrophysical sources, especially for nuclear spectroscopy...



Queued
External links