 Pea Island National Wildlife Refuge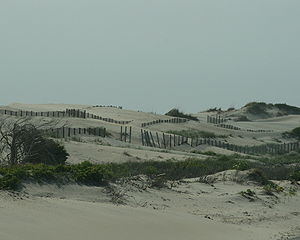 Pea Island National Wildlife Refuge
is a
National Wildlife Refuge
National Wildlife Refuge
National Wildlife Refuge is a designation for certain protected areas of the United States managed by the United States Fish and Wildlife Service. The National Wildlife Refuge System is the world's premiere system of public lands and waters set aside to conserve America's fish, wildlife and plants...
located on the north end of
North Carolina
North Carolina
North Carolina is a state located in the southeastern United States. The state borders South Carolina and Georgia to the south, Tennessee to the west and Virginia to the north. North Carolina contains 100 counties. Its capital is Raleigh, and its largest city is Charlotte...
's
Hatteras Island
Hatteras Island
Hatteras Island is a barrier island located off the North Carolina coast. Dividing the Atlantic Ocean and the Pamlico Sound, it runs parallel to the coast, forming a bend at Cape Hatteras. It is part of North Carolina's Outer Banks and includes the towns of Rodanthe, Waves, Salvo, Avon, Buxton,...
, a coastal barrier island and part of a chain of islands known as the
Outer Banks
Outer Banks
The Outer Banks is a 200-mile long string of narrow barrier islands off the coast of North Carolina, beginning in the southeastern corner of Virginia Beach on the east coast of the United States....
, adjacent to
Cape Hatteras National Seashore
Cape Hatteras National Seashore
Cape Hatteras National Seashore preserves the portion of the Outer Banks of North Carolina from Bodie Island to Ocracoke Island, stretching over . Included within this section of barrier islands along N.C...
. The sanctuary is located 10 miles south of
Nags Head, North Carolina
Nags Head, North Carolina
Nags Head is a town in Dare County, North Carolina, United States. The population was 2,700 at the 2000 census.-History:Early maps of the area show Nags Head as a promontory of land characterized by high sand dunes visible from miles at sea...
on NC 12.
The refuge's objectives are to provide nesting, resting, and wintering habitat for
migratory birds
Bird migration
Bird migration is the regular seasonal journey undertaken by many species of birds. Bird movements include those made in response to changes in food availability, habitat or weather. Sometimes, journeys are not termed "true migration" because they are irregular or in only one direction...
, including the greater
snow geese
Snow Goose
The Snow Goose , also known as the Blue Goose, is a North American species of goose. Its name derives from the typically white plumage. The genus of this bird is disputed...
and other migratory
waterfowl
Waterfowl
Waterfowl are certain wildfowl of the order Anseriformes, especially members of the family Anatidae, which includes ducks, geese, and swans....
, shorebirds, wading birds,
raptor
Bird of prey
Birds of prey are birds that hunt for food primarily on the wing, using their keen senses, especially vision. They are defined as birds that primarily hunt vertebrates, including other birds. Their talons and beaks tend to be relatively large, powerful and adapted for tearing and/or piercing flesh....
s, and neotropical migrants, as well as habitat and protection for
endangered
Endangered species
An endangered species is a population of organisms which is at risk of becoming extinct because it is either few in numbers, or threatened by changing environmental or predation parameters...
and threatened species. Objectives also include providing opportunities for public enjoyment of wildlife and wildlands resources. Public use programs focus on interpretation, environmental education, wildlife observation, wildlife
photography
Photography
Photography is the art, science and practice of creating durable images by recording light or other electromagnetic radiation, either electronically by means of an image sensor or chemically by means of a light-sensitive material such as photographic film...
, and
fishing
Fishing
Fishing is the activity of trying to catch wild fish. Fish are normally caught in the wild. Techniques for catching fish include hand gathering, spearing, netting, angling and trapping....
.
Refuge facts
The refuge was established May 17, 1937. It includes 5,834 acres (23.6 km²) of land and 25,700 acres (104 km²) Proclamation Boundary Waters. The refuge is approximately 13 miles long (north to south) and ranges from a quarter mile to 1 mile wide (from east to west).
The refuge is administered by the
Alligator River National Wildlife Refuge
Alligator River National Wildlife Refuge
The Alligator River National Wildlife Refuge was established on March 14, 1984, to preserve and protect a unique wetland habitat type—the pocosin—and its associated wildlife species.The Refuge attracts visitors worldwide for its red wolf howling programs....
as a part of a refuge complex; the manager of the Alligator River refuge supervises the managers of the Mackay Island, Currituck, and Pocosin Lakes National Wildlife Refuges. The Comprehensive Conservation Management Plan for the refuge was completed in September 2006. A 36-person staff administers both Pea Island and Alligator River National Wildlife Refuges, with a budget of $2,827K (FY 03) for both refuges. Numerous volunteers devote approximately 35,000 hours each year to the Refuge.
There are 2.7 million visitors annually. Pea Island National Wildlife Refuge is known as a "Birder's Paradise";
birders
Birdwatching
Birdwatching or birding is the observation of birds as a recreational activity. It can be done with the naked eye, through a visual enhancement device like binoculars and telescopes, or by listening for bird sounds. Birding often involves a significant auditory component, as many bird species are...
make up some of the many visitors. Other eco-tourists include
canoe
Canoe
A canoe or Canadian canoe is a small narrow boat, typically human-powered, though it may also be powered by sails or small electric or gas motors. Canoes are usually pointed at both bow and stern and are normally open on top, but can be decked over A canoe (North American English) or Canadian...
ists and
kayak
Kayak
A kayak is a small, relatively narrow, human-powered boat primarily designed to be manually propelled by means of a double blade paddle.The traditional kayak has a covered deck and one or more cockpits, each seating one paddler...
ers,
beachcombers
Beachcombing
Beachcombing and beachcomber are words with multiple, but related, meanings that have evolved over time.A beachcomber is someone who "combs" the beach, and the intertidal zone in general, looking for things of value, interest or utility....
, surf and sound anglers, and nature photographers.
Natural history
The refuge contains ocean
beach
Beach
A beach is a geological landform along the shoreline of an ocean, sea, lake or river. It usually consists of loose particles which are often composed of rock, such as sand, gravel, shingle, pebbles or cobblestones...
,
dune
Dune
In physical geography, a dune is a hill of sand built by wind. Dunes occur in different forms and sizes, formed by interaction with the wind. Most kinds of dunes are longer on the windward side where the sand is pushed up the dune and have a shorter "slip face" in the lee of the wind...
s, upland, fresh and brackish water
pond
Pond
A pond is a body of standing water, either natural or man-made, that is usually smaller than a lake. A wide variety of man-made bodies of water are classified as ponds, including water gardens, water features and koi ponds; all designed for aesthetic ornamentation as landscape or architectural...
s, salt flats, and
salt marsh
Salt marsh
A salt marsh is an environment in the upper coastal intertidal zone between land and salt water or brackish water, it is dominated by dense stands of halophytic plants such as herbs, grasses, or low shrubs. These plants are terrestrial in origin and are essential to the stability of the salt marsh...
. There are more than 365 species of
bird
Bird
Birds are feathered, winged, bipedal, endothermic , egg-laying, vertebrate animals. Around 10,000 living species and 188 families makes them the most speciose class of tetrapod vertebrates. They inhabit ecosystems across the globe, from the Arctic to the Antarctic. Extant birds range in size from...
s, 25 species of
mammal
Mammal
Mammals are members of a class of air-breathing vertebrate animals characterised by the possession of endothermy, hair, three middle ear bones, and mammary glands functional in mothers with young...
s, 24 species of
reptile
Reptile
Reptiles are members of a class of air-breathing, ectothermic vertebrates which are characterized by laying shelled eggs , and having skin covered in scales and/or scutes. They are tetrapods, either having four limbs or being descended from four-limbed ancestors...
s, and five species of amphibians. There are concentrations of
duck
Duck
Duck is the common name for a large number of species in the Anatidae family of birds, which also includes swans and geese. The ducks are divided among several subfamilies in the Anatidae family; they do not represent a monophyletic group but a form taxon, since swans and geese are not considered...
s,
geese
Goose
The word goose is the English name for a group of waterfowl, belonging to the family Anatidae. This family also includes swans, most of which are larger than true geese, and ducks, which are smaller....
,
swan
Swan
Swans, genus Cygnus, are birds of the family Anatidae, which also includes geese and ducks. Swans are grouped with the closely related geese in the subfamily Anserinae where they form the tribe Cygnini. Sometimes, they are considered a distinct subfamily, Cygninae...
s, wading birds, shore birds, and raptors. There are neotropical migrants that are seasonally abundant on refuge. The refuge has 1,000 acres (4 km²) of manageable waterfowl impoundments, and there are several shorebird nesting areas and wading bird rookeries are located in the refuge.
Endangered and threatened species include
shortnose sturgeon
Shortnose sturgeon
The shortnose sturgeon is a small North American sturgeon which can be found in 16 to 19 large river and estuary systems along the Atlantic seaboard from the Saint John River in New Brunswick, Canada, to the St. Johns River in Florida, United States.National Marine Fisheries Service. 1998...
,
american alligator
American Alligator
The American alligator , sometimes referred to colloquially as a gator, is a reptile endemic only to the Southeastern United States. It is one of the two living species of alligator, in the genus Alligator, within the family Alligatoridae...
,
red wolf
Red Wolf
The red wolf is a North American canid which once roamed throughout the Southeastern United States and is a glacial period survivor of the Late Pleistocene epoch...
,
peregrine falcon
Peregrine Falcon
The Peregrine Falcon , also known as the Peregrine, and historically as the Duck Hawk in North America, is a widespread bird of prey in the family Falconidae. A large, crow-sized falcon, it has a blue-gray back, barred white underparts, and a black head and "moustache"...
s,
loggerhead sea turtle
Loggerhead sea turtle
The loggerhead sea turtle , or loggerhead, is an oceanic turtle distributed throughout the world. It is a marine reptile, belonging to the family Cheloniidae. The average loggerhead measures around long when fully grown, although larger specimens of up to have been discovered...
s,
green sea turtle
Green Sea Turtle
The Green sea turtle or green turtle is a large sea turtle of the family Cheloniidae. It is the only species in the genus Chelonia. Its range extends throughout tropical and subtropical seas around the world, with two distinct populations in the Atlantic and Pacific Oceans...
,
leatherback sea turtle
Leatherback Sea Turtle
The leatherback sea turtle is the largest of all living sea turtles and the fourth largest modern reptile behind three crocodilians. It is the only living species in the genus Dermochelys. It can easily be differentiated from other modern sea turtles by its lack of a bony shell. Instead, its...
, hawksbill sea turtle, Kemp's Ridley sea turtle,
red-cockaded woodpecker
Red-cockaded Woodpecker
The Red-cockaded Woodpecker is a woodpecker found in southeastern North America.- Description :About the size of the Northern Cardinal, it is approximately 8.5 in. long, with a wingspan of about 14 in. and a weight of about 1.5 ounces...
,
roseate tern
Roseate Tern
The Roseate Tern is a seabird of the tern family Sternidae. This bird has a number of geographical races, differing mainly in bill colour and minor plumage details....
,
West Indian manatee
West Indian Manatee
The West Indian Manatee is a manatee, and the largest surviving member of the aquatic mammal order Sirenia . The West Indian Manatee, Trichechus manatus, is a species distinct from the Amazonian Manatee, T. inunguis, and the West African Manatee, T. senegalensis...
,
seabeach amaranth
Amaranth
Amaranthus, collectively known as amaranth, is a cosmopolitan genus of herbs. Approximately 60 species are recognized, with inflorescences and foliage ranging from purple and red to gold...
, and
piping plover
Piping Plover
The Piping Plover is a small sand-colored, sparrow-sized shorebird that nests and feeds along coastal sand and gravel beaches in North America. The adult has yellow-orange legs, a black band across the forehead from eye to eye, and a black ring around the neck...
s.
The refuge area was historically used for market waterfowl hunting, commercial fishing, farming, and livestock operations.
Further reading
Pea Island National Wildlife Refuge Comprehensive Conservation Plan. September 2006.
External links