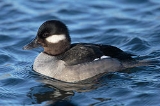 Duck
Duck
is the common name for a large number of species in the
Anatidae
Anatidae
Anatidae is the biological family of birds that includes ducks, geese and swans. The family has a cosmopolitan distribution, occurring on all the world's continents except Antarctica and on most of the world's islands and island groups...
family
Family (biology)
In biological classification, family is* a taxonomic rank. Other well-known ranks are life, domain, kingdom, phylum, class, order, genus, and species, with family fitting between order and genus. As for the other well-known ranks, there is the option of an immediately lower rank, indicated by the...
of
bird
Bird
Birds are feathered, winged, bipedal, endothermic , egg-laying, vertebrate animals. Around 10,000 living species and 188 families makes them the most speciose class of tetrapod vertebrates. They inhabit ecosystems across the globe, from the Arctic to the Antarctic. Extant birds range in size from...
s, which also includes
swan
Swan
Swans, genus Cygnus, are birds of the family Anatidae, which also includes geese and ducks. Swans are grouped with the closely related geese in the subfamily Anserinae where they form the tribe Cygnini. Sometimes, they are considered a distinct subfamily, Cygninae...
s and
geese
Goose
The word goose is the English name for a group of waterfowl, belonging to the family Anatidae. This family also includes swans, most of which are larger than true geese, and ducks, which are smaller....
. The ducks are divided among several subfamilies in the
Anatidae
Anatidae
Anatidae is the biological family of birds that includes ducks, geese and swans. The family has a cosmopolitan distribution, occurring on all the world's continents except Antarctica and on most of the world's islands and island groups...
family; they do not represent a
monophyletic group
Clade
A clade is a group consisting of a species and all its descendants. In the terms of biological systematics, a clade is a single "branch" on the "tree of life". The idea that such a "natural group" of organisms should be grouped together and given a taxonomic name is central to biological...
(the group of all descendants of a single common ancestral species) but a
form taxon
Form taxon
Form classification is the classification of organisms based on their morphology, which does not necessarily reflect their biological relationships...
, since swans and geese are not considered ducks. Ducks are mostly aquatic birds, mostly smaller than the swans and geese, and may be found in both fresh water and sea water.
Ducks are sometimes confused with several types of unrelated water birds with similar forms, such as
loon
Loon
The loons or divers are a group of aquatic birds found in many parts of North America and northern Eurasia...
s or divers,
grebe
Grebe
A grebe is a member of the Podicipediformes order, a widely distributed order of freshwater diving birds, some of which visit the sea when migrating and in winter...
s,
gallinule
Rallidae
The rails, or Rallidae, are a large cosmopolitan family of small to medium-sized birds. The family exhibits considerable diversity and the family also includes the crakes, coots, and gallinules...
s, and
coot
Coot
Coots are medium-sized water birds that are members of the rail family Rallidae. They constitute the genus Fulica. Coots have predominantly black plumage, and, unlike many of the rails, they are usually easy to see, often swimming in open water...
s.
Etymology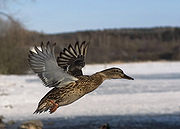 The word
duck
comes from Old English *
dūce
"diver", a derivative of the verb *
dūcan
"to duck, bend down low as if to get under something, or dive", because of the way many species in the dabbling duck group feed by upending; compare with
Dutch
Dutch language
Dutch is a West Germanic language and the native language of the majority of the population of the Netherlands, Belgium, and Suriname, the three member states of the Dutch Language Union. Most speakers live in the European Union, where it is a first language for about 23 million and a second...
duiken
and
German
German language
German is a West Germanic language, related to and classified alongside English and Dutch. With an estimated 90 – 98 million native speakers, German is one of the world's major languages and is the most widely-spoken first language in the European Union....
tauchen
"to dive".
This word replaced Old English
ened/ænid
"duck", possibly to avoid confusion with other Old English words, like
ende
"end" with similar forms. Other Germanic languages still have similar words for "duck", for example, Dutch
eend
"duck" and German
Ente
"duck". The word
ened/ænid
was inherited from
Proto-Indo-European
Proto-Indo-European language
The Proto-Indo-European language is the reconstructed common ancestor of the Indo-European languages, spoken by the Proto-Indo-Europeans...
; compare:
Latin
Latin
Latin is an Italic language originally spoken in Latium and Ancient Rome. It, along with most European languages, is a descendant of the ancient Proto-Indo-European language. Although it is considered a dead language, a number of scholars and members of the Christian clergy speak it fluently, and...
anas
"duck",
Lithuanian
Lithuanian language
Lithuanian is the official state language of Lithuania and is recognized as one of the official languages of the European Union. There are about 2.96 million native Lithuanian speakers in Lithuania and about 170,000 abroad. Lithuanian is a Baltic language, closely related to Latvian, although they...
ántis
"duck", Ancient Greek
nēssa
/
nētta
(νῆσσα, νῆττα) "duck", and
Sanskrit
Sanskrit
Sanskrit , is a historical Indo-Aryan language and the primary liturgical language of Hinduism, Jainism and Buddhism.Buddhism: besides Pali, see Buddhist Hybrid Sanskrit Today, it is listed as one of the 22 scheduled languages of India and is an official language of the state of Uttarakhand...
ātí
"water bird", among others.
Some people use "duck" specifically for adult females and "drake" for adult males, for the species described here; others use "hen" and "drake", respectively.
A duckling is a young duck in downy plumage or baby duck; but in the food trade young adult ducks ready for roasting are sometimes labelled "duckling".
Morphology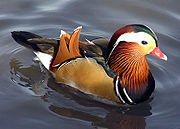 The overall body plan of ducks is elongated and broad, and the ducks are also relatively long-necked, albeit not as long-necked as the geese and swans. The body shape of diving ducks varies somewhat from this in being more rounded. The bill is usually broad and contains serrated lamellae which are particularly well defined in the filter-feeding species. In the case of some fishing species the bill is long and strongly serrated. The scaled legs are strong and well developed, and generally set far back on the body, more so in the highly aquatic species. The wings are very strong and are generally short and pointed, and the
flight
Bird flight
Flight is the main mode of locomotion used by most of the world's bird species. Flight assists birds while feeding, breeding and avoiding predators....
of ducks requires fast continuous strokes, requiring in turn strong wing muscles. Three species of steamer duck are almost flightless, however. Many species of duck are temporarily flightless while
moult
Moult
In biology, moulting or molting , also known as sloughing, shedding, or for some species, ecdysis, is the manner in which an animal routinely casts off a part of its body , either at specific times of year, or at specific points in its life cycle.Moulting can involve the epidermis , pelage...
ing; they seek out protected habitat with good food supplies during this period. This moult typically precedes
migration
Bird migration
Bird migration is the regular seasonal journey undertaken by many species of birds. Bird movements include those made in response to changes in food availability, habitat or weather. Sometimes, journeys are not termed "true migration" because they are irregular or in only one direction...
.
The drakes of northern species often have extravagant
plumage
Plumage
Plumage refers both to the layer of feathers that cover a bird and the pattern, colour, and arrangement of those feathers. The pattern and colours of plumage vary between species and subspecies and can also vary between different age classes, sexes, and season. Within species there can also be a...
, but that is
moult
Moult
In biology, moulting or molting , also known as sloughing, shedding, or for some species, ecdysis, is the manner in which an animal routinely casts off a part of its body , either at specific times of year, or at specific points in its life cycle.Moulting can involve the epidermis , pelage...
ed in summer to give a more female-like appearance, the "eclipse" plumage. Southern resident species typically show less
sexual dimorphism
Sexual dimorphism
Sexual dimorphism is a phenotypic difference between males and females of the same species. Examples of such differences include differences in morphology, ornamentation, and behavior.-Examples:-Ornamentation / coloration:...
, although there are exceptions like the
Paradise Shelduck
Paradise Shelduck
The Paradise Shelduck is a large goose-like duck endemic to New Zealand. They are known to the Māori as Pūtangitangi but now commonly referred to as the "Paradise duck", and are prized game birds...
of
New Zealand
New Zealand
New Zealand is an island country in the south-western Pacific Ocean comprising two main landmasses and numerous smaller islands. The country is situated some east of Australia across the Tasman Sea, and roughly south of the Pacific island nations of New Caledonia, Fiji, and Tonga...
which is both strikingly sexually dimorphic and where the female's plumage is brighter than that of the male. The plumage of juvenile birds generally resembles that of the female.
Feeding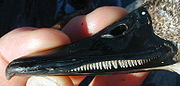 Ducks exploit a variety of food sources such as
grass
Poaceae
The Poaceae is a large and nearly ubiquitous family of flowering plants. Members of this family are commonly called grasses, although the term "grass" is also applied to plants that are not in the Poaceae lineage, including the rushes and sedges...
es, aquatic plants, fish, insects, small amphibians, worms, and small molluscs.
Diving duck
Diving duck
The diving ducks, commonly called pochards or scaups, are a category of duck which feed by diving beneath the surface of the water. They are part of the diverse and very large Anatidae family that includes ducks, geese, and swans....
s and sea ducks forage deep underwater. To be able to submerge more easily, the diving ducks are heavier than dabbling ducks, and therefore have more difficulty taking off to fly.
Dabbling ducks feed on the surface of water or on land, or as deep as they can reach by up-ending without completely submerging. Along the edge of the beak there is a comb-like structure called a pecten. This strains the water squirting from the side of the beak and traps any food. The pecten is also used to preen feathers.
A few specialized species such as the mergansers are adapted to catch and swallow large fish.
The others have the characteristic wide flat beak designed for dredging-type jobs such as pulling up waterweed, pulling worms and small molluscs out of mud, searching for insect larvae, and bulk jobs such as dredging out, holding, turning headfirst, and swallowing a squirming frog. To avoid injury when digging into sediment it has no
cere
Cère
The Cère is a long river in south-western France, left tributary of the Dordogne River. Its source is in the south-western Massif Central, near the mountain Plomb du Cantal...
. but the nostrils come out through hard horn.
Breeding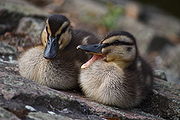 The ducks are generally
monogamous
Monogamy
Monogamy /Gr. μονός+γάμος - one+marriage/ a form of marriage in which an individual has only one spouse at any one time. In current usage monogamy often refers to having one sexual partner irrespective of marriage or reproduction...
, although these bonds generally last a single year only. Larger species and the more sedentary species (like fast river specialists) tend to have pair-bonds that last numerous years. Most duck species breed once a year, choosing to do so in favourable conditions (
spring
Spring (season)
Spring is one of the four temperate seasons, the transition period between winter and summer. Spring and "springtime" refer to the season, and broadly to ideas of rebirth, renewal and regrowth. The specific definition of the exact timing of "spring" varies according to local climate, cultures and...
/summer or wet seasons).
Ducks also tend to make a
nest
Bird nest
A bird nest is the spot in which a bird lays and incubates its eggs and raises its young. Although the term popularly refers to a specific structure made by the bird itself—such as the grassy cup nest of the American Robin or Eurasian Blackbird, or the elaborately woven hanging nest of the...
before breeding.
Although mother ducks are very caring and protective of their young, they are not above abandoning some of their ducklings if they are physically stuck in an area they cannot get out of or are not prospering due to genetic defects or sickness brought about by hypothermia, starvation, or disease.
Ducklings can also be orphaned by inconsistent, late hatching where a few eggs hatch long after the mother has abandoned the nest.
Communication
Despite widespread misconceptions, only the females of most dabbling ducks "quack". For example, the
scaup
Scaup
Scaup may refer to:* Scottish Conservative and Unionist Party, a political party in Scotland* One of three species of diving duck:** Greater Scaup or just Scaup, Aythya marila** Lesser Scaup, Aythya affinis...
– which are
diving duck
Diving duck
The diving ducks, commonly called pochards or scaups, are a category of duck which feed by diving beneath the surface of the water. They are part of the diverse and very large Anatidae family that includes ducks, geese, and swans....
s – make a noise like "scaup" (hence their name), and even among the dabbling ducks, the males never quack. In general, ducks make a wide range of calls, ranging from whistles, cooing, yodels and grunts. Calls may be loud displaying calls or quieter contact calls.
A common
urban legend
Urban legend
An urban legend, urban myth, urban tale, or contemporary legend, is a form of modern folklore consisting of stories that may or may not have been believed by their tellers to be true...
claims that duck quacks do not echo; however, this has been shown to be false. This myth was first debunked by the Acoustics Research Centre at the
University of Salford
University of Salford
The University of Salford is a campus university based in Salford, Greater Manchester, England with approximately 20,000 registered students. The main campus is about west of Manchester city centre, on the A6, opposite the former home of the physicist, James Prescott Joule and the Working Class...
in 2003 as part of the British Association's Festival of Science. It was also debunked in one of the earlier episodes of the popular Discovery Channel television show
MythBusters
MythBusters
MythBusters is a science entertainment TV program created and produced by Beyond Television Productions for the Discovery Channel. The series is screened by numerous international broadcasters, including Discovery Channel Australia, Discovery Channel Latin America, Discovery Channel Canada, Quest...
.
Ecology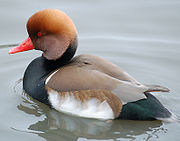 Distribution and habitat
The ducks have a
cosmopolitan distribution
Cosmopolitan distribution
In biogeography, a taxon is said to have a cosmopolitan distribution if its range extends across all or most of the world in appropriate habitats. For instance, the killer whale has a cosmopolitan distribution, extending over most of the world's oceans. Other examples include humans, the lichen...
occurring across most of the world except for
Antarctica
. A number of species manage to live on sub-Antarctic islands like
South Georgia
South Georgia and the South Sandwich Islands
South Georgia and the South Sandwich Islands is a British overseas territory and overseas territory of the European Union in the southern Atlantic Ocean. It is a remote and inhospitable collection of islands, consisting of South Georgia and a chain of smaller islands, known as the South Sandwich...
and the
Auckland Islands
Auckland Islands
The Auckland Islands are an archipelago of the New Zealand Sub-Antarctic Islands and include Auckland Island, Adams Island, Enderby Island, Disappointment Island, Ewing Island, Rose Island, Dundas Island and Green Island, with a combined area of...
. Numerous ducks have managed to establish themselves on oceanic islands such as
Hawaii
Hawaii
Hawaii is the newest of the 50 U.S. states , and is the only U.S. state made up entirely of islands. It is the northernmost island group in Polynesia, occupying most of an archipelago in the central Pacific Ocean, southwest of the continental United States, southeast of Japan, and northeast of...
,
New Zealand
New Zealand
New Zealand is an island country in the south-western Pacific Ocean comprising two main landmasses and numerous smaller islands. The country is situated some east of Australia across the Tasman Sea, and roughly south of the Pacific island nations of New Caledonia, Fiji, and Tonga...
and
Kerguelen
Kerguelen Islands
The Kerguelen Islands , also known as the Desolation Islands, are a group of islands in the southern Indian Ocean constituting the emerged part of the otherwise submerged Kerguelen Plateau. The islands, along with Adélie Land, the Crozet Islands and the Amsterdam and Saint Paul Islands are part of...
, although many of these species and populations are threatened or have become extinct.
Some duck species, mainly those breeding in the temperate and Arctic Northern Hemisphere, are migratory; those in the tropics, however, are generally not. Some ducks, particularly in Australia where rainfall is patchy and erratic, are nomadic, seeking out the temporary lakes and pools that form after localised heavy rain.
Ducks have become an accepted presence in populated areas. Migration patterns have changed such that many species remain in an area during the winter months. In spring and early summer ducks sometimes influence human activity through their nesting; sometimes a duck pair nests well away from water, needing a long trek to water for the hatchlings: this sometimes causes an urgent wildlife rescue operation (e.g. by the RSPCA) if the duck nested somewhere unsuitable like in a small enclosed
courtyard
Courtyard
A court or courtyard is an enclosed area, often a space enclosed by a building that is open to the sky. These areas in inns and public buildings were often the primary meeting places for some purposes, leading to the other meanings of court....
.
Predators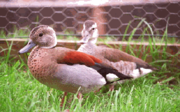 Worldwide, ducks have many predators. Ducklings are particularly vulnerable, since their inability to fly makes them easy prey not only for predatory birds but also large fish like
pike
Esox
Esox is a genus of freshwater fish, the only living genus in the family Esocidae — the esocids which were endemic to North America, Europe and Eurasia during the Paleogene through present.The type species is E. lucius, the northern pike...
,
crocodilia
Crocodilia
Crocodilia is an order of large reptiles that appeared about 84 million years ago in the late Cretaceous Period . They are the closest living relatives of birds, as the two groups are the only known survivors of the Archosauria...
ns, and other aquatic hunters, including fish-eating birds such as
heron
Heron
The herons are long-legged freshwater and coastal birds in the family Ardeidae. There are 64 recognised species in this family. Some are called "egrets" or "bitterns" instead of "heron"....
s. Ducks' nests are raided by land-based predators, and brooding females may be caught unaware on the nest by mammals such as
fox
Fox
Fox is a common name for many species of omnivorous mammals belonging to the Canidae family. Foxes are small to medium-sized canids , characterized by possessing a long narrow snout, and a bushy tail .Members of about 37 species are referred to as foxes, of which only 12 species actually belong to...
es, or large birds, such as hawks or eagles.
Adult ducks are fast fliers, but may be caught on the water by large aquatic predators including big fish such as the North American
muskie
Muskellunge
A muskellunge , also known as a muskelunge, muscallonge, milliganong, or maskinonge , is a large, relatively uncommon freshwater fish of North America. Muskellunge are the largest member of the pike family, Esocidae...
and the European
pike
Esox
Esox is a genus of freshwater fish, the only living genus in the family Esocidae — the esocids which were endemic to North America, Europe and Eurasia during the Paleogene through present.The type species is E. lucius, the northern pike...
. In flight, ducks are safe from all but a few predators such as humans and the
Peregrine Falcon
Peregrine Falcon
The Peregrine Falcon , also known as the Peregrine, and historically as the Duck Hawk in North America, is a widespread bird of prey in the family Falconidae. A large, crow-sized falcon, it has a blue-gray back, barred white underparts, and a black head and "moustache"...
, which regularly uses its speed and strength to catch ducks.
Domestication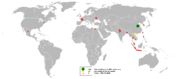 Ducks have many economic uses, being farmed for their meat, eggs, feathers, (particularly their
down
Down feather
The down of birds is a layer of fine feathers found under the tougher exterior feathers. Very young birds are clad only in down. Powder down is a specialized type of down found only in a few groups of birds. Down is a fine thermal insulator and padding, used in goods such as jackets, bedding,...
). They are also kept and bred by aviculturists and often displayed in zoos. All domestic ducks are descended from the wild
Mallard
Mallard
The Mallard , or Wild Duck , is a dabbling duck which breeds throughout the temperate and subtropical Americas, Europe, Asia, and North Africa, and has been introduced to New Zealand and Australia....
Anas platyrhynchos
, except the
Muscovy Duck
Muscovy Duck
The Muscovy Duck is a large duck which is native to Mexico and Central and South America. A small wild population reaches into the United States in the lower Rio Grande Valley of Texas...
. Many domestic breeds have become much larger than their wild ancestor, with a "hull length" (from base of neck to base of tail) of 30 cm (12 inches) or more and routinely able to swallow an adult
British
Great Britain
Great Britain or Britain is an island situated to the northwest of Continental Europe. It is the ninth largest island in the world, and the largest European island, as well as the largest of the British Isles...
Common Frog
Common Frog
The Common Frog, Rana temporaria also known as the European Common Frog or European Common Brown Frog is found throughout much of Europe as far north as well north of the Arctic Circle in Scandinavia and as far east as the Urals, except for most of Iberia, southern Italy, and the southern Balkans...
Rana temporaria
whole; the wild mallard's "hull length" is about 6 inches.
FAO
Fão
Fão is a town in Esposende Municipality in Portugal....
reports that China is the top duck market in 2004 followed by
Vietnam
Vietnam
Vietnam – sometimes spelled Viet Nam , officially the Socialist Republic of Vietnam – is the easternmost country on the Indochina Peninsula in Southeast Asia. It is bordered by China to the north, Laos to the northwest, Cambodia to the southwest, and the South China Sea –...
and other South East Asian countries.
In many areas, wild ducks of various species (including ducks farmed and released into the wild) are hunted for food or sport, by shooting, or formerly by
decoy
Duck decoy (model)
A duck decoy is a man-made object resembling a real duck. Duck decoys are sometimes used in duck hunting to attract real ducks.Duck decoys were historically carved from wood, but more recently are also made of plastic...
s. Because an idle floating duck or a duck squatting on land cannot react to fly or move quickly, "a sitting duck" has come to mean "an easy target".
Wild ducks of many species and domesticated breeds are widely
consumed
Duck (food)
Duck refers to the meat of several species of bird in the Anatidae family, found in both fresh and salt water. Duck is eaten in many cuisines around the world.-Types of ducks:The most common duck meat consumed in the United States is the Pekin duck...
around the world.
Ducks as pets are fairly uncommon due to the cost and demands of raising and caring for them and whether local animal control laws permit or forbid the public selling and private ownership of ducks, ducklings, and fertilized duck eggs. Ducks are usually kept outdoors or inside a cage since it is unsuitable to let them roam freely indoors due to the risk of eating carpet fibers, which can be a health hazard to them, and their lack of sphincter muscles which would require carpet-less flooring and frequent cleaning up after them.
Cultural references
In 2002, psychologist
Richard Wiseman
Richard Wiseman
Richard Wiseman is Professor of the Public Understanding of Psychology at the University of Hertfordshire in the United Kingdom.Wiseman started his professional life as a magician, before graduating in Psychology from University College London and obtaining a Ph.D...
and colleagues at the
University of Hertfordshire
University of Hertfordshire
The University of Hertfordshire is a new university based largely in Hatfield, in the county of Hertfordshire, England, from which the university takes its name. It has more than 27,500 students, over 2500 staff, with a turnover of over £181m...
, UK, finished a year-long LaughLab experiment, concluding that of all animals, ducks attract the most humor and silliness; he said, "If you're going to tell a joke involving an animal, make it a duck." The word "duck" may have become an
inherently funny word
Inherently funny word
Words may be considered inherently funny, for reasons ranging from onomatopoeia to phonosemantics. Such words have been used by a range of influential comedians, including W. C...
in many languages, possibly because ducks are seen as silly in their looks or behavior. Of the many
ducks in fiction
, many are cartoon characters, such as
Walt Disney
The Walt Disney Company
The Walt Disney Company is the largest media conglomerate in the world in terms of revenue. Founded on October 16, 1923, by Walt and Roy Disney as the Disney Brothers Cartoon Studio, Walt Disney Productions established itself as a leader in the American animation industry before diversifying into...
's
Donald Duck
Donald Duck
Donald Fauntleroy Duck is a cartoon character created in 1934 at Walt Disney Productions and licensed by The Walt Disney Company. Donald is an anthropomorphic white duck with a yellow-orange bill, legs, and feet. He typically wears a sailor suit with a cap and a black or red bow tie. Donald is most...
, and
Warner Bros.
Warner Bros.
Warner Bros. Entertainment, Inc., also known as Warner Bros. Pictures or simply Warner Bros. , is an American producer of film and television entertainment.One of the major film studios, it is a subsidiary of Time Warner, with its headquarters in Burbank,...
'
Daffy Duck
Daffy Duck
Daffy Duck is an animated cartoon character in the Warner Bros. Looney Tunes and Merrie Melodies series of cartoons, often running the gamut between being the best friend and sometimes arch-rival of Bugs Bunny...
.
See also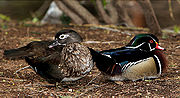 Duck crossing

Duck crossing

A duck crossing is either a designated place for ducks to cross a road or an informal route based on the creatures' instincts.Despite ducks being as aware of their surroundings and possible dangers as most birds are, they still get involved in accidents...



Duck test

Duck test

The duck test is a humorous term for a form of inductive reasoning. This is its usual expression:The test implies that a person can identify an unknown subject by observing that subject's habitual characteristics...



Waterfowl hunting
External links