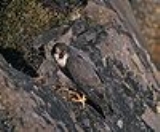 Peregrine Falcon
The Peregrine Falcon also known as the Peregrine, and historically as the Duck Hawk in North America, is a widespread
bird of prey
Bird of prey
Birds of prey are birds that hunt for food primarily on the wing, using their keen senses, especially vision. They are defined as birds that primarily hunt vertebrates, including other birds. Their talons and beaks tend to be relatively large, powerful and adapted for tearing and/or piercing flesh....
in the
family
Family (biology)
In biological classification, family is* a taxonomic rank. Other well-known ranks are life, domain, kingdom, phylum, class, order, genus, and species, with family fitting between order and genus. As for the other well-known ranks, there is the option of an immediately lower rank, indicated by the...
Falconidae
Falconidae
The falcons and caracaras are around 60 species of diurnal birds of prey that make up the family Falconidae. The family is divided into two subfamiles, Polyborinae, which includes the caracaras and forest falcons, and Falconinae, the falcons, kestrels and falconets.-Description:Falcons and...
. A large,
crow
Crow
Crows form the genus Corvus in the family Corvidae. Ranging in size from the relatively small pigeon-size jackdaws to the Common Raven of the Holarctic region and Thick-billed Raven of the highlands of Ethiopia, the 40 or so members of this genus occur on all temperate continents and several...
-sized
falcon
Falcon
A falcon is any species of raptor in the genus Falco. The genus contains 37 species, widely distributed throughout Europe, Asia, and North America....
, it has a blue-gray back, barred white underparts, and a black head and "moustache". Typical of
bird-eating
Avivore
An avivore is a specialized predator of birds, with birds making up a large proportion of its diet. Such bird-eating animals come from a range of groups.-Birds:Birds that are specialized predators of birds include certain accipiters and falcons...
raptors, Peregrine Falcons are
sexually dimorphic
Sexual dimorphism
Sexual dimorphism is a phenotypic difference between males and females of the same species. Examples of such differences include differences in morphology, ornamentation, and behavior.-Examples:-Ornamentation / coloration:...
, with females being considerably larger than males. The Peregrine is renowned for its speed, reaching over 325 km/h (201.9 mph) during its characteristic hunting stoop, making it the fastest member of the animal kingdom.
The Peregrine's breeding range includes land regions from the Arctic tundra to the
tropics
Tropics
The tropics is a region of the Earth surrounding the Equator. It is limited in latitude by the Tropic of Cancer in the northern hemisphere at approximately N and the Tropic of Capricorn in the southern hemisphere at S; these latitudes correspond to the axial tilt of the Earth...
.