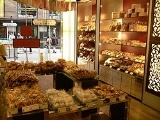 Bakery
A
bakery
(or
baker's shop
) is an establishment which produces and sells flour-based food
baked
Baking
Baking is the technique of prolonged cooking of food by dry heat acting by convection, and not by radiation, normally in an oven, but also in hot ashes, or on hot stones. It is primarily used for the preparation of bread, cakes, pastries and pies, tarts, quiches, cookies and crackers. Such items...
in an
oven
Oven
An oven is a thermally insulated chamber used for the heating, baking or drying of a substance. It is most commonly used for cooking. Kilns, and furnaces are special-purpose ovens...
such as
bread
Bread
Bread is a staple food prepared by cooking a dough of flour and water and often additional ingredients. Doughs are usually baked, but in some cuisines breads are steamed , fried , or baked on an unoiled frying pan . It may be leavened or unleavened...
,
cake
Cake
Cake is a form of bread or bread-like food. In its modern forms, it is typically a sweet and enriched baked dessert. In its oldest forms, cakes were normally fried breads or cheesecakes, and normally had a disk shape...
s, pastries and pies. Some
retail
Retail
Retail consists of the sale of physical goods or merchandise from a fixed location, such as a department store, boutique or kiosk, or by mail, in small or individual lots for direct consumption by the purchaser. Retailing may include subordinated services, such as delivery. Purchasers may be...
bakeries are also
café
Café
A café , also spelled cafe, in most countries refers to an establishment which focuses on serving coffee, like an American coffeehouse. In the United States, it may refer to an informal restaurant, offering a range of hot meals and made-to-order sandwiches...
s, serving
coffee
Coffee
Coffee is a brewed beverage with a dark,init brooo acidic flavor prepared from the roasted seeds of the coffee plant, colloquially called coffee beans. The beans are found in coffee cherries, which grow on trees cultivated in over 70 countries, primarily in equatorial Latin America, Southeast Asia,...
and
tea
Tea
Tea is an aromatic beverage prepared by adding cured leaves of the Camellia sinensis plant to hot water. The term also refers to the plant itself. After water, tea is the most widely consumed beverage in the world...
to customers who wish to consume the baked goods on the premises.
See also