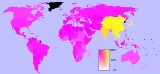 Far East
The
Far East
is an
English
English language
English is a West Germanic language that arose in the Anglo-Saxon kingdoms of England and spread into what was to become south-east Scotland under the influence of the Anglian medieval kingdom of Northumbria...
term (with equivalents in various other
languages of Europe
Languages of Europe
Most of the languages of Europe belong to Indo-European language family. These are divided into a number of branches, including Romance, Germanic, Balto-Slavic, Greek, and others. The Uralic languages also have a significant presence in Europe, including the national languages Hungarian, Finnish,...
and
Asia
Languages of Asia
There is a wide variety of languages spoken throughout Asia, comprising a number of families and some unrelated isolates. Many languages have a long tradition of writing.-Central and North Asian languages:*Turkic**Azeri**Kazak**Kyrgyz**Tatar**Turkish...
,
Chinese
Chinese language
The Chinese language is a language or language family consisting of varieties which are mutually intelligible to varying degrees. Originally the indigenous languages spoken by the Han Chinese in China, it forms one of the branches of Sino-Tibetan family of languages...
literally translating to "far east") mostly describing
East Asia
East Asia
East Asia or Eastern Asia is a subregion of Asia that can be defined in either geographical or cultural terms...
(including the
Russian Far East
Russian Far East
Russian Far East is a term that refers to the Russian part of the Far East, i.e., extreme east parts of Russia, between Lake Baikal in Eastern Siberia and the Pacific Ocean...
) and
Southeast Asia
Southeast Asia
Southeast Asia, South-East Asia, South East Asia or Southeastern Asia is a subregion of Asia, consisting of the countries that are geographically south of China, east of India, west of New Guinea and north of Australia. The region lies on the intersection of geological plates, with heavy seismic...
, with
South Asia
South Asia
South Asia, also known as Southern Asia, is the southern region of the Asian continent, which comprises the sub-Himalayan countries and, for some authorities , also includes the adjoining countries to the west and the east...
sometimes also included for economic and cultural reasons.
The term came into use in
Europe
Europe
Europe is, by convention, one of the world's seven continents. Comprising the westernmost peninsula of Eurasia, Europe is generally 'divided' from Asia to its east by the watershed divides of the Ural and Caucasus Mountains, the Ural River, the Caspian and Black Seas, and the waterways connecting...
an geopolitical discourse in the 19th century, denoting East Asia as the "farthest" of the three "easts", beyond the
Near East
Near East
The Near East is a geographical term that covers different countries for geographers, archeologists, and historians, on the one hand, and for political scientists, economists, and journalists, on the other...
and the
Middle East
Middle East
The Middle East is a region that encompasses Western Asia and Northern Africa. It is often used as a synonym for Near East, in opposition to Far East...
.