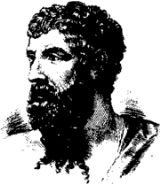 Aristophanes
Aristophanes
son of Philippus, of the
deme
Deme
In Ancient Greece, a deme or demos was a subdivision of Attica, the region of Greece surrounding Athens. Demes as simple subdivisions of land in the countryside seem to have existed in the 6th century BC and earlier, but did not acquire particular significance until the reforms of Cleisthenes in...
Cydathenaus, was a
comic
Comedy
Comedy , as a popular meaning, is any humorous discourse or work generally intended to amuse by creating laughter, especially in television, film, and stand-up comedy. This must be carefully distinguished from its academic definition, namely the comic theatre, whose Western origins are found in...
playwright
Playwright
A playwright, also called a dramatist, is a person who writes plays.The term is not a variant spelling of "playwrite", but something quite distinct: the word wright is an archaic English term for a craftsman or builder...
of
ancient Athens
Classical Athens
The city of Athens during the classical period of Ancient Greece was a notable polis of Attica, Greece, leading the Delian League in the Peloponnesian War against Sparta and the Peloponnesian League. Athenian democracy was established in 508 BC under Cleisthenes following the tyranny of Hippias...
. Eleven of his forty plays survive virtually complete. These, together with fragments of some of his other plays, provide the only real examples of a genre of comic drama known as
Old Comedy
Ancient Greek comedy
Ancient Greek comedy was one of the final three principal dramatic forms in the theatre of classical Greece . Athenian comedy is conventionally divided into three periods, Old Comedy, Middle Comedy, and New Comedy...
, and they are in fact used to define the genre. Also known as
the Father of Comedy
and
the Prince of Ancient Comedy
, Aristophanes has been said to recreate the life of ancient Athens more convincingly than any other author.