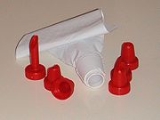 Pastry bag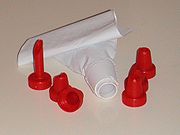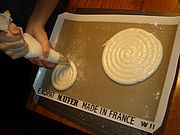 A
pastry bag
is an often
cone
Cone (geometry)
A cone is an n-dimensional geometric shape that tapers smoothly from a base to a point called the apex or vertex. Formally, it is the solid figure formed by the locus of all straight line segments that join the apex to the base...
- or triangular-shaped,
hand-held
Hand-held
Handheld electronics is a common name for light mobile devices. Handheld electronics includes personal digital assistants , such as Palm Pilots or cellular telephones with connectivity to a network such as the internet. Due to limited size of this machines developers of this system and applications...
bag made from cloth,
paper
Paper bag
A paper bag or paper sack is a preformed container made of paper, usually with an opening on one side. It can be one layer of paper or multiple layers of paper and other flexible materials. A bag is used for packaging and/or carrying items....
, or
plastic
Plastic bag
A plastic bag, polybag, or pouch is a type of packaging made of thin, flexible, plastic film, nonwoven fabric, or plastic textile. Plastic bags are used for containing and transporting goods such as foods, produce, powders, ice, magazines, comic books, chemicals and waste.Most plastic bags are...
that is used to
pipe
semi-solid
food
Food
Food is any substance consumed to provide nutritional support for the body. It is usually of plant or animal origin, and contains essential nutrients, such as carbohydrates, fats, proteins, vitamins, or minerals...
s by pressing them through a narrow opening at one end, for many purposes including
cake decoration
Cake decorating
Cake decorating is one of the sugar arts that uses icing or frosting and other edible decorative elements to make otherwise plain cakes more visually interesting...
. It is filled through a wider opening at the opposite end, rolled or twisted closed, and then squeezed to
extrude
Extrusion
Extrusion is a process used to create objects of a fixed cross-sectional profile. A material is pushed or drawn through a die of the desired cross-section...
its contents.
Though a circular nozzle is quite useful for making round shapes and for filling pastries such as profiteroles, many differently-shaped nozzles are commonly used to produce star, leaf, and flower-petal shapes.
Aside from
icing
Icing (food)
Icing, also called frosting in the United States, is a sweet often creamy glaze made of sugar with a liquid such as water or milk, that is often enriched with ingredients such as butter, egg whites, cream cheese, or flavorings and is used to cover or decorate baked goods, such as cakes or cookies...
, pastry bags are commonly used to shape
meringue
Meringue
Meringue is a type of dessert made from whipped egg whites and sugar, occasionally some recipes may call for adding an acid such as cream of tartar or a small amount of vinegar and a binding agent such as cornstarch found in icing sugar which may be added in addition to the corn starch which...
and
whipped cream
Whipped cream
Whipped cream is cream that has been beaten by a mixer, whisk, or fork until it is light and fluffy. Whipped cream is often sweetened and sometimes flavored with vanilla, in which case it may be called Chantilly cream or crème Chantilly ....
, and to fill
doughnut
Doughnut
A doughnut or donut is a fried dough food and is popular in many countries and prepared in various forms as a sweet snack that can be homemade or purchased in bakeries, supermarkets, food stalls, and franchised specialty outlets...
s with jelly or
custard
Custard
Custard is a variety of culinary preparations based on a cooked mixture of milk or cream and egg yolk. Depending on how much egg or thickener is used, custard may vary in consistency from a thin pouring sauce , to a thick pastry cream used to fill éclairs. The most common custards are used as...
. They are used to form
cream puff
Cream puff
A profiterole, cream puff or choux à la crème is a choux pastry ball filled with whipped cream, pastry cream, or ice cream. The puffs may be decorated or left plain or garnished with chocolate sauce, caramel, or a dusting of powdered sugar....
s, éclairs, and ladyfingers. When presentation is especially important, fluted tips can be used to shape savory foods such as filling for
deviled egg
Deviled egg
Deviled eggs or eggs mimosa are hard-boiled eggs cut in half and filled with the hard-boiled egg's yolk mixed usually with mayonnaise and mustard. Deviled eggs are usually served cold...
s, whipped
butter
Butter
Butter is a dairy product made by churning fresh or fermented cream or milk. It is generally used as a spread and a condiment, as well as in cooking applications, such as baking, sauce making, and pan frying...
, and
mashed potato
Mashed potato
Mashed potato is made by mashing freshly boiled potatoes with a ricer, fork, potato masher, food mill, or whipping them with a hand beater. Dehydrated and frozen mashed potatoes are available in many places...
es (especially for
Pommes duchesse
).
A high-quality reusable bag is often made from tightly woven
nylon
Nylon
Nylon is a generic designation for a family of synthetic polymers known generically as polyamides, first produced on February 28, 1935, by Wallace Carothers at DuPont's research facility at the DuPont Experimental Station...
,
polyester
Polyester
Polyester is a category of polymers which contain the ester functional group in their main chain. Although there are many polyesters, the term "polyester" as a specific material most commonly refers to polyethylene terephthalate...
,
rubber
Rubber
Natural rubber, also called India rubber or caoutchouc, is an elastomer that was originally derived from latex, a milky colloid produced by some plants. The plants would be 'tapped', that is, an incision made into the bark of the tree and the sticky, milk colored latex sap collected and refined...
or waterproofed
cotton
Cotton
Cotton is a soft, fluffy staple fiber that grows in a boll, or protective capsule, around the seeds of cotton plants of the genus Gossypium. The fiber is almost pure cellulose. The botanical purpose of cotton fiber is to aid in seed dispersal....
. Medium quality bags are similar, except they are not so tightly woven and may let some contents seep through the weave or the seams. After use, a reusable bag is washed by hand and hung open to dry. A high-quality bag may last for many years.
Pastry bag users who do not have a dishwashing machine may prefer to use disposable bags, and thus avoid hand-washing messy bags. Disposable bags are ready-made in inexpensive plastic. A plastic food storage bag also is commonly used as a pastry bag. For small quantities and fine piping, a pastry bag can be made by rolling cooking
parchment
Parchment
Parchment is a thin material made from calfskin, sheepskin or goatskin, often split. Its most common use was as a material for writing on, for documents, notes, or the pages of a book, codex or manuscript. It is distinct from leather in that parchment is limed but not tanned; therefore, it is very...
or
wax paper
Wax paper
Wax paper is a kind of paper that is made moisture proof through the application of wax....
into a cone, filling it, folding the wide end several times to close it, and then cutting the tip into whatever shape is desired. This is especially useful for small quantities of melted
chocolate
Chocolate
Chocolate is a raw or processed food produced from the seed of the tropical Theobroma cacao tree. Cacao has been cultivated for at least three millennia in Mexico, Central and South America. Its earliest documented use is around 1100 BC...
, since a very small hole can be cut and the bag can be discarded when it cools and becomes clogged.
Tips come in sets of interchangeable pieces; expensive tips can be purchased one at a time. They may be chrome-plated or
stainless steel
Stainless steel
In metallurgy, stainless steel, also known as inox steel or inox from French "inoxydable", is defined as a steel alloy with a minimum of 10.5 or 11% chromium content by mass....
, or plastic. Each tip is cone-shaped, with a base too large to fit through the small opening in the bag; they are to be inserted through the larger opening before food is spooned in. Tips can be used with pairs of adapter rings: an inner ring is dropped inside the bag and pushed part way out the hole, a tip is slipped over the ring, then an outer ring is slipped over the tip and screwed onto the inner ring. This permits the tip to be changed without emptying the bag. Some inexpensive sets are of disposable
plastic
Plastic
A plastic material is any of a wide range of synthetic or semi-synthetic organic solids used in the manufacture of industrial products. Plastics are typically polymers of high molecular mass, and may contain other substances to improve performance and/or reduce production costs...
film with a drop-in ring and screw-on plastic tips (see image, above). Many foods (including frosting and pressurized "spray can" whipped cream) can be purchased in disposable packaging designed to serve the function of a pastry bag.