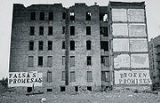 Urban decay
Urban decay
is the process whereby a previously functioning
city
City
A city is a relatively large and permanent settlement. Although there is no agreement on how a city is distinguished from a town within general English language meanings, many cities have a particular administrative, legal, or historical status based on local law.For example, in the U.S...
, or part of a city, falls into disrepair and decrepitude. It may feature
deindustrialization
Deindustrialization
Deindustrialization is a process of social and economic change caused by the removal or reduction of industrial capacity or activity in a country or region, especially heavy industry or manufacturing industry. It is an opposite of industrialization.- Multiple interpretations :There are multiple...
, depopulation or changing population,
economic restructuring
Economic restructuring
Economic restructuring refers to the phenomenon of Western urban areas shifting from a manufacturing to a service sector economic base. This transformation has affected demographics including income distribution, employment, and social hierarchy; institutional arrangements including the growth of...
, abandoned buildings, high local
unemployment
Unemployment
Unemployment , as defined by the International Labour Organization, occurs when people are without jobs and they have actively sought work within the past four weeks...
, fragmented families, political disenfranchisement,
crime
Crime
Crime is the breach of rules or laws for which some governing authority can ultimately prescribe a conviction...
, and a desolate, inhospitable city landscape.
Since the 1970s and 1980s, urban decay has been associated with Western cities, especially in
North America
North America
North America is a continent wholly within the Northern Hemisphere and almost wholly within the Western Hemisphere. It is also considered a northern subcontinent of the Americas...
and parts of
Europe
Europe
Europe is, by convention, one of the world's seven continents. Comprising the westernmost peninsula of Eurasia, Europe is generally 'divided' from Asia to its east by the watershed divides of the Ural and Caucasus Mountains, the Ural River, the Caspian and Black Seas, and the waterways connecting...
.
The construction of the Gowanus Parkway, laying a concrete slab on top of lively, bustling Third Avenue, buried the avenue in shadow, and when the parkway was completed, the avenue was cast forever into darkness and gloom, and its bustle and life were forever gone.

Robert A. Caro, The Power Broker: Robert Moses and the Fall of New York 1974. Page 522.
Money spent is money not lost via inflation.

Jeremy Blake Roach, Social Critic, Pantheist, and Hard-Determinist.