 Industrial park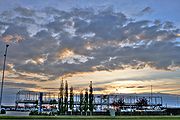 An
industrial park
is an area zoned and planned for the purpose of industrial development. A more "lightweight" version is the
business park
Business park
A business park or office park is an area of land in which many office buildings are grouped together. All of the work that goes on is commercial, not industrial or residential....
or
office park
, which has offices and light industry, rather than heavy industry.
Benefits
Industrial parks are usually located outside the main residential area of a city and normally provided with good transportation access, including road and rail. Industrial parks are usually located close to
transport
Transport
Transport or transportation is the movement of people, cattle, animals and goods from one location to another. Modes of transport include air, rail, road, water, cable, pipeline, and space. The field can be divided into infrastructure, vehicles, and operations...
facilities, especially where
more than one transport modes
Intermodal freight transport
Intermodal freight transport involves the transportation of freight in an intermodal container or vehicle, using multiple modes of transportation , without any handling of the freight itself when changing modes. The method reduces cargo handling, and so improves security, reduces damages and...
coincide:
highway
Highway
A highway is any public road. In American English, the term is common and almost always designates major roads. In British English, the term designates any road open to the public. Any interconnected set of highways can be variously referred to as a "highway system", a "highway network", or a...
s, railroads,
airport
Airport
An airport is a location where aircraft such as fixed-wing aircraft, helicopters, and blimps take off and land. Aircraft may be stored or maintained at an airport...
s, and
port
Port
A port is a location on a coast or shore containing one or more harbors where ships can dock and transfer people or cargo to or from land....
s.
This idea of setting land aside through this type of
zoning
Zoning
Zoning is a device of land use planning used by local governments in most developed countries. The word is derived from the practice of designating permitted uses of land based on mapped zones which separate one set of land uses from another...
is based on several concepts:
To be able to concentrate dedicated infrastructure

Infrastructure

Infrastructure is basic physical and organizational structures needed for the operation of a society or enterprise, or the services and facilities necessary for an economy to function...


in a delimited area to reduce the per-business expense of that infrastructure. Such infrastructure includes roadways, railroad sidings, port

Port

A port is a location on a coast or shore containing one or more harbors where ships can dock and transfer people or cargo to or from land....


s, high-power electric supplies (often including three-phase power), high-end communications cables, large-volume water supplies, and high-volume gas

Natural gas

Natural gas is a naturally occurring gas mixture consisting primarily of methane, typically with 0–20% higher hydrocarbons . It is found associated with other hydrocarbon fuel, in coal beds, as methane clathrates, and is an important fuel source and a major feedstock for fertilizers.Most natural...


lines.
To be able to attract new business by providing an integrated infrastructure in one location.
Eligibility of Industrial Parks for benefits
To set aside industrial uses from urban

Urban area

An urban area is characterized by higher population density and vast human features in comparison to areas surrounding it. Urban areas may be cities, towns or conurbations, but the term is not commonly extended to rural settlements such as villages and hamlets.Urban areas are created and further...


areas to try to reduce the environmental and social impact of the industrial uses.
To provide for localized environmental controls that are specific to the needs of an industrial area.
Criticism
Different industrial parks fulfill these criteria to differing degrees. Many small communities have established industrial parks with only access to a nearby highway, and with only the basic utilities and roadways. Public transportation options may be limited or non-existent. There may be few or no special environmental safeguards.