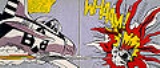 Onomatopoeia
An
onomatopoeia
or
onomatopœia
' onMouseout='HidePop("73806")' href="/topics/Greek_language">Greek
Greek language
Greek is an independent branch of the Indo-European family of languages. Native to the southern Balkans, it has the longest documented history of any Indo-European language, spanning 34 centuries of written records. Its writing system has been the Greek alphabet for the majority of its history;...
ὀνοματοποιία; ὄνομα for "name" and ποιέω for "I make", adjectival form: "onomatopoeic" or "onomatopoetic") is a
word
Word
In language, a word is the smallest free form that may be uttered in isolation with semantic or pragmatic content . This contrasts with a morpheme, which is the smallest unit of meaning but will not necessarily stand on its own...
that imitates or suggests the source of the sound that it describes.
Onomatopoeia
(as an uncountable noun) refers to the property of such words. Common occurrences of onomatopoeias include animal noises, such as "oink" or
"meow"
or "roar". Onomatopoeias are not the same across all languages; they conform to some extent to the broader
linguistic
Natural language
In the philosophy of language, a natural language is any language which arises in an unpremeditated fashion as the result of the innate facility for language possessed by the human intellect. A natural language is typically used for communication, and may be spoken, signed, or written...
system they are part of; hence the sound of a clock may be
tick tock
in
English
English language
English is a West Germanic language that arose in the Anglo-Saxon kingdoms of England and spread into what was to become south-east Scotland under the influence of the Anglian medieval kingdom of Northumbria...
,
dī dā
in Mandarin, or
katchin katchin
in
Japanese
Japanese language
is a language spoken by over 130 million people in Japan and in Japanese emigrant communities. It is a member of the Japonic language family, which has a number of proposed relationships with other languages, none of which has gained wide acceptance among historical linguists .Japanese is an...
.
Uses of onomatopoeia
In the case of a
frog
Frog
Frogs are amphibians in the order Anura , formerly referred to as Salientia . Most frogs are characterized by a short body, webbed digits , protruding eyes and the absence of a tail...
croaking, the spelling may vary because different frog species around the world make different sounds:
Ancient Greek
Ancient Greek
Ancient Greek is the stage of the Greek language in the periods spanning the times c. 9th–6th centuries BC, , c. 5th–4th centuries BC , and the c. 3rd century BC – 6th century AD of ancient Greece and the ancient world; being predated in the 2nd millennium BC by Mycenaean Greek...
brekekekex koax koax
(only in Aristophanes' comic play
The Frogs
) for probably
marsh frogs
; English
ribbit
for species of frog found in North America; English verb "croak" for
the common frog
. Related to this is the use of
tibbir
for the
toad
Toad
A toad is any of a number of species of amphibians in the order Anura characterized by dry, leathery skin , short legs, and snoat-like parotoid glands...
.
Some other very common English-language examples include
hiccup
,
zoom
,
bang
,
beep
, and
splash
.
Machine
Machine
A machine manages power to accomplish a task, examples include, a mechanical system, a computing system, an electronic system, and a molecular machine. In common usage, the meaning is that of a device having parts that perform or assist in performing any type of work...
s and their sounds are also often described with onomatopoeia, as in
honk
or
beep-beep
for the horn of an automobile, and
vroom
or
brum
for the engine. When someone speaks of a mishap involving an audible
arcing
Electric arc
An electric arc is an electrical breakdown of a gas which produces an ongoing plasma discharge, resulting from a current flowing through normally nonconductive media such as air. A synonym is arc discharge. An arc discharge is characterized by a lower voltage than a glow discharge, and relies on...
of electricity, the word "zap" is often used (and has been subsequently expanded and used to non-auditory effects generally connoting the same sort of localized but thorough interference or destruction similar to produced in short-circuit sparking).
For
animal
Animal
Animals are a major group of multicellular, eukaryotic organisms of the kingdom Animalia or Metazoa. Their body plan eventually becomes fixed as they develop, although some undergo a process of metamorphosis later on in their life. Most animals are motile, meaning they can move spontaneously and...
sounds, words like
quack
(
duck
Duck
Duck is the common name for a large number of species in the Anatidae family of birds, which also includes swans and geese. The ducks are divided among several subfamilies in the Anatidae family; they do not represent a monophyletic group but a form taxon, since swans and geese are not considered...
),
moo
(cow),
bark
or
woof
(
dog
Dog
The domestic dog is a domesticated form of the gray wolf, a member of the Canidae family of the order Carnivora. The term is used for both feral and pet varieties. The dog may have been the first animal to be domesticated, and has been the most widely kept working, hunting, and companion animal in...
),
roar
(
lion
Lion
The lion is one of the four big cats in the genus Panthera, and a member of the family Felidae. With some males exceeding 250 kg in weight, it is the second-largest living cat after the tiger...
),
meow
or
purr
Purr
A purr is a sound made by all species of felids and is a part of cat communication. It varies between cats , and from species to species, but can be characterized as a tonal buzzing. Domestic cats purr in a frequency of 25 to 150 vibrations per second...
(
cat
Cat
The cat , also known as the domestic cat or housecat to distinguish it from other felids and felines, is a small, usually furry, domesticated, carnivorous mammal that is valued by humans for its companionship and for its ability to hunt vermin and household pests...
) and
baa
(sheep) are typically used in English. Some of these words are used both as nouns and as verbs.
Agglutinative language
Agglutinative language
An agglutinative language is a language that uses agglutination extensively: most words are formed by joining morphemes together. This term was introduced by Wilhelm von Humboldt in 1836 to classify languages from a morphological point of view...
s or synthetic languages flexibly integrate onomatopoeic words into their structure. This may evolve into a new word, up to the point that it is no longer recognized as onomatopoeia. One example is English "bleat" for the sheep noise: in medieval times it was pronounced approximately as "blairt" (but without an R-component), or "blet" with the vowel drawled, which is much more accurate as onomatopoeia than the modern pronunciation.
An example of the opposite case is "
cuckoo
Cuckoo
The cuckoos are a family, Cuculidae, of near passerine birds. The order Cuculiformes, in addition to the cuckoos, also includes the turacos . Some zoologists and taxonomists have also included the unique Hoatzin in the Cuculiformes, but its taxonomy remains in dispute...
", which, due to continuous familiarity with the bird noise down the centuries, has kept approximately the same pronunciation as in
Anglo-Saxon
Old English language
Old English or Anglo-Saxon is an early form of the English language that was spoken and written by the Anglo-Saxons and their descendants in parts of what are now England and southeastern Scotland between at least the mid-5th century and the mid-12th century...
times and its vowels have not changed to as in "furrow".
Verba dicendi
Verbum dicendi
A verbum dicendi is a word that expresses speech or introduces a quotation, such as "say", "utter", "ask" or "rumble". Verba dicendi may grammaticalize into quotatives....
are a method of integrating onomatopoeia and
ideophone
Ideophone
Ideophones are words used by speakers to evoke a vivid impression of certain sensation or sensory perceptions, e.g. smell, color, shape, sound, action, or movement. Ideophones are attested in all languages of the world, however, languages differ in the extent to which they make use of them...
s into grammar.
Sometimes things are named from the sounds they make. In English, for example, there is the universal fastener which is named for the onomatopoeic of the sound it makes: the
zip
Zipper
A zipper is a commonly used device for temporarily joining two edges of fabric...
(in the UK) or
zipper
Zipper
A zipper is a commonly used device for temporarily joining two edges of fabric...
(in the U.S.). Many
bird
Bird
Birds are feathered, winged, bipedal, endothermic , egg-laying, vertebrate animals. Around 10,000 living species and 188 families makes them the most speciose class of tetrapod vertebrates. They inhabit ecosystems across the globe, from the Arctic to the Antarctic. Extant birds range in size from...
s are named after their calls, such as the
Bobwhite quail
Bobwhite Quail
The Northern Bobwhite, Virginia Quail or Bobwhite Quail is a ground-dwelling bird native to the United States, Mexico, and the Caribbean...
, the Weero, the Morepork, the
killdeer
Killdeer
The Killdeer is a medium-sized plover.Adults have a brown back and wings, a white belly, and a white breast with two black bands. The rump is tawny orange. The face and cap are brown with a white forehead. They have an orange-red eyering...
,
chickadee
Titmouse
The tits, chickadees, and titmice constitute Paridae, a large family of small passerine birds which occur in the northern hemisphere and Africa...
, the
cuckoo
Common Cuckoo
The Common Cuckoo is a member of the cuckoo order of birds, Cuculiformes, which includes the roadrunners, the anis and the coucals....
, the
chiffchaff
Chiffchaff
The Common Chiffchaff, or simply the Chiffchaff, is a common and widespread leaf-warbler which breeds in open woodlands throughout northern and temperate Europe and Asia....
, the
whooping crane
Whooping Crane
The whooping crane , the tallest North American bird, is an endangered crane species named for its whooping sound. Along with the Sandhill Crane, it is one of only two crane species found in North America. The whooping crane's lifespan is estimated to be 22 to 24 years in the wild...
and the
whip-poor-will
Whip-poor-will
The Eastern Whip-poor-will, Caprimulgus vociferus, is a medium-sized nightjar from North and Central America. The whip-poor-will is commonly heard within its range, but less often seen because of its superior camouflage...
. In Tamil and Malayalam, the word for
crow
Crow
Crows form the genus Corvus in the family Corvidae. Ranging in size from the relatively small pigeon-size jackdaws to the Common Raven of the Holarctic region and Thick-billed Raven of the highlands of Ethiopia, the 40 or so members of this genus occur on all temperate continents and several...
is
kaakaa
. This practice is especially common in certain languages such as
Māori
Maori language
Māori or te reo Māori , commonly te reo , is the language of the indigenous population of New Zealand, the Māori. It has the status of an official language in New Zealand...
and, therefore, in names of animals borrowed from these languages.
Comics and advertising
Comic strip
Comic strip
A comic strip is a sequence of drawings arranged in interrelated panels to display brief humor or form a narrative, often serialized, with text in balloons and captions....
s and
comic book
Comic book
A comic book or comicbook is a magazine made up of comics, narrative artwork in the form of separate panels that represent individual scenes, often accompanied by dialog as well as including...
s made extensive use of onomatopoeia. Popular culture historian Tim DeForest noted the impact of writer-artist
Roy Crane
Roy Crane
Royston Campbell Crane , who signed his work Roy Crane, was an influential American cartoonist who created the comic strip characters Wash Tubbs, Captain Easy and Buz Sawyer. He pioneered the adventure comic strip, establishing the conventions and artistic approach of that genre. Comics historian...
(1901–1977), the creator of
Captain Easy
Captain Easy
Captain Easy, Soldier of Fortune was an action/adventure comic strip created by Roy Crane that was syndicated by Newspaper Enterprise Association beginning on Sunday, July 30, 1933...
and
Buz Sawyer
Buz Sawyer
Buz Sawyer was a popular comic strip created by Roy Crane and highly regarded by comic strip historians. Distributed by King Features Syndicate, it had a long run from November 1, 1943 to 1989. The last strip signed by Crane was dated 21 April 1979....
:
It was Crane who pioneered the use of onomatopoeic sound effects in comics, adding "bam," "pow" and "wham" to what had previously been an almost entirely visual vocabulary. Crane had fun with this, tossing in an occasional "ker-splash" or "lickety-wop" along with what would become the more standard effects. Words as well as images became vehicles for carrying along his increasingly fast-paced storylines.
In 2002,
DC Comics
DC Comics
DC Comics, Inc. is one of the largest and most successful companies operating in the market for American comic books and related media. It is the publishing unit of DC Entertainment a company of Warner Bros. Entertainment, which itself is owned by Time Warner...
introduced a villain named
Onomatopoeia
Onomatopoeia (comics)
Onomatopoeia is a DC Comics supervillain, an enemy of Green Arrow and Batman. He first appeared in Green Arrow #12 . He was created by writer Kevin Smith and artist Phil Hester...
, an athlete, martial artist and weapons expert who only speaks sounds.
Advertising
Advertising
Advertising is a form of communication used to persuade an audience to take some action with respect to products, ideas, or services. Most commonly, the desired result is to drive consumer behavior with respect to a commercial offering, although political and ideological advertising is also common...
uses onomatopoeia as a
mnemonic
Mnemonic
A mnemonic , or mnemonic device, is any learning technique that aids memory. To improve long term memory, mnemonic systems are used to make memorization easier. Commonly encountered mnemonics are often verbal, such as a very short poem or a special word used to help a person remember something,...
, so consumers will remember their products, as in
Alka-Seltzer
Alka-Seltzer
Alka-Seltzer is an effervescent antacid and pain reliever first marketed by the Dr. Miles Medicine Company. It was developed by Treneer in Elkhart Indiana. Alka-Seltzer is marketed for relief of minor aches, pains, inflammation, fever, headache, heartburn, sour stomach, indigestion, and hangovers,...
's "Plop, plop, fizz, fizz. Oh, what a relief it is!" jingle, recorded in two different versions (big band and rock) by
Sammy Davis, Jr.
Sammy Davis, Jr.
Samuel George "Sammy" Davis Jr. was an American entertainer and was also known for his impersonations of actors and other celebrities....
Rice Krispies
Rice Krispies
Rice Krispies is a breakfast cereal that was created by Clayton Rindlisbacher for the Kellogg company, and later marketed by Kellogg's in 1927 and released to the public in 1928...
(US and UK) and Rice Bubbles (AU) make a "snap, crackle, pop" when one pours on milk. During the 1930s, the illustrator Vernon Grant developed
Snap, Crackle and Pop
Snap, Crackle and Pop
Snap, Crackle, and Pop! are the cartoon mascots of Kellogg's breakfast cereal Rice Krispies -History:The elf characters were originally designed by illustrator Vernon Grant in the early 1930s...
as gnome-like mascots for the
Kellogg Company
Kellogg Company
Kellogg Company , is a producer of cereal and convenience foods, including cookies, crackers, toaster pastries, cereal bars, fruit-flavored snacks, frozen waffles, and vegetarian foods...
.
Sounds surface in road safety advertisements: "clunk click, every trip" (click the seatbelt on after clunking the car door closed; UK campaign) or "click, clack, front and back" (click, clack of connecting the seatbelts; AU campaign) or "click it or ticket" (click of the connecting seatbelt; US DOT campaign).
Manner imitation
In many of the world's languages, onomatopoeia-like words are used to describe phenomena apart from the purely auditive.
Japanese
Japanese language
is a language spoken by over 130 million people in Japan and in Japanese emigrant communities. It is a member of the Japonic language family, which has a number of proposed relationships with other languages, none of which has gained wide acceptance among historical linguists .Japanese is an...
often utilizes such words to describe feelings or figurative expressions about objects or concepts. For instance, Japanese
barabara
is used to reflect an object's state of disarray or separation, and
shiiin
is the onomatopoetic form of absolute silence (used at the time an English speaker might expect to hear the sound of
cricket
Cricket (insect)
Crickets, family Gryllidae , are insects somewhat related to grasshoppers, and more closely related to katydids or bush crickets . They have somewhat flattened bodies and long antennae. There are about 900 species of crickets...
s chirping or a pin dropping in a silent room, or someone coughing). It is used in
English
English language
English is a West Germanic language that arose in the Anglo-Saxon kingdoms of England and spread into what was to become south-east Scotland under the influence of the Anglian medieval kingdom of Northumbria...
as well with terms like
bling
, which describes the glinting of light on things like gold, chrome or precious stones. In Japanese,
kirakira
is used for glittery things.
Examples in media
Whaam!

Whaam!

Whaam! by pop artist Roy Lichtenstein. It is widely regarded as one of his finest and notable works. It follows the comic strip-based themes of some of his past paintings....


(1963) by Roy Lichtenstein

Roy Lichtenstein

Roy Lichtenstein was a prominent American pop artist. During the 1960s his paintings were exhibited at the Leo Castelli Gallery in New York City and along with Andy Warhol, Jasper Johns, James Rosenquist and others he became a leading figure in the new art movement...


is an early example of pop art

Pop art

Pop art is an art movement that emerged in the mid 1950s in Britain and in the late 1950s in the United States. Pop art challenged tradition by asserting that an artist's use of the mass-produced visual commodities of popular culture is contiguous with the perspective of fine art...


, featuring a reproduction of comic book art that depicts a fighter aircraft striking another with rockets with dazzling red and yellow explosions.
Marvel Comics

Marvel Comics

Marvel Worldwide, Inc., commonly referred to as Marvel Comics and formerly Marvel Publishing, Inc. and Marvel Comics Group, is an American company that publishes comic books and related media...


has trademarked two words of their own invention: thwip!, the sound of Spider-Man

Spider-Man

Spider-Man is a fictional Marvel Comics superhero. The character was created by writer-editor Stan Lee and writer-artist Steve Ditko. He first appeared in Amazing Fantasy #15...


's web shooter, and snikt! the switchblade-sound of Wolverine

Wolverine (comics)

Wolverine is a fictional character, a superhero that appears in comic books published by Marvel Comics. Born as James Howlett and commonly known as Logan, Wolverine is a mutant, possessing animal-keen senses, enhanced physical capabilities, three retracting bone claws on each hand and a healing...


's claws locking into place (which was replaced with the lesser-known schlikt during the period he was left without the adamantium covering on his bones). Marvel also uses the sound effect

Sound effect

For the album by The Jam, see Sound Affects.Sound effects or audio effects are artificially created or enhanced sounds, or sound processes used to emphasize artistic or other content of films, television shows, live performance, animation, video games, music, or other media...


"bamf

Bamf

Bamf , originally Bampf, is a onomatopoeic term from the Marvel Universe.-Sound:"Bamf" in the Marvel Universe is onomatopoeia relating to the fictional character Nightcrawler and the resulting sound he makes when he teleports. The sound is caused by air rushing into the space where Nightcrawler's...


" to signify Nightcrawler

Nightcrawler (comics)

Nightcrawler is a fictional character, a comic book superhero in the Marvel Universe. He has been associated with both the X-Men and Excalibur, originally appearing in comic books published by Marvel Comics. Created by writer Len Wein and artist Dave Cockrum, he debuted in Giant-Size X-Men #1...


's teleportation.
In Doctor Who

Doctor Who

Doctor Who is a British science fiction television programme produced by the BBC. The programme depicts the adventures of a time-travelling humanoid alien known as the Doctor who explores the universe in a sentient time machine called the TARDIS that flies through time and space, whose exterior...


comic strip

Comic strip

A comic strip is a sequence of drawings arranged in interrelated panels to display brief humor or form a narrative, often serialized, with text in balloons and captions....


s, the sound of the Tardis

TARDIS

The TARDISGenerally, TARDIS is written in all upper case letters—this convention was popularised by the Target novelisations of the 1970s...


is represented as vworp! vworp!
In the Garfield

Garfield

Garfield is a comic strip created by Jim Davis. Published since June 19, 1978, it chronicles the life of the title character, the cat Garfield ; his owner, Jon Arbuckle; and Arbuckle's dog, Odie...


comic strip and television series, there is a running gag about a "splut," which is usually the sound of a pie hitting someone in the face.

For example, Garfield once kicked Odie, but instead of 'kick' it said 'blagoonga', with Garfield remarking to Jon that Odie needs to be tuned

The late Mad

Mad (magazine)

Mad is an American humor magazine founded by editor Harvey Kurtzman and publisher William Gaines in 1952. Launched as a comic book before it became a magazine, it was widely imitated and influential, impacting not only satirical media but the entire cultural landscape of the 20th century.The last...


cartoonist Don Martin often used such words in his artwork, to comic effect.
In the 1960s TV series Batman

Batman (TV series)

Batman is an American television series, based on the DC comic book character of the same name. It stars Adam West as Batman and Burt Ward as Robin — two crime-fighting heroes who defend Gotham City. It aired on the American Broadcasting Company network for three seasons from January 12, 1966 to...


, comic book style onomatopoeias such as wham!, pow!, "biff!", crunch and "zounds" appear onscreen during fight scenes. This is often the subject of parody, for example in the Simpsons

The Simpsons

The Simpsons is an American animated sitcom created by Matt Groening for the Fox Broadcasting Company. The series is a satirical parody of a middle class American lifestyle epitomized by its family of the same name, which consists of Homer, Marge, Bart, Lisa and Maggie...


episode "Radioactive Man

Radioactive Man (The Simpsons episode)

"Radioactive Man" is the second episode of The Simpsons seventh season. It originally aired on the Fox network in the United States on September 24, 1995. The episode sees the film version of the comic book series Radioactive Man set up production in Springfield. Much to Bart's disappointment, the...


" where the onomatopoeic words are replaced with snuh!, newt! and mint! which are references to other Simpsons episodes. There are also internet memes with a picture of Batman and the caption "I can punch you so hard words will appear in thin air." or a variation thereof.
Ubisoft

Ubisoft

Ubisoft Entertainment S.A. is a major French video game publisher and developer, with headquarters in Montreuil, France. The company has a worldwide presence with 25 studios in 17 countries and subsidiaries in 26 countries....


's XIII

XIII (video game)

XIII is a first-person shooter video game, developed by Ubisoft. It was released for the Xbox, PlayStation 2 and Nintendo GameCube consoles and the Microsoft Windows and Mac OS X operating systems. The game is based upon the 1984 Belgian XIII comic book series.XIII was developed and published by...


employed the use of comic book onomatopoeias such as bam!, boom and noooo! during gameplay for gunshots, explosions and kills, respectively. The comic-book style is apparent throughout the game and is a core theme, and the game is an adaptation of a comic book of the same name

XIII (comic book)

XIII is a Franco-Belgian comics series written and drawn by Belgians Jean Van Hamme and William Vance, revolving around an amnesiac protagonist who seeks to discover his concealed past. With its plot inspired by Robert Ludlum's book The Bourne Identity, XIII was initially serialised in 1984 in...


.
In the movie Winnie the Pooh: Springtime with Roo, Tigger lists onomatopoeia as a possible word that Rabbit doesn't allow to be said in his house. Tigger also announces that onomatopoeia is in fact a real word. The irony in this being that "Pooh" got his name from the sound he made when trying to blow a bee off of his nose.
The onomatopoeia that is said to be heard at a typical Disco Biscuits

Disco Biscuits

The Disco Biscuits are a band from Philadelphia, Pennsylvania known for their live performances and light shows. The band consists of Allen Aucoin , Marc Brownstein , Jon Gutwillig , and Aron Magner ....


(a popular jamband) show is untz. This description seems to have originated from an interview with Bob Dylan

Bob Dylan

Bob Dylan is an American singer-songwriter, musician, poet, film director and painter. He has been a major and profoundly influential figure in popular music and culture for five decades. Much of his most celebrated work dates from the 1960s when he was an informal chronicler and a seemingly...


, who said "I kept hearing this, untz..untz..untz..untz..(sound in the background of all the music)"
In book 4 of Jonathan Swift's

Jonathan Swift

Jonathan Swift was an Irish satirist, essayist, political pamphleteer , poet and cleric who became Dean of St...


novel Gulliver's Travels

Gulliver's Travels

Travels into Several Remote Nations of the World, in Four Parts. By Lemuel Gulliver, First a Surgeon, and then a Captain of Several Ships, better known simply as Gulliver's Travels , is a novel by Anglo-Irish writer and clergyman Jonathan Swift that is both a satire on human nature and a parody of...


, the name of the Houyhnhnms is an onomatopoeia for the whinny of a horse.
The chorus of American popular song writer John Prine

John Prine

John Prine is an American country/folk singer-songwriter. He has been active as a recording artist and live performer since the early 1970s.-Biography:...


's song "Onomatopoeia" cleverly incorporates onomatopoeic words (though as discussed, 'ouch!' is not the sound of pain): "Bang! went the pistol. | Crash! went the window. | Ouch! went the son of a gun. | Onomatopoeia | I don't wanna see ya | Speaking in a foreign tongue."
Todd Rundgren

Todd Rundgren

Todd Harry Rundgren is an American multi-instrumentalist, songwriter and record producer. Hailed in the early stage of his career as a new pop-wunderkind, supported by the certified gold solo double LP Something/Anything? in 1972, Todd Rundgren's career has produced a diverse range of recordings...


wrote a humorous song "Onomatopoeia" which uses many examples in this "Love Song". Examples in the song start out reasonable and start to get more ludicrous as the song goes on.
The comic strip For Better or For Worse

For Better or For Worse

For Better or For Worse is a comic strip by Lynn Johnston that ran for 30 years, chronicling the lives of a Canadian family, The Pattersons, and their friends. The story is set in the fictitious Toronto-area suburban town of Milborough, Ontario. Johnston's strip began in September 1979, and ended...


is notorious for using non-onomatopoeic verbs as onomatopoeias, such as "Scrape," to indicate a person shaving, or "Tie," to illustrate someone tying a string around a package.
A well-known rhetorical question is "Why doesn't onomatopoeia sound like what it is?". Iain M. Banks

Iain Banks

Iain Banks is a Scottish writer. He writes mainstream fiction under the name Iain Banks, and science fiction as Iain M. Banks, including the initial of his adopted middle name Menzies...


references this in his novel Against a Dark Background

Against a Dark Background

Against a Dark Background is a science fiction novel by Scottish writer Iain M. Banks, first published in 1993.It was his first science fiction novel not to be based or set in the Culture.-Plot summary:...


, when a character claims that the word onomatopoeia is spelled "just the way it sounds!".
"Kerplunk" was used in the video game Final Fantasy VIII

Final Fantasy VIII

is a role-playing video game released for the PlayStation in 1999 and for Windows-based personal computers in 2000. It was developed and published by Square as the Final Fantasy series' eighth title, removing magic point-based spell-casting and the first title to consistently use realistically...


as the name of one of the Guardian Force Cactuar's attacks. For the Guardian Force Tonberry, the humorously out of place onomatopoeia of doink! is written on-screen during its powerful knife stab attack.
In the video game Brave Story: New Traveler

Brave Story: New Traveler

is a video game loosely based in the world of the novel and manga Brave Story. It was released in Japan on July 6, 2006. An English version, published and localized by Xseed Games, was released on July 31, 2007 in North America.-Plot summary:...


, an onomatopoeia appears wherever an attack hits its target.
The January 8, 2008 comic of Ozy and Millie featured a panel in which Millie repeats the word "Splorsh" and Ozy quips "I've noticed you find Onomatopoeia extremely distracting."
The marble game KerPlunk

KerPlunk (game)

KerPlunk is a children's game first marketed by the Ideal Toy Company in 1967.The game consists of a transparent plastic tube, plastic rods called straws and a number of marbles...


is an onomatopoeia for the sound of the marbles

Marbles

A marble is a small spherical toy usually made from glass, clay, steel, or agate. These balls vary in size. Most commonly, they are about ½ inch in diameter, but they may range from less than ¼ inch to over 3 inches , while some art glass marbles fordisplay purposes are over 12 inches ...


dropping when one too many sticks has been removed.
The Nickelodeon

Nickelodeon (TV channel)

Nickelodeon, often simply called Nick and originally named Pinwheel, is an American children's channel owned by MTV Networks, a subsidiary of Viacom International. The channel is primarily aimed at children ages 7–17, with the exception of their weekday morning program block aimed at preschoolers...


cartoon Kablam is implied to be onomotapoeic to a crash.
In a 2002 episode of The West Wing, Rob Lowe

Rob Lowe

Robert Hepler "Rob" Lowe is an American actor. Lowe came to prominence after appearing in films such as The Outsiders, Oxford Blues, About Last Night..., St. Elmo's Fire, and Wayne's World. On television, Lowe is known for his role as Sam Seaborn on The West Wing and his role as Senator Robert...


(Sam Seaborn

Sam Seaborn

Samuel Norman "Sam" Seaborn is a fictional character portrayed by Rob Lowe on the television serial drama The West Wing. He is best known for being Deputy White House Communications Director in the Josiah Bartlet administration throughout the first four seasons of the series.-Creation and...


) and Ian McShane

Ian McShane

Ian David McShane is an English actor, director, producer, voice artist, and comedian.Despite appearing in numerous films, McShane is best known for his television roles, particularly the BBC's Lovejoy and HBO's Western drama Deadwood...


(portraying a Russian negotiator) have a conversation about how the word 'frumpy' "onomatopoetically sounds right".
In an episode of Duckman

Duckman

Duckman: Private Dick/Family Man is an American animated sitcom that aired from 1994–1997, created by Everett Peck and developed by Peck. The sitcom is based on characters created by Peck in his Dark Horse comic...


, a fight between Duckman and King Chicken crashes through a college classroom where Ajax was earlier giving a presentation on onomatopoeia. They tumble through a series of signs from the presentation on their way through, each labeled with the appropriate onomatopoeia for the sound effect that plays during the fight.
In one issue of Punisher

Punisher

The Punisher is a fictional character, an anti-hero appearing in comic books based in the . Created by writer Gerry Conway and artists John Romita, Sr., and Ross Andru, the character made its first appearance in The Amazing Spider-Man #129 .The Punisher is a vigilante who employs murder,...


, "funt" was used as the sound of a fired silenced pistol.
Each episode of the TV series Harper's Island was given an onomatopoeic name which imitates the sound made in that episode when a character dies. For example, in the episode titled "Bang" a character is shot and fatally wounded, with the "Bang" mimicking the sound of the gunshot.
In The Transformers, the Autobot Warpath spoke with onomatopoeia in his speech, which included "Zowie", "Wham", "Bang", "Blam", "Zing", "Whack", "Zack", "Zorch", "Zang", "Woosh", "Bam", "Zoom", "Zap", "Boom", "Kazowy", "Wow", "Clang", "Pow", "Zingo", and "Boing" among others.
See also
Anguish Languish
Animal sounds
Sound symbolism

Sound symbolism

Sound symbolism or phonosemantics is a branch of linguistics and refers to the idea that vocal sounds have meaning. In particular, sound symbolism is the idea that phonemes carry meaning in and of themselves.-Origin:...




Japanese sound symbolism

Japanese sound symbolism

This article describes sound symbolic or mimetic words in the Japanese language. Most languages have such words; for example, "bang", "zap", "ding", "slither", "pop", etc. in English. Sound symbolic words occur more often in Japanese than in English—they are found in formal as well as vernacular...




Vocal learning

Vocal learning

Vocal learning is the ability of animals to modify vocal signals in form as a result of experience with those of other individuals. This can lead to signals that are either similar or dissimilar to the model...



External links