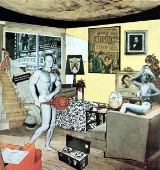 Pop art
Pop art
is an
art movement
Art movement
An art movement is a tendency or style in art with a specific common philosophy or goal, followed by a group of artists during a restricted period of time, or, at least, with the heyday of the movement defined within a number of years...
that emerged in the mid 1950s in Britain and in the late 1950s in the
United States
United States
The United States of America is a federal constitutional republic comprising fifty states and a federal district...
. Pop art challenged tradition by asserting that an artist's use of the mass-produced visual commodities of popular culture is contiguous with the perspective of
fine art
Fine art
Fine art or the fine arts encompass art forms developed primarily for aesthetics and/or concept rather than practical application. Art is often a synonym for fine art, as employed in the term "art gallery"....
. Pop removes the material from its context and isolates the object, or combines it with other objects, for contemplation. The concept of pop art refers not as much to the art itself as to the attitudes that led to it.
Pop art employs aspects of mass culture, such as
advertising
Advertising
Advertising is a form of communication used to persuade an audience to take some action with respect to products, ideas, or services. Most commonly, the desired result is to drive consumer behavior with respect to a commercial offering, although political and ideological advertising is also common...
, comic books and mundane cultural objects.