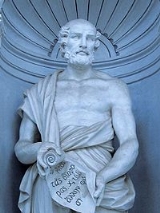 Theophrastus
Theophrastus
a Greek native of
Eresos
Eresos
Eresos and its twin beach village Skala Eresou are located in the southwest part of the Greek island of Lesbos. They are villages visited by considerable number of tourists...
in
Lesbos
Lesbos Island
Lesbos is a Greek island located in the northeastern Aegean Sea. It has an area of with 320 kilometres of coastline, making it the third largest Greek island. It is separated from Turkey by the narrow Mytilini Strait....
, was the successor to
Aristotle
Aristotle
Aristotle was a Greek philosopher and polymath, a student of Plato and teacher of Alexander the Great. His writings cover many subjects, including physics, metaphysics, poetry, theater, music, logic, rhetoric, linguistics, politics, government, ethics, biology, and zoology...
in the Peripatetic school. He came to
Athens
Athens
Athens , is the capital and largest city of Greece. Athens dominates the Attica region and is one of the world's oldest cities, as its recorded history spans around 3,400 years. Classical Athens was a powerful city-state...
at a young age, and initially studied in
Plato's school
Platonic Academy
The Academy was founded by Plato in ca. 387 BC in Athens. Aristotle studied there for twenty years before founding his own school, the Lyceum. The Academy persisted throughout the Hellenistic period as a skeptical school, until coming to an end after the death of Philo of Larissa in 83 BC...
. After Plato's death he attached himself to Aristotle. Aristotle bequeathed to Theophrastus his writings, and designated him as his successor at the
Lyceum
Lyceum (Classical)
The Lyceum was a gymnasium and public meeting place in Classical Athens named after the god of the grove that housed the Lyceum, Apollo Lyceus...
. Theophrastus presided over the Peripatetic school for thirty-six years, during which time the school flourished greatly.