 Nucleophilic conjugate addition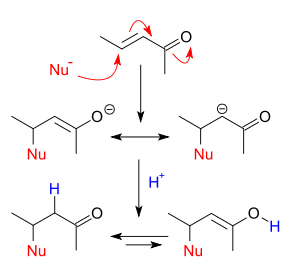 Nucleophilic conjugate addition
is a type of
organic reaction
Organic reaction
Organic reactions are chemical reactions involving organic compounds. The basic organic chemistry reaction types are addition reactions, elimination reactions, substitution reactions, pericyclic reactions, rearrangement reactions, photochemical reactions and redox reactions. In organic synthesis,...
. Ordinary
nucleophilic addition
Nucleophilic addition
In organic chemistry, a nucleophilic addition reaction is an addition reaction where in a chemical compound a π bond is removed by the creation of two new covalent bonds by the addition of a nucleophile....
s or
1,2-nucleophilic additions
deal mostly with additions to
carbonyl
Carbonyl
In organic chemistry, a carbonyl group is a functional group composed of a carbon atom double-bonded to an oxygen atom: C=O. It is common to several classes of organic compounds, as part of many larger functional groups....
compounds. Simple
alkene
Alkene
In organic chemistry, an alkene, olefin, or olefine is an unsaturated chemical compound containing at least one carbon-to-carbon double bond...
compounds do not show 1,2 reactivity due to lack of
polarity
Chemical polarity
In chemistry, polarity refers to a separation of electric charge leading to a molecule or its chemical groups having an electric dipole or multipole moment. Polar molecules interact through dipole–dipole intermolecular forces and hydrogen bonds. Molecular polarity is dependent on the difference in...
, unless the alkene is activated with special
substituent
Substituent
In organic chemistry and biochemistry, a substituent is an atom or group of atoms substituted in place of a hydrogen atom on the parent chain of a hydrocarbon...
s. With
α,β-unsaturated carbonyl compound
Enone
An enone is an unsaturated chemical compound or functional group consisting of a conjugated system of an alkene and a ketone. The simplest enone is methyl vinyl ketone or CH2=CHCOCH3....
s such as
cyclohexenone
Cyclohexenone
Cyclohexenone is an organic compound which is a versatile intermediate used in the synthesis of a variety of chemical products such as pharmaceuticals and fragrances...
it can be deduced from resonance structures that the β position is an
electrophilic
Electrophile
In general electrophiles are positively charged species that are attracted to an electron rich centre. In chemistry, an electrophile is a reagent attracted to electrons that participates in a chemical reaction by accepting an electron pair in order to bond to a nucleophile...
site which can react with a
nucleophile
Nucleophile
A nucleophile is a species that donates an electron-pair to an electrophile to form a chemical bond in a reaction. All molecules or ions with a free pair of electrons can act as nucleophiles. Because nucleophiles donate electrons, they are by definition Lewis bases.Nucleophilic describes the...
. The negative charge in these structures is stored in as an
alkoxide
Alkoxide
An alkoxide is the conjugate base of an alcohol and therefore consists of an organic group bonded to a negatively charged oxygen atom. They can be written as RO−, where R is the organic substituent. Alkoxides are strong bases and, when R is not bulky, good nucleophiles and good ligands...
anion. Such a nucleophilic addition is called a nucleophilic
conjugate
Conjugated system
In chemistry, a conjugated system is a system of connected p-orbitals with delocalized electrons in compounds with alternating single and multiple bonds, which in general may lower the overall energy of the molecule and increase stability. Lone pairs, radicals or carbenium ions may be part of the...
addition or
1,4-nucleophilic addition
. The most important active alkenes are the aforementioned conjugated carbonyls and
acrylonitrile
Acrylonitrile
Acrylonitrile is the chemical compound with the formula C3H3N. This pungent-smelling colorless liquid often appears yellow due to impurities. It is an important monomer for the manufacture of useful plastics. In terms of its molecular structure, it consists of a vinyl group linked to a nitrile...
s.
Reaction mechanism
Conjugate addition is the
vinylogous
Vinylogous
Vinylogous is an adjective used to apply the concept of vinylogy taught in intermediate undergraduate through graduate/research organic chemistry. Vinylogy has been defined as the transmission of electronic effects through a conjugated organic bonding system...
counterpart of direct nucleophilic addition. A
nucleophile
Nucleophile
A nucleophile is a species that donates an electron-pair to an electrophile to form a chemical bond in a reaction. All molecules or ions with a free pair of electrons can act as nucleophiles. Because nucleophiles donate electrons, they are by definition Lewis bases.Nucleophilic describes the...
reacts with a
α,β-unsaturated carbonyl compound
Enone
An enone is an unsaturated chemical compound or functional group consisting of a conjugated system of an alkene and a ketone. The simplest enone is methyl vinyl ketone or CH2=CHCOCH3....
in the β position. The negative charge carried by the nucleophile is now delocalized in the alkoxide anion and the α carbon
carbanion
Carbanion
A carbanion is an anion in which carbon has an unshared pair of electrons and bears a negative charge usually with three substituents for a total of eight valence electrons. The carbanion exists in a trigonal pyramidal geometry. Formally a carbanion is the conjugate base of a carbon acid.where B...
by resonance.
Protonation
Protonation
In chemistry, protonation is the addition of a proton to an atom, molecule, or ion. Some classic examples include*the protonation of water by sulfuric acid:*the protonation of isobutene in the formation of a carbocation:2C=CH2 + HBF4 → 3C+ + BF4−*the protonation of ammonia in the...
leads through
Keto-enol tautomerism
Keto-enol tautomerism
In organic chemistry, keto-enol tautomerism refers to a chemical equilibrium between a keto form and an enol . The enol and keto forms are said to be tautomers of each other...
to the saturated carbonyl compound. In
vicinal difunctionalization
Vicinal difunctionalization
Vicinal difunctionalization refers to a chemical reaction involving transformations at two adjacent centers . This transformation can be accomplished in α,β-unsaturated carbonyl compounds via the conjugate addition of a nucleophile to the β-position followed by trapping of the resulting enolate...
the proton is replaced by another electrophile.
Reactions
Scope
Conjugate addition is effective in the formation of new
carbon-carbon bond
Carbon-carbon bond
A carbon–carbon bond is a covalent bond between two carbon atoms. The most common form is the single bond: a bond composed of two electrons, one from each of the two atoms. The carbon–carbon single bond is a sigma bond and is said to be formed between one hybridized orbital from each...
s with the aid of organometallic reagents such as the organozinc iodide reaction with methylvinylketone.

An example of an asymmetric synthesis by conjugate addition is the synthesis of (R)-3-phenyl-cyclohexanone from cyclohexenone,
phenylboronic acid
Phenylboronic acid
Phenylboronic acid or benzeneboronic acid, abbreviated as PhB2 where Ph is the phenyl group C6H5-, is a boronic acid containing a phenyl substituent and two hydroxyl groups attached to boron. Phenylboronic acid is white powder and is commonly used in organic synthesis...
, a
rhodium
Rhodium
Rhodium is a chemical element that is a rare, silvery-white, hard and chemically inert transition metal and a member of the platinum group. It has the chemical symbol Rh and atomic number 45. It is composed of only one isotope, 103Rh. Naturally occurring rhodium is found as the free metal, alloyed...
acac catalyst and the
chiral ligand
Chiral ligand
In chemistry a chiral ligand is a specially adapted ligand used for asymmetric synthesis. This ligand is an enantiopure organic compound which combines with a metal center by chelation to form an asymmetric catalyst. This catalyst engages in a chemical reaction and transfers its chirality to the...
BINAP
BINAP
BINAP is an abbreviation for the organophosphorus compound 2,2'-bis-1,1'-binaphthyl. This chiral ligand is widely used in asymmetric synthesis. It consists of a pair of 2-diphenylphosphinonaphthyl groups linked at the 1 and 1´ positions. This C2-symmetric framework lacks stereogenic atom, but...
.

In another example of asymmetric synthesis the α,β-unsaturated carbonyl compound first reacts with a
chiral
Chirality (chemistry)
A chiral molecule is a type of molecule that lacks an internal plane of symmetry and thus has a non-superimposable mirror image. The feature that is most often the cause of chirality in molecules is the presence of an asymmetric carbon atom....
imidazolidinone catalyst and
chiral auxiliary
Chiral auxiliary
A chiral auxiliary is a chemical compound or unit that is temporarily incorporated into an organic synthesis so that it can be carried out asymmetrically with the selective formation of one of two enantiomers...
to an
iminium
Iminium
An iminium salt or cation in organic chemistry has the general structure [R1R2C=NR3R4]+ and is as such a protonated or substituted imine. It is an intermediate in many organic reactions such as the Beckmann rearrangement, Vilsmeier-Haack reaction, Stephen reaction or the Duff reaction...
compound in an
alkylimino-de-oxo-bisubstitution
Alkylimino-de-oxo-bisubstitution
Alkylimino-de-oxo-bisubstitution in organic chemistry is the organic reaction of carbonyl compounds with amines to imines . The reaction name is based on the IUPAC Nomenclature for Transformations...
which then reacts enantioselective with the
furan
Furan
Furan is a heterocyclic organic compound, consisting of a five-membered aromatic ring with four carbon atoms and one oxygen. The class of compounds containing such rings are also referred to as furans....
nucleophile. The immediate reaction product is an nucleophilic
enamine
Enamine
An enamine is an unsaturated compound derived by the reaction of an aldehyde or ketone with a secondary amine followed by loss of H2O.The word "enamine" is derived from the affix en-, used as the suffix of alkene, and the root amine. This can be compared with enol, which is a functional group...
and the reaction
cascades
Cascade reaction
A cascade reaction or tandem reaction or domino reaction is a consecutive series of intramolecular organic reactions which often proceed via highly reactive intermediates. It allows the organic synthesis of complex multinuclear molecules from a single acyclic precursor. The substrate contains many...
with abstraction of chlorine from a chlorinated
quinone
Quinone
A quinone is a class of organic compounds that are formally "derived from aromatic compounds [such as benzene or naphthalene] by conversion of an even number of –CH= groups into –C– groups with any necessary rearrangement of double bonds," resulting in "a fully conjugated cyclic dione structure."...
. After removal of the amine catalyst the ketone is effectively functionalized with a nucleophile and an electrophile with
syn:anti
Syn addition
In organic chemistry, syn and anti addition are different ways in which two substituents can be added to a double bond or triple bond. This article will use alkenes as examples....
ratio of 8:1 and 97%
enantiomeric excess
Enantiomeric excess
The enantiomeric excess of a substance is a measure of how pure it is. In this case, the impurity is the undesired enantiomer .-Definition:...
.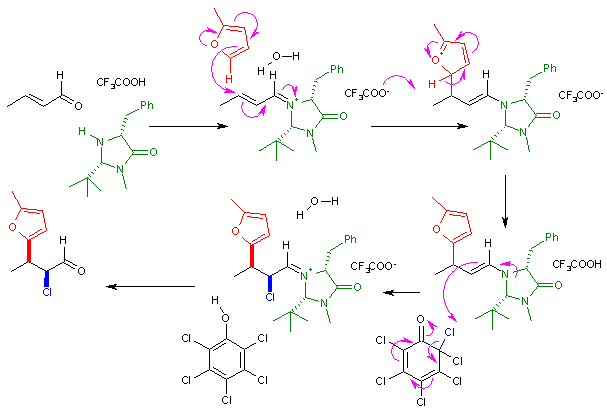 This principle is also applied in an enantioselective
multicomponent
Multi-component reaction
In chemistry, a multi-component reaction , sometimes referred to as a "Multi-component Assembly Process" , is a chemical reaction where three or more compounds react to form a single product...
domino conjugated Addition of nucleophilic
thiol
Thiol
In organic chemistry, a thiol is an organosulfur compound that contains a carbon-bonded sulfhydryl group...
s such as benzyl mercaptan and electrophilic
DEAD
Diethyl azodicarboxylate
Diethyl azodicarboxylate, conventionally abbreviated as DEAD and sometimes as DEADCAT, is an organic compound with the structural formula CH3CH2O2CN=NCO2CH2CH3. Its molecular structure consists of a central azo functional group, RN=NR, flanked by two ethyl ester groups. This orange-red liquid is a...
.

Toxicology
Suitably soluble Michael acceptors are toxic, because they alkylate DNA by conjugate addition. Such modification induces mutations, which are cytotoxic and carcinogenic. However,
glutathione
Glutathione
Glutathione is a tripeptide that contains an unusual peptide linkage between the amine group of cysteine and the carboxyl group of the glutamate side-chain...
is also able to react with them and for example
dimethyl fumarate
Dimethyl fumarate
Dimethyl fumarate is the methyl ester of fumaric acid.-Reactions:Dimethyl fumarate is an ester and an α,β-unsaturated electrophilic compound, undergoing reactions typical to them. It is also a diene acceptor in the ordinary Diels-Alder reaction, where the reactivity of its vinylidenic bond is...
reacts with it.