 Alkylimino-de-oxo-bisubstitution

Alkylimino-de-oxo-bisubstitution
in
organic chemistry
Organic chemistry
Organic chemistry is a subdiscipline within chemistry involving the scientific study of the structure, properties, composition, reactions, and preparation of carbon-based compounds, hydrocarbons, and their derivatives...
is the
organic reaction
Organic reaction
Organic reactions are chemical reactions involving organic compounds. The basic organic chemistry reaction types are addition reactions, elimination reactions, substitution reactions, pericyclic reactions, rearrangement reactions, photochemical reactions and redox reactions. In organic synthesis,...
of
carbonyl
Carbonyl
In organic chemistry, a carbonyl group is a functional group composed of a carbon atom double-bonded to an oxygen atom: C=O. It is common to several classes of organic compounds, as part of many larger functional groups....
compounds with
amine
Amine
Amines are organic compounds and functional groups that contain a basic nitrogen atom with a lone pair. Amines are derivatives of ammonia, wherein one or more hydrogen atoms have been replaced by a substituent such as an alkyl or aryl group. Important amines include amino acids, biogenic amines,...
s to
imine
Imine
An imine is a functional group or chemical compound containing a carbon–nitrogen double bond, with the nitrogen attached to a hydrogen atom or an organic group. If this group is not a hydrogen atom, then the compound is known as a Schiff base...
s . The reaction name is based on the
IUPAC Nomenclature for Transformations
IUPAC Nomenclature for Transformations
The IUPAC Nomenclature for Transformations is a methodology for naming a chemical reaction. Traditionally a chemical reaction especially in organic chemistry is named after its inventor, the so called named reaction, to name just a few: Knoevenagel condensation, Wittig reaction or Diels-Alder...
. The reaction is
acid catalyzed
Acid catalysis
In acid catalysis and base catalysis a chemical reaction is catalyzed by an acid or a base. The acid is often the proton and the base is often a hydroxyl ion. Typical reactions catalyzed by proton transfer are esterfications and aldol reactions. In these reactions the conjugate acid of the carbonyl...
and the reaction type is
nucleophilic addition
Nucleophilic addition
In organic chemistry, a nucleophilic addition reaction is an addition reaction where in a chemical compound a π bond is removed by the creation of two new covalent bonds by the addition of a nucleophile....
of the amine to the carbonyl compound followed by transfer of a
proton
Hydrogen ion
Hydrogen ion is recommended by IUPAC as a general term for all ions of hydrogen and its isotopes.Depending on the charge of the ion, two different classes can be distinguished: positively charged ions and negatively charged ions....
from nitrogen to oxygen to a stable
carbinolamine
. With primary amines water is lost in an
elimination reaction
Elimination reaction
An elimination reaction is a type of organic reaction in which two substituents are removed from a molecule in either a one or two-step mechanism...
to an
imine
Imine
An imine is a functional group or chemical compound containing a carbon–nitrogen double bond, with the nitrogen attached to a hydrogen atom or an organic group. If this group is not a hydrogen atom, then the compound is known as a Schiff base...
. With
aryl
Aryl
In the context of organic molecules, aryl refers to any functional group or substituent derived from an aromatic ring, be it phenyl, naphthyl, thienyl, indolyl, etc....
amines especially stable
Schiff base
Schiff base
A Schiff base, named after Hugo Schiff, is a compound with a functional group that contains a carbon-nitrogen double bond with the nitrogen atom connected to an aryl or alkyl group, not hydrogen....
s are formed.
Reaction mechanism
The reaction steps are
reversible reaction
Reversible reaction
A reversible reaction is a chemical reaction that results in an equilibrium mixture of reactants and products. For a reaction involving two reactants and two products this can be expressed symbolically as...
s and the reaction is driven to completion by removal of water by
azeotropic distillation
Azeotropic distillation
In chemistry, azeotropic distillation is any of a range of techniques used to break an azeotrope in distillation. In chemical engineering, azeotropic distillation usually refers to the specific technique of adding another component to generate a new, lower-boiling azeotrope that is heterogeneous...
,
molecular sieve
Molecular sieve
A molecular sieve is a material containing tiny pores of a precise and uniform size that is used as an adsorbent for gases and liquids.Molecules small enough to pass through the pores are adsorbed while larger molecules are not. It is different from a common filter in that it operates on a...
s or
titanium tetrachloride
Titanium tetrachloride
Titanium tetrachloride is the inorganic compound with the formula TiCl4. It is an important intermediate in the production of titanium metal and the pigment titanium dioxide. TiCl4 is an unusual example of a metal halide that is highly volatile...
. Primary amines react through an unstable
hemiaminal
Hemiaminal
A hemiaminal is a functional group or type of chemical compound that has a hydroxyl group and an amine attached to the same carbon atom: -C-. R can be hydrogen or an alkyl group...
intermediate which then splits of water.

Secondary amines do not lose water easily because they do not have a proton available and instead they often react further to an
aminal
Aminal
An aminal or aminoacetal is a functional group or type of chemical compound that has two amine groups attached to the same carbon atom: -C-. Again R can be hydrogen or an alkyl group....
:

or when an α-carbonyl proton is present to an
enamine
Enamine
An enamine is an unsaturated compound derived by the reaction of an aldehyde or ketone with a secondary amine followed by loss of H2O.The word "enamine" is derived from the affix en-, used as the suffix of alkene, and the root amine. This can be compared with enol, which is a functional group...
:

In acidic environment the reaction product is an
iminium
Iminium
An iminium salt or cation in organic chemistry has the general structure [R1R2C=NR3R4]+ and is as such a protonated or substituted imine. It is an intermediate in many organic reactions such as the Beckmann rearrangement, Vilsmeier-Haack reaction, Stephen reaction or the Duff reaction...
salt by loss of water.
This reaction type is found in many Heterocycle preparations for example the
Povarov reaction
Povarov reaction
The Povarov reaction is an organic reaction described as a formal cycloaddition between an aromatic imine and an alkene. The imine in this organic reaction is a condensation reaction product from an aniline type compound and a benzaldehyde type compound . The alkene must be electron rich which...
and the Friedländer-synthesis to
quinoline
Quinoline
Quinoline is a heterocyclic aromatic organic compound. It has the formula C9H7N and is a colourless hygroscopic liquid with a strong odour. Aged samples, if exposed to light, become yellow and later brown...
s.
Because both components are so reactive a molecule does not carry an
aldehyde
Aldehyde
An aldehyde is an organic compound containing a formyl group. This functional group, with the structure R-CHO, consists of a carbonyl center bonded to hydrogen and an R group....
and an amine group at the same time unless the amine group is fitted with a protective group. As a further demonstration of reactivity one study explored the properties of an α-formyl
aziridine
Aziridine
Aziridines are organic compounds containing the aziridine functional group, a three-membered heterocycle with one amine group and two methylene groups...
which was found to dimerize as an
oxazolidine
Oxazolidine
Oxazolidine is a five-membered ring compound consisting of three carbons, a nitrogen, a hydrogen, and an oxygen. The oxygen and NH are the 1 and 3 positions, respectively. In oxazolidine derivatives, there is always a carbon between the oxygen and the nitrogen . All of the carbons in oxazolidines...
on formation from the corresponding
ester
Ester
Esters are chemical compounds derived by reacting an oxoacid with a hydroxyl compound such as an alcohol or phenol. Esters are usually derived from an inorganic acid or organic acid in which at least one -OH group is replaced by an -O-alkyl group, and most commonly from carboxylic acids and...
by organic reduction with DIBAL :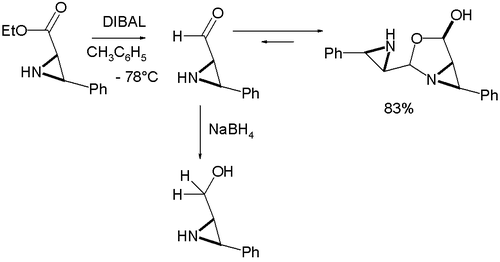 Iminium ion formation is prohibited in this molecule because the azirine group and the formyl group are said to be orthogonal.
Scope
In one potential application a particular electron-rich
cinnamaldehyde
Cinnamaldehyde
Cinnamaldehyde is the organic compound that gives cinnamon its flavor and odor. This pale yellow viscous liquid occurs naturally in the bark of cinnamon trees and other species of the genus Cinnamomum...
is able to differentiate between
cysteine
Cysteine
Cysteine is an α-amino acid with the chemical formula HO2CCHCH2SH. It is a non-essential amino acid, which means that it is biosynthesized in humans. Its codons are UGU and UGC. The side chain on cysteine is thiol, which is polar and thus cysteine is usually classified as a hydrophilic amino acid...
and
homocysteine
Homocysteine
Homocysteine is a non-protein amino acid with the formula HSCH2CH2CHCO2H. It is a homologue of the amino acid cysteine, differing by an additional methylene group. It is biosynthesized from methionine by the removal of its terminal Cε methyl group...
. With cysteine, a buffered water solution of the aldehyde changes from yellow to colorless due to a secondary ring closing reaction of the imine. Homocysteine is unable to give ring closure and the color does not change.

External links