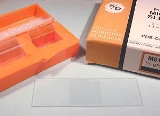 Microscope slide
A
microscope slide
is a thin flat piece of
glass
Glass
Glass is an amorphous solid material. Glasses are typically brittle and optically transparent.The most familiar type of glass, used for centuries in windows and drinking vessels, is soda-lime glass, composed of about 75% silica plus Na2O, CaO, and several minor additives...
, typically 75 by 25 mm (3 by 1 inches) and about 1 mm thick, used to hold objects for examination under a
microscope
Microscope
A microscope is an instrument used to see objects that are too small for the naked eye. The science of investigating small objects using such an instrument is called microscopy...
. Typically the object is placed or secured ("mounted") on the slide, and then both are inserted together in the microscope for viewing. This arrangement allows several slide-mounted objects to be quickly inserted and removed from the microscope, labeled, transported, and stored in appropriate slide cases or folders.
Microscope slides are often used together with a
cover slip
Cover slip
A cover slip or cover glass is a thin flat piece of transparent material, usually square or rectangular, about 20 mm wide and a fraction of a millimetre thick, that is placed over objects for viewing with a microscope...
or cover glass, a smaller and thinner sheet of glass that is placed over the specimen. Slides are held in place on the microscope's stage by slide clips or slide clamps.
History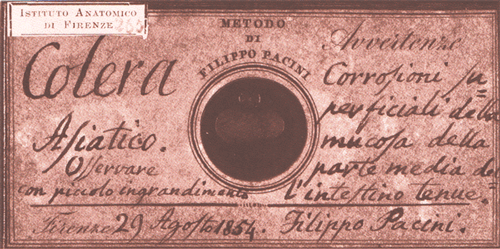 The origin of the concept was pieces of
ivory
Ivory
Ivory is a term for dentine, which constitutes the bulk of the teeth and tusks of animals, when used as a material for art or manufacturing. Ivory has been important since ancient times for making a range of items, from ivory carvings to false teeth, fans, dominoes, joint tubes, piano keys and...
or
bone
Bone
Bones are rigid organs that constitute part of the endoskeleton of vertebrates. They support, and protect the various organs of the body, produce red and white blood cells and store minerals. Bone tissue is a type of dense connective tissue...
, containing specimens held between disks of transparent
mica
Mica
The mica group of sheet silicate minerals includes several closely related materials having highly perfect basal cleavage. All are monoclinic, with a tendency towards pseudohexagonal crystals, and are similar in chemical composition...
, that would
slide
into the gap between the stage and the objective. These "sliders" were popular in
Victorian
Victorian era
The Victorian era of British history was the period of Queen Victoria's reign from 20 June 1837 until her death on 22 January 1901. It was a long period of peace, prosperity, refined sensibilities and national self-confidence...
England
England
England is a country that is part of the United Kingdom. It shares land borders with Scotland to the north and Wales to the west; the Irish Sea is to the north west, the Celtic Sea to the south west, with the North Sea to the east and the English Channel to the south separating it from continental...
until the
Royal Microscopical Society
Royal Microscopical Society
The Royal Microscopical Society is an international scientific society for the promotion of microscopy. RMS draws members from all over the world and is dedicated to advancing science, developing careers and supporting wider understanding of science and microscopy through its Science and Society...
introduced the standardized glass microscope slide.
Dimensions and types
A standard microscope slide measures about 75 mm by 25 mm (3" by 1") and is about 1 mm thick. A range of other sizes are available for various special purposes, such as 75 x 50 mm and for geological use, 46 x 27 mm for petrographic studies, and 48 x 28 mm for
thin section
Thin section
In optical mineralogy and petrography, a thin section is a laboratory preparation of a rock, mineral, soil, pottery, bones, or even metal sample for use with a polarizing petrographic microscope, electron microscope and electron microprobe. A thin sliver of rock is cut from the sample with a...
s. Slides are usually made of common glass and their edges are often
finely ground
Ground glass
Ground glass is glass whose surface has been ground to produce a flat but rough finish.Ground glass surfaces have many applications, ranging from mere ornamentation on windows and table glassware to scientific uses in optics and laboratory glassware....
or polished.
Microscope slides are usually made of
glass
Glass
Glass is an amorphous solid material. Glasses are typically brittle and optically transparent.The most familiar type of glass, used for centuries in windows and drinking vessels, is soda-lime glass, composed of about 75% silica plus Na2O, CaO, and several minor additives...
, such as soda lime glass or
borosilicate glass
Borosilicate glass
Borosilicate glass is a type of glass with the main glass-forming constituents silica and boron oxide. Borosilicate glasses are known for having very low coefficients of thermal expansion , making them resistant to thermal shock, more so than any other common glass...
, but specialty plastics are also used. Fused
quartz
Quartz
Quartz is the second-most-abundant mineral in the Earth's continental crust, after feldspar. It is made up of a continuous framework of SiO4 silicon–oxygen tetrahedra, with each oxygen being shared between two tetrahedra, giving an overall formula SiO2. There are many different varieties of quartz,...
slides are often used when
ultraviolet
Ultraviolet
Ultraviolet light is electromagnetic radiation with a wavelength shorter than that of visible light, but longer than X-rays, in the range 10 nm to 400 nm, and energies from 3 eV to 124 eV...
transparency is important, e.g. in fluorescence microscopy.
While plain slides are the most common, there are several specialized types. A
concavity slide
has one or more shallow depressions ("wells"), designed to hold certain samples such as liquids and
tissue culture
Tissue culture
Tissue culture is the growth of tissues or cells separate from the organism. This is typically facilitated via use of a liquid, semi-solid, or solid growth medium, such as broth or agar...
s. Slides may have rounded corners for increased safety or robustness, or a cut-off corner for
automated
Automation
Automation is the use of control systems and information technologies to reduce the need for human work in the production of goods and services. In the scope of industrialization, automation is a step beyond mechanization...
handling.
A
graticule slide
is marked with a grid of lines (for example, a 1 mm grid) that allows the size of objects seen under magnification to be easily estimated and provides reference areas for counting minute objects. Sometimes one square of the grid will itself be subdivided into a finer grid. Slides for specialized applications, such as cell counting, may have various reservoirs, channels and barriers
etched
Etching
Etching is the process of using strong acid or mordant to cut into the unprotected parts of a metal surface to create a design in intaglio in the metal...
or
ground
Ground glass
Ground glass is glass whose surface has been ground to produce a flat but rough finish.Ground glass surfaces have many applications, ranging from mere ornamentation on windows and table glassware to scientific uses in optics and laboratory glassware....
on their upper surface. Various permanent markings or masks may be
printed
Printing
Printing is a process for reproducing text and image, typically with ink on paper using a printing press. It is often carried out as a large-scale industrial process, and is an essential part of publishing and transaction printing....
, sand-blasted, or deposited on the surface by the manufacturer, usually with inert materials such as PTFE.
Some slides have a
frosted
Frosted glass
Frosted glass is produced by the sandblasting or acid etching of clear sheet glass. It has the effect of rendering the glass translucent by scattering of light during transmission, thus blurring images while still transmitting light.Applications:...
or
enamel-coated
Vitreous enamel
Vitreous enamel, also porcelain enamel in U.S. English, is a material made by fusing powdered glass to a substrate by firing, usually between 750 and 850 °C...
area at one end, for labeling with a pencil or pen. Slides may have special coatings applied by the manufacturer, e.g. for chemical inertness or enhanced
cell adhesion
Cell adhesion
Cellular adhesion is the binding of a cell to a surface, extracellular matrix or another cell using cell adhesion molecules such as selectins, integrins, and cadherins. Correct cellular adhesion is essential in maintaining multicellular structure...
. The coating may have a permanent
electric charge
Electric charge
Electric charge is a physical property of matter that causes it to experience a force when near other electrically charged matter. Electric charge comes in two types, called positive and negative. Two positively charged substances, or objects, experience a mutual repulsive force, as do two...
to hold thin or powdery samples. Common coatings include poly-L-lysine,
silane
Silane
Silane is a toxic, extremely flammable chemical compound with chemical formula SiH4. In 1857, the German chemists and Friedrich Woehler discovered silane among the products formed by the action of hydrochloric acid on aluminum silicide, which they had previously prepared...
s, epoxy resins, or even
gold
Gold
Gold is a chemical element with the symbol Au and an atomic number of 79. Gold is a dense, soft, shiny, malleable and ductile metal. Pure gold has a bright yellow color and luster traditionally considered attractive, which it maintains without oxidizing in air or water. Chemically, gold is a...
.
Mounting
The mounting of specimens on microscope slides is often critical for successful viewing. The problem has been given much attention in the last two centuries and is a well-developed area with many specialized and sometimes quite sophisticated techniques.
Dry mount
In a
dry mount
, the simplest kind of mounting, the object is merely placed on the slide. A cover slip may be placed on top to protect the specimen and the microscope's objective and to keep the specimen still and pressed flat. This mounting can be successfully used for viewing specimens like pollen, feathers, hairs, etc. It is also used to examine particles caught in transparent
membrane filter
Membrane technology
The membrane technology covers all process engineering measures for the transport of substances between two fractions with the help of permeable membranes...
s (e.g., in analysis of airborne
dust
Dust
Dust consists of particles in the atmosphere that arise from various sources such as soil dust lifted up by wind , volcanic eruptions, and pollution...
).
Wet mount
In a
wet mount
, the specimen is placed in a drop of
water
Water
Water is a chemical substance with the chemical formula H2O. A water molecule contains one oxygen and two hydrogen atoms connected by covalent bonds. Water is a liquid at ambient conditions, but it often co-exists on Earth with its solid state, ice, and gaseous state . Water also exists in a...
or other liquid held between the slide and the cover slip by
surface tension
Surface tension
Surface tension is a property of the surface of a liquid that allows it to resist an external force. It is revealed, for example, in floating of some objects on the surface of water, even though they are denser than water, and in the ability of some insects to run on the water surface...
. This method is commonly used, for example, to view microscopic organisms that grow in pond water or other liquid media, especially when studying their movement and behavior. It is also used to examine
physiological
Physiology
Physiology is the science of the function of living systems. This includes how organisms, organ systems, organs, cells, and bio-molecules carry out the chemical or physical functions that exist in a living system. The highest honor awarded in physiology is the Nobel Prize in Physiology or...
liquids like
blood
Blood
Blood is a specialized bodily fluid in animals that delivers necessary substances such as nutrients and oxygen to the cells and transports metabolic waste products away from those same cells....
,
urine
Urine
Urine is a typically sterile liquid by-product of the body that is secreted by the kidneys through a process called urination and excreted through the urethra. Cellular metabolism generates numerous by-products, many rich in nitrogen, that require elimination from the bloodstream...
,
saliva
Saliva
Saliva , referred to in various contexts as spit, spittle, drivel, drool, or slobber, is the watery substance produced in the mouths of humans and most other animals. Saliva is a component of oral fluid. In mammals, saliva is produced in and secreted from the three pairs of major salivary glands,...
,
semen
Semen analysis
A semen analysis evaluates certain characteristics of a male's semen and the sperm contained in the semen. It may be done while investigating a couple's infertility or after a vasectomy to verify that the procedure was successful. It is also used for testing donors for sperm donation, in stud...
, and
vaginal discharge
Vaginal wet mount
A vaginal wet mount is a gynecologic test wherein a sample of vaginal discharge is observed by wet mount microscopy by placing the specimen on a glass slide and mixing with a salt solution...
. Care must be taken to exclude air bubbles that would interfere with the viewing and hamper the organisms' movements.
Prepared mount
For pathological and biological research, the specimen usually undergoes a complex
histological
Histology
Histology is the study of the microscopic anatomy of cells and tissues of plants and animals. It is performed by examining cells and tissues commonly by sectioning and staining; followed by examination under a light microscope or electron microscope...
preparation that may involve cutting it into very thin sections with a
microtome
Microtome
A microtome is a sectioning instrument that allows for the cutting of extremely thin slices of material, known as sections. Microtomes are an important device in microscopy preparation, allowing for the preparation of samples for observation under transmitted light or electron radiation...
,
fixing
Fixation (histology)
In the fields of histology, pathology, and cell biology, fixation is a chemical process by which biological tissues are preserved from decay, thereby preventing autolysis or putrefaction...
it to prevent decay,
removing any water
Dehydration
In physiology and medicine, dehydration is defined as the excessive loss of body fluid. It is literally the removal of water from an object; however, in physiological terms, it entails a deficiency of fluid within an organism...
contained in it,
staining
Staining (biology)
Staining is an auxiliary technique used in microscopy to enhance contrast in the microscopic image. Stains and dyes are frequently used in biology and medicine to highlight structures in biological tissues for viewing, often with the aid of different microscopes...
specific parts of it, and impregnating or infiltrating it with some transparent solid substance. As part of this process the specimen usually ends up firmly attached to the slide.
Mounting media
The
mounting medium
is the solution in which the specimen is embedded, generally under a cover glass. Simple liquids like water or
glycerol
Glycerol
Glycerol is a simple polyol compound. It is a colorless, odorless, viscous liquid that is widely used in pharmaceutical formulations. Glycerol has three hydroxyl groups that are responsible for its solubility in water and its hygroscopic nature. The glycerol backbone is central to all lipids...
can be considered mounting media, though the term generally refers to compounds that harden into a permanent mount. Popular mounting media include Permount, glycerol jelly, and Hoyer's mounting medium. Properties of a good mounting medium include having a
refractive index
Refractive index
In optics the refractive index or index of refraction of a substance or medium is a measure of the speed of light in that medium. It is expressed as a ratio of the speed of light in vacuum relative to that in the considered medium....
close to that of glass (1.518), non-reactivity with the specimen, stability over time without crystallizing, darkening, or changing refractive index, solubility in the medium the specimen was prepared in (either aqueous or non-polar, such as
xylene
Xylene
Xylene encompasses three isomers of dimethylbenzene. The isomers are distinguished by the designations ortho- , meta- , and para- , which specify to which carbon atoms the two methyl groups are attached...
or
toluene
Toluene
Toluene, formerly known as toluol, is a clear, water-insoluble liquid with the typical smell of paint thinners. It is a mono-substituted benzene derivative, i.e., one in which a single hydrogen atom from the benzene molecule has been replaced by a univalent group, in this case CH3.It is an aromatic...
), and not causing the specimen stain to fade or leach.