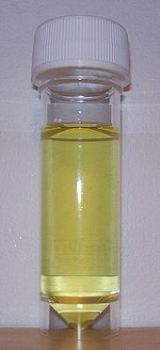 Urine
Urine
is a typically sterile (in the absence of a disease condition)
liquid
Liquid
Liquid is one of the three classical states of matter . Like a gas, a liquid is able to flow and take the shape of a container. Some liquids resist compression, while others can be compressed. Unlike a gas, a liquid does not disperse to fill every space of a container, and maintains a fairly...
by-product of the body that is secreted by the
kidney
Kidney
The kidneys, organs with several functions, serve essential regulatory roles in most animals, including vertebrates and some invertebrates. They are essential in the urinary system and also serve homeostatic functions such as the regulation of electrolytes, maintenance of acid–base balance, and...
s through a process called
urination
Urination
Urination, also known as micturition, voiding, peeing, weeing, pissing, and more rarely, emiction, is the ejection of urine from the urinary bladder through the urethra to the outside of the body. In healthy humans the process of urination is under voluntary control...
and excreted through the
urethra
Urethra
In anatomy, the urethra is a tube that connects the urinary bladder to the genitals for the removal of fluids out of the body. In males, the urethra travels through the penis, and carries semen as well as urine...
. Cellular metabolism generates numerous by-products, many rich in
nitrogen
Nitrogen
Nitrogen is a chemical element that has the symbol N, atomic number of 7 and atomic mass 14.00674 u. Elemental nitrogen is a colorless, odorless, tasteless, and mostly inert diatomic gas at standard conditions, constituting 78.08% by volume of Earth's atmosphere...
, that require elimination from the bloodstream. These by-products are eventually expelled from the body in a process known as micturition, the primary method for excreting water-soluble chemicals from the body.