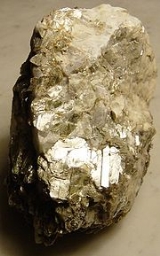 Mica
The
mica
group of sheet
silicate
Silicate
A silicate is a compound containing a silicon bearing anion. The great majority of silicates are oxides, but hexafluorosilicate and other anions are also included. This article focuses mainly on the Si-O anions. Silicates comprise the majority of the earth's crust, as well as the other...
(
phyllosilicate
Silicate minerals
The silicate minerals make up the largest and most important class of rock-forming minerals, constituting approximately 90 percent of the crust of the Earth. They are classified based on the structure of their silicate group...
)
mineral
Mineral
A mineral is a naturally occurring solid chemical substance formed through biogeochemical processes, having characteristic chemical composition, highly ordered atomic structure, and specific physical properties. By comparison, a rock is an aggregate of minerals and/or mineraloids and does not...
s includes several closely related materials having highly perfect basal cleavage. All are monoclinic, with a tendency towards pseudohexagonal
crystal
Crystal
A crystal or crystalline solid is a solid material whose constituent atoms, molecules, or ions are arranged in an orderly repeating pattern extending in all three spatial dimensions. The scientific study of crystals and crystal formation is known as crystallography...
s, and are similar in chemical composition. The highly perfect cleavage, which is the most prominent characteristic of mica, is explained by the
hexagon
al sheet-like arrangement of its
atom
Atom
The atom is a basic unit of matter that consists of a dense central nucleus surrounded by a cloud of negatively charged electrons. The atomic nucleus contains a mix of positively charged protons and electrically neutral neutrons...
s.
The word "mica" is derived from the
Latin
Latin
Latin is an Italic language originally spoken in Latium and Ancient Rome. It, along with most European languages, is a descendant of the ancient Proto-Indo-European language. Although it is considered a dead language, a number of scholars and members of the Christian clergy speak it fluently, and...
word , meaning "a crumb", and probably influenced by , "to glitter".
Chemically, micas can be given the general formula
X2Y4–6Z8O20(OH,F)4
in which X is K

Potassium

Potassium is the chemical element with the symbol K and atomic number 19. Elemental potassium is a soft silvery-white alkali metal that oxidizes rapidly in air and is very reactive with water, generating sufficient heat to ignite the hydrogen emitted in the reaction.Potassium and sodium are...


, Na

Sodium

Sodium is a chemical element with the symbol Na and atomic number 11. It is a soft, silvery-white, highly reactive metal and is a member of the alkali metals; its only stable isotope is 23Na. It is an abundant element that exists in numerous minerals, most commonly as sodium chloride...


, or Ca

Calcium

Calcium is the chemical element with the symbol Ca and atomic number 20. It has an atomic mass of 40.078 amu. Calcium is a soft gray alkaline earth metal, and is the fifth-most-abundant element by mass in the Earth's crust...


or less commonly Ba

Barium

Barium is a chemical element with the symbol Ba and atomic number 56. It is the fifth element in Group 2, a soft silvery metallic alkaline earth metal. Barium is never found in nature in its pure form due to its reactivity with air. Its oxide is historically known as baryta but it reacts with...


, Rb

Rubidium

Rubidium is a chemical element with the symbol Rb and atomic number 37. Rubidium is a soft, silvery-white metallic element of the alkali metal group. Its atomic mass is 85.4678. Elemental rubidium is highly reactive, with properties similar to those of other elements in group 1, such as very rapid...


, or Cs;
Y is Al, Mg

Magnesium

Magnesium is a chemical element with the symbol Mg, atomic number 12, and common oxidation number +2. It is an alkaline earth metal and the eighth most abundant element in the Earth's crust and ninth in the known universe as a whole...


, or Fe

Iron

Iron is a chemical element with the symbol Fe and atomic number 26. It is a metal in the first transition series. It is the most common element forming the planet Earth as a whole, forming much of Earth's outer and inner core. It is the fourth most common element in the Earth's crust...


or less commonly Mn

Manganese

Manganese is a chemical element, designated by the symbol Mn. It has the atomic number 25. It is found as a free element in nature , and in many minerals...


, Cr

Chromium

Chromium is a chemical element which has the symbol Cr and atomic number 24. It is the first element in Group 6. It is a steely-gray, lustrous, hard metal that takes a high polish and has a high melting point. It is also odorless, tasteless, and malleable...


, Ti

Titanium

Titanium is a chemical element with the symbol Ti and atomic number 22. It has a low density and is a strong, lustrous, corrosion-resistant transition metal with a silver color....


, Li

Lithium

Lithium is a soft, silver-white metal that belongs to the alkali metal group of chemical elements. It is represented by the symbol Li, and it has the atomic number 3. Under standard conditions it is the lightest metal and the least dense solid element. Like all alkali metals, lithium is highly...


, etc.;
Z is chiefly Si

Silicon

Silicon is a chemical element with the symbol Si and atomic number 14. A tetravalent metalloid, it is less reactive than its chemical analog carbon, the nonmetal directly above it in the periodic table, but more reactive than germanium, the metalloid directly below it in the table...


or Al, but also may include Fe3+

Ferric

Ferric refers to iron-containing materials or compounds. In chemistry the term is reserved for iron with an oxidation number of +3, also denoted iron or Fe3+. On the other hand, ferrous refers to iron with oxidation number of +2, denoted iron or Fe2+...


or Ti.
Structurally, micas can be classed as dioctahedral (
Y
= 4) and trioctahedral (
Y
= 6).