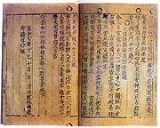 Printing
Printing
is a process for reproducing text and image, typically with ink on
paper
Paper
Paper is a thin material mainly used for writing upon, printing upon, drawing or for packaging. It is produced by pressing together moist fibers, typically cellulose pulp derived from wood, rags or grasses, and drying them into flexible sheets....
using a printing press. It is often carried out as a large-scale industrial process, and is an essential part of publishing and transaction printing.
The development of printing was preceded by the use of
cylinder seal
Cylinder seal
A cylinder seal is a cylinder engraved with a 'picture story', used in ancient times to roll an impression onto a two-dimensional surface, generally wet clay. Cylinder seals were invented around 3500 BC in the Near East, at the contemporary site of Susa in south-western Iran and at the early site...
s in
Mesopotamia
Mesopotamia
Mesopotamia is a toponym for the area of the Tigris–Euphrates river system, largely corresponding to modern-day Iraq, northeastern Syria, southeastern Turkey and southwestern Iran.Widely considered to be the cradle of civilization, Bronze Age Mesopotamia included Sumer and the...
developed in 3500 BC, and other related
stamp seal
Stamp seal
The stamp seal is a carved object, usually stone, first made in the 4th millennium BC, and probably earlier. They were used to impress their picture or inscription into soft, prepared clay....
s. The earliest form of printing was
woodblock printing
Woodblock printing
Woodblock printing is a technique for printing text, images or patterns used widely throughout East Asia and originating in China in antiquity as a method of printing on textiles and later paper....
, with existing examples from
China
China
Chinese civilization may refer to:* China for more general discussion of the country.* Chinese culture* Greater China, the transnational community of ethnic Chinese.* History of China* Sinosphere, the area historically affected by Chinese culture...
dating to before 220 AD and
Egypt
Egypt
Egypt , officially the Arab Republic of Egypt, Arabic: , is a country mainly in North Africa, with the Sinai Peninsula forming a land bridge in Southwest Asia. Egypt is thus a transcontinental country, and a major power in Africa, the Mediterranean Basin, the Middle East and the Muslim world...
to the 4th century.