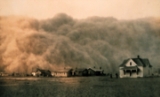 Dust
Dust
consists of particles in the
atmosphere
Earth's atmosphere
The atmosphere of Earth is a layer of gases surrounding the planet Earth that is retained by Earth's gravity. The atmosphere protects life on Earth by absorbing ultraviolet solar radiation, warming the surface through heat retention , and reducing temperature extremes between day and night...
that arise from various sources such as soil dust lifted up by wind (an Aeolian process),
volcanic eruptions
Volcanic Eruptions
Volcanic Eruptions is a company owned by Crispin Glover. The company produces and issues Glover's work: It has released two films to date, What Is It? and its sequel, It is Fine! EVERYTHING IS FINE . Its current plans include releasing the final film in the trilogy titled It Is Mine...
, and
pollution
Air pollution
Air pollution is the introduction of chemicals, particulate matter, or biological materials that cause harm or discomfort to humans or other living organisms, or cause damage to the natural environment or built environment, into the atmosphere....
. Dust in homes, offices, and other human environments contains small amounts of plant
pollen
Pollen
Pollen is a fine to coarse powder containing the microgametophytes of seed plants, which produce the male gametes . Pollen grains have a hard coat that protects the sperm cells during the process of their movement from the stamens to the pistil of flowering plants or from the male cone to the...
,
human
Hair
Hair is a filamentous biomaterial, that grows from follicles found in the dermis. Found exclusively in mammals, hair is one of the defining characteristics of the mammalian class....
and
animal hairs
Fur
Fur is a synonym for hair, used more in reference to non-human animals, usually mammals; particularly those with extensives body hair coverage. The term is sometimes used to refer to the body hair of an animal as a complete coat, also known as the "pelage". Fur is also used to refer to animal...
, textile fibers,
paper fibers
Paper
Paper is a thin material mainly used for writing upon, printing upon, drawing or for packaging. It is produced by pressing together moist fibers, typically cellulose pulp derived from wood, rags or grasses, and drying them into flexible sheets....
, minerals from outdoor soil,
human skin
Human skin
The human skin is the outer covering of the body. In humans, it is the largest organ of the integumentary system. The skin has multiple layers of ectodermal tissue and guards the underlying muscles, bones, ligaments and internal organs. Human skin is similar to that of most other mammals,...
cells, the remains of burnt meteors and many other materials which may be found in the local environment.
Dust may worsen
hay fever
Hay Fever
Hay Fever is a comic play written by Noël Coward in 1924 and first produced in 1925 with Marie Tempest as the first Judith Bliss. Laura Hope Crews played the role in New York...
.